Clients look at online reviews before they decide to engage a lawyer – even if they have a referral from someone they know. There are some key review sites for lawyers and attorneys where clients leave their feedback on their experience with their lawyers. Keeping a close eye on these review sites to see what clients are writing is a great first step to legal reputation management.
The U.S. Bureau of Statistics found that 93% of consumers read online reviews before choosing a business to patronize, and 40% of those consumers have already formed their opinion after reading three reviews.
With the buying process in the hands of the consumer, customers are becoming more reliant on customer reviews to influence their decision. They consider genuine, unfiltered experiences shared by anonymous peers online more trustworthy than biased information provided by the business itself.
Before we examine how more online reviews lead to more clients. And more clients lead to more billable hours, are you ready to discover why online reputation management is crucial for your multi-location business in under 15 minutes? Hear 10 tips that can help each one of your locations get discovered online. By the end of this audio guide, you will know how to start collecting more reviews from customers in order to drive conversions! Reviews are important to businesses because they offer fast, authentic feedback from customers. Negative reviews can leave a bad taste in your mouth but there are ways you can deal with them and prevent brand reputation issues– like how some companies will only collect positive customer comments at each location rather than on the company level.
How to get online reviews for your law firm
Running the business side of a law firm is difficult enough, but one of the best ways to grow your business is to get online reviews. Reviews can help potential clients learn about what your practice offers and its customer service. They can also serve as a comparison against the competition to help prospects make a decision easier. Here are a few tips for getting reviews for your law firm:
Make it easy for clients to leave reviews. Add a link to your website or send an email after each case is complete.
Ask satisfied clients to leave a review. If you know that a client is happy with your work, ask them to leave a review online.
Give something in return. Incentivize clients by offering a discount or other incentive for leaving a review.
Monitor your reviews regularly. Check online lawyer directories and review sites regularly to see what people are saying about you. Respond promptly to any negative reviews.
Important Tips for Review Monitoring & Management
1) Set up your business account on each of the top lawyer review sites.
Include your up-to-date business information on the relevant lawyer review sites so that clients can start finding you easily and leave online reviews.
2) Ask your clients for reviews on a regular basis.
A 5-star rating doesn't mean you're in the clear. Clients also look at when the review was posted, and value recent reviews over old ones that may have become irrelevant. Not only that, a higher review volume makes both search engines and customers trust you more.

Which are the top review sites for lawyers?
It's important to get your client reviews on attorney review sites to attract more clients who visit them and improve your firm's SEO ranking. The more often a client visits a lawyer review site, the more likely they are to read and post reviews there. Higher web traffic suggests that the site has lots of users. And this suggests that it would be quick and easy to leave a review—having no need to go through a lengthy registration process.
What review sites should you be monitoring if you're a lawyer or if you work in a law office?
Avvo
You've heard of Avvo. And while you may not have the happiest of feelings about the site, your clients use it. And you should too. Avvo shows users in search of legal representation the lawyer's resume and lets the user message the lawyer directly from the site. Avvo also makes leaving reviews really easy—no registration is needed. And the site also has attorney endorsements.
Lawyers.com
Lawyers.com boasts having over 1 million lawyer reviews—they combine these reviews with our number five pick, Martindale-Hubbell ratings. The site also has an easy-to-use "Ask a Lawyer" section where local attorneys answer user's legal questions. Lawyers.com also makes it really easy to leave reviews (for both clients and peers)—no registration needed.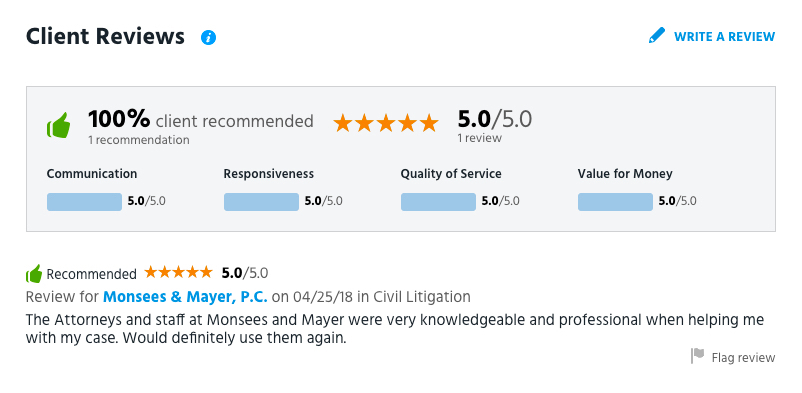 FindLaw
FindLaw is a resource for both clients and legal professionals—helping clients not only find a lawyer but also providing content from them to learn about the law. Legal professionals are also able to search for cases, contracts, and articles on the site's "For Legal Professionals" area. While clients do not submit star-rated reviews on this site, they are able to make recommendations on behalf of their lawyer.

LegalMatch
LegalMatch works a bit differently from the previous three listed. LegalMatch has the user post about their case, answering various questions based on the category of the law of the case. Then attorneys send the users responses. The potential client can then compare fees, client reviews, and the full background of the attorney. Initial consultations are then set up based on the client's needs. Leaving a review is not as easy on this site, as you have to go through the entire process in order to leave a review.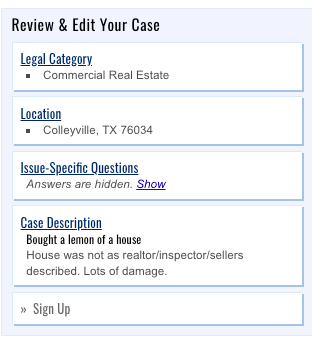 Martindale-Hubbell
Martindale-Hubbell is considered by some as the "gold standard" in attorney ratings. Martindale-Hubbell provides potential clients peer and client review ratings, and they make it easy to do so. Potential clients can also chat with attorneys directly while perusing reviews.

NOLO
NOLO is one of the oldest and most reliable listing sites for lawyers and law firms. It's unique because it only caters to the law profession. Your NOLO profile helps you showcase your education, credentials, awards, and any professional associations. NOLO also gives you the opportunity to post articles to provide further insight into your area of expertise.
Since NOLO is such a specific platform, it can be difficult to stand out from the crowd. However, by making sure your profile is complete and up-to-date, and by publishing relevant articles, you can make sure potential clients see you when they begin their search.
Google
Most people, worldwide, use Google to start their research on a product or service. This holds true with finding an attorney too. Therefore it's important for your law firm to claim their Google My Business (GMB) profile so that you can start properly receiving Google reviews.
Once your GMB is up and running, monitor your reviews regularly and be sure to respond to reviews whether they are positive or negative. This indicates to Google that you are actively managing your listing and will help you rank higher.
Better Business Bureau (BBB)
The Better Business Bureau (BBB) is a great resource for law firm reviews. The BBB collects both customer reviews and complaints to help potential clients decide on a lawyer. In order for a law firm to be listed with the BBB, it will have to become a member.
Members are thoroughly vetted to make sure they meet all ethical and business criteria. Once approved, the law firm will be considered an accredited business and is awarded the BBB seal which is displayed on their listing. This will add to the firm's credibility and serve as a differentiator against the competition.
Want to improve your online reputation?
Looking to improve your online reputation? Download our Reviews to Revenue Masterclass guide today.


Originally published Dec 11, 2018, updated