Positive review examples are often generic and plain. If you are looking to attract more customers, you need to improve the quality of reviews you have across platforms. One way to do this is by providing positive review examples for inspiration to share with customers.
Studies show that shoppers read online reviews and review responses before making a purchase decision. When it comes to online reviews, a five-star rating isn't enough to set your business apart from the competition. A star rating –no matter how high — will fall flat without a written positive review from the customer.
We understand the pain and have put together a comprehensive blog post on what makes a good review, positive review examples, and templates to respond to your positive reviews and generate momentum from them.
If you favor video, we have the following video guide for you to listen on the go.
What makes a good review?
Before we share positive review examples and inputs on how to respond to positive reviews, let's clarify this – What makes a good review? The answer to this question may seem obvious, a "good review" is when a customer leaves a 5-star rating of your business! In reality, a "good review" goes far beyond a star rating. Here are three specific elements that make a customer review valuable. 
1. Goes beyond the stars
You want your positive reviews to be detailed. Though it's always nice to get high star ratings, a detailed review explains why the customer enjoyed your business. This helps prospects understand what specifically sets your business apart from the competition.
See how this review of a local coffee shop goes beyond the star rating.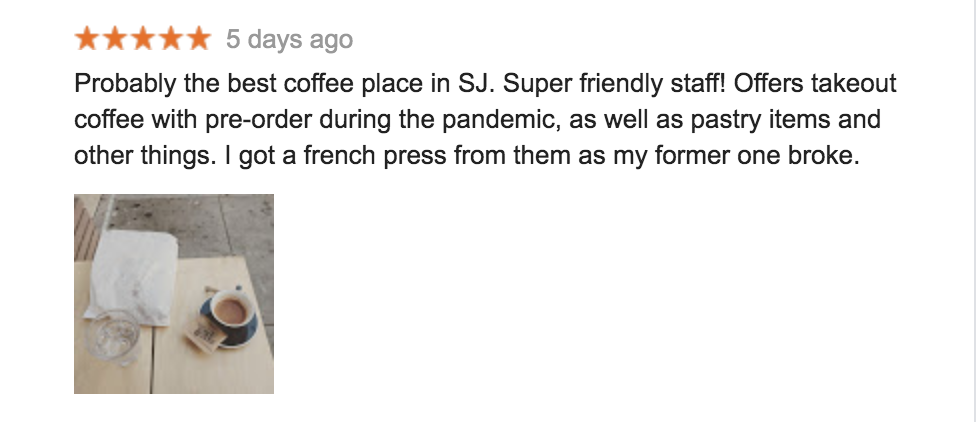 2. Describes the customer experience
A good review should describe various aspects of the customer experience. Did the customer receive fantastic customer service? Was an employee particularly helpful, and did the customer leave the employee's name in the review? Did the customer mention other elements of the customer experience, like a great website that was easy to use? These details will not only be appealing to prospects, but it will help you know what your business is doing well.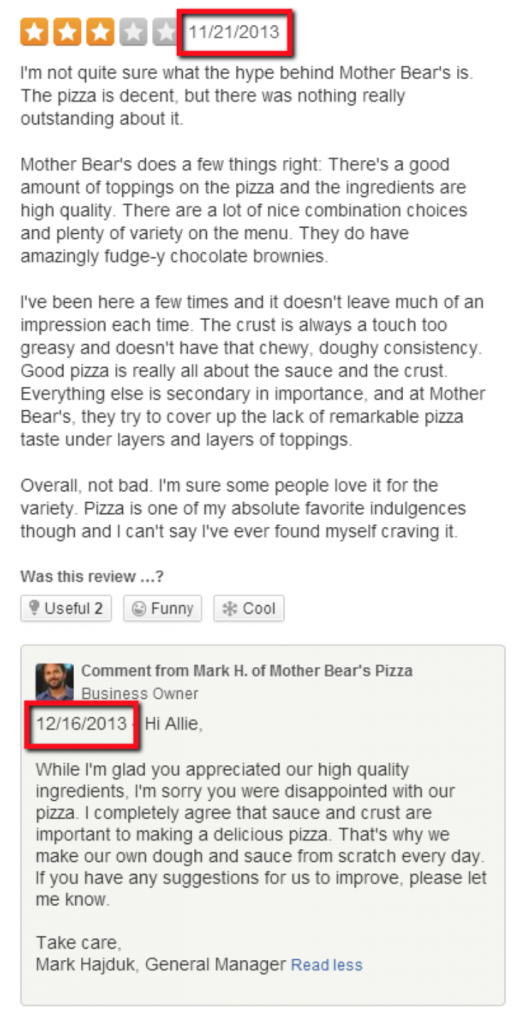 3. Adds photos or videos
A good review is the one that leaves no questions unanswered. Customers must be able to understand a company's products, services, and customer service details from the review itself. Sometimes, words don't do justice to these details. So, positive customer reviews that include supporting photos and videos get additional points for the effort and accuracy. 
How to write a good review 
Now that you know what a good review looks like, it is time to make the review section look like this for your company. If your customers are struggling to write detailed and captivating positive reviews for your business, here is a quick guide that you can share with them.
Include detailed information about the purchase in the review. Potential customers find it helpful when reviews include as much information about the product, service and experience as possible. A few things to add are product details, store location, period of purchase, any discounts that may have been active then, and customer service.
Photos and videos in a review help customers understand the subject. If the reviewer found something particularly useful, adding photos and videos that validate the point can be extremely helpful to potential customers.
Explain what you like/dislike
Adding personal opinions about a particular product feature or service qualifies the review and helps potential customers understand if it is relevant to them or not.
Make sure your review is easy to understand. Don't over complicate the review or use words that can be technical jargon and confuse the reader rather than helping them make a purchase decision.
Stay factual and avoid assumptions
Assumptions in reviews, especially on product availability, discount offers, and store hours can lead to unnecessary confusion. Qualify personal opinions so that they're not mistaken for facts.
Why are positive reviews important?
Positive reviews can bring in new customers and help to increase sales. In a world where we have so many choices, reviews can help potential customers feel more confident about choosing your business over others. And once they've had a positive experience, they're more likely to leave a positive review.
Having positive reviews can also help to build trust and credibility, especially if you're a new business. If customers see that others have had good experiences with your company, they're more likely to take the leap themselves.
Why should I respond to positive reviews?
Responding to positive reviews increases their value. When you respond to a good customer review, the customer who left the review feels appreciated, which increases the chance for repeat business. Review responses also show that you value customer feedback and care to improve your customer experience. This will attract new customers and set you apart from your competitors.
Check out our post on how positive reviews help realtors.
Popular platforms for online reviews
Customer reviews are important to every business. Not only do they provide valuable feedback, but they can also help to attract new customers. It's important that your customer reviews be on display on the more popular review websites. Those sites include:
Google Business Profile
One way to get more reviews is to create a Google Business Profile (formerly Google My Business). This profile provides a place for customers to leave their reviews, and it also allows you to respond to them. Creating a profile is simple and only takes a few minutes. Once your profile is created, be sure to encourage your customers to leave their reviews. With a little effort, you can soon have a steady stream of customer reviews on the most popular search engine in the world.
Facebook
Facebook is another great platform for businesses to get customer reviews. With nearly three billion users, it's become the most popular social media platform in the world. This means that reviews left on Facebook have a good chance of being seen by the people in your service area.
Better Business Bureau
The Better Business Bureau (BBB) is a trusted source for consumers to research businesses before making a decision. What makes BBB unique is that members are thoroughly vetted to make sure they meet all ethical and business standards. Once approved, they are awarded the BBB seal. The seal will then be displayed on the business's profile. This achievement will certainly put a positive light on a business's reputation and act as a differentiator from rivals.
How to respond to positive reviews: 5 examples
Now that you know what to look for in a good review, it's time to learn how to respond to them from these positive review response examples.
Example 1: Be creative and personal
Chef John Howie uses YouTube to respond to reviews of his restaurant, Seastar Seafood Restaurant, and Raw Bar, in a creative and personable way. This type of review response is advantageous for a few reasons. First, by posting these videos, Chef Howie reaches a broader audience. Videos are also shared more often than other forms of media, so this can help increase visibility for the restaurant. 
Second, a response like this establishes the restaurant's credibility — the chef is proving that he actually reads his reviews and values customer feedback because viewers can watch it happening for themselves. Finally, by responding to his reviews on video, Chef Howie is giving a face to his business. When customers and prospects feel like they know the chef, they are more inclined to return to Seastar Seafood Restaurant and Raw Bar time and time again.
Example 2: Respond quickly
There are few businesses that are better than JetBlue when it comes to responding to customer feedback. JetBlue proves that your business's response doesn't need to be long-winded. Even a quick thanks goes a long way. 
Whether it's positive or negative, JetBlue always ensures to respond to their customers and that's a good strategy to follow. 
JetBlue is also great at responding to negative feedback. When a passenger complained about their broken television screen on Twitter, JetBlue responded instantly. This opened up a personalized conversation, and both parties could come to a solution.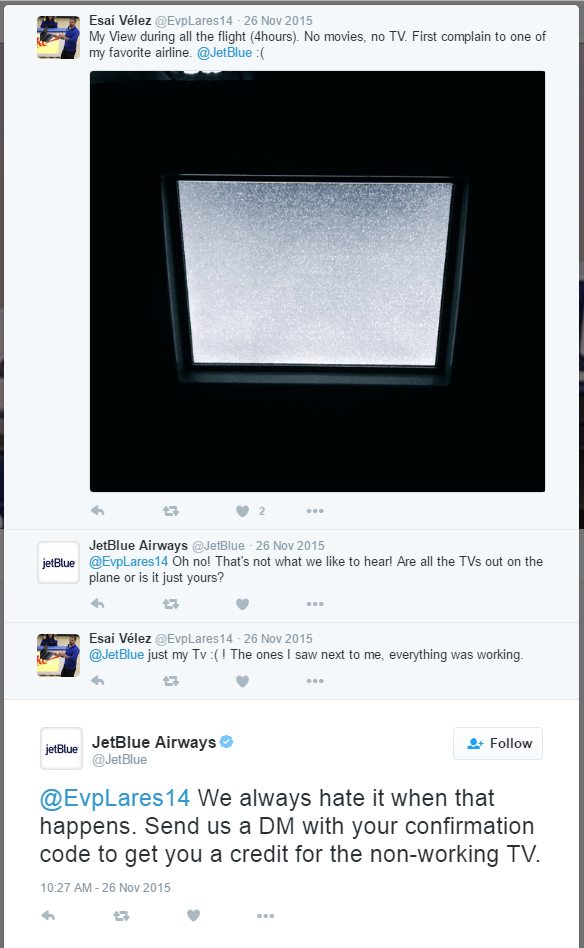 Example 3: Use humor
How can you turn a negative review into a positive one? Use humor in your response! Instead of this sandwich shop getting discouraged by negative reviews it actually used them for marketing content.
Putting a lighthearted spin on one customer's rant got them a lot of attention. This chalkboard not only shows passersby that the business has a fun vibe, it also proves that the owners actually read their customers' feedback. Using humor when responding to both positive and negative reviews is a great way to show your business's personality and grab customers' attention.
Example 4: Recognize the staff
Positive reviews are a great way to boost employee morale and keep your team motivated to deliver awesome experiences every day. In this review of Hard Rock Cafe, the customer mentioned the fantastic waitress they had by name. Take a look at how Hard Rock Cafe responded to that positive review: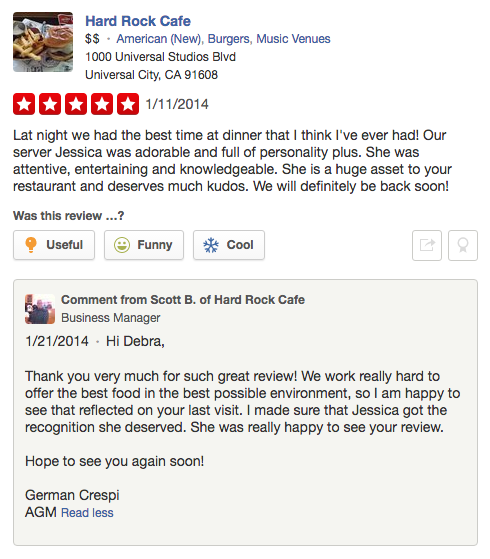 Example 5: Don't shy away from personality
When you respond to reviews, don't be afraid to show your company's brand! This will make customers more excited to engage with your business. The hair dye company oVertone does a great job at using its brand personality in every response. Every employee is free to use emojis and includes their favorite shade of hair dye as a sign-off signature.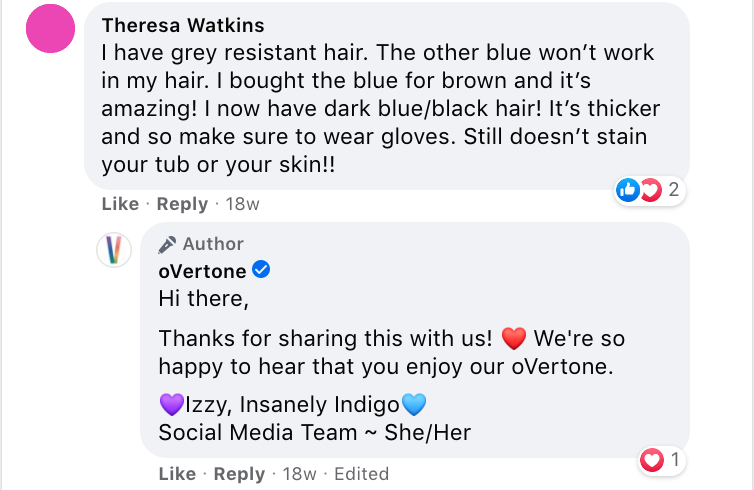 5-star positive review response examples
Customers who leave a 5-star positive review are usually happy customers with no complaints and have a genuine desire to share their experience with the world. As every company knows, these evangelical customers and such reviews are not easy to come by. So make the most of them by responding to them appropriately and quickly to avoid losing the momentum.
Some review response templates you can use for 5-star positive reviews are:
Option 1: Thank them with a simple response
Thank you for your review. We're glad you had a good experience, and hope to see you again soon!
Thank you very much for your generous review. We're happy to serve you.
We are delighted to know that you had a great experience with us. Looking forward to seeing you again.
Option 2: Invite them to refer or bring friends and family next time (if applicable)
Thank you for your review. We look forward to seeing you again with your friends and family soon.
We are happy to serve you. Please refer us to your friends and family and help us grow.
Option 3: Personalize the response, if possible
Thank you for the generous review for <employee name>. They are delighted to know that their service is appreciated by you.
We are happy to see that you are happy with the service of <employee name>. It is great to see such a positive review. Thank you. 
4-star positive review response examples
When a customer leaves a 4-star positive review, it usually means that the customer is happy, but there's also some room for improvement. Such positive reviews have to be handled carefully and swiftly to maintain goodwill with the customer.
Check out a few scenarios and appropriate 4-star positive review response templates for use.
Option 1: When the customer has written the reason for the 4-star review
Start by thanking the customer for their feedback, then move on to an apology and what you are going to do to make the experience better next time.
Thank you for your feedback! We are happy that you had a good experience overall, but we are sorry to see that you are upset about [the complaint the customer has made]. We are addressing your concerns by [your plans to fix the problem]. We hope that you come back to see how we've implemented your feedback. Thank you again for your review, and we look forward to seeing you soon!
Option 2: When the customer hasn't provided details of the issue
Start by thanking the customer for their feedback and request them to connect with you personally to share their feedback on what can make their experience better.
Thank you for your generous review. We are happy to see that you were satisfied with our services and hope to see you soon again. We would like to know how to make your experience even better, please share your feedback at <email address or survey response link>.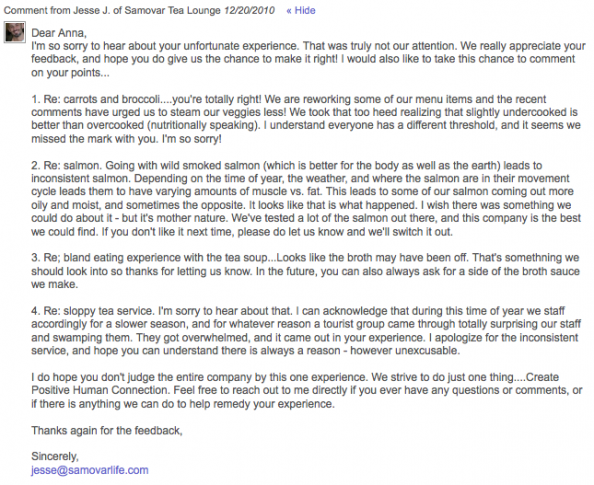 Generic positive review response templates
If you are planning on developing standardized positive review response to automate the process, we have a few templates that may come in handy:
Thank you for your review. Please visit us soon.
Thank you for taking the time to share your feedback and we are happy to know that you had a good experience. Looking forward to serving you again soon.
We are grateful for the opportunity to serve you and your appreciation.
[Customer name], thank you for a great review. We are happy that our service made you happy.
These are just a few and you can customize them as per your industry, company needs, and branding style.
Positive review examples by industry
By now you should have a good idea of the value of generating and managing positive reviews. But reviews can come in all shapes and sizes depending on your industry and the review website. Here are a few industry-specific positive review examples and how businesses can use them to their advantage.
Healthcare

Your customer reviews are a great marketing asset. Positive reviews can be displayed on your company's website and social media channels to help you attract more customers.
Automotive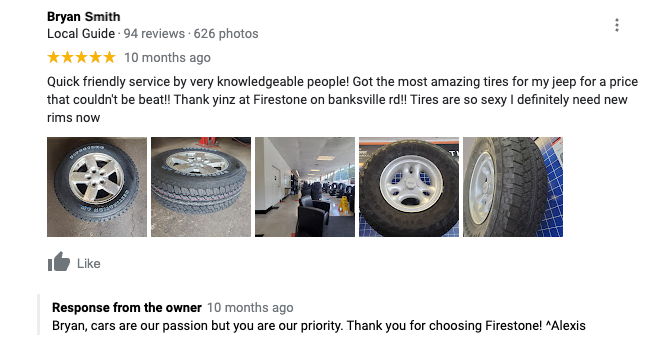 Responding to reviews elevates the level of care customers can expect from your business. It shows potential customers that you value feedback and appreciate their business. Responding to reviews also helps with local SEO which can improve your business listing ranking.
Restaurant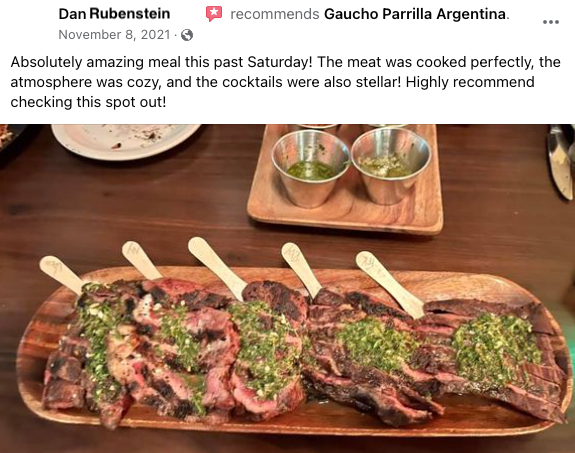 Do you know what's better than a positive review? A positive review with a picture. Review sites that allow customers to upload images give people a much better sense of the product and service you provide.
FAQs on the topic of positive review examples
Should you respond to negative reviews?
Yes. It's important that businesses respond to both positive and negative reviews. Responding to negative reviews promptly and professionally will help you protect your online reputation by addressing bad customer experiences and slander.
Are review websites free to use?
Yes. The majority of review sites are free of charge. Typically, they only require you to create an account and profile with a valid email address to start receiving customer reviews.
What should I write in a good review? 
A good review should contain factual information about the transaction – product, service, experience, and any specific detail that can help other people make better purchase decisions. 

How do you compliment good customer service? 
You can express your appreciation for good customer service by leaving a positive review about the experience. Thank them for their help, level of professionalism and friendliness in the review.
How Birdeye can help you
Responding to every customer review is easier said than done. When you have so much to do, it's easy to stop responding or even keep track of all your reviews on multiple different platforms. But Birdeye's review automation software can help with all that.
Our platform allows you to monitor and respond to reviews from hundreds of sites in a single dashboard, sending you new review alerts via email or SMS so you can stay on top of customer feedback – automatically. Start growing with Birdeye today.

Originally published Aug 07, 2020, updated