According to the US Census, an average of 5.4 million business ventures are started in the U.S. each year. Starting a business is a great way to fulfill your passions and make a living. It's also an effective way to gain a more flexible lifestyle and greater independence you won't find working for someone else. However, it requires a leap of faith, careful planning, and prudent decision-making traits to be your own boss. If you're passionate about starting a new business in 2023, here's a list of business opportunities to explore.
Tips for identifying new business opportunities
To succeed in any business venture, a good idea would be to identify an unmet need in a specific market. The idea you choose should solve a customer problem or improve an existing product or service offering. The following are a few tips for choosing an ideal business opportunity:
Identify your pain points: Many successful business ventures originate from a personal dilemma faced by the founder. Starting with your own pain points helps determine if you share similar needs with others and whether the opportunities are worth exploring.
Conduct market research: Thorough market research helps prove the viability of your business ideas. It can define the competitive landscape and identify your target audience. You should also survey the people that fit your target demographics with the goal of better understanding their frustrations, desires, fears, and motivations. Market research helps you conceptualize how best to package your product to address the needs of your industry.
Study existing products or services: You can also develop a great business opportunity by evaluating existing products and services. Determine its strengths and weaknesses and areas of improvement. The trick is to recognize the potential for innovation in an existing product rather than reinventing a new one.
Top 10 online business opportunities
1. Dropshipping 
2. Print-on-demand 
3. Photography 
4. Freelance writing 
5. Virtual Assistant 
6. Handmade products sale 
7. Digital product sale 
8. Affiliate marketing 
9. Coaching 
10. Consulting 
With an estimated 2.14 billion people worldwide purchasing goods online today, there's no doubt that eCommerce is a preferred shopping experience. If you're leaning toward this industry, check out these 10 online business opportunities:
Dropshipping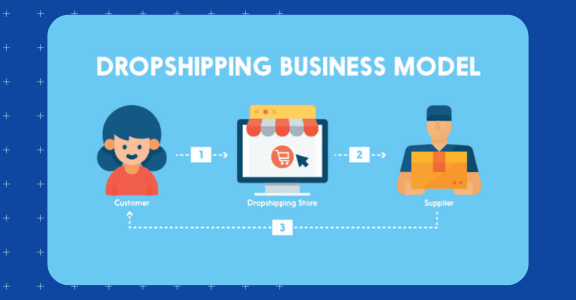 With dropshipping the seller doesn't stock or ship products to customers, but instead transfers customer orders and shipment details to either the manufacturer, a wholesaler, another retailer, or a fulfillment house. Business owners don't have to pay for products until a customer has placed an order. This can be a profitable start-up idea since you are not responsible for shipping or manufacturing costs and requires minimal equipment to get started.
Print-on-demand
Print-on-demand is undoubtedly one of the most popular business opportunities out there. It's a business model in which products are not printed until an order has been placed and paid for, allowing businesses to produce custom items without the cost of inventory or the risk of unsold stock. You can focus on products such as t-shirts, hoodies, and hats to kickstart your print-on-demand business. And because you can print designs on a variety of products, there is potential for high order volume.
Photography
If you are a gifted photographer with editing experience, you can sell photos online as stock photos or prints that people use for their projects. The first step to breaking even in photography is to invest in a high-quality camera and a computer or tablet for editing and uploading image files. You can upload your photos to sites such as Redbubble or Shutterstock and wait for passive income to hit your account.
Freelance writing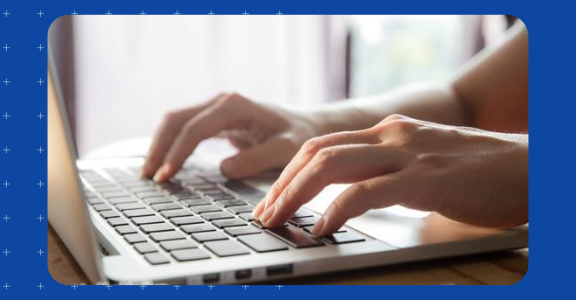 Even with all the technology that has transformed our everyday lives, written words still drive communication between people and businesses. If you have a knack for writing, venturing into freelance writing can be a rewarding business opportunity worth considering. Finding opportunities as a freelance writer is relatively easy, thanks to gig-based sites such as Fiverr and Upwork. Freelance writers generate a wide range of content, from blog posts to ebooks and even ghostwriting speeches. Log into one of the many freelance sites to find available business opportunities that match your preference.
Virtual Assistant
Oftentimes, busy executives and business owners don't have the time to type up their reports, maintain spreadsheets, or keep track of schedules. To ease this burden, executives hire virtual assistants to help them complete projects and stay organized. The duties of a virtual assistant range from typing and placing calls to maintaining appointments and coordinating projects. To be a successful virtual assistant you need a high level of organizational skills. You'll also need a smartphone, computer, and an intermediate understanding of Microsoft Office applications and Google Tools.
Handmade products sale
If you have a knack for DIYs, a homemade products business can be a great way to monetize your gifts. Some trending handmade products to sell include personalized toiletry bags, handmade body scrubs, farmhouse style décor, poly clay jewelry, knitted and crocheted items, printed throw pillows, pet toys, and so much more. You can sell your handmade stuff via your own store created on platforms such as Shopify or third-party marketplaces like Amazon, eBay, Etsy, and Big Cartel. You can also sell your products on social media.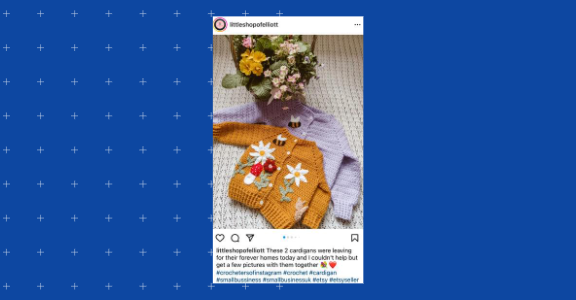 Digital product sales
eLearning is expected to reach an estimated $325 billion value by 2025. This means that this industry offers some of the most lucrative business opportunities for creators and educators. Digital products are popular because they let people download and consume at their own convenience. They are also cost-effective to produce and distribute, making them ideal business opportunities for those on a tight budget.
Affiliate marketing
Affiliate marketing is when a business promotes another business in return for a commission on sales. Amazon is one of the largest companies that work with affiliates through their Amazon Associates program. An affiliate program is potentially a quick and inexpensive way to make money online if you have an established audience or if you're planning to build one. As an affiliate marketer, you can share a specific product or service on a blog, social media platform, podcast, or website. You earn a commission each time someone purchases through a unique affiliate link associated with you.
Coaching
If you have a background in human resources, workforce development, or career services, consider starting a career coach business. A career coach is an experienced professional who helps others reach their career goals and full potential. Success in this venture requires strong communication skills and an understanding of the job search and hiring process. Above all, you should be passionate and empathetic with a desire to help others. Start-up costs for this business are relatively low and can be done on a budget. The main cost associated with the career coaching business is marketing and advertising to build your client base.
Consulting
Starting a consulting firm can be lucrative if you have in-depth knowledge and passion regarding a specific topic, such as accounting, data management, social media marketing, leadership, or communication. Your main responsibility is to offer expert advice and guidance to businesses and organizations with the aim of helping them optimize strategy, increase profits, and resolve issues. At the start, you can begin the business on your own and hire other consultants with time.
Top 8 small business opportunities
1. Pet care
2. Cleaning service 
3. Courier/transport service 
4. Organizers 
5. Party planners 
6. Home care services 
7. Food truck
8. Real estate brokerage
With planning and preparation, you can launch a small business and become your own full-time boss. If you're not sure what type of business to start, here are eight small business opportunities to get you started.
Pet care
People love their fur babies and are willing to pay handsomely for their care, making this a good industry to look into. From a business perspective, pet care can be as simple as dog walking or pet sitting. However, pet care businesses can also take on more complex services such as grooming, training, and veterinary care. Businesses in this industry need to consider the regulations and licensing that may be required before opening their business and should also consider marketing strategies to promote their services.
Cleaning service
Many people need help to keep their homes and offices orderly and neat. Starting a cleaning service is an inexpensive business idea that allows you to have clients within hours of launching. Cleaning services are also extremely in demand and always essential, meaning you will not likely encounter an "off-season."
Courier/transport service
Many people still require courier services to send and receive packages. Couriers provide a much quicker and more reliable solution than traditional mail which can take days. One in three shoppers now expects same-day delivery, so starting a courier service can be a good way to fill gaps and earn money. To start a courier company, you need to choose suitable vehicles, buy the ideal equipment, and insure your business.
Organizers
We've all been in situations where we've misplaced important items like wallets, keys, important documents, and more. In fact, did you know that the average American spends up to two and a half days annually looking for these lost items? As a professional organizer, you offer several services, including residential and business organizing as well as paper management.
This is a great business for documenting before and after. You can create videos for YouTube and other social media channels that show off your organizational skills which should lead to more business over time. Costs should be relatively low, but you will likely need to partner with other businesses such as closet manufacturers or retailers.
Party planner
Party planners coordinate, organize, and execute several special events, from weddings, birthday parties, and anniversaries to corporate gatherings. Event planning is an exciting industry that can take you to various locations. You could be well-suited for this business if you are a highly organized person with excellent communication skills and a great eye for detail.
Home care services
Home care services offer professional support that helps people live safely and comfortably in their homes. If you are performing health-related assistance, you will likely need training, certifications as well as insurance coverage.
Some home care services provide more domesticated services such as running errands, cleaning the home, making phone calls, and cooking. These are less likely to require special certifications, but as a business, it's still good to have insurance and perform background checks if you have employees.
Food truck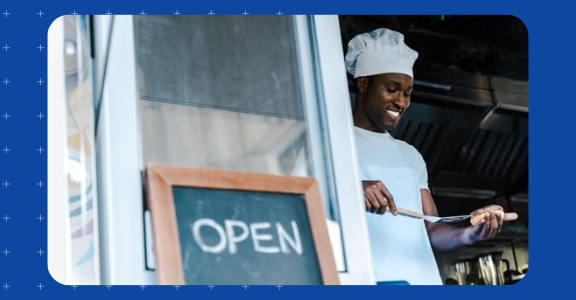 Food truck sales reached an estimated $1.16 billion in 2021. However, this business opportunity requires a lot of planning and start-up costs when compared to the other business opportunities we've discussed so far. It requires a unique menu, business licenses, health code compliance documents, a truck to service your customers, good insurance, and excellent cooking skills. If you have a deep passion for cooking, a food truck is a great alternative to a traditional restaurant.
Real estate brokerage
A real estate broker represents sellers or buyers of real estate or real property. Your duties include helping people navigate the challenging terrain of the housing market by providing the insights they need to make more informed purchase decisions. The following are a few steps to building a successful real estate brokerage firm:
You must get a real estate broker license
Create a real estate brokerage business plan
Register your real estate business
Choose an ideal location
Create a marketing plan
Start selling listings
Top 8 local business opportunities
1. Yard work 
2. Auto repair shop 
3. Salon 
4. Food delivery 
5. Daycare 
6. Laundry service 
7. Cafe or coffee shop 
8. Janitorial service
Filling a need in your community can be a great way to give life to your business idea. However, before you start your local business, you need careful research and an understanding of the community you plan to serve. Try to find an industry or service that is lacking in the community.
The following are eight local business opportunities to consider.
Yard work
Many people in your local community don't have the time to do yard work. Even when making time, many homeowners don't have the skills or tools to achieve their desired goals. Starting a yard work business can be a great way to make money and help your community look its best.
Outside of purchasing the right equipment, building a customer base is another challenge. Every Door Direct Mail (EDDM) is a service offered by the US Post Office that can help you raise awareness in the area. You can also create a website, start a social media business page on platforms like Facebook or Nextdoor, or claim and verify your Google My Business profile.
Auto repair shop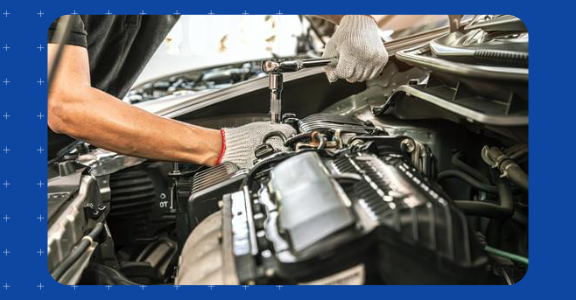 According to industry research, auto repair shops realize an average profit margin of 50-65% for service and 20-28% for parts sales. One advantage to starting an auto shop is that it can stay in style as cars are people's main mode of transportation. To start this local business opportunity, you must create a business plan, register the business, obtain permits and licenses, get insurance, buy tools and equipment, find a location, and hire the right team.
Salon
Statistics show that salons can earn an average profit margin of 8.2%, which is higher than the general business average of 7.7%. If you're a creative and personable individual with great hairdressing skills, consider starting a salon business.
Food delivery
A food delivery service is not only convenient but also attractive to a wide variety of customers. With most millennials ordering food online, the demand for delivery services continues to increase daily. Since food is a basic necessity, investing in a food delivery service can be a profitable and stable business venture.
Daycare
Business opportunities in daycare can be a great way to make a decent wage and provide a valuable service to your local community. As a daycare provider, it's your duty to supervise and monitor the safety of children. Your state will likely have its own unique requirements including education, certification, and insurance. If you plan on having the daycare at your home, an inspector will likely come out to provide the initial inspection as well as regular ongoing inspections.
The demand is high for quality daycare. It's a business opportunity with real potential for growth. During the pandemic, thousands of daycare facilities closed which means care for children is at a premium. Most locations still have long waiting lists too.
Laundry service
Everybody needs a clean set of clothes each day. However, only some have a washer or the time to clean their clothes themselves. This makes starting a laundry service an excellent option for budding business people. Laundry service is a stable business with great flexibility and low labor costs.
Cafe or coffee shop
Running a café or coffee shop can be a rewarding career if you have a passion for brewing. According to Drive Research, 3 out of 4 Americans drink coffee every day and about 1 out of 3 purchase coffee from a coffee shop 1 to 3 times per week.
With that type of demand for coffee retailers, this can be a viable business opportunity with high ROI. You can sell anything from beans and roasters to cups of freshly made coffee and other cafe products.
In recent years there has also been a push to "buy local" or to "shop local". This is allowing for businesses such as coffee shops to craft their own flavors and build their own brands. You can earn loyal customers not just for your coffee, but also for branded merchandise.
Janitorial service
Businesses and organizations need their spaces cleaned and in good hygienic condition. However, many don't have the tools and resources to maintain a professional and clean environment on their own. This makes starting a janitorial business a viable idea.
As a commercial janitor, you are assured of a steady market with consistent demand. Plus, you can purchase the necessary tools like mops, vacuum cleaners, and other cleaning supplies at a reasonable cost. All you need to do is set up shop, create a marketing plan, and start building customer relationships.
Top 3 future business opportunities
1. Virtual reality
2. Cybersecurity
3. Digital education
Taking a futuristic stance toward business allows you to capitalize on emerging opportunities and uncover potentially profitable growth prospects. If you are looking for top future business opportunities to venture into, here are a few to keep in mind.
Virtual reality
The virtual reality (VR) industry has been snowballing. It had a market share value of over $12 billion in 2022. Businesses today leverage VR content to improve the overall customer experience and increase sales. Some of the most profitable VR business ideas include:
VR content creation: There is a huge demand for VR content in different sectors. VR content creation involves the development of sketches, pre-production activities, shooting, and post-production.
VR sports streaming service: You can also start a VR-based sports streaming service and meet the needs of sporting enthusiasts around the world. The service replicates the experience of being at a live game from the comfort of your own couch.
VR marketing: Virtual reality marketing is a cutting-edge approach to engaging with customers and boosting brand loyalty. VR creates an immersive experience that gives companies the chance to showcase products and services in an interactive way.
Cybersecurity
In recent times, there has been an unprecedented rise in cybercrime targeting businesses, personalities, and organizations. This makes cybersecurity one of the most sought business opportunities to consider. As a cybersecurity specialist, you are responsible for discovering vulnerabilities and risks in data centers, networks, and software systems. You also perform ongoing vulnerability scans and monitor network data to ensure hardware and software applications are safe.
The potential losses for businesses and individuals from cybercrimes can be catastrophic. People are willing to pay a premium to protect their interests. If you work with companies that have vulnerabilities, it can be a great opportunity. Present how you can help protect them and they'll likely be quick to sign up even if you run your own solo operation or have a small team.
Digital education
There is high demand for digital solutions from students and lifelong learners wishing to acquire new skills. Digital learning platforms offer students the flexibility to learn when it's convenient for them. As a digital educator, you help students visualize the tougher concepts through animations, videos, and voice notes. Essential attributes of good digital educators include state certification, curriculum expertise, excellent communication and technical skills, and passion for teaching.
Top 3 remote business opportunities
1. Professional consulting
2. Online influencer
3. Tutoring
For entrepreneurs looking to work remotely, here are three businesses you can start from the comfort of your home.
Professional consulting
A professional consultant gives expert advice to businesses and organizations. As a consultant, you leverage your expertise and experience to help clients improve their performance and profitability. Your expertise can focus on various areas, including operations, management, HR, IT, marketing, and more.
Online influencer
The potential for financial earnings as an online influencer is great because brands typically pay good money to help promote their products or services. If you can establish yourself as an authority in a particular niche, you can gain followers and start earning an influencer income. Plus, start-up costs are low.
Tutoring
An online tutoring business can be ideal if you have an educational background, a passion for teaching, and are tech-savvy. You can do the tutoring yourself or hire teachers to meet the needs of those searching for knowledge. To cut costs, rent an office in a co-working space for a couple of hours each evening instead of investing in your own office space.
3 other business opportunities
1. Personal training
2. Construction
3. Security
Personal training
If you enjoy working out and take pride in fitness, consider monetizing your passion by offering personal training services. As a personal trainer, you offer the support and motivation that your clients need to realize their fitness goals. To build credibility with clients, consider obtaining certifications in health and nutrition.
Construction
It seems like there are always several construction projects going on around us each day. From new construction, upgrades, electrical, or roadwork, you have plenty of contracting business opportunities to tap into. These opportunities range from supplying raw materials, landscaping, interior design, and construction site management to administrative services for construction companies.
Security
Private businesses need security services to secure their assets. If you have a solid background in security, there are multiple security contracts you can bid on, from single guard to multi-state operations. Some of the security services to consider include entrance security, after-hours patrol, armed escort, and camera installation and monitoring.
How to find the business opportunity that is right for you
If you want to start a successful business, you must learn how to spot new opportunities. While some business opportunities are relatively straightforward, others require in-depth research and analysis. The best way to find the right business opportunity for you is to:
Assess your current skills, interests, and expertise. Consider what you are passionate about and how that could be monetized.
Research different options and evaluate which have the most potential for success based on existing market conditions.
Create a business plan to track progress and outline a strategy to achieve success.
Look into available resources that can help you reach your goals such as mentors, technology platforms, financial support, and networks of professionals who are experienced in the specific industry.
Talk to your existing customers to determine their new trends.
Look at the external factors that can have a significant impact on businesses. These include economic changes, trade policies, new technological developments, government policies, and social/cultural norms.
Frequently asked questions about a business opportunity
What is business opportunity?
A business opportunity refers to an occurrence in the market that presents a great chance to make profits.
Which business opportunity involves higher start-up costs?
Industries with the highest start-up costs include technical services, food services, legal and financial consulting, construction services, and utility businesses.
Which three characteristics help identify a business opportunity?
The three characteristics to help identify a business opportunity are a potential profitability, alignment with personal interests and skills, and potential for growth.
How do I find new business opportunities?
There are several effective ways to identify business opportunities such as researching market trends and needs, performing competitive analysis, or pursuing gaps in the market.
What are the three main types of business opportunities?
The three main types of business opportunities include:
+ Franchising
+ Start-ups
+ Buying an existing business
Final thoughts about business opportunities
In general, a good business opportunity will have three characteristics: it's unique, something that you can replicate and scale, and profitable. The examples of business opportunities discussed in this article can be a great starting point for those looking to start something new, whether you've run a business before or not.

Originally published