Does this sound familiar? You've worked for years for a big company, but it's just not the career you want. It'd be great to work for yourself, but how do you go about finding a small business idea that actually works?
We're here to help. We've put together a list of 45 of the best small business ideas to give you a headstart on where to pursue your self-started career. But first, let's go over what makes a small business idea worth pursuing.
Key factors to good small business ideas
You could start any type of business, from starting a food truck to knitting little hats for cats. But when it comes to profitable business ideas, there are a few areas you really should consider.
Meets a need
The first thing you should ask yourself when starting a small business is, "Will people want this?" Your business should fill an area of the market that's lacking. It might be something in high demand, like a handyman service. Or it could be something to fill a niche that your competitors are overlooking, like a particular cuisine that isn't available in your area.
Clear revenue potential
Now that you've figured out a need, the next question you should be asking is, "Is your idea profitable?" As cute as hand-knitted hats for cats might be, it's going to be a very small audience you're reaching out to, with even fewer people willing to pay for it. Make sure you have a clear plan for profits and that the plan is sustainable for the future.
Aligns with your skillset, passion, and experience
Of course, it's not all about the money. If you're looking into starting a small business, you likely have a passion or skill that you want to monetize. Good small business ideas involve both revenue AND enjoyment. After all, if you're your own boss, you probably should enjoy the work you're doing. And if you're experienced and passionate, it'll come through in your work.
Scalability
Getting a business to start is only half the battle. Eventually, you're going to want to see how you can scale. Growing a business is essential to its survival. You want to make sure that you are able to easily keep up with the demand for your products and services, as well as the additional costs.
Low entry barriers
As enticing as it might be to build your dream restaurant or auto shop, you'll want to be realistic about what you can do initially. Fortunately, the beauty of starting a business is that you don't have to invest in expensive equipment or rent out an entire building at the onset. You can start with small business ideas from home and build up as you gain more customers and revenue. This can make the entry barriers for small businesses low, especially if you're willing to do most of the work yourself.
Best small business ideas for 2023
Now that you have an idea of how to start a small business, it's time for the fun part, figuring out what business to start. Here are a handful of suggestions for inspiration.
1. Personal shopper
There are a lot of people out there who simply don't have the time to shop for themselves. Whether it's because of work, family, or other obligations taking up their time, people use personal shoppers to take care of errands like groceries, clothes buying, and more.
2. Freelance writing and editing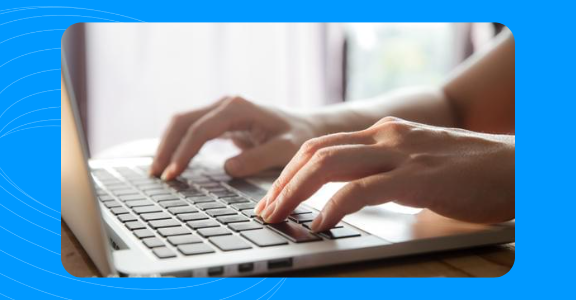 If you have a knack for the written word and a passion for grammar, you can make a tidy sum by offering those services to people who may not have that same skill set. If you are well versed in several industries like finance, healthcare, and technology, you may find several opportunities and make a full-time salary.
3. Pet grooming
If you love animals and don't mind a little bit of a mess, a pet grooming service is the way to go. You don't even need to set up a storefront. If you are able to offer a mobile service, not only will you save on rent but you'll likely attract more customers due to the convenience you offer. After all, most pets aren't all that keen on leaving their homes just to get a bath.
4. Online coaching and consulting
If you consider yourself a guru when it comes to career guidance and living life, becoming a life coach or consultant might be the path for you. You'll need certification to build credibility, but by offering coaching and consulting services online, you're able to reach people across the country or even around the world.
5. Social media management
Many companies need help when it comes to social media, especially with the number of platforms available. But, you don't need to be a TikTok star or Instagram influencer to be able to navigate the business side of social media. And by offering your skills on a freelance basis, you'll be able to choose whether you want to just manage a couple of companies or take on several clients at once.
6. Virtual bookkeeping
Are you good with accounting numbers? Do you have a CPA? Then offer your services as a professional bookkeeper and start helping people manage their money properly. You can set up your own online bookkeeping practice and manage a variety of clients from the comfort of your own home.
7. Sell homemade goods on Etsy
Do you have an eye for crafting homemade jewelry? Why not turn your hobby into a career by posting your pieces on eCommerce sites like Etsy? It costs nothing to create an Etsy storefront and only $0.20 to post a listing. If you're already creating things for fun, you have a headstart on getting your business up and running.
8. Personal training and fitness coaching
Being a personal trainer involves pushing people to be the best they can be. If you love fitness and are a compassionate leader ready to cheer someone on as they start their fitness journey, a career as a personal trainer can be highly rewarding.
9. Residential cleaning service
Residential cleaning services are always in demand. This might be your sign to get scrubbing. With low start-up costs of cleaning supplies, getting into the cleaning business is a surefire way to be profitable sooner rather than later.
10. Farm-to-table delivery
Farm-to-table food is an increasingly popular culinary trend, but both farmers and customers are too busy to drop off or pick up their food. By acting as the middleman and taking care of deliveries, you can help create a local, sustainable food economy and earn on a regular basis.
11. Handyman
If you have experience fixing things around the home, then all you need is a toolbox to make yourself an official handyman. The only potential hurdles here are that you'll likely need licenses, insurance, and advertising to make it a full-time job. But it's worth considering all the same.
12. Online tutoring and teaching
As long as there are students, there are going to be tutors. Tutoring is an excellent way to both use your academic experience and have a flexible career at the same time. You can start off on your own, choosing who to teach and when. Once you're more established, you can take it up a level by building an agency with other educators under your management.
13. Food truck business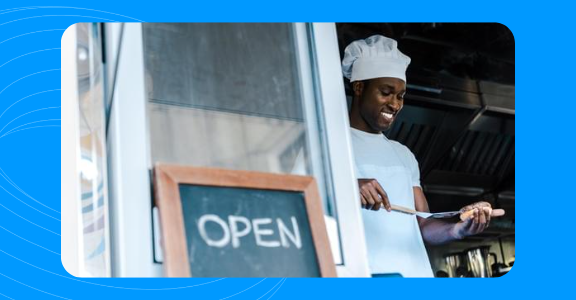 You may worry about the high start-up cost of a food truck, but if you have food that people want, it can become wildly successful. Plus, compared to a traditional restaurant, a food truck is more economical.
14. Wellness and health coaching
Much like being a life coach or a personal trainer, wellness and health coaches are people dedicated to making others' lives better and encouraging them to eat healthily and live a balanced life. While anyone can technically be a wellness coach, it's a good idea to have a background in health care or nutritional science.
15. Event planning and coordination
Every major event needs planning, and for those of us who thrive on organizing and managing activities, this could be the small business idea for you. While wedding planning is probably what comes to mind in terms of event planning, coordinators are also needed for events like parties, reunions, conventions, and more.
16. Graphic designer
As a graphic designer, you can be your own boss and set your own hours. You also have the freedom to be creative and innovate, creating powerful visuals that capture the attention of your client's target audience. Additionally, this endeavor requires minimal overhead costs since most graphic design software is affordable and work can be done remotely.
17. Language translator
Do you speak another language? Then you have an invaluable skill that can be monetized. Translating is another high-demand market. Businesses of all kinds, from sales to publishing to communications, need translators to make their products viable in other countries. By offering your skills as a translator, you're able to use what you already know to build a career.
18. Specialty food store
The modern food world is full of near-infinite substitutions and specialties, like keto, vegan, gluten-free, etc. By offering unique and hard-to-find items, you can tap into a customer base that is eager to buy special products. Additionally, since you specialize in a unique product line, you can offer more customized service and support to your customers. This can help build customer loyalty.
19. eCommerce shop
If you have an eye for unusual products or consider yourself the best thrift shopper around, a consignment store could be the right path for you. In today's digital world, you don't even need a physical storefront. Setting up an online shop page with eCommerce marketplaces like BigCommerce or Shopify is free.
20. In-home childcare
If you love kids but don't love working in a preschool setting, consider bringing preschool to the child in their own home. In-home childcare allows for a safe, comfortable environment for you and the kids in your care. To start, all you need is some basic supplies and a few toys and books. Be sure to obtain the necessary licensing and insurance and a network of support from parents and other caretakers in your area.
21. Mobile car detailing
Dropping a car off at a mechanic for detailing is both expensive and could leave you without your vehicle for several hours. By offering a mobile version of car detailing, people are more willing to pay for the convenience of you coming to their car instead of the other way around.
22. Landscaping
As long as people have yards, they'll need landscapers to maintain them. You can increase your demand by focusing on a particular niche, like native plant gardens or drought-resistant landscaping. You can help yourself stand out by only using eco-friendly products like battery-powered equipment or compost fertilizer.
23. Local tour guide
If you love your town and live in a place that attracts many tourists, you can get paid to show off the sites to others. Brush up on the history of your city and the major landmarks that every visitor should see. Then start up a tour guide service. Your groups can be as big or as small as you'd like. Starting off as a walking tour offers entrepreneurs a way to keep costs down until they are better established.
24. Financial consulting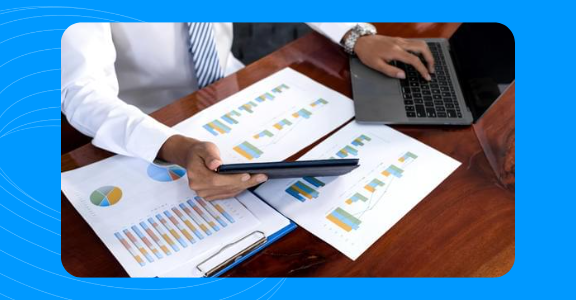 Starting a financial consulting business is a great way to make use of your financial skills and knowledge while helping others. It allows you to develop customized strategies and solutions that best fit each individual client. As a financial consultant, you can also take on more clients in less time, thus increasing your potential earnings.
25. Web designer
Everyone needs a website these days, but only some know how to make it happen. If you're handy with coding languages like HTML and CSS or are familiar with website building sites like Wix or Squarespace, then you can use your ability to create stunning web pages for your clients.
26. Online marketplace for local artisans
Setting up an online space to sell goods from local artisans rather than your own products can be a lucrative venture. By creating an eCommerce space for creators, you bring their goods to a much bigger audience, helping you collect commission on a frequent basis.
27. Dog walking and pet sitting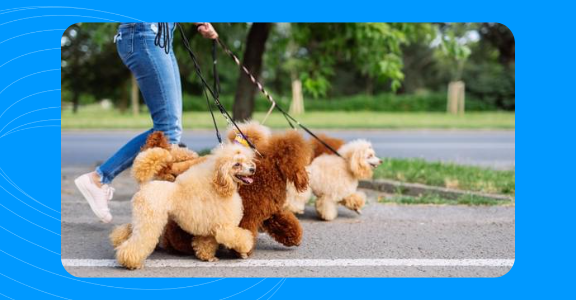 Dog walking has been a staple for independent contractors for decades. You can work through apps like Rover and Wag!, but it'd be more economical to create your own business in order to direct all the profits straight into your pockets. Additionally, if you have a big enough space, you can offer pet-sitting services in your home, too.
28. Personal concierge service
People these days are busy, and running errands are time-consuming. By offering to take on someone's errands, you free them up to take care of other important responsibilities. And with enough time, you'll know their likes, dislikes, tastes, and more, building loyalty so that they become a repeat client.
29. Arts and craft classes
For the creative types, few jobs are as emotionally rewarding as teaching art classes. Teaching painting or sculpting not only utilizes your skills in a way that's profitable, but you're helping others to find a new hobby and may even inspire them to pursue art themselves.
30. Wedding planning
Wedding planners help the bride and groom focus on their special day by taking care of details and ensuring the wedding runs smoothly. By offering your services, you can save the couple a lot of stress while making sure that their special day is a memorable one.
31. Personal chef
If you're a whiz in the kitchen but dislike restaurant life, there are alternatives. There's no shortage of people who find cooking challenging and are willing to pay for someone to take that task over for them. Plus, you'll get the chance to show off your culinary skills in the comfort of a home kitchen.
32. Corporate event planning
Much like a bride, the head of an organization has far too much on their plate to handle, let alone running a corporate event. If you can specialize and focus your event planning in a corporate setting, including company dinners, galas, charity events, etc., then you can help companies host events that make them even more successful. If you do well enough, you'll likely have a very lucrative client base that you can continue to tap into.
33. HR consulting
Human resources (HR) departments are a necessity for every business, but not everyone can afford to hire an HR team. As an independent HR consultant, you can help organizations maximize efficiency and increase employee satisfaction by providing valuable insights into their HR processes. Additionally, you will have more freedom to choose projects that interest you and work with clients worldwide.
34. Voice-over and narration service
A good quality microphone, recording equipment, and editing software isn't the same pricy investment it was just a decade ago. For a relatively low start-up cost, you can use your voice to start a new business venture. You don't need to be the next Mel Blanc in order to do voice-acting. If you aim for business and commercial rather than entertainment, your normal voice should be just what clients are looking for.
35. Professional organizing and decluttering service
It can be hard for people to organize things themselves without feeling overwhelmed. By offering your services as a professional organizer, you can help clients declutter their spaces and eliminate unwanted items. To start such a business, you can research different methods for organizing, develop a pricing structure, and build a website to promote your services.
36. Pest control
Very few people want uninvited creepy crawlies in their homes. Starting a pest control business is a great way to make use of your knowledge and experience in the field of pest management. You can help organizations protect their valuable assets and property from pests while providing advice on how to prevent future infestations. And if you can work quickly and efficiently, you'll be rewarded.
37. Music lessons and instrument repair
If you're a musician, sharing music with others is your passion. It's no wonder that a good number of musicians offer lessons between gigs. The piano and guitar markets are likely saturated. However, teaching less conventional instruments, like violins, cellos, and clarinets, will almost certainly guarantee a steady flow of customers. Not big on teaching? Consider offering repairs on instruments instead.
38. IT support
If you're a computer whiz, or honestly, if you're just halfway decent with a computer, you have an invaluable skill that can be vital across many industries. By utilizing your tech savviness to help clients solve their IT issues, you can count on a steady stream of work and, in turn, revenue.
39. Nanny and babysitting
You don't need to be Mary Poppins to be considered a good nanny. If you love children, it's a career that's more than worth considering. As a nanny, you'd also likely have food and board covered if you live in the home, which can save you quite a bit. But, if you don't want that level of commitment, becoming a regular babysitter is an excellent alternative.
40. Social media influencer and blogger
Influencers are here to stay. So if you can't beat them, join them. The newest trend among them is something called "micro-influencers." While you won't get the same major offers as bigger names, becoming a micro-influencer can still be worth your time. You don't need a big audience or any grand displays – just work with your client to offer the best possible way to promote their brand, and you'll find success. Alternatively, if your area is more in words than in photos or videos, you can achieve the same success with an influential blog.
41. Photography and videography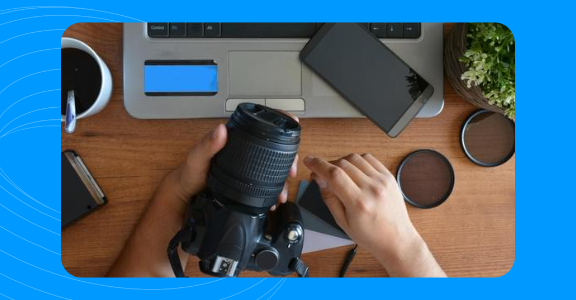 Photography has been a booming industry for local business owners for a while. And even if the market seems full, you'll find that there's still plenty of work available for photographers and videographers. Do research on your competition in town, and see if there's a specific photography area that needs filling. From wedding photography to travel and corporate events, there are many opportunities for you to build a successful business in the photography industry.
42. Home inspector
As a home inspector, you can help home buyers and sellers understand any potential issues with their property and provide valuable advice on how to address them. You can also help them find a reliable contractor to assist in the repair process. This is an ideal business opportunity for those who are detail-oriented and have an eye for potential problems. And, with more people looking to buy homes right now, it's an especially promising field to get into.
43. Moving and relocation service
Moving is far from fun, and all too often, people are more than willing to pass off the loading and unloading of furniture to a moving crew. Like landscaping, it's hard, physical work. But if you don't mind that – or if you enjoy working with your hands – you'll find plenty of people ready to sign on with you. Do keep a hard eye on your online reviews, though. The last thing you want is one bad review to keep people from giving you a call.
44. Podcast production
It seems like everyone has a podcast these days, but we're not suggesting you make your own. Instead, there's a big market for the techy side of podcasting. Production, editing, and other audio services are necessary for creating a good podcast, and missing out on a clean sound for their podcast could mean the difference between getting an audience and being overlooked.
45. Coffee shop or tea room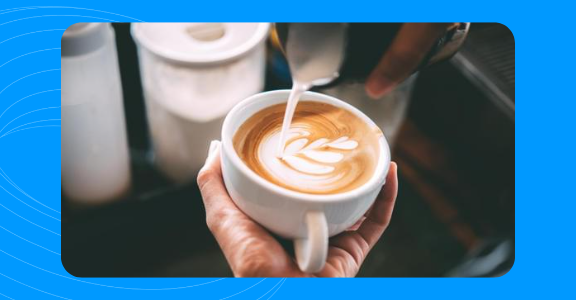 This will take significant starting costs, regardless of whether you buy an existing shop or build one from scratch. But considering how many people need a boost of caffeine first thing in the morning, coffee is always a hot commodity. Find a unique way to offer a cup of Joe in your market and you'll be brewing up profits in no time.
Starting a small business at home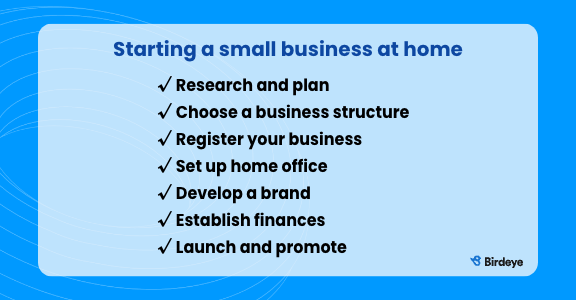 Now that you have some suggestions for unique small business ideas, it's time to start looking at the necessities to getting your new business started.
1. Research and plan
Even if you're pursuing an area that you have experience in, it never hurts to do your research. Start looking into other similar businesses in your area to get an idea of what's being offered and how you can set your own business apart. Then it's time to plan, plan, plan. Having a well-researched idea and plan of what you're going to do before your business is set up, is a good way to avoid setbacks.
2. Choose a business structure
Business structures are an immensely important part of getting a small business started. There are several types to choose from like a sole proprietorship, S corporation, partnership, and limited liability company (LLC). Each offers unique opportunities and different tax requirements. Be sure to look into each before you register your business so you know which structure works for you.
3. Register your business
In order for your business to be a legitimate legal entity, you'll have to register it with your city and/or state. The Small Business Association has a very handy guide on how to set up a small business with local authorities.
4. Set up your home office
If you're going to start a small business at home, then you're going to need a dedicated office space. An extra bedroom or den makes for a great home office. Make sure the space is well-lit, organized, and has comfortable seating. Invest in a good-quality desk, chair, and computer to help you stay focused on your work.
You may also need to invest in other items such as a printer, filing system, bookshelves, and extra storage space. It's important to make sure your home office is comfortable and efficient in order to help you stay productive while working from home.
5. Develop a brand
Establishing a brand identity is one of the most important things you can do as a new business. It's what defines your mission and what sticks in people's minds when they think of your business. So take the time to craft a logo and messaging for your business, and use it in everything from your website to your business cards and letterhead.
6. Establish your finances
Before you do anything with your business, it's important to create a financial plan. Work with the assets you have now and plan for future expenses early in the game. You don't want to be caught off guard by something expensive once your business gets started.
7. Launch and promote your business
Once you have all of these areas ready to go, it's time to launch. Set up your website, create social media accounts, and use traditional promotion strategies to raise awareness. Start by announcing the launch of your business through emails and social media posts. You can even create a launch party or event to invite potential customers and spread the word about what you're offering.
Protecting your small business idea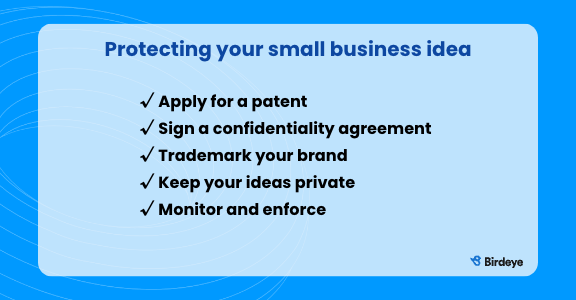 As exciting as it is to start a new business, particularly in an area with a lot of untapped potential, it's important to protect your successful business ideas.
Apply for a patent
Patents are for more than just inventions. If your business is in any way innovative, then it's a good idea to apply for a business method patent to ensure you receive credit for its use.
Sign a confidentiality agreement
If you have more than one person working with you in your business, a confidentiality agreement is vital. By having other employees or co-owners sign it, they agree to keep your business information a secret under the protection of the law. While you would hope that you can trust the people you work with, it doesn't hurt to be extra careful.
Trademark your brand
Like the patent, acquiring a trademark for your brand ensures that you're the only one who can use the look and messaging you've created for your business. Filing for one early ensures that you don't run the risk of someone taking your brand and running with it themselves.
Keep your ideas private
It's very exciting to have new ideas for your business, and it's even more tempting to share them. Bear in mind that you have no protection over the ideas you talk about, and if mentioned to the wrong people, you might find that they enact your idea quicker than you do, without giving you any of the credit. Keep your ideas close, and make liberal use of confidentiality agreements among your staff if needed.
Monitor and enforce
While no one likes a business owner who throws around lawsuits left and right, it pays to be aware of what happens in relation to your business. If someone outright steals your idea, or if an employee breaks the terms of your confidentiality agreement, then it's time to take action. Your business is your livelihood, and you need to protect it.
Funding your small business ideas
If you want to make money, you're going to have to spend money. Regardless of what you're start-up costs are, you'll need to plan to attract investors. Here are a few ways you can fund your small business opportunities.
Personal savings
If you have money in the bank, you can use this to get your business off the ground. However, be aware that using personal funds comes at a great risk of never being able to get that money back. If you do use your personal savings, make sure to create a realistic budget and stick to it in order to minimize the risk.
Crowdfunding
If you're creating something that you know lots of other people will want to buy, you could always start crowdfunding on sites like GoFundMe and Kickstarter. Often, you'll want to promise something in exchange for donors, like being the first to receive your product or service or a special edition of it. This is a great way to get the funds you need without having to find external investors or take out a loan.
Small Business Administration (SBA) loans
An SBA loan can help you hit the ground running with your new business by providing extra support specifically designed for businesses. It's a relatively low-risk method of funding the early days of your new venture.
Business grants
Depending on what industry your small business is in – namely the sciences or a non-profit – you can apply for a small business grant. A small business grant is funding supplied by government organizations or other entities, including private companies, that can be used to help with your business.
Venture capital
Similar to business grants, you can appeal to investors to back your small business idea. If a person or business sees potential for long-term growth in your business, they can fund your business as you grow and help you scale.
Angel investors
Like venture capital, angel investors can provide financial backing for your business. Rather than doing it for their own company, an angel investor will typically be a high-net-worth individual who gives money in exchange for partial ownership of your company.
Friends and family
You can always reach out to friends and family to help fund your venture. Many businesses get their start by having loved ones invest in them at the very start. The one thing you must remember is that even though you're working with your friends and family, they'll still expect some sort of return on their investment.
FAQs about small business ideas
What small businesses are most successful?
There are a number of good business ideas to choose from that have proven to be successful. A few include app development, dropshipping, cleaning and handyman services, and consulting services.
What business can I start with $1,000?
Businesses that you can start for $1,000 include ones with skills and equipment you already have, such as writing, website development, and landscaping services.
What's a cheap, easy business to start?
One of the easiest and most cost-effective businesses to start is an online store. You can sell almost anything through your own website or an existing marketplace like Amazon or Etsy. Other low-cost options include freelance work like consulting services or online tutoring.
Are small business loans a good idea?
It depends on what your financial situation looks like and whether or not you have profitable business ideas. Getting a small business loan is akin to getting a mortgage. The eligibility requirements are very forgiving, but you'll likely have to offer collateral. And it could be a while before the loan is approved. While it never hurts to apply for an SBA loan, you'll want to look at other options as well.
What business is the easiest to start?
Service-based businesses, like cleaning, lawn work, and handyman services, can be started almost immediately. Other businesses, like blogging, web development, and consulting, can be set up quickly too, but you'll likely have to work harder – and for less pay – to get your name out there.
Small business ideas wrap up
You don't have to continue grinding away for someone else's company. Plenty of unique business ideas allow you to follow your passion while getting paid for it. In this article, we've shared 45 small business ideas that can help you build a great life and become your own boss. No matter which one you choose, make sure you give it your all. With careful planning and dedication, there's no limit to the success that you can achieve.
Explore these similar topics to boost your business's reviews.
Top 10 Car Review Sites
Top 6 Dentist Review Sites
Top 15 Contractor Review Sites
Top 10 Business Review Sites
Top Travel Review Sites

Originally published