Benjamin Franklin said, "If you fail to plan, you plan to fail." A business strategy template is a must-have tool for establishing business objectives and actions needed to reach your goals. It also brings alignment and cohesiveness to all your business activities.
In this article, we'll share the top business strategy templates and how to use them to plan the future of your business. From strategic planning framework template examples to developing a strategic plan template, these are the blueprints that'll help you build your business the right way.
What is a business strategy?
A business strategy is a plan of action that is designed to achieve a particular goal or set of goals for your business. It typically involves setting out an overall vision for the company and then establishing specific steps or milestones for how to get there. It usually takes into account factors such as marketing objectives, financial constraints, competitive analysis, and customer needs.

What is a business strategy template?
Oftentimes, businesses need help with where to begin when it comes to strategic planning. Using a business strategy template can help kick things off. It's a tool that helps organizations create an actionable plan to achieve their goals. The purpose of the template is to provide structure and clarity when determining which actions need to be taken, who should take them, and how they will be executed.
Below we'll look at some free business strategy template ideas that are worth exploring. These are especially helpful if you're just starting your local business.
Popular types of business strategy templates
There are several business strategy templates out there to help you draw inspiration. However, these four tend to be the most popular among startups, local businesses, and entrepreneurs. If you're looking for a strategic plan outline template with proof in results, explore these.
SWOT model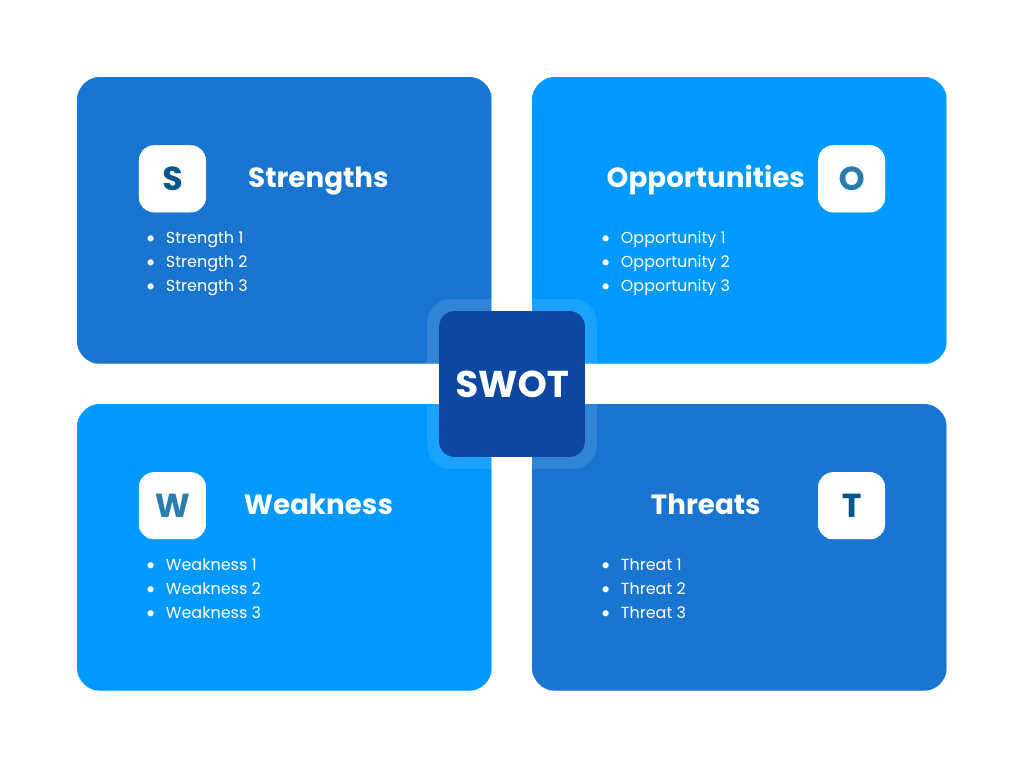 The acronym SWOT means strengths, weaknesses, opportunities, and threats. This type of analysis offers a bird's eye view of what your business does well, areas where it could improve, and where you're struggling. It's great for general business strategies, but it's also ideal for creating a small business marketing strategy template, as well.
For a SWOT analysis to be effective, you must determine the specific area of your business you want to focus on with each strategy. Strategies might include social media, product and service offerings, or branding. Otherwise, your analysis will be too broad.
BCG matrix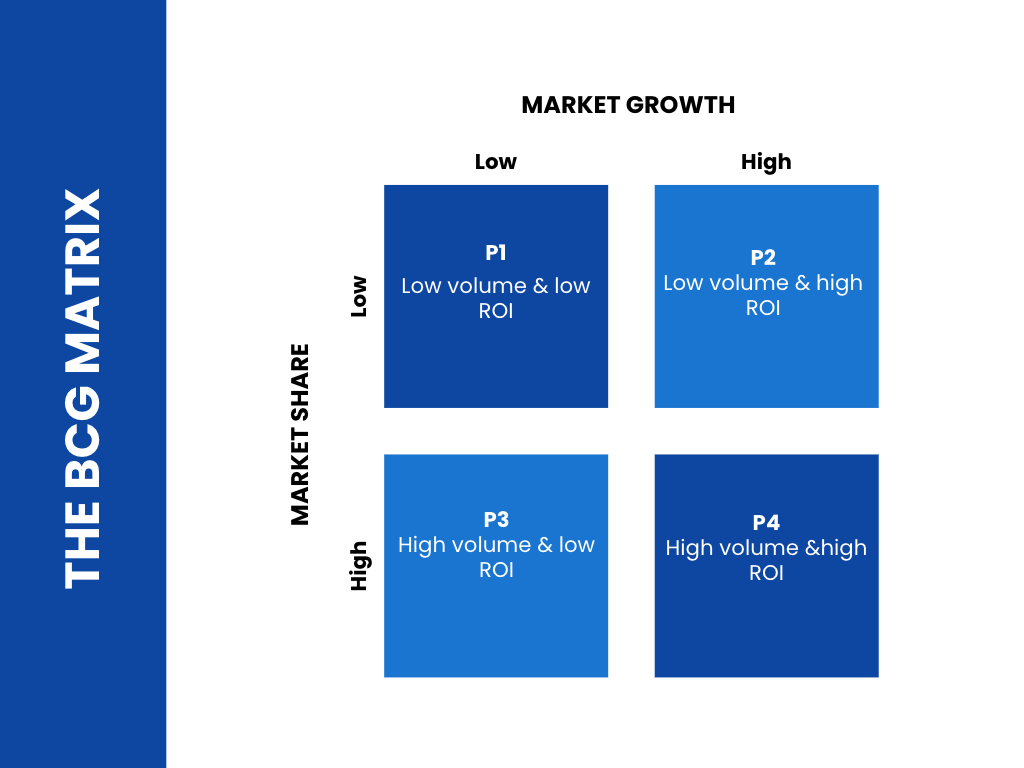 The Boston Consulting Group's product portfolio matrix, often called the BCG matrix, is similar in appearance to a SWOT analysis. However, its key function is to evaluate your range of products to determine which to invest more heavily in, which to maintain, and which to eliminate completely from your catalog.
The BCG Matrix organizes everything into:
Low volume, low return on investment (ROI)
Low volume, high ROI
High volume, low ROI
High volume, high ROI
The BCG Matrix is also effective in evaluating your various marketing channels to determine which are the most effective and worthwhile.
OKR planning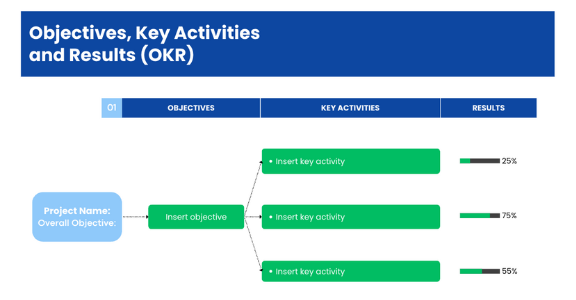 Objectives, key activities, and results(OKR) planning help you determine the exact outcomes you're looking to achieve. It's also helpful in identifying the key metrics you need to measure to reach your objectives. It enables data-driven decision-making that can drive successful business outcomes. When you know what you're working towards and how to get there, you can bring all your actions into alignment.
Cost-benefit analysis template
Cost-benefit analyses look specifically at the financial pros and cons of a specific company project. Often, there are many directives a business can follow to reach goals, but there are specific actions that are more likely to produce desired outcomes without draining financial resources. A cost-benefit analysis shows what resources and time are required to complete these specific actions. Additionally, it shows what outcomes these actions will have for the company.
Why use a business strategy template?
Using a business strategy template is a good idea because much of the thinking has already been done for you. The key elements you need to include in your plan are clearly marked within the template. The only step left to take is to plug in your business details and relevant information.
A business strategy template can empower you to develop your plan with greater clarity and ease. If you want to court investors for funding, they'll likely be familiar with the ones we mentioned above. How does the saying go," don't reinvent the wheel."
How to develop a business strategy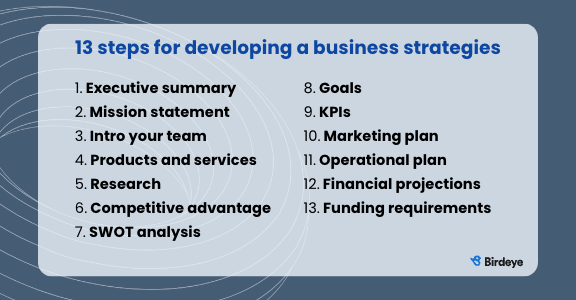 When you're ready to create your business strategy, follow these suggestions. From there, you can create your own unique version of the template.
Start with an executive summary
An executive summary is an overview or summary of the key points covered in your business strategy. Writing it last helps you identify the most compelling and important information to share upfront. A quick online search of a strategic plan executive summary sample might be helpful to review when developing your own.
Describe your mission statement
Within your mission statement, you'll want to cover why you exist, what your goals are, what products and services you provide, your ideal customer base, and your region of operation.
Introduce your team and brand
Focus on the key people in your company, especially if you have prominent partners. Otherwise, you may want to show a company hierarchy and the number of employees. This portion brings structure to a business strategy template and humanizes your company.
Products and services outline
Outline each of your product and service offerings as well as their overall performance. Investors are typically interested in customer acquisition costs and profit margins.
Outline the research
Offer a thorough analysis of your target customers, industry, and competition. This information helps prospective investors evaluate the opportunity with a level head.
Describe your competitive advantage and unique selling point
Even in less competitive markets, it's important for every company to demonstrate what's unique about their products and services or the specific way they go about marketing and selling them. Highlight what makes you different and showcase what customer problems you're solving that your competitors are struggling with.
Conduct a SWOT analysis
Identify all possible strengths, weaknesses, opportunities, and threats (SWOT) that exist in your industry. Examine your competition. Consider market conditions. Explore whether your product or service will still be relevant and viable in the next five to 10 years.
Outline the goals
Every business strategy template should include primary and secondary goals. Define the specific objectives you're looking to achieve as a company, such as increasing revenue, expanding into new markets, and/or developing innovative products and services.
Share key performance indicators (KPIs)
How will you measure your success? Key performance indicators (KPIs) are the specific metrics you will monitor to ensure you're on track.
Showcase the marketing plan
Cover the specific marketing and advertising initiatives you will be conducting and setting into motion in the next 12 months.
Share your operational plan
In detail, list out how you plan to fulfill your orders, including how you plan to hire and train employees, necessary equipment and facilities, vendor relationships, shipping process, etc.
Explain financial projections
Financial forecasting is an important part of a business plan because it explains where you currently stand financially as well as where you will be in the future. If your predictions are rosy, explain why. If you foresee your business growth being stifled, explain that too.
Describe funding requirements
Share the specific amount of funding you require to get your business off the ground and grow. If you're going to be courting investors, they will want to know exactly how much of an investment you require to establish and grow your business. Your funding needs will vary based on the size of your business and the scope of operations. According to BusinessNewsDaily, home-based businesses require a startup cost of anywhere from $2,000 to $5,000.
FAQs about business strategy templates
What are the components of a strategic business plan?
The components of a strategic business plan include – vision, objectives, core values, tactics and operations, resources and allocation, as well as data analysis.
What defines a good business strategy?
A good business strategy includes specific objectives and a detailed action plan, KPIs for each of your goals, and market and competitive analysis.
What are the five P's of strategy?
A strategic plan example for small business success often includes the five P's: product, price, promotion, place, and people.
How do you create a strategic plan template?
Creating a strategic plan template starts with defining the scope of your business, researching your industry and competition, and formulating a mission statement.
What are the four types of business strategies?
The four types of business strategies are market penetration, market development, product development, and diversification.
Create your business strategy template today
Business strategy templates make it easier for you to organize all your thoughts, ideas, and goals in one place. They make it possible for you to identify the key actions that'll help you achieve your objectives and bring your actions into alignment. With a well-crafted strategic plan in place, you'll have a roadmap to success and a way to monitor your progress along this exciting journey.

Originally published