Is there anything scarier than starting your own business? There are a number of challenges associated with starting a business. And when facing these challenges collectively, it can present an almost insurmountable obstacle. In this blog post, we'll share 10 key steps on how to start a business to give it the best chance for success. So, put on your entrepreneurial hat, and let's get started.
Steps to start a business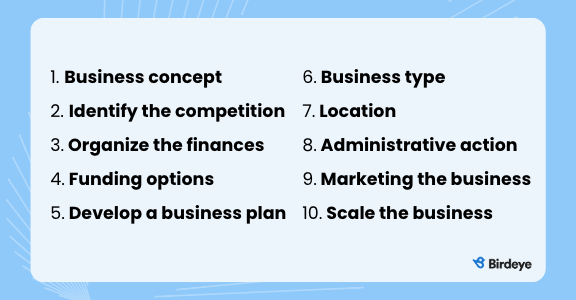 1. Business concept
√ Business idea that makes sense
√ Market opportunity
√ Potential customers
√ Choose the right name
The first step in starting a business is working from an idea to a business concept. A concept is not a complete business plan. It's a well thought out idea where you ask some important questions and perform some initial research.
What business should I start?
The possibilities for a business are practically endless. That might seem like a good thing but it's actually a major hurdle when starting a business. It's practical to choose a business concept that aligns with your passion, skills, and experience. In addition to analyzing yourself, also consider external factors such as:
Market demand
Competition
Costs
Profitability
Looking at yourself and the existing market should help narrow down what business is the right fit for you and your situation.
Market opportunity
One of the first steps to starting your business is conducting thorough market research. It's critical for vetting your ideas. This means examining industry trends, pinpointing potential customers, and evaluating the competitive landscape. A comprehensive understanding of the market is vital in determining the feasibility of your business idea and assessing the demand for your product or service.
Potential customers
Ideas on how to start a business must take into account your target audience. Identifying your customers and discovering their needs and preferences is essential for success. You've got to gain an in-depth understanding of whom you're selling to and how to provide them with the best possible value. Armed with this knowledge, you can craft a compelling sales and marketing strategy and develop offerings that cater to the unique needs of your customers.
Choose a name for the business
Selecting a business name is important because you'll want to establish your brand identity early on and before launching. When naming your business, aim for something easy to recall, spell, and pronounce.
Be sure to verify that the name isn't already claimed by another business to prevent any confusion or legal complications in the future. You can use the Secretary of State corporation and business entity search to identify any business within the United States. You can also search Google and social media for the business name you have in mind.
Next, it's a good idea to perform a website domain search. You can do this with Google Domains. If you don't see many results for your business name idea you can assume your potential URL is available. Whichever method you use, it's still a good idea to consult with a business attorney to perform additional due diligence.
2. Identify the competition
√ Market research
√ SWOT analysis
Identifying your competition and understanding what they offer can help you create a unique value proposition and differentiate yourself in the market. Here are some tips to help you analyze the competition.
Perform market research
Market research is the first step in identifying your competition. If you're starting a business in a specific area (city, region, etc.) Google the business service for that area.
For example, if you are researching "how to start a small business?" and looking to provide in-home care for seniors in Chicago, your search should be "in-home care for seniors in Chicago". You will see a list of the top businesses in the Chicago area offering this service. These businesses will be your top competitors.
This idea also works if your business isn't dependent on location. For example, if you want to provide online sales consulting for technology startups, search for that service on Google minus the location details. Again, the top results will reveal your competition.
Take the research a step further by diving into the details of what your competition offers. Review their products and services, look for pricing, and read customer reviews. Figure out how your new business compares to what already exists.
SWOT Analysis
Once you've completed market research, the next step is to conduct a SWOT analysis. This analysis helps you further identify how your business will potentially fit into the market you're about to enter.
To carry out a SWOT analysis, you need to determine the following:
Strengths: What advantages does your business have over your competitors? These could include unique products or services, a strong brand identity, or a loyal customer base.
Weaknesses: What disadvantages does your business have compared to your competitors? These could include a lack of resources, limited brand recognition, or challenging barriers to entry.
Opportunities: What external factors could benefit your business? These could include regulation changes, shifts in consumer preferences, or emerging technologies.
Threats: What external factors could harm your business? These could include economic changes, increased competition, or negative publicity.
By performing a SWOT analysis, you can identify your competitive advantages and disadvantages and develop a strategy to maximize the successful launch of your new business. As an example, below is a SWOT analysis for a hypothetical U.S.-based computer retailer.
3. Organize the finances
√ Startup costs
√ Expenses
√ Create a budget
√ Open a bank account
√ Bookkeeper vs accounting software
Starting a business demands careful planning and execution. Organizing finances is a crucial aspect of launching a new company. Let's look at the initial steps to help you organize your finances.
Startup costs – getting off the ground
Before you get started, you need to consider the startup costs. These are all the costs you incur before selling a product or performing a service. Many would-be entrepreneurs are curious about "how to start a business with no money?", but doing so is incredibly rare. The majority of businesses require at least some startup costs.
Potential business startup expenses include:
Rent
Supplies
Equipment
Inventory
Licenses
Legal fees
You'll need to include all anticipated costs in the early days of your business to get off the ground so be mindful and thorough.
Expenses
You must also consider the ongoing expenses of running your business. In general, a business will incur overhead and operating expenses. Overhead expenses are not tied directly to revenue. Operating costs, on the other hand, are tied to revenue.
For example, you are starting a professional painting business. You have an office and warehouse location. You service customers in your local area.
Overhead expenses may include:
Overhead costs are typically fixed, meaning those costs won't change regardless of the amount of revenue you bring in.
Operating expenses may include:
Paint
Painting equipment
Labor wages
Workers compensation insurance
Credit card processing fees
Unlike overhead, operating expenses are not fixed and change based on revenue. A realistic understanding of your expenses is essential to sustain profitability.
Create a budget
A budget gives you a guide for how to operate. It tells you what you can spend based on the revenue you're bringing in and helps you prioritize expenses. It's often recommended that you create a budget for both short-term and long-term needs.
Short-term budgets should cover expenditures over the next month or two, while long-term budgets forecast expenses up to a year in advance. You can use your budget to help you determine how much money you need to bring in and what revenue goals you need to set.
Open a bank account
Open a business bank account and keep it separate from your personal one. This will help you track your business expenses and revenue and make it easier to file taxes. Choose a bank that offers low fees, online banking, and other features that make managing your finances easier.
Bookkeeper versus accounting software
You can manage your finances by hiring a bookkeeper or using accounting software. A bookkeeper can help oversee your finances and ensure your books are accurate. However, bookkeeping services come at a cost.
On the other hand, accounting software lets you control your finances on your own, but you'll need to take the time to learn how to use it effectively. When choosing between these two options, consider your budget and needs to determine which option is best for you. If you are comfortable with numbers, you may be able to perform your own bookkeeping. If it's not a strength, it may be wise to hire a bookkeeper so you can focus on other areas.
4. Funding options
√ Bank Loans
√ Grants
√ Investors
One of the most significant challenges entrepreneurs face is securing funding to get their companies up and running. Some new business owners can self-finance. They use personal savings for startup and ongoing costs until a business is profitable and able to sustain itself. However, that's risky and isn't always an option.
Luckily, there are a number of funding options that can help you get your business off the ground.
Bank loans
One of the most common ways to finance a new business is through bank loans. Banks offer a range of loan options, including:
Small business loans
Lines of credit
Equipment financing
Small business loans typically range from $5,000 to $500,000, with interest rates and repayment terms varying based on the amount borrowed, the lender, and the borrower's creditworthiness. A report from the Small Business Administration stated that, "Small business loans (loans below $1 million) increased by nearly 40% from 2019 to 2020." However, keep in mind that despite that increase, banks will still want to see a solid business plan and a good credit score for you to qualify for a loan.
Grants
Unlike loans, grants don't have to be repaid, making them an attractive funding source for startups. Government agencies, nonprofit organizations, and private foundations all offer grants depending on the type of business.
One of the biggest advantages is that they don't require collateral or a credit check, which makes them accessible to many entrepreneurs. However, grant applications can be competitive, and securing one can be time-consuming.
Places to look for a grant relevant to your business include:
Investors
Investors are individuals or organizations that fund startups in return for a stake in your business. This type of funding is known as equity financing. Angel investors, venture capitalists, and crowdfunding platforms are other investment opportunities entrepreneurs can seek for funding.
According to a report, venture capital investments in startups reached a record high of over $22 billion in the USA. This shows that significant funding is available for innovative and scalable business ideas.
However, as we mentioned earlier, investors typically require a substantial amount of equity in the business in exchange for funding, which means that you must be willing to give up some control of your company. Additionally, securing funding from investors can be lengthy and competitive.
5. Develop a business plan
√ Create a business model
√ Business relationships
√ International vs domestic
√ Create an exit strategy
Next, it's time to write a business plan. When you create a business plan, it acts as a roadmap that outlines your business goals, strategies, and objectives. Understanding how to make a business plan is essential because banks and investors will want to see it before providing financing.
Create a business model
The first step in preparing your business plan is to develop a detailed business model. This should include information on the following:
The products or services you will offer
Target audience
Unique selling proposition
Revenue streams
Pricing strategy
Sales and marketing plan
All of the above will give investors and lenders a clear picture of your business and its potential.
Business relationships
Another aspect to consider when writing a business plan is to outline your business relationships. Identifying the vendors, manufacturers, suppliers, and shippers you will need to work with to bring your product or service to market is crucial.
In doing so, you should include details on the agreements and contracts you will have with these parties and any potential risks or challenges associated with these relationships.
International versus domestic
If you plan to sell your products or services internationally, include that information in your business plan. You should consider currency exchange rates, language barriers, and cultural differences. You may also need to research any regulatory or legal requirements for conducting business in other countries.
Exploring international markets can provide significant growth opportunities for your business. According to the US Chamber of Commerce, small and medium-sized companies that export internationally are 8.5% less likely to go out of business than companies that don't.
Develop an exit strategy
You should also detail how you plan to exit your business. For example, do you plan to sell your company at some point, or will you hand it down to a family member? Including an exit strategy in your business plan shows potential investors and lenders the long-term vision for your business.
Having an exit strategy forces you to consider and plan for a sale. It doesn't mean you need to sell, but it sets the plan. This way you're prepared if you want to sell or are forced to sell due to an unforeseen reason.
[Free] Business Plan Template
Download Now
6. Business type
√ Sole proprietorship
√ Limited Liability Company (LLC)
√ Corporation 
√ Partnership
Sole proprietorship
Some entrepreneurs want to know how to start a business from home. These are often freelancers and contractors, and they frequently choose to start off as sole proprietors. In fact, about 23 million businesses in the United States are sole proprietorships – more than any other type of business. That's because a sole proprietorship is the most straightforward and common form of business, without any legal distinctions between the owner and the business.
Establishing yourself as a sole proprietor is one of the best tips for starting a small business fast. Businesses that do so can avoid the fees associated with starting an LLC. However, remember that the owner is responsible for all debts and obligations.
Limited Liability Company (LLC)
On the other hand, an LLC offers personal liability protection to the owners while allowing for a flexible management structure. The business is its own legal entity, and owners are not personally responsible for its debts and obligations. LLCs require less paperwork than corporations and are popular among small businesses.
Corporation
A corporation is a separate legal entity that offers the strongest personal liability protection of all business types, and shareholders are not personally responsible for the business's debts and obligations. Corporations have a more formal management structure, with a board of directors and officers, and are more complex than sole proprietorships or LLCs.
Additionally, there are two types of corporations. These are C Corporations (C Corp) and S Corporations (S Corp). The main difference between the two is how they are taxed.
C Corp is a standard corporation that is taxed separately from its owners. This means the business pays taxes on profits, and any income left over after taxes can be distributed to shareholders as dividends.
S Corp is a unique type of corporation that passes income, losses, deductions, and credits to its shareholders for federal tax purposes. This means the business's profits and losses are reported on the shareholders' personal tax returns, meaning the company does not pay corporate taxes.
Partnership
Partnerships involve shared ownership and responsibility for the business among two or more individuals. Partnerships can be either general partnerships or limited partnerships.
In a general partnership, all partners participate in the business's profits, losses, and management. In a limited partnership, there are general partners and limited partners who are passive investors with limited liability.
7. Location
√ Brick-and-mortar
√ Online
√ Office space
Where you place your business can have a significant impact on your success. Location matters when considering who'll be patronizing your company and how much cost obligation will come with setting up shop.
Brick-and-mortar location
In particular, brick-and-mortar businesses require a visible and accessible location to help attract high foot traffic and a target market. The cost of rent and taxes in the area should be considered. For example, a retail store in an affluent neighborhood with high rent might require higher prices to make up the difference.
Online
For online or eCommerce businesses, a physical location isn't necessary. However, when considering how to start a business online, you need to think about other cost factors, such as:
Website hosting
Domain fees
Graphic designers
Front and back-end engineers
Shipping costs
Taxes
For online businesses, the location is the website. It's important to ensure that the website provides a good user experience for visitors and a profitable operation for the owner.
Office space
Having an office space has to work for the business and the employees. You must consider location, size, accessibility, workflow, cost, and more. For example, if you're trying to keep costs down consider an office just outside a downtown area. Typically, rent would be cheaper, and the commute might be better for your employees. These extra funds can then be put back into the business. Also, be conscious of the terms of the lease. It's difficult to plan for future office space requirements if you're a startup so flexibility may be important in a first or second lease.
8. Administrative action
√ Appropriate insurance
√ Taxes
√ Register your business
√ Compliance
When starting a business, key considerations include ensuring legal compliance and protection from potential liabilities.
Appropriate insurance
What does it take to start a business in terms of insurance? Well, to start, having suitable coverage for your business is essential. This can include policies like general liability, property, and workers' compensation insurance. These policies protect against legal actions that could result in high costs. The typical cost of a business owner's policy ranges from $500 to $3,500 per year, depending on the coverage required and business size.
Taxes
Understanding and fulfilling your tax obligations is another important administrative action. Your business structure determines the taxes you'll pay, including federal, state, and local.
For instance, sole proprietors must file a Schedule C with their tax returns, while businesses with employees must withhold and pay payroll taxes. Small businesses, on average, spend over 21 hours preparing taxes and more than $1,000 per year on federal tax compliance costs alone.
Register your business
The benefits of registering your business include liability protection and tax benefits. It also ensures you are compliant with regulations at the federal, state, and local levels. An additional benefit is that having a registered business boosts your credibility and legitimacy in the eyes of customers, clients, third-party vendors, and more.
To register your business with government agencies, you'll need to file paperwork with your Secretary of State's office and obtain the necessary licenses and permits.
Compliance
Staying compliant with regulations is an ongoing process. You need to stay up-to-date with regulatory changes that could affect your business. This may include complying with Federal Deposit Insurance Corporation (FDIC) regulations if you plan to offer banking services or Health Insurance Portability and Accountability Act (HIPAA) regulations if you handle protected health information.
Another example would be if you sell alcohol in any capacity, this typically requires a liquor license. Daycares facilities require regular inspections to obtain local and state licenses. Knowing the regulatory landscape in your industry and taking appropriate steps to comply is vital. Failure to do so can result in legal actions and fines.
9. Marketing the business
√ Create a plan
√ Organic marketing strategies
√ Marketing channels
√ Advertising
Effective marketing will raise awareness about your business to potential customers. Knowing what works and what doesn't is vital. For example, companies that publish blogs on their website enjoy a 126% higher lead growth than those that don't.
Here are some more tips for marketing your business effectively.
Create a marketing plan
Begin by creating a flexible and adaptable marketing plan. It's one of the most crucial things you need when starting a business. Your plan should identify your target audience, unique selling proposition, and marketing channels.
Try to identify how your competitors are marketing their products and services. They may be using proven methods that have provided a return on their marketing investment. They may also be overlooking certain marketing strategies that are of interest to your business.
Be open to making changes as you learn more about your customers and the best marketing strategies for your business.
Organic marketing strategy
How do you start your own business with no marketing budget? Organic marketing is the answer. It's a cost-effective way to promote your business because it involves using free marketing channels such as social media, email, and search engine optimization (SEO) to attract customers.
Crafting engaging and informative content can establish your business as an authority in your industry and attract potential customers that are searching for your products or services online.
Marketing channels
Your marketing channels are the platforms you use to reach your audience. A website is one of the primary channels for small businesses. Optimize it by making it mobile-friendly, easy to navigate, and offers clear calls to action to potential customers.
Social media platforms like Facebook, Twitter, and Instagram can widen your audience and help you engage with customers on a personal level.
Advertising
If you have the budget, advertising can be an excellent way to get your message out and speak to your target audience. One effective advertising channel for small businesses is Google Ads. Targeted ads can appear in search engine results when potential customers search for keywords related to your business.
Social media advertising is also a practical way to promote your brand and reach a wider audience fast.
10. Scale the business
√ Grow a team
√ Additional funding
√ Business advisors
After successfully launching your business, the next step is to focus on scaling it up. This entails expanding your business in size, revenue, and reach. While scaling a business can be a challenging process, it's a critical step if you want to take your company to the next level.
Grow a team
As your business grows, you might need to hire additional employees to help you manage the workload. Having a dedicated team can help you take on more clients or customers. However, it's crucial to find the right people for the job. You'll want to seek out individuals who are passionate about your industry and who possess the skills and experience necessary to help your business thrive.
Additional funding
You may need additional funding to expand your operations. One option is to seek investors willing to financially back your business. With their help, you can secure the capital you need to purchase more equipment, hire employees, or expand your product line. However, it's crucial to do your research and find investors who share your vision and goals.
Business advisors
Scaling your business can be daunting, and you may need guidance from experienced professionals who can help you navigate the process. Business advisors can provide valuable advice and support, including financial planning, marketing strategy, and organizational development.
According to research, 70% of small businesses that get guidance from a business advisor have survived longer than five years. This is double the survival rate when compared to businesses without advisors.
Building a team, securing additional funding, and consulting with business advisors can help you scale your business and increase revenue. Be sure to approach the process strategically to ensure that your business continues to grow and thrive.
FAQs about how to start a business today
How can I start my own business with no money?
To start your business with no money, you can provide a service that requires only your labor. You can also raise money through crowdsourcing or bank loans for startup costs.
What is the easiest business to start?
An easy business to start could be one where you have lots of experience and knowledge. Another idea could be a business with low startup costs and low ongoing expenses.
What are the four basics of a startup business?
There are four basics of a startup business that you should keep in mind.

+ Begin with a great idea that solves a problem or fulfills a need.
+ Make a detailed business plan that outlines your strategy and goals.
+ Secure funding. 
+ Surround yourself with the right people.
How do I start a small business from home?
To start a small business from home identify an opportunity that lets you operate the business from home. Then structure the business to optimize success and write a business plan. Finally, open a business bank account and secure funding.
How do I start a business online?
To start a business, develop a business plan. Choose a business name, decide on your business structure, and take care of all the legal tasks. Build your website and select your sourcing and fulfillment methods for your products or services.
Final thoughts on starting a business
Starting a business isn't easy. The process requires a number of steps to make sure you understand the full scope of the effort and give you the best chance of success. If you are serious about starting a business, this post will help you work through the requirements to set yourself up for success.

Originally published