In today's fast-paced, ever-changing business landscape, staying ahead of the game requires more than just a good idea and a solid product. To succeed, businesses must have a comprehensive and strategic approach to business development.
In this guide, we'll provide you with the tools, tips, and strategies you need to thrive in the year ahead. Whether you're an established business looking to scale or a startup just getting off the ground, our guide has something for everyone.
Business development defined
This refers to the activities, strategies, and processes a company uses to create and grow its business opportunities. It involves identifying new markets, developing relationships with potential clients and partners, and creating and implementing plans to increase revenue and profitability.
It can also involve identifying and pursuing potential mergers and acquisitions or strategic partnerships to expand a company's reach and capabilities. The goal is to create long-term value for the company by increasing its market share, revenue, and profitability.
The importance of business development
A solid growth strategy and business development plan are vital for success. The following are some of the business development basics and benefits for any company:
Customer acquisition and expansion of markets
A solid business development strategy is integral to the acquisition and nurturing of new customers. It guides your team with steps and techniques to generate high-value leads that convert to customers.
Boost revenue and lower costs
Company stakeholders come up with business development models to increase revenue streams via low-cost channels. They constantly test various acquisition methods looking for efficient growth. For example, a model may outline the expectations for a strategic partnership that'll increase revenue for both partners. It can also help an organization identify the products and markets with a better return on investment and identify which deals to go after first.
Lays a strong foundation for startups
A strong foundation for a new business is critical to its survival and growth. Studies estimate that 90% of startups fail, with 10% failing in the first year. An effective way to avoid being part of this statistic is to implement a solid business development plan outline in the early stages of a business. Startups often struggle with customer turnover, so a consistent stream of new business is even more critical. A development team can also help with feedback on what potential customers are looking for from products and services in your industry.
Helps established businesses execute new ideas
As a well-established business, you must constantly look for new growth opportunities that propel your company forward and maintain its relevance. Customer preferences and expectations keep changing, and a great development strategy can help your brand keep pace.
A sound strategy will allow you to identify, incubate, and execute new business development concepts that lead to innovation, new partnerships, and better relationships with new and existing customers. Development in this stage focuses on expanding business relationships and identifying emerging trends for operating a business efficiently and effectively.
Established businesses also often have proven lead channels. Over time, lead channels often become more expensive. For example, the average cost per click for a Facebook ad was $0.27. In 2022, the average cost per click was $0.97. A development team should continually look for and test new lost-cost lead opportunities and business development methods.
[Free] Business plan template from Birdeye
Download & Customize Now
Differences between business development and sales
Sales is taking leads and prospects and working toward a purchase. Business development is identifying prospects and looking for ways to reach prospects. It's worth noting development lives on a greater sales team but serves a diverse function beyond the standard sales responsibilities. Strategies help an organization cultivate and maintain relationships with prospects to increase brand awareness and promote growth through new opportunities.
Business development versus sales development
Business development focuses on identifying and creating opportunities for business growth. This can include researching new markets, developing strategic partnerships, identifying potential merger and acquisition targets, and exploring new revenue streams. The goal is to expand the company's reach and capabilities, ultimately driving sustainable growth.
On the other hand, sales development focuses on generating and qualifying leads for the sales team. Sales development representatives (SDRs) typically work to identify potential customers, qualify them based on specific criteria, and schedule appointments or demos for the sales team. The goal of sales development is to build a pipeline of qualified leads that can be converted into sales.
While both have different goals, they are often closely aligned. Development activities can create opportunities for the sales team, and the sales team can provide valuable insights that inform development strategies. Effective collaboration between these functions can lead to a more successful and sustainable growth strategy for a company.
Differences between business development and marketing
Although these terms may be used interchangeably, they are actually two different approaches. Market development strategy focuses on the consumer and their journey right from awareness to loyalty and all the strategies employed to ensure they reach that loyalty stage.
The objective of any marketing strategy development is to identify consumers in need of products or services the company offers and the efforts to initiate communication with those customers and build relationships that lead the consumer to buy that product or service. A marketing manager is often involved in developing a marketing plan.
Conversely, business development focuses on the processes and tasks that grow revenue opportunities. These can include sales growth, business expansion, strategic business partnerships, and evaluation of competitor development.
What does a business development manager do?
A manager is responsible for identifying, developing, and implementing new business opportunities for an organization. Their main goal is to drive revenue growth and increase profitability by building and maintaining strong relationships with clients and partners.
The responsibilities and duties of a manager may change over time. The best practices for how to do business development may also change. However, the following list provides you with a greater understanding of typical tasks the manager does:
Researching and identifying potential markets and clients
Building relationships with prospective clients and partners
Developing and implementing strategies to increase revenue and profitability
Negotiating deals and contracts with clients and partners
Analyzing and monitoring industry trends and competitor activities
Collaborating with cross-functional teams to ensure successful delivery of projects
Managing budgets and tracking performance metrics
Providing regular reports to senior management on activities and outcomes
Important business development skills for business success
Aspiring professionals need to develop various hard and soft skills. Some of the crucial skills to guarantee business success include:
Excellent communication skills: Communication is a key skill business development managers will need. Development managers should be able to communicate effectively with customers of all backgrounds and educational levels. They must have well-developed written and verbal communication skills.
Interpersonal skills: Besides excellent communication skills, managers must possess excellent negotiation and relationship-building skills. They should be able to establish and maintain relationships with clients, partners, and internal teams. They need to be able to persuade, influence, and negotiate with stakeholders to achieve their goals
Sales and marketing skills: In this role, managers should have a good understanding of sales and marketing principles to identify and pursue new business opportunities. They need to know how to create marketing strategies, develop campaigns, and sales plans to reach targeted audiences.
Project management skills: Professionals in this career should be adept at juggling multiple responsibilities, including numerous customer meetings. A good manager should be highly organized and well-equipped to manage several parts of the job and keep tasks on track.
Strategic planning and execution skills: Successful candidates must be able to develop and execute strategies that align with the company's goals and objectives. They need to be able to analyze data, identify trends and opportunities, and create plans to achieve their targets.
Analytical skills: A manager should have a good understanding of data analysis and interpretation to identify opportunities, assess risks, and make informed decisions. They need to be able to use metrics and analytics tools to track performance and adjust strategies as needed.
Industry knowledge: A manager should have a good understanding of the industry they operate in including market trends, competitive landscape, and regulatory requirements. They need to keep themselves updated on industry news and developments.
Five steps of the business development process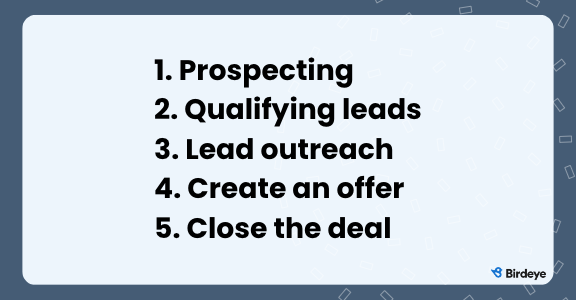 The following are the typical steps of business development systems and processes:
Prospecting is the first step in the process. It involves identifying potential customers and communicating with them to convert them from potential customers to current customers.
To qualify leads is to predict the likelihood of a sales prospect becoming a customer. It involves gathering data about prospects to determine whether they meet the requirements to purchase your product or service.
Lead outreach involves connecting with prospects through email, social media, calls, or cold outreach. If you don't reach out to leads right away, a competitor can get there first.
Create an irresistible offer to prospects to increase your chances of conversion. Offers help prospects feel engaged and inspired by their interaction with your product or service. The value of your offer should far exceed the cost of accessing the value.
Ask for a sale when the customer is ready to purchase. Your style may vary, but looking to close the deal is important. If the customer has hesitations, document them and create counterpoint questions. Look to overcome objections by going over key aspects of your product or service.
Important strategies for growth
Business development examples for optimal growth include:
Networking
Networking is undoubtedly a crucial strategy for small businesses and startups. It's an effective way to make new connections in the business scene, especially in areas where purchases rely on personal connections. Network with the people in your target market to nurture leads and acquire new customers.
An easy way to make business connections is by participating in business events, workshops, trade fairs, and exhibitions focused on your industry. These events present ample opportunities to meet potential customers up and close and interact with them. Some of your new acquaintances will likely buy your products at exhibitions. Leads are more receptive to sales pitches once familiar with the brand.
Referrals
According to Nielsen, 92% of consumers trust referrals from people they know. And people are four times more likely to buy when referred by a friend. Studies estimate that about 2.4 million brand-related conversations occur daily in the USA, so referral marketing should always be part of your arsenal. This is a secret weapon that leading businesses use to transform satisfied customers into repeat businesses and zero-cost brand ambassadors.
The following are a few tips to encourage referrals:
Create a customer loyalty program.
Stay in touch with existing customers post-sale to nurture relationships.
Build a strong customer referral program.
Offer rewards and incentives to both referrers and referrals.
Make the customer experience sharable. For example, if you email customers monthly snapshots of their results, include a social media sharing button or link that allows them to share those results with their followers on LinkedIn.
Create avenues for advocacy, including opportunities for reviews and testimonials.
Advertising
Advertising can increase brand visibility and grow your customer base. Determining the digital platforms your target audience uses is a great place to start. For example, if your intended audience spends much time on Facebook, consider using paid ads on the platform. Similarly, if your audience uses Instagram, opting for Insta ads is a great way to connect with them and build valuable relationships.
Outreach
You can also leverage outreach programs to contact your customers directly. Effective outreach programs such as email campaigns, text message marketing, and direct mail allow you to connect with long-time customers, prospects, and others in your database.
Outreach programs help businesses discover issues with loyalty, repeat purchases, and more. Outreach can also help you collect crucial data on customer preferences which ultimately translate to improved service delivery and enhanced product quality.
For example, you can email prospects who reached out about your service but never purchased. Ask them why they decided not to purchase. Another example would be to message current customers. Ask them what challenges they have in other areas. There might be new opportunities for your business to expand.
Content marketing
People are consuming more digital content than ever. Content marketing is one of the most rewarding strategies that help you engage with your target audience and demonstrate your level of knowledge.
The following are some of the tips for creating a winning content marketing strategy:
Provide helpful, industry-related content that potential customers are searching for online. Answering their questions earns their trust, introduces them to your brand, and leads to more market insight for you.
Use short-form videos of 60 seconds or less to suit consumers' preferences. YouTube is the largest online video platform. Building an audience on the platform will lead to more customer insight.
Write blogs that educate your audience about your company and boost consumer confidence in your brand. The more potential customers know about your brand, the more comfortable they will interact and allow you to learn about their needs.
Inspire customers to write reviews, testimonials, and social comments about their experiences with your brand. An astonishing 99.9% of consumers read reviews when shopping online. The more reviews you have, the more likely new customers are to choose your company.
How to create a business development plan
Define your target audience
Defining a specific audience for your business allows you to target the specific customer or customer types that are most likely to do business with you. As a brand, it's crucial to avoid making broad appeals to the masses that don't resonate and get ignored.
When you know your audience, you know their problems and how to market your solutions. You also know the appropriate messaging and specific products or services that address their pain points.
Conduct market research
Conducting research provides valuable insights into the market, competitors, customers, and industry trends that can help businesses develop effective strategies and achieve their growth objectives.
To conduct research, it's important to first:
Identify research objectives
Develop research questions
Choose appropriate research methods
Develop research instruments
Collect data
Analyze data
Draw conclusions
Some common research methods include surveys, focus groups, interviews, secondary research, and data analysis. By following these steps and utilizing appropriate research methods, businesses can gain a better understanding of the market, assess demand, analyze competition, identify trends, and understand customer needs to develop effective strategies that will help them achieve their goals.
Perform competitor analysis
Competitor analysis is the process of identifying competitors in your market and researching their different business strategies. Study your competition and determine what sets you apart from them. Use the information to identify your business's strengths and weaknesses. Knowing your company's strengths informs your positioning in the market and how to communicate to prospects why your product and service are superior. Understanding your weakness helps you determine areas where you fall short, allowing you to make improvements.
Create your differentiated value proposition
Differentiated value propositions (DVP) are the features that make your product or service stand out against the competition. A powerful value proposition helps your existing and potential customers understand the true value of your company's products and services. A strong DVP allows ideal customers to see how your product or service benefits them and how it is the best available option.
Identify your strengths
Brand strengths refer to the value that your business delivers to your customers. These encompass distinctive competencies and competitive advantages. Knowing your strengths ensures you capitalize on opportunities to make your business profitable, more efficient, and better recognized in your industry. It also makes it easier to determine where innovation efforts should be focused.
Set SMART goals
SMART stands for specific, measurable, attainable, relevant, and time-bound. Smart goals are highly attainable objectives that a business can realize with available resources. Setting smart goals helps you clarify your ideas and use available resources productively to increase your chances of success. These goals provide directions and help create objectives and timelines for achieving them. It also motivates you to achieve your goals on time.
Determine your budget
Determine the costs associated with each initiative, such as travel expenses, advertising costs, and sales team compensation. Then, prioritize your initiatives based on their potential return on investment (ROI) and your available budget. Allocate your budget based on your priorities and estimated costs, making sure to leave room for unexpected expenses or changes in the market.
Choose your outreach strategy
Once you define your target audience, assess your strengths, set your goals, and set your budget, it's time to determine how to reach your target audience. Research different outreach strategies, such as cold calling, email marketing, social media outreach, and content marketing. Evaluate the pros and cons of each strategy and determine which ones are best suited to your target audience, goals, and resources.
Test different outreach strategies and measure their effectiveness using metrics such as response rates, conversion rates, and return on investment. Use this data to refine your approach and choose the outreach strategy that delivers the best results.
Launch your plan
Now it's time to launch. Get your business team together and explain the plan. Lay out the steps that they will follow. Anticipate questions they will likely have. Change can be difficult. People will often have hesitations. It's part of the process so preparing for it will help the transition and launch. Your team will likely want to know why they should believe in the plan. They will want to know the incentives. Prepare as much as you can and you'll be in a good spot to motivate them for the launch.
Monitor performance and adjust accordingly
Business performance is measured through metrics that indicate whether your business has achieved its goals in the planned time frame. It involves tracking key performance indicators (KPIs) to determine your team's success and how well you are doing as a whole company.
Common KPIs include the number of new leads, the conversion of those leads through each step in the sales process and the lifetime value of leads once they become customers. Monitor performance over time. Look for what channels are working and what's not. Adjust as needed to take advantage of obvious opportunities while also avoiding channels that are not providing a return.
Key metrics to track
Effectively measuring performance helps you improve your processes, evaluate the success of existing strategies, and know potential risks. It also helps your company remain viable, agile, and adaptive. A successful strategy requires proper metrics.
We have mentioned a few key metrics and we'll include those here along with additional key metrics to track:
√ Sales growth
√ Customer acquisition cost (CAC)
√ Customer retention rate
√ Conversion rate
√ Pipeline growth
√ Market share
Tracking metrics is essential to making data-driven decisions to achieve growth objectives.
Ideas to get you started
Now that you are familiar with the steps to create a plan, here are some business development best practices to help get you started:
Setting specific growth targets for your business is important for keeping yourself accountable and measuring your progress. Reviewing them monthly allows you to track your progress and adjust your strategy if necessary.
Understanding why your customers choose your business over others is crucial for developing effective marketing strategies. Conduct surveys, interviews, or focus groups to understand what motivates your customers.
Knowing where your customers go when searching for information can help you target your marketing efforts more effectively. This may include social media platforms, industry publications, or online forums.
Customers leave a brand for various reasons, including bad customer experience, expensive pricing, wrong product or service, or your product hasn't kept up with the times. If customers are leaving you for your competitors, it may be that they think a competitor's product solves a problem better than yours. Keep tabs on your competitor's products, customer service, and marketing, so you don't lose your customer base.
Research shows that 75% of people judge the credibility of a business through its website. Your website is often the first point of contact between potential customers and you. Ensure it's user-friendly, visually appealing, and provides clear information about your products or services.
Creating valuable content, such as blog posts, whitepapers, or webinars, can help establish your business as an authority in your industry. Focus on providing insights and solutions to common challenges your target market faces.
Staying on top of your industry's latest trends and developments is important for remaining competitive and identifying new growth opportunities. Subscribe to industry publications, attend conferences, and participate in online forums and discussions.
How to use LinkedIn for business development
LinkedIn features make it an ideal tool for development professionals to connect with and engage with their target audience. You can use the platform to promote and build trust, grow your networks, and gain feedback. The following are a few tips for using LinkedIn for development:
Optimize your profile.
Build your network by connecting with people in your industry.
Join groups that are relevant to your industry and target market.
Share valuable content.
Engage with posts to build relationships.
Monitor your competition.
Use LinkedIn analytics to track your engagement and reach.
Stay active.
LinkedIn also features a specific development tool: Sales Navigator. The paid tool allows you to search for and connect with prospects based on specific criteria such as job title, industry, or location. This tool can help teams find and connect with decision-makers more likely to be interested in your products or services.
Other tools to consider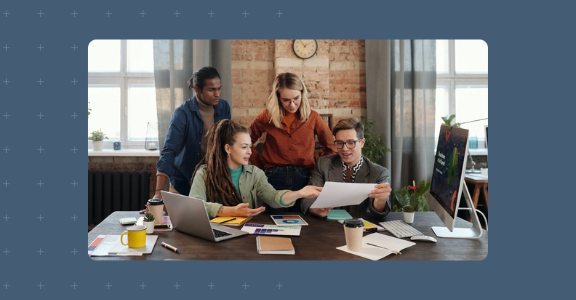 There are various tools available to help companies grow and succeed. These tools can be classified into different categories depending on their specific purposes.
The first category includes customer-focused tools such as customer relationship management (CRM) software and marketing automation tools, which help businesses manage their customer relationships, track customer behavior, and automate marketing tasks like email marketing and lead generation.
The second category comprises internal tools that help businesses manage their operations more efficiently. These tools include business intelligence software, sales enablement software, project management tools, financial analysis tools, and customer feedback tools. These tools help businesses make informed decisions by analyzing data, providing the right information and resources to sales teams, managing projects, analyzing financial performance, collecting and analyzing customer feedback, and more. By leveraging these tools, businesses can optimize their operations, increase productivity, and achieve growth goals.
Frequently asked questions about business development
Is business development the same as sales?
No. It involves finding new growth opportunities. Sales focus on converting leads into paying customers.
What experience do you need for business development?
To qualify for a business development job, previous experience in this specific role is preferred. However, sales or marketing experience tied with strong communication and negotiation abilities is beneficial. Industry-specific experience in a particular market helps as well.
What are the top three strengths of a business development manager?
The top three strengths are strategic thinking, relationship building, and being results-oriented.
What qualifications do you need for business development?
Qualifications often include a bachelor's or master's degree in business administration. You may also need prior experience in a sales or marketing position.
Is business development a good career?
Yes, it's a rewarding career with high salaries, enjoyable activities, and career growth opportunities.
What are the steps in business development?
The steps to create a business development strategy template include:

1. Determining the audience
2. Conducting market research
3. Identifying strengths and weaknesses
4. Setting SMART goals
5. Monitoring impacts
Business development summary
Solid business development services can help you chart unfamiliar territories, expand your operations, and remain profitable in a highly volatile business environment. There are infinite tactics to help improve your business, build strategic partnerships, and make informed decisions. Use the strategies shared in this guide as your starting point to help attract new customers, maximize new market opportunities, and oversee growth projects now and beyond.

Originally published