Today's customers expect answers in real time. That's why a customer service chatbot is a necessary tool for a successful business. With this tool, you can quickly and accurately respond to customer service questions, even if it's at midnight.
It has the capability to answer frequently asked questions as well as offer product and service suggestions to drive sales. However, this is only possible with the aid of an AI chatbot that retrieves the right information from your company's knowledge base.
In this blog post, we'll take a deep dive into how a customer service chatbot can elevate your customer support activities, what drawbacks it may have, and share real-life success stories.
What is a chatbot for customer service?
You already know that in order to be successful businesses have to offer high levels of customer service to boost customer satisfaction. This means they have to hire and train enough staff to fulfill customer support activities. That isn't always feasible for local businesses or those undergoing rapid expansion.
One less-than-stellar solution is outsourcing customer support to call centers and other third parties. However, this can be quite costly and lacks the personal touch that many customers desire.
A much better solution is to use chatbots specifically designed to elevate the customer experience. A great example is an AI chatbot that takes on customer support duties via an organization's mobile app, website, or social media channels. On a website, you'll see that the chatbot will often appear on the bottom right-hand side of the screen as a small pop-up window. Chatbots are usually depicted as human support staff, complete with a photo and name.
Chatbots can respond to most customer questions via live chat. They can even deliver human-like responses thanks to artificial intelligence and machine learning algorithms. These algorithms have become so convincing that around 20% of small and 11% of medium-sized organizations use a customer service chatbot.

What are the advantages of customer service chatbots?
Customer service chatbots offer several real-world benefits. Take the following, for example:
Cost and time savings: A well-implemented AI chatbot can provide customer support simultaneously to multiple users. If you're a local business or startup offering customer service consistently and at scale, hiring a workforce to support this is expensive. Moreover, supporting overseas customers has never been cheaper and more efficient than with customer service chatbots.
Around-the-clock availability: Human agents often don't work late into the evenings, over the weekends, or on holidays. If they do, they'll require overtime or holiday pay, hurting your company's budget. But an AI chatbot doesn't sleep or require any additional payment to operate on a 24/7 basis. It'll also increase customer satisfaction when it responds to customer queries during off hours.
Reduced human error: An AI chatbot operates strictly under pre-defined rules and guidelines and never deviates from these one bit. That significantly increases the user experience because the chatbot will consistently provide accurate information to customers. Unfortunately, this isn't the case with human agents, who can misinterpret information. Then, they relay this incorrect information to customers, causing them to mistrust the business.
What are the disadvantages of customer service chatbots?
The customer service chatbot may offer significant benefits, but it's not the ultimate be-all and end-all of the customer pipeline, especially customer service. While your business can massively improve its customer experience with chatbots, be aware of the following disadvantages:
Limited understanding and context: Artificial intelligence and machine learning have progressed a lot in recent years. And they have radically transformed AI-powered chatbots for the better. Still, this technology sometimes struggles to understand complex or nuanced customer questions. Sometimes, it'll completely miss the context of a sentence during customer engagement. The chatbot may respond with irrelevant and generic answers that anger or frustrate customers.
Lack of human empathy: While chatbots are more convincing than ever at displaying human-like responses, they still fall short of empathizing with customers. Unlike human agents, chatbots cannot pick up on emotional cues. Unfortunately, this makes them come across as impersonal, hurting the customer experience.
Often inflexible and uncompromising: Even a highly advanced customer service chatbot will sometimes tell incorrect or outdated information to customers. This will negatively impact the customer experience, especially if it happens a lot. While you can avoid misinforming customers if you regularly update the chatbot's database and programmed knowledge base, there's no guaranteed fix-all to this issue. The pre-defined scripts and data that help generate responses put chatbots at a disadvantage when compared to human agents who have the ability to think outside of the box.
What are the different types of customer service chatbots?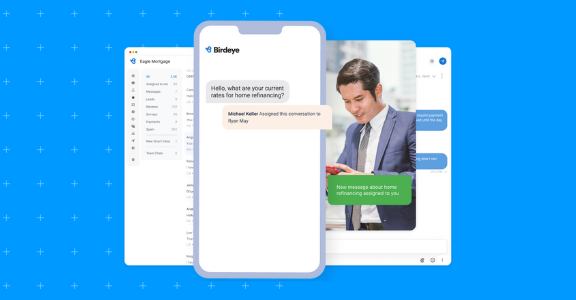 There's no all-in-one solution that will magically make sure chatbots help businesses improve customer service. Luckily, we live in an age where any business, big or small, can develop a chatbot platform tailor-made for specific customer support functions. You can expect the range of customer service chatbots to grow larger in the future. The following chatbots are several of the most common types available today:
FAQ chatbots: As you've probably guessed by the name, these chatbots will quickly and accurately answer customers' most frequently asked questions like store hours, payment options, etc.
Transactional chatbots: These bots will help your customers when they struggle while completing specific tasks or transactions. These tasks can be anything from booking appointments, making reservations, or processing payments.
Lead generation chatbots: These help your business gather information about potential customers to generate leads. They can even engage interested parties in conversation.
Recommendation chatbots: These chatbots are great for offering product and service recommendations. They help customers make sensible decisions based on their needs and preferences.
Support chatbots: When your customers are frustrated with issues with a product or service, they can rely on these chatbots for technical support and troubleshooting.
Feedback chatbots: These chatbots can help you understand your customers better by collecting their feedback and reviews. With this information, your business can improve its offerings and the overall experience.
Conversational AI chatbots: These advanced chatbots use natural language processing (NLP) along with innovative machine learning to interpret customer intent. They can interact with your customers in a convincingly human-like manner with engaging conversations.
Multilingual chatbots: If your business has diverse customers spread across the globe, you'll love these chatbots that can seamlessly converse in multiple languages.
Social media chatbots: These can integrate with your existing social media networks and provide customer support directly on these platforms.
Voice-enabled chatbots: Your customers can engage with these chatbots with voice commands for a hands-free customer service experience.
Customer service chatbot examples
Your business will see countless benefits from using a customer service chatbot. But if you're still not convinced, consider that many big corporations have jumped on the chatbot bandwagon. That's a big deal considering these enterprises have the resources to hire human agents for customer support. However, even the most well-funded and profitable organizations can't afford gaps in their customer support channels.
While people will always play a crucial role in any business model, especially when it comes to customer service, chatbots prove their mettle daily. Below is a list of several well-known corporations with a quick rundown on how chatbots enhance their customer service.
Bank of America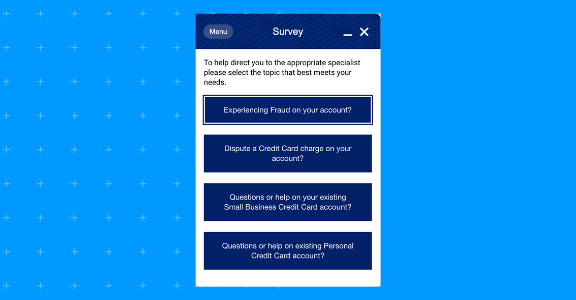 Bank of America rolled out Erica, a virtual assistant designed to help customers with all aspects of their banking needs. Erica uses cognitive messaging, advanced analytics, and user data to assist customers so they make the most of their finances. Like all good chatbots, Erica provides accurate answers to customer questions and offers a live chat with a human agent when necessary.
Erica doesn't stop there. She also helps customers access account information, check account balances, redeem rewards, replace lost cards, review their credit scores, view incoming and pending payments, and so much more. Erica even assists customers with Merrill investment accounts to place and track their trades.
Sephora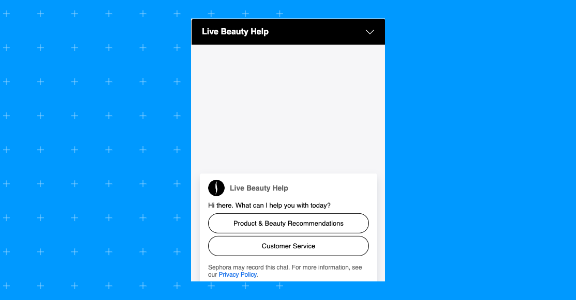 Sephora is one of the world's leading beauty retailers. They also use chatbots effectively to drive business. To assist customers with mobile devices, Sephora released chatbots for the Messenger app.
These chatbots help customers to access Sephora's services and product information. Moreover, customers lead the conversations, making engagement seem more fluid and natural.
The Sephora Reservation Assistant allows customers to book hassle-free appointments with beauticians at the closest Sephora location. Since the chatbot understands natural language and learns customer preferences, people can converse with minimal inputs. And the Color Match augmented reality feature even uses the phone's camera to detect the user's face and offer the most appropriate products like lipstick and other makeup products.
Lowes
Home improvement company Lowe's has the aptly titled MyLo chatbot available to assist customers. The MyLo chatbot appears in a small window and presents users with a menu of options. These include product information, customer orders, store locations, operating hours, help, and other contextual options.
MyLo doesn't answer questions beyond what's available on the menu. But its streamlined approach helps customers get the information they want quickly.
Apple
Renowned globally for its excellent customer support, Apple lets customers contact technical support via several channels, including email and live chat. While the company employs a customer service chatbot on its website, it'll connect a visitor to a human agent if it can't resolve an inquiry. But in most cases, the chatbot will provide customers with relevant answers due to how it processes keywords and ties these to its knowledge base.
The chatbot constantly learns what customers want as it allows them to set the context of the conversation. Thus, it can answer the most relevant questions concerning Apple's products and services.
H&M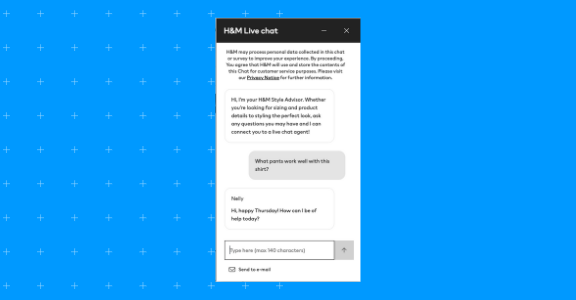 The world-renowned clothing retailer, H&M, takes customer service seriously. Their user-friendly chatbot, H&M Virtual Assistant, offers customers round-the-clock support and serves several functions.
Primarily, H&M Virtual Assistant is a personal shopper that offers customers outfit suggestions. It guides customers to the page on the H&M website that showcases the best clothing for them. These fashion suggestions increase sales and cement customer loyalty.
The H&M Virtual Assistant will also answer customer inquiries about returns, store locations, and opening hours. H&M also had success with its digital styling chatbot. One of the main draws of this AI chatbot is that it reduces browsing time considerably because it offers customers trustworthy recommendations.
Domino's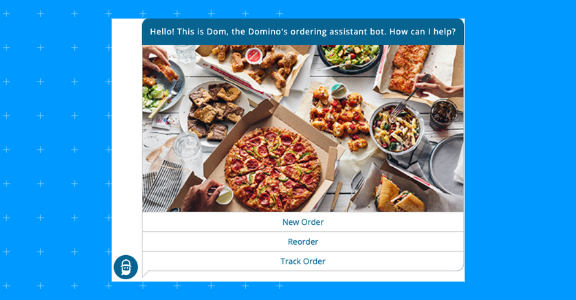 Domino's is one company that took the lead in enhancing the customer experience with technology. As far back as 2008, the famous fast food brand introduced the innovative Domino's Pizza Tracker. It's a comprehensive customer service system that allows customers to place and track orders.
Customers love using the tracker because they can keep tabs on how their pizza orders are progressing every step of the way. And if a delay occurs, they'll know in real-time and won't anxiously call Domino's asking about their orders.
Domino's understood early on that customers want a frictionless ordering and tracking system. So they focused on delivering an effective customer service chatbot that doesn't require a sign-up or an app download. And they've taken things further with their latest "Order with Dom" chatbot, with which customers can interact using their keyboard or voice.
FAQs about customer service chatbots
Can you use a chatbot for customer service?
Yes, chatbots are excellent for customer service. By leveraging AI technology, chatbots are able to respond quickly and accurately to customer inquiries no matter the time or day.
What is a good example of a customer service chatbot?
A good example of a customer service chatbot is Bank of America's chatbot called Erica. Erica can assist customers with checking balances, payments, replacing lost or stole cards, and more.
How do I create a chatbot for customer service?
Creating a customer service chatbot can be done in several ways. You could build your own chatbot from scratch using coding and AI technology, or you could use a platform such as Birdeye to create one quickly and easily.
Redefine customer service with Biredeye Webchat
As a business leader, you understand that the quality of the customer experience impacts your bottom line. That's why you need a best-in-class tool to convert your online visitors into promising leads, keep your existing customers engaged, and provide customer support around the clock. Birdeye Webchat makes all this possible and much more. Click the banner below to watch our free demo and see how quality customer service can help your business grow.

Originally published