Foursquare is an incredibly useful tool for your business. Since its launch in 2009, Foursquare has become a go-to app for users looking to connect with friends and explore new places. Nearly 2 million businesses have already created Foursquare business listing to join the conversation and connect with customers. So, what are you waiting for?
What is Foursquare for business?
Most people know Foursquare as a social media platform that lets users check in to locations and share their experiences with friends through photos, tips, and comments. What many people don't know is that Foursquare also offers a valuable listing service for both single and multi-location businesses.
A Foursquare business listing includes important information such as the business name, address, phone number, hours of operation, and website URL. Your business can also add photos, menus, and special deals to listings. Having a Foursquare business listing is a great way to attract new customers and promote your brand.
Creating a Foursquare business listing
Joining the Foursquare business directory is easy and can be done in just five steps.

1. To start, head over to Foursquare's business page and scroll down to the 'Claim your business listing' section. Click on the button and proceed to their search window to see if your business is already listed on the Foursquare network.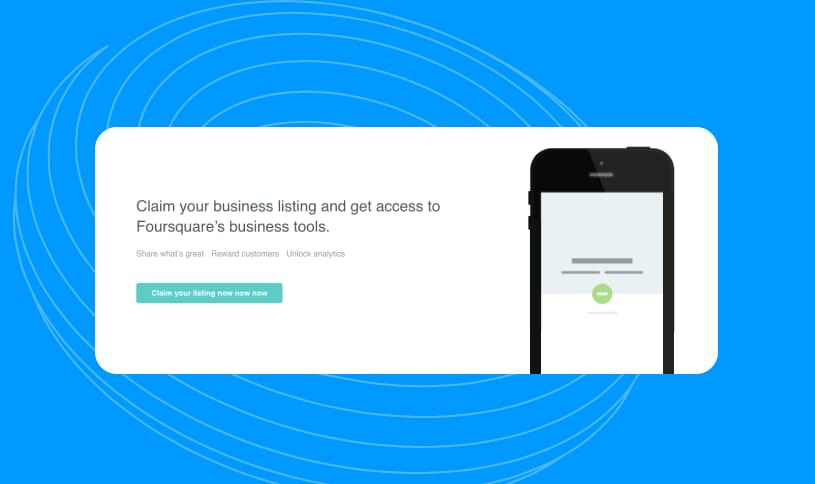 2. In the search window, type in your business name and location and then click 'Search.' If you're already listed on Foursquare, claim it and proceed to your Foursquare page. There you can begin updating your business details. If your business isn't listed, you'll need to create a Foursquare account.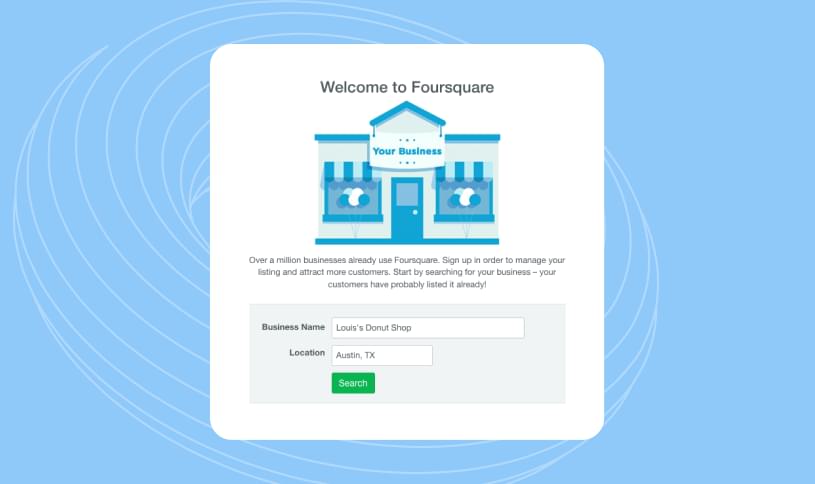 3. To create an account, you'll need to enter your name, a working email address, a unique password, and your birthday information. If your information is entered correctly, click the 'Sign Up' button and you'll receive an email confirming your new account. You'll then be able to start building your Foursquare business listing.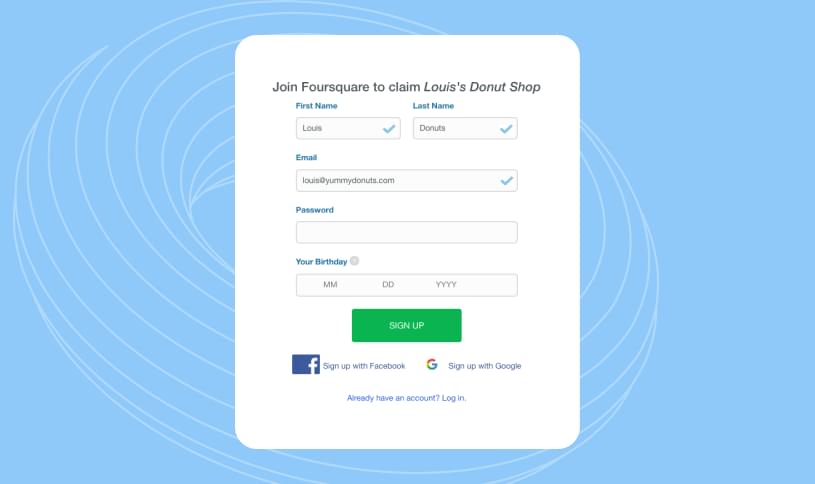 It's worth noting that Foursquare asks all users for their date of birth so that content access is age-appropriate. For instance, if you own a cannabis dispensary, Foursquare will block any users that are under the legal age from accessing announcements about upcoming events or promotions as an additional safeguard.

4. Next, you'll be able to add your business. For those new to the platform, this is your first opportunity to provide your business details. This information includes your business's name, address, and pin placement on the Foursquare map. You'll also be able to add a business category, Twitter handle, and phone number. Verify you're not a robot and then click 'Save.'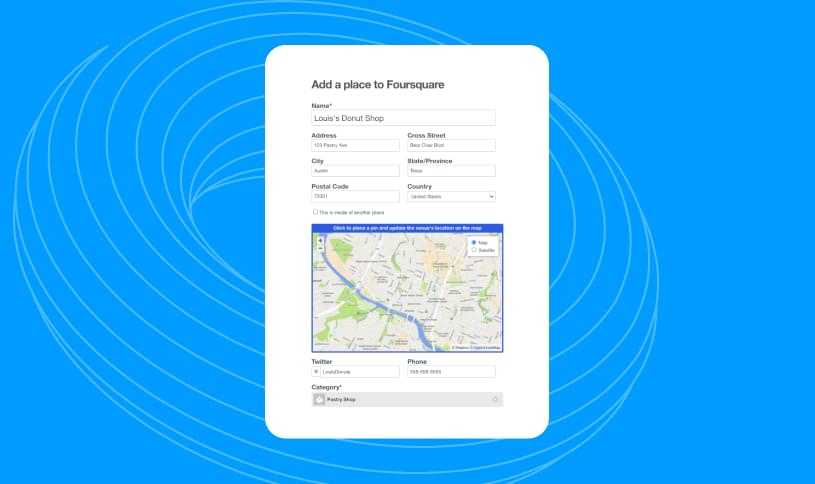 We can't overstate enough the importance of having accurate business details in your Foursquare business listing – or any of your online listings for that matter. Online directories and popular search engines use this information to connect customers with local businesses. This is specifically important if you're a business with multiple locations.
Having accurate local citations makes it easier for customers to leave reviews and ratings for the right business. This feedback can help your business attract new customers and spot potential issues with your products and services.
5. After adding your business information, it's time to publish and make your Foursquare business listing live. This is a three-step process — sort of. First, you'll need to accept Foursquare's terms and conditions by checking the box and clicking the 'Get Started' button.
After this step, your listing will technically be published and you'll have full access to your page. The remaining steps only apply to businesses interested in using Foursquare's paid services. More on this in a little bit.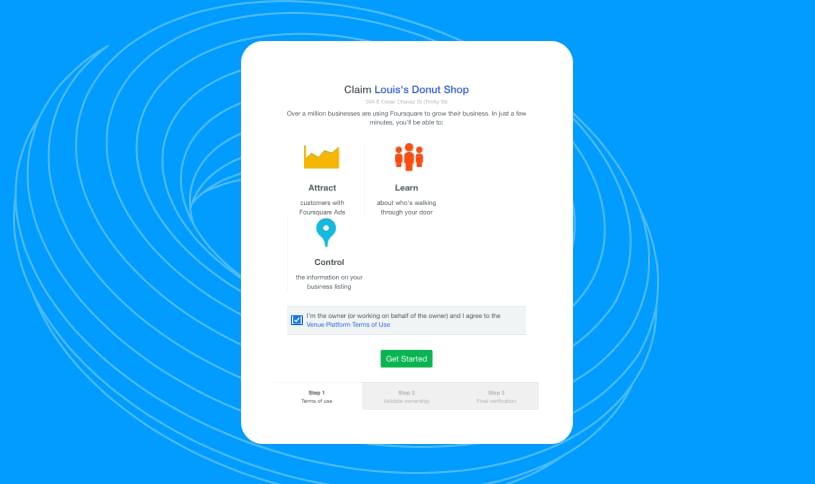 Updating a business listing on Foursquare
There will likely be a time when you'll need to update your Foursquare business listing. To update your information, head over to your business's pages and click the Edit button within the map image on the right side of the screen.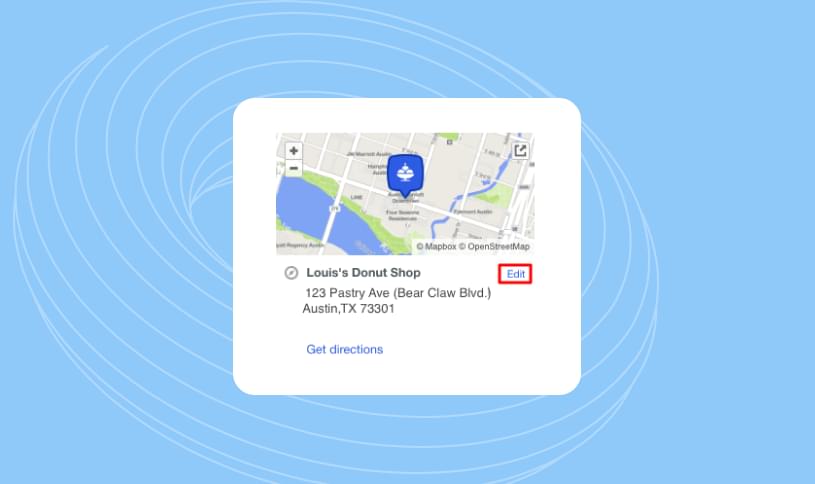 From there, you can add photos, change your hours of operation, and update your contact information. You'll also have the opportunity to add more business categories and a brief description. Updating your listing regularly makes sure that customers can always find the most up-to-date information about your business.
Five benefits of a Foursquare business listing
By creating your Foursquare business listing you are joining a network that includes over 50 million users. If that's not reason enough, here are some more benefits for you to consider.
Free to list – Setting up a Foursquare listing is quick and easy, and best of all, it's free. There's no reason you shouldn't take advantage of this valuable marketing tool.
Tips – Foursquare allows customers to leave tips and reviews about your business, which can help spread the word about your products.
Analytics – Insights on customer behavior can be a game changer for your business. This feature provides detailed analytics about who is checking in to your business and when. That information can be used to understand your customer base more to make data-driven decisions about your marketing and operations.
Swarm – Foursquare's Swarm feature lets your business promote specials and offer discounts as incentives to entice customers to check in at your location. This is a great way to increase foot traffic, encourage repeat business, and build brand loyalty.
Ads – If you have some extra money in your marketing budget, Foursquare Ads can be a great way to reach new customers. This paid feature is location-based, so your ad only appears to users when they are nearby. Also, you only pay a fee if customers click on your ad. It's similar to a pay-per-click model. With Foursquare Ads, you can target specific demographics, interests, and even locations. These features make sure that your ad reaches the right people at the right time.
Frequently asked questions about Foursquare business listings
Is Foursquare free for businesses?
Yes, Foursquare business listings are free to create. There are no special requirements and you don't need to be a Foursquare user to create a listing. You just need to start an account and provide your business information.
What is a Foursquare Superuser?
A Foursquare Superuser is a business or individual who has been designated as an expert in using Foursquare's services. Superusers play a pivotal role in making sure information remains as accurate as possible on Foursquare.
Accurate business details with Birdeye Listings
It's ideal to have your company featured on a number of directories in order to expand your online presence. The problem with that is keeping track of all those sites. With Birdeye Listings, you can update all of your listings from a single dashboard – making it easier for your business to get discovered. Chat with a Birdeye specialist to learn more.

Originally published Oct 12, 2022, updated