If you're running an eCommerce business, you should definitely consider using Google customer reviews. Let's take a second to explain what Google Customer Reviews are and answer some common questions.
Frequently asked questions about google customer reviews
What are Google Customer Reviews?
Customer Reviews are a free service that Google offers for e-commerce websites. Google Customer Reviews allow you to collect reviews from customers who've bought items on your website.
What is the difference between Google Customer Reviews and Google Reviews?
Google Reviews are reviews posted by customers on a business's Google Business Profile. Google Customer Reviews are reviews posted on an eCommerce site, like an online clothing store.
How do Google reviews benefit my business?
Customers trust reviews. 92% of customers consult reviews before making a purchase decision. Reviews show social proof that you're providing quality products. After all, if thousands of people are saying that you're product is great, it makes a potential customer who's on the fence a lot more comfortable making the order.
Is my business eligible for Google Customer Reviews?
According to Google, businesses need to do two things in order to qualify for Google Customer Reviews. First off, they need to have an order check-out page. Next, they need to adhere to Google's policies on products.
How do I integrate Google Customer Reviews on my website?
Integrating Google Customer Reviews into your website is an easy process. Simply follow the steps in this integration guide.
How can I stop participating in Google Customer Reviews?
If you wish to stop participating in Google Customer Reviews, simply remove the code from your website.
How do Google Customer Reviews work?
After a customer makes a purchase on your site, they'll see a pop-up that looks something like this.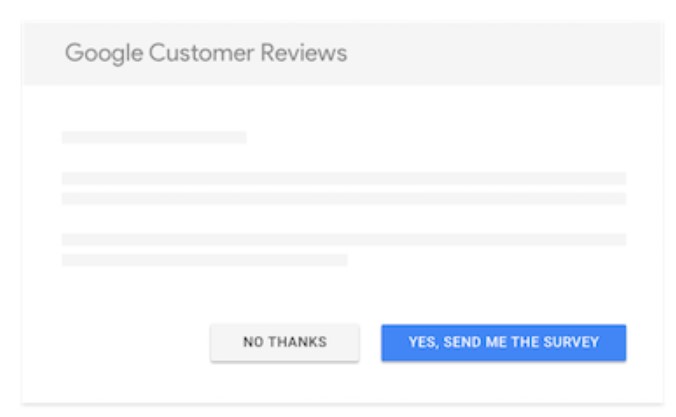 After finishing the survey, the customer has the option to complete a Google Customer Review. Your Google customer reviews overall star rating will display on your this Google Customer Reviews badge.


This badge is an easy way to add social proof to your site. Prospective customers can immediately see how other customers are rating your services. It's a great way to provide reassurance to customers.


Google Customer Reviews also allow you to add Google Seller Ratings to your paid search ads. More information on that later in the article.

How to get great Google Customer Reviews
Want to know how you can start getting great Google Customer Reviews? Let's run through a few steps.
Respond to Google Customer Reviews
Responding to all of your Google Customer Reviews shows that you care about staying on top of customer feedback and motivates other customers to leave reviews in order to get your attention.

For positive reviews, keep it short and sweet. Thank the customer for the review and tell them that you hope they come back for more.
Display the Google Customer Reviews Badge across your website
The more customers see your Customer Review Badge, the more likely they'll see your existing reviews and consider leaving a review themselves.

Provide a great customer experience
Of course, there's one way to ensure that you're making all of your customers happy. Make sure that you're delivering value at every touchpoint from the moment of first discovery to post-purchase. Keep a close eye on the customer feedback that you're getting and see if there's any room for improvement.

What you shouldn't do: pay for reviews
Under no circumstances should you pay for reviews. You'll instantly lose all your credibility with your customers if they suspect something suspicious about your reviews. It can even get you in trouble with the Federal Trade Commission.
Google Customer Reviews and Google Seller Ratings
Google customer reviews allow you to display your Google Seller Ratings. These are star ratings that show up in paid search ads. They look something like this:


Google Seller Ratings (GSR) are a great way to display social proof to potential customers. According to Google, they improve the ad clickthrough rate by a stunning 17%.
While you're here, check out our article on how to increase conversion rates using your customer reviews.
Want to know how to get more Google Customer Reviews?
Want more information on why Google Customer Reviews matter and how to get more of them for your business? Check out our free guide below.


Originally published