Imagine you get a Google review from an angry customer. Chances are that the first thing you feel is disappointment. You probably spend a lot of time ensuring that your services are high-quality. However, there is a way that you can mitigate the damage from the review, and perhaps even delete the review entirely: just responding. Let's talk about how you can respond to reviews effectively.
Why you should respond to reviews
A good review response can turn an angry customer into a happy one. A study by Bazaarvoice showed that 7 in 10 customers have changed their minds about a brand based on a review response.
Reviews also help your business rank higher on local searches. Google has confirmed that responding to reviews helps your business with online visibility. If you want to make sure that your business is easy for customers to discover, be sure that you're sending quick responses to your customer reviews.
The first step: claiming your Google My Business profile
In order to respond to your Google reviews, the first thing that you need to do is claim your Google My Business profile. This profile is the first thing that customers see when they search your business on Google by name. They will see a knowledge panel with all your business information and Google reviews on the right side of the screen.
Once you have claimed your profile, you'll have the ability to promote your business photos and posts, track business analytics to understand your customers, and respond to customer reviews.
You'll also be able to add high-definition photos, contact information, and hours of operation. If you're an existing business, chances are that you already have a Google My Business profile. All you have to do is find it, claim it, and verify it.
How to respond to a Google review
To respond to a Google review, follow this 4-step process:
Sign in to your Google My Business account at business.google.com.
Click the three bars on the left-hand corner and select the location
Click "Manage reviews", then find the review you want to respond to.
Click "View and reply", then type out a response.
Responding to positive reviews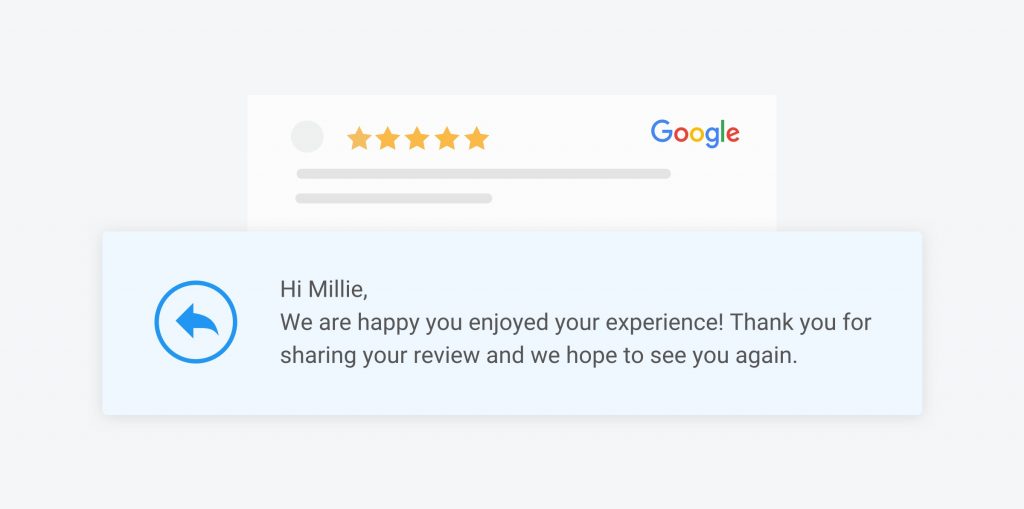 Your business has done a great job of providing your customers with value. As a result, an ecstatic customer goes to Google and gives you a glowing 5-star review. While this might feel like a win, your work isn't over just yet.
Responding to a positive review is an easy way of showing that you care sincerely about the opinion of each and every customer. Make sure to show the customer you appreciate them taking the time to leave feedback. Here are three steps to responding to a positive Google review.
Thank the customer

– Your customer took time out of your day to give you a great review. Show them you appreciate it.

Encourage the customer to come back

– Let the customer know that you'd be happy to serve them again.

Keep it short and simple

– There's no need to leave an essay here. Keep your review response short, sweet, and to the point.
Here's an example of a template that you can use to thank a customer for a glowing review.
Thank you so much for your kind words, (Customer name). We really appreciate you taking the time to share your experience with us.
Cheers,
(Company name)
Responding to negative reviews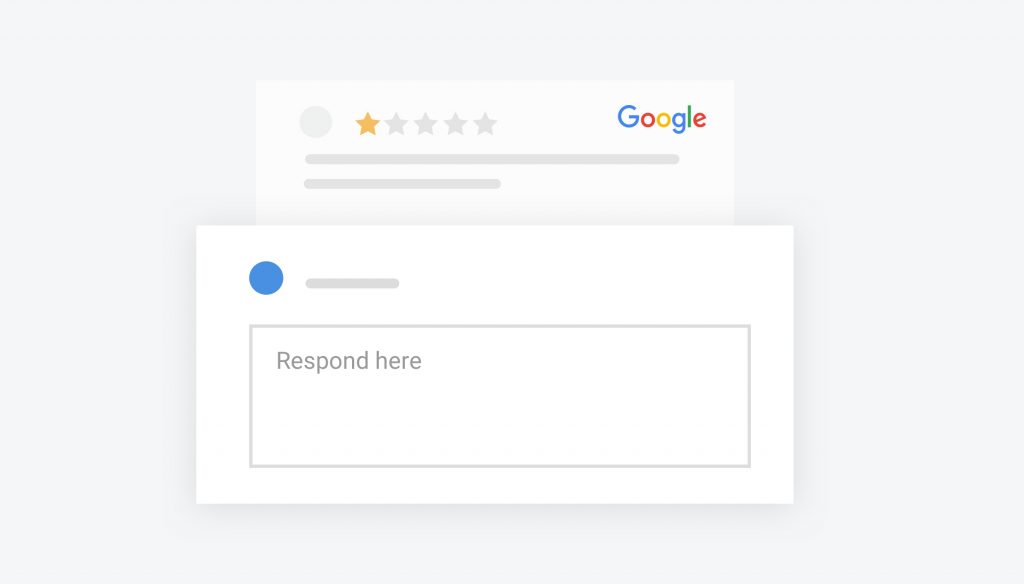 Even the best businesses get some negative reviews. Eventually, you're going to get one too. Don't stress. With the right attitude, you can turn this negative feedback into something positive for your business. Here's how you can respond to negative Google reviews.
Take a deep breath–

While it's easy to get upset about a negative review, take a deep breath. Remember that it's more productive if you're not coming from an emotional place.

Be timely–

If you wait too long to respond to a negative review, it might be too late.

Aim to respond to a negative review within 24 hours.
Take the conversation offline–

The best way to get to the bottom of the problem that the customer is experiencing is by taking the conversation offline. Provide a phone number or an email address where the customer can contact you.
Hello (Customer),
Thanks for bringing this issue to our attention. We're sorry that you had such a negative experience. We aim to deliver world-class service to all of our customers and it's clear that we fell short here.
We'd love to know more about this and find out what we can do to make this right. Please give me a call at (phone number) and I'll make sure this is sorted out.
Asking a customer to delete a negative review
If you deal with the problem, you can politely ask the customer to edit or delete a review. Here's a template that you can use for asking a customer to delete their review:
Hello (Customer),
Thank you for helping us to improve our customer experience. We regret that your initial experience with us turned out to be a negative one. Based on your feedback, we have taken steps to make sure that this issue will not happen again for you or any other customer. If there are any additional issues you would like to see resolved, feel free to contact us and we will work quickly to fix them.
We do understand that your review of (Company) on Google was based on your initial experience. We hope that your opinion on (Company) has since changed. If that is the case, we would appreciate it if you edited your review to more closely reflect your current opinion. We take all of our customer reviews seriously and we want to make sure that every review accurately represents the experience of our customers.
Responding to neutral reviews
Sometimes, you'll get 3 or 4-star reviews that aren't trashing your business but aren't glowing either. Dealing with these neutral reviews can be tricky since chances are that there are parts of the experience that your customer liked and parts of the experience that they didn't like. Here's how you can respond to neutral reviews.
Thank the reviewer for the feedback-

Constructive feedback like this is great to help your business improve. Thank the customer for taking the time to leave the reviewer.

Emphasize the positive-

Chances are that the reviewer mentioned both positive and negative aspects of your business in their review. Reinforce the positive feelings that they have about your business by mentioning those positive aspects.

Take the conversation offline-

Just like a negative review, try to take the conversation offline. That will allow you to get a better understanding of the problem that the customer experienced.
Here is a template that you can use for neutral reviews.
We're glad to hear that you appreciated (positive attribute customer mentioned) but three out of five is not what we aspire to. Please contact us at (Phone number) so we can make this right.
Responding to fake reviews
Occasionally, you might get a review that's not from one of your actual customers. It might be a patient that isn't on your patient list or a former employee. The first thing that you should do is report the review to Google. If Google believes that the review isn't representative of an actual customer experience, they will delete the review.
Of course, there's no guarantee that Google will actually do this. Luckily, there's an easy step you can take to make sure that potential customers browsing Google understand that they're looking at a fake review: leaving a response that lays out the facts.
Here's how you can respond to a fake review.
Be polite-

Even though dealing with a clearly fake review can be frustrating, remember to stay polite. Remember, potential customers look at your review responses to determine what kind of service you provide.

Explain your reasoning–

Explain why you believe you are dealing with a fake review in your response. This will help show potential customers reading the response that there are two sides to the story.
Use Birdeye to manage customer feedback
With Birdeye, you can stay on top of every aspect of customer feedback. Birdeye's all-in-one platform enables businesses to get new reviews, manage and respond to reviews from over 150 sites in a single dashboard, automatically share posts on social media, and receive actionable insights through Natural Language Processing.
Birdeye has been named the #1 company in the reputation management industry by G2Crowd. Find out why more than 100,000 businesses use Birdeye to manage their online reputation and deliver fantastic customer experiences every time.

Originally published Jun 07, 2019, updated