Google is by far the most popular search engine in the world. In fact, the tech giant currently holds over 92% of the search engine market share. That's great news for local business owners, especially those who take advantage of everything Google Local Service Ads has to offer.
Google Local Service Ads can help increase your business's visibility, but that's not all. It's also a helpful tool for connecting with customers and generating high-quality leads. In this article, we'll show you how Google Local Service Ads can impact your business and how to get started on the platform.
What is Google Local Service Ads?
Google Local Service Ads is a paid listing service that places a business's ad at the top of Google search results to attract new customers in their area. Google Local Service Ads also makes it easy for businesses to manage new leads with its Google Business Messages feature and booking capabilities. These tools are accessible both online and via the Local Service Ads app, which means businesses can connect with customers 24/7.
What are the benefits of Google Local Service Ads?
Google Local Service Ads can help your business get to the top of searches, but that's not all the service has to offer. This service can also help your business:
Filter out dead-end leads with customers specifically seeking your service
Become a trusted brand by earning Google Guarantee or Google Screened badges
Save money by only paying for leads instead of clicks
Improve your local marketing efforts
For the latter, check out our previous post to learn more about the impact of a local marketing strategy. Lastly, all Local Service Ads are displayed on desktops, mobile devices, and tablets. You can also access them on Google Assistant for voice search queries.
[Free Guide] Get Google reviews: A no-nonsense guide
Download Now
Getting started with Local Service Ads
Head over to the Google Local Service Ads homepage to create your account. If you already have an account, you can sign in and start working on your ad right away – but if you're starting from scratch, there are a few steps you'll need to take before your ad can go live.
Checking business eligibility
On the homepage, click the "Get Started" button in the upper right-hand corner. From there, you'll be taken to the "Eligibility" page. Google currently supports a variety of businesses, but eligibility depends on your job category and location.
To verify if your business qualifies for Local Service Ads, fill in the requested eligibility information. Depending on what kind of business you are in, you might be able to select more than one job category. After you've added all of your information, click or tap "Check Eligibility."
A few of the most popular job categories that Local Service Ads supports include:
Animal rescues
Carpet cleaning services
Driving instructors
Electricians
HVAC (heating or air conditioning)
Junk removal services
Real estate lawyers
Pest control services
Tax services
Yoga studios
A complete list of job categories can be found on the Local Services Help page.
Setting your Service Ads region
Next, you'll need to provide your service area. You can search for this by entering your city or zip code.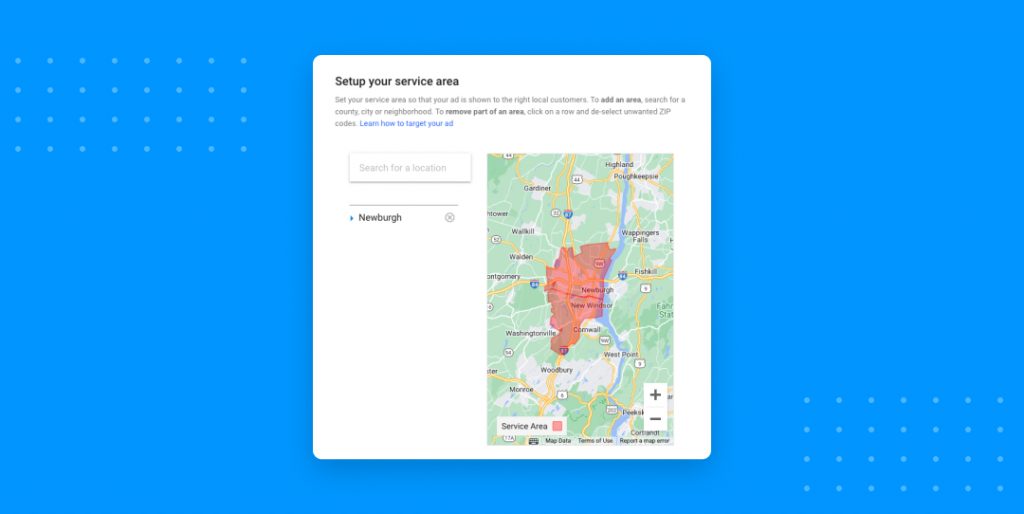 There are a couple of different ways potential customers can find your ad on Google:
People located in the specific area that your business provides service
Search queries that include the city's name (i.e. Newburgh electricians)
Setting your service area will increase the quality of leads because you know that the right customers are seeing the right ads. Most major U.S. and international cities have access to Google Local Service Ads, and the service continues to expand worldwide. To be sure, check to see if Google Local Service Ads are available in your location.
Create an account
Next, you'll need to provide an email address to create your account. Make sure you use an email address you check often because you'll start receiving important information about leads and billing. Once you've entered your preferred email, click or tap "Next."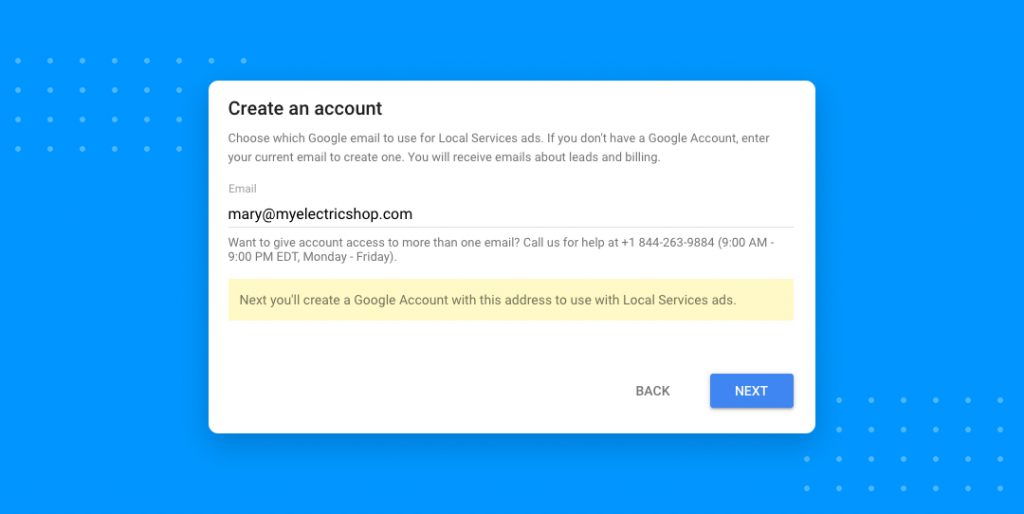 If your email is already linked to an existing Google account, you'll move on to creating your business profile. If not, you'll be asked to create a password in order to activate your Google account.
[Free Guide] The complete Google My Business marketing toolkit
Download Now
Create your business profile
Once your account is ready, you can start building your business profile. In this section, you'll be asked to provide further information about your:
Business details
Service area
Service types
Business hours
After adding these details, you'll have the chance to preview your ad. Double-check and make sure all of your business information is correct. Then, click "Next."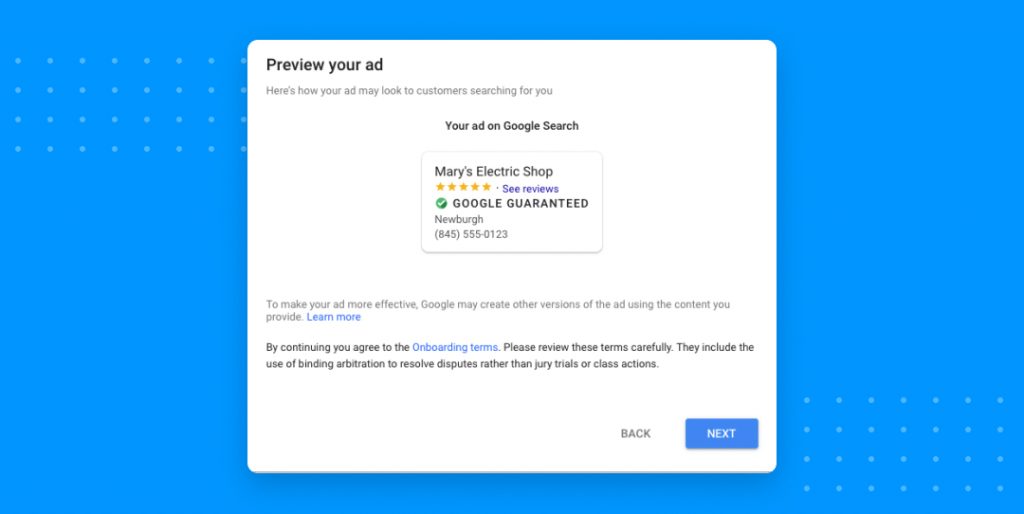 It's extremely important all of your business details are correct. Having accurate information means potential customers will know exactly which services you offer, how to contact you, and where you're located. This might seem easy enough, but errors can be costly. In fact, 63% of consumers say they won't pick a business because of incorrect information on a business listing. Inaccurate information won't just impact your ad ranking – it will also hurt your bottom line.
Setting a budget
After filling out your profile information, you'll have the option to add proof of insurance, start a background check, add customer reviews, and billing information as well as set your advertising budget.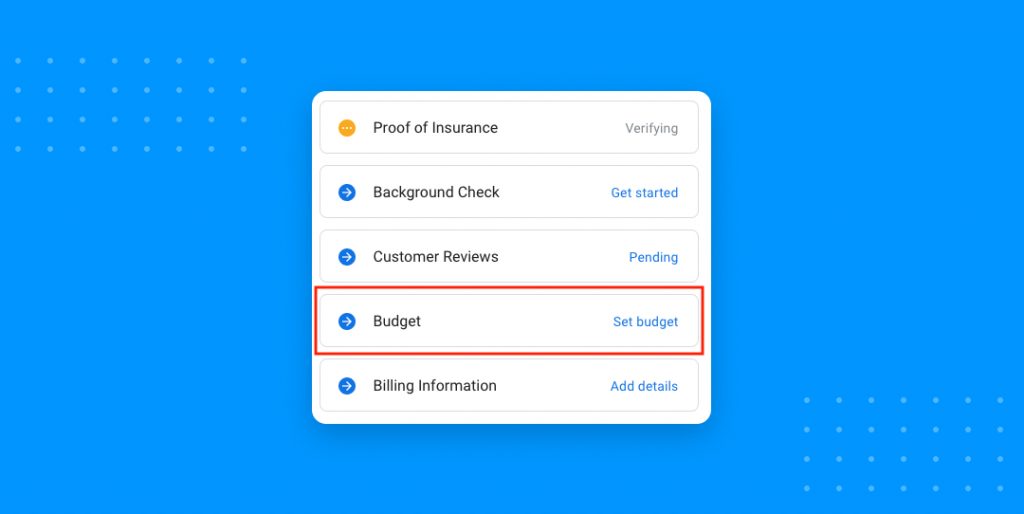 After clicking "Set budget," you'll be asked to choose your preferred bidding mode. You'll have two options:
Let Google set the right bid – This is Google's recommended option. It will automatically bid on ad placement based on customer demand and your monthly budget. This option can help protect your monthly budget.
Manually set a max bid – This option is for businesses with a strong understanding of their market demand or businesses with multiple ads across several industries.
After making your selection, you'll be asked to set your maximum monthly budget. Google will give you a few recommendations based on your business details. The first option is typically the minimum monthly budget allowed, which is based on your specific service, service area, and customer demand.
If you're using Google Local Service Ads for the first time, we recommend selecting the minimum budget allowed. You'll get an idea of how the service works without breaking your budget. If you're satisfied with the results and want to increase your budget, you'll always be able to make adjustments to your profile settings later.
Important ranking factors for Local Service Ads
Bidding is an important way for your business to rank higher – but it isn't the only way. There are several other ranking factors Google uses to determine ad placement. Earning a Google Guarantee badge for home services providers or a Google Screened badge for professional services is an easy way to climb the ladder and prove the accountability of your work.
In both cases, your business must pass a thorough screening process, including a background check and license verification. This added level of assurance will differentiate your business from competitors and help show customers you're trustworthy. For more information about this process, you can visit this Google resource.
Some other important ranking factors include:
Proximity – The closer you are to customers the more likely your business will show up on their search queries.
Reviews – Interested customers rely on reviews to better understand if a business will fit their needs. By acquiring and replying to reviews frequently, you help Google determine your relevance.
Response rate – It's important you always respond to customers whether you're interested or not. Providing consistent and timely feedback is a clear indication that you are actively managing your ad account.
Business hours – Searches that happen during active business hours will help improve your ranking. For businesses that offer 24-hour emergency services, like a locksmith, reviews can determine if an ad will rank during off-peak hours.
Frequently asked questions about Google Local Service Ads
What is the difference between Google Ads and Google Local Service Ads?

Unlike Google Ads – which is a pay-per-click service – Google Local Service Ads is a pay-per-lead service, which means the account is only charged when a potential customer contacts the business directly through the ad.
Where do Local Service Ads show up on a results page?

Local Service Ads can be found at the top of Google's search result pages. They're typically located above traditional paid search ads.
Is there a way to check the performance of my Local Service Ads?

Yes. Log into your account, hover over the "Main Menu" button and select "Reports." You'll then find insights about your leads and bookings.
Excel with Birdeye Listings, Reviews, and Messaging
There are several factors that will determine the success of your business's Google Local Service Ads. Careful attention to detail with your listing information, active management of customer reviews, and timely response to customer questions. Birdeye can help with each of these to help improve your online reputation.

With Birdeye Listings you can be sure that your business listing Management is accurate across all directories. Our Reviews product makes it easy to request reviews from your customers. And, Birdeye Messaging allows you to respond to customer questions from one inbox anytime and from anywhere regardless of channel. Watch our free demo to see all these products in action.
[Free Guide] The ultimate guide to Google Seller Ratings
Download Now

        

This blog post is part of our Google Local Service Ads Guide 


      

            




Originally published