Word of mouth has always been an effective channel for attracting new customers and building brand awareness. In the past, businesses tried to motivate more customers to spread the word about their products and services through pen and paper referral programs. Now that customers are spending more time online, those referral programs are moving to digital. To track and measure the performance of customer referrals, businesses are embracing formal referral marketing software.
There are a few questions that every business needs to know the answer to before getting started with a referral program: Once a business decides to embark on a structured referral journey, what obstacles are they likely to encounter? How does having sophisticated referral marketing software ease this journey? How can businesses get the most from their referral programs?
To get answers to questions like these, we recently sat down with Chong Tseng, Director of Systems Operations at JumpStartMD. Here are the key highlights from the interview.
Just to start things off, can you tell us a little bit about JumpStart MD?
Here at JumpstartMD, we help our clients with medically supervised weight loss. However, we really consider ourselves to be more in the health and wellness space. We help our clients lose weight, get off medications, and improve overall health through a personalized nutrition plan and direct care from licensed practitioners and health coaches. Currently, we have 12 locations in the San Francisco Bay Area.

What kind of challenges has JumpstartMD faced recently?
The pandemic challenged a lot of companies — we were no different. COVID-19 required our center locations to be shut down, at least temporarily. During reopening, we needed to explore different options to both bring in new patients and get existing patients to return. We needed to put a microscope on the systems we were using for marketing and operations and ensure that we had a solid infrastructure to grow and scale as we entered the recovery phase of the pandemic.
I know that in the past, you've used referrals to grow business. Can you talk about what your referral program was like pre-pandemic?
Back then, we were using a pen and paper system. We would give patients a card that they could pass on to friends and family members. It worked well — historically, referrals have always been a good driver of new patients for us. We've also seen that patients that come in through referrals tend to be more loyal over time.
Of course, there were a couple of reasons why we decided to switch to Birdeye to manage our referral program. The first reason is that we wanted to move more into the digital space when interacting with our patients. The second and more important reason is that while we knew that we had new patients coming in from referrals, we didn't have enough data to track the exact number of referral leads we were getting and the return on investment from our referral marketing efforts.
With Birdeye, we're able to solve both of these problems. We're able to reach customers on digital touchpoints through automated referral requests that we send via text and email. We can also easily track all the leads that we're getting from customer referrals on the Birdeye platform. Overall, it makes it easy for us to measure the effectiveness of our referral program.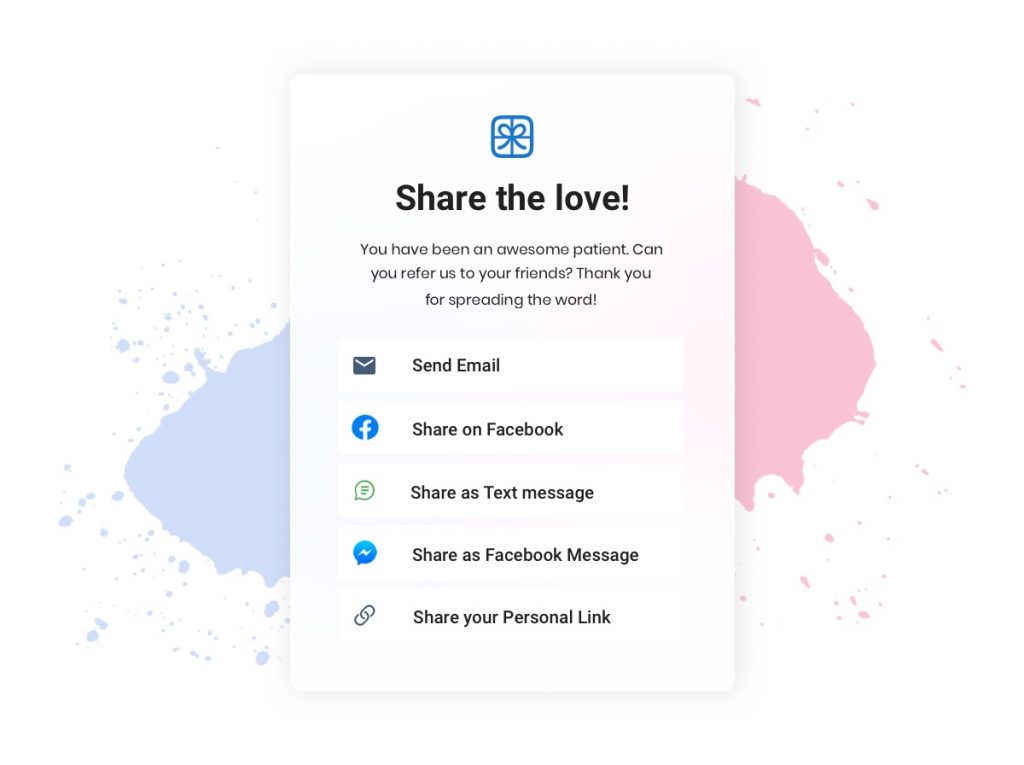 What are some of the benefits you've seen since switching to a digital referral program?
Leads that are coming in through Birdeye are extremely hot — we're seeing a close rate of over 80%. What's more, we've seen that even the prospects who don't fill the form right then and there are more likely to become customers later on. When customers have been warmed up to our brand through a referral request, our sales team has a much easier time getting the conversation started and a much better chance of closing the deal.
Birdeye is great for our patients because it's simplified the process of referring a friend or family member with just a couple of clicks. Speaking as a consumer myself, there have been times when I've gotten a review or referral request from a business and I didn't go through with it just because the process was so complicated.
How are you sending out these referral requests to your customers?
Right now, the whole process is automated. Birdeye integrates with the software systems our team is already using. There's no need for any of our team members to send them out manually.
Do you offer any incentives for patient referrals?
Legal restrictions around incentives prevent us from offering incentives to our existing patients. However, we can offer incentives such as discounts to any new customer who has been referred to us.
Despite this limitation, we've still managed to generate great results through our referral program. Satisfied patients are usually more than happy to spread the word to family and friends.
Do you have any tips for businesses to build a successful referral program?
It's important to find the right time to strike. We've found that trying to get referrals right after a patient has joined doesn't work well for our business specifically. At that point, our patients might not be seeing results just yet. We've seen that the best time for us is 2 months after a patient starts a new program.
Looking for more tips on building a digital referral program?
For more tips, tricks, and insights on how to build a high-converting referral marketing program, check out our comprehensive guide on customer referrals. It contains a few bonus tips for collecting referrals that you can't find anywhere else.

Originally published