Paid advertising isn't making the same impact on customers that it used to. Whether it's direct mail, print, billboards, or even more modern methods like Facebook or Google Ads, customers are tuning them out in favor of genuine customer experiences. But that's not necessarily a bad thing for your business–as long as you have the right game plan.

In this guide, we'll break down why word-of-mouth marketing is so important for your business and how you can build a strategy that delivers real results.
What is word-of-mouth marketing?
Word-of-mouth marketing is when a customer promotes a product or service through the course of normal social interaction. It's typically marketing where customers share their experiences with your business.

Word-of-mouth marketing stats
Here are some statistics that highlight why word-of-mouth marketing is so effective.

92% of people value recommendations from family and friends above all forms of traditional advertising.
72% of people get news from friends and family.
74% of customers specifically identify word-of-mouth as a key factor in making purchase decisions.
Why does word-of-mouth marketing work?
Consumer behavior is changing. Now more than ever, customers go to great lengths to avoid advertising. Less than 10% of people click on paid results on Google search. Customers throw out direct mail, refuse to pick up calls from numbers that they suspect might come from telemarketers and pay for subscription-based services to avoid ads.

In fact, a recent study by Hubspot found that only 3% of consumers said that they trusted marketers. That suggests that marketers might need to explore new channels to acquire customers. Instead of making purchase decisions based on billboards or Facebook ads, customers are increasingly turning to word-of-mouth.

Word-of-mouth marketing works for a simple reason: it leverages trust. Since word-of-mouth is based on the authentic experiences of real customers and is not manufactured by a marketing team, it's more likely to be trusted.
Types of word-of-mouth marketing
Here are some of the different ways that businesses try to leverage word-of-mouth.

Building organic buzz- Typically, businesses aim to get customers talking about them by doing new and newsworthy things. This can be done through a big launch for a new product or service, a giveaway or contest, or a partnership with a nonprofit organization. The event creates a buzz and helps to get the word around.

Designing a referral program- While it's awesome when customers refer your business on their own, you probably have tons of customers who are happy but just need an extra push to give a referral. Businesses often design referral programs that are meant to make it easier for customers to refer businesses to friends and family. 

Influencer marketing- Businesses will often use social media influencers to reach new audiences organically. It works like this: businesses reach out to an influencer within their business category. The influencer promotes their product or service as a post on social media usually in exchange for payment or some other mutually beneficial arrangement. This exposes the business to the influencer's audience.

Customer reviews- Whenever customers search for your business on listing sites, they'll see customer reviews. These can have a big impact on purchase decisions. According to Search Engine Land, 88% of customers trust online reviews as much as personal recommendations.

How to build word-of-mouth marketing
Want to get started leveraging word-of-mouth. Here are 5 strategies that any business can get started with today.

Offer a great customer experience
Building a word-of-mouth marketing strategy that works starts with wowing your customers from the very beginning. No customer is going to refer a business to friends if they just feel "okay" about it. So it's important that you collect feedback to ensure that you're providing a great customer experience.
Blaze Pizza found that reviews were a great way to collect feedback. The company was expanding rapidly and needed a way to ensure that every location that it opened was delighting customers. By monitoring sentiment across different locations, the corporate team could quickly make adjustments and fix business operations.
Promote a good cause
By attaching your brand to a good cause, you can motivate customers to talk about you with family and friends. -Perhaps the most famous example of a brand leveraging goodwill is Toms. Every time a pair of Toms shoes is bought, another pair of shoes is donated to a child in need. As a result, the company gets positive coverage in the press for their efforts and customers feel positive when recommending them to friends and family.
Of course, you don't need to be an internationally-recognized shoe company to leverage goodwill. During the onset of the COVID-19 pandemic, many local businesses took the opportunity to highlight the work of essential workers and local nonprofits.
Make the process easy for a customer
Many customers are happy to write a review or refer your business, but just don't have the time. Make the process easy for them.
Send customers direct requests to leave a review or refer your business through text and email. That way, all a customer has to do is click a button to spread the word. There's no work for them, all they have to do is click a button.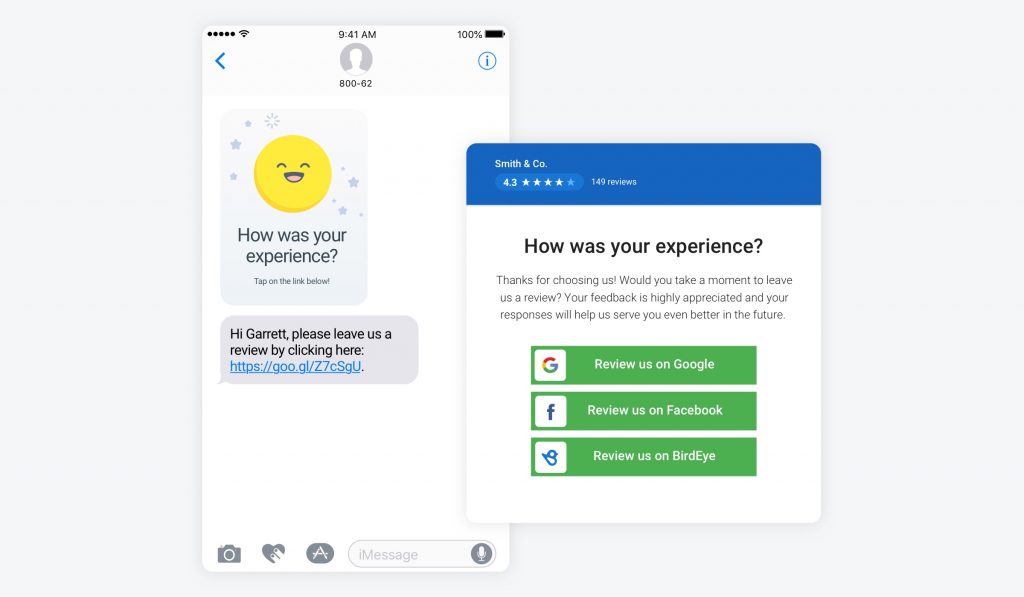 Reach out to micro-influencers
While it sounds great to work with an influencer with millions of followers, it costs a lot of money. It's estimated that the cost of just one promotion from a big influencer might cost as much as $1 million. If you're working on a tight budget, don't let that number scare you. While you might not be able to work with large-scale influencers, you can work with affordable micro-influencers.
A micro-influencer is someone with 1000-10000 followers on social media. Take some time and search for micro-influencers in your area. Once you've identified a few, try to build the relationship by liking and commenting on their posts and build a relationship Typically, micro-influencers are willing to be compensated through products and services rather than money. While their reach might be lower than top-tier influencers, working with micro-influencers can be very effective if they've cultivated trust with their audiences.

Encourage your employees to get involved
Ultimately, a great word-of-mouth strategy should be built into all levels of your organization. So make sure that all of your team members understand and buy-in to the concept. That way, they'll take the steps that are necessary to get customers raving about your business.
Many businesses encourage team members to send review and referral requests to customers and use leaderboards to track their progress. Employees who send out the most requests rank higher than their peers and may be rewarded. This helps to create a competitive environment where employees get competitive and everyone aims to be at the top.

Want to get more customer referrals?
Want to know more about how your business can get started with word-of-marketing? In our guide to referral marketing, we break down some of the steps that businesses can take to encourage customers to refer them to family and friends.

Originally published