Looking for a way that you can effectively reach more prospects and clients? There's one service that realtors can use to stay ahead of the competition: mass text messaging. Mass texting is the best way for realtors to advertise new listings and open houses.

Let's talk about why you need a mass text service and how it can help your real estate business grow.
Why communicate via text messaging?
Texting your prospects and clients works. Let's talk about some of the reasons why you should invest in text messaging.

Text messaging works:
Text messaging works much better than traditional modes of communication like phone and email. If you don't believe us, check out these stats.

62% of prospects want realtors to communicate with them via text messaging.
The average response time for an email is 90 minutes. The average response time for a text is 90 seconds.
Text messages get a 45% response rate compared to 6% for email.
Manage Conversations from a Single Inbox
Want to see the impact of Birdeye on your business? Watch the Free Demo Now.
Most realtors don't have mass text capabilities:
Most realtors in your area are probably not using a service that allows them to send mass text messages. Studies show that 48% of realtors find keeping up with technology to be a challenge. Getting started with mass texting gives you a competitive advantage.
Clients want businesses to text them:
Some realtors are worried to use mass text messaging because they're scared that clients don't want to be texted. These fears are unfounded. Most clients actually prefer that you use text messaging over other mediums. Studies show that 89% of customers want to use text messaging to communicate with businesses.

In this video, discover how Aaron Novella of Keller Williams was able to help his clients communicate with ease and boost sales by using Birdeye text messaging. Being an agent and coach allows Novella the opportunity to take advantage of this technology which he and his team have harnessed to increase their customer service.
Best practices for mass text messaging
Before you dive in and start sending text messages, here are a few things to keep in mind.

Offer an opt-out:
Make sure that every mass text message that you send has an opt-out so a client can unsubscribe to your messages. Not doing this is a violation of FCC regulations.

Take a minute to check for typos:
Typos in your text can make you look unprofessional and can end up hurting your credibility. Before you shoot off a text, make sure to read through it to catch any spelling mistakes.

Experiment with different times:
There's no one optimal time for text messages that works perfectly for every business. Try experimenting. Send messages at different times and see what works best for you. Of course, remember not to send messages when your clients might be asleep.


Respond quickly:
When you send a mass text, chances are that prospects are going to respond by asking for more information. Be sure to respond in a timely manner. Usually, prospects expect a response within 24 hours.
Don't text too many people at once:
We recommend sending a maximum of 200 mass text messages at once. There are two reasons for this. First off, texting too many people at once might mean that you'll be flooded with responses that you might not be able to handle. Plus, you run the risk of being labeled as a spammer by phone carriers.

Keep your text messages short:
Text messages are best when they're short and sweet. If you're writing something that's turning into an essay, it might be better to turn to email instead.

Send mass texts from your landline number:
If you're texting your clients from one number but they see another number online, they might be confused about the best way to reach you. Make sure that you're using mass texting software that can integrate with your existing landline phone.
How to capture leads for texting
Not sure how to capture leads for mass texting? Here's a tactic that you can use to get new leads for mass texting.

When you have a sign advertising a new listing, include a phone number and say tell interested prospects to text you at that number. Once they text you, send them information on that specific listing and enroll them in future mass text messaging sequences.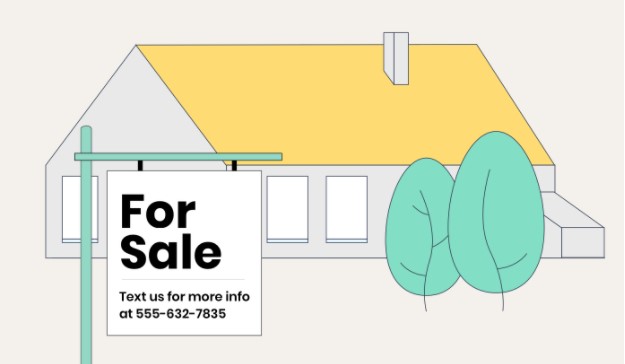 What to include in real estate agent texts
Not sure what to put in your text messages? Here's some information that you can consider including in your real estate texts.

Photos of the home you are advertising
Address
Price
Size of the home
Short link to your Google Business Profile
Date/time of upcoming open houses
Your email address
Real estate agent mass text templates
Here are a few templates that you can use to get started with mass texting.

Looking for a new home? We have an open house at 24 Esperanza Avenue this Saturday from 3-5 pm.

The price on our 57 Cambridge Lane listing dropped from 460K to 410k. Reply YES to this text to schedule a showing.

Hey there, we're offering a new listing at 626 Bedford Avenue. If you'd like to schedule a showing, text, or call us at this number or send us an email at realtor@yourdomain.com.

Thanks for your interest in our properties. If you're interested in exploring more options, we can show you a list of our top 5 listings. Just text us your email so you can send it over.

We have 6 open houses scheduled this weekend. Click the link below for more information.

Real-estate mass texting cost
Want to get started with mass texting? Birdeye can help. Birdeye's texting software allows you to contact hundreds of prospective buyers at a time. You'll be able to manage and respond to conversations through the Birdeye mobile app. Birdeye also integrates with your existing landline number, so that you won't have to use two different numbers to call and text your clients.
Get started with mass texting for your real estate business
Birdeye's all-in-one Experience Marketing platform can help take your business to new heights. Birdeye helps more than 100,000 businesses collect more reviews, get connected with clients through text messaging and website chat, and collect in-depth feedback with online reviews.

Originally published