Many review sites, such as Facebook and Avvo, give greater prominence to businesses that have complete and active profiles with lots of new reviews coming in. However, many practices don't know how to ask their clients for a review. Today, we'll walk you through exactly how your law practice can request reviews from clients in a way that is organic, easy, and professional. You'll learn how you can take easily rank higher and promote reviews that get you spotted easily in local searches. Here are the topics we'll cover:
Ensure your reviews are unique
Have reviews for all services
Include relevant reviewer information
Check review site filters for real, positive reviews
Don't ignore negative reviews
How can I ask my clients for a review for my law practice ?
Ensure your reviews are unique
Ask your clients to review you by mentioning their true feelings about the experience they had. One of the best ways to build a 5-star reputation is to simply ask for reviews from all your clients. The savviest lawyers and legal service providers know that having positive reviews and high ratings is proof to potential clients that you're likely to provide top-notch service. A challenge for many lawyers though is scalability, how to request for a review while still managing your clients. With tools like Birdeye, you can automate this process in no time at all. A great example of this is through our recent Birdeye integration with Clio. 
Have reviews for all services
As an attorney, you may cater to clients in different practices, such as personal injury, divorce or corporate law. Ask clients to rate you on the specific service they received. Reviews with details increase your chance of showing up in searches for attorneys with specific experience. For example, if one reviewer talks about how you helped them with personal injury and another reviewer mentions you helped them with a smooth divorce, you'll show up in both searches.
Relevant reviewer information
No matter how good a review may be, if the name of the reviewer is listed as "anonymous," it won't carry much weight with prospective customers. Customers are looking at the authenticity of the reviews and that can only be possible if the reviewer looks legitimate, with details like name and review date.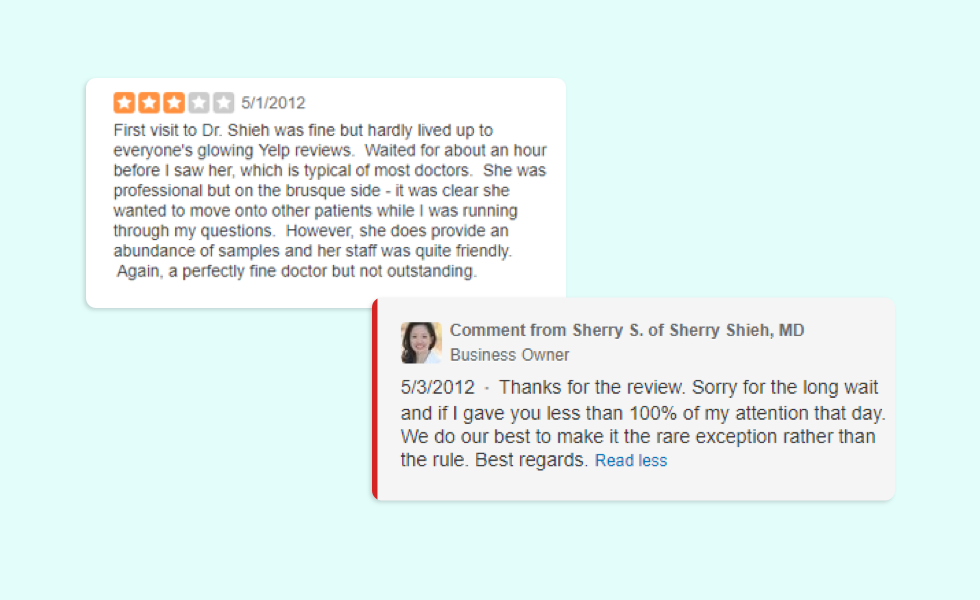 Check review site filters for real, positive reviews
When it comes to reviews: positive attracts more positive. If you have specific or detailed positive reviews, they will attract other customers looking for that service. Make sure that on all review sites you have as many positive reviews visible to the end user as possible. Check the review platform's filter for positive reviews that got stuck in the pipeline. 
https://www.youtube.com/watch?v=dBRoooohYFM&t=3s
Don't ignore negative reviews
These can be as precious as positive reviews! The truth is that you can't please everyone, you will have negative reviews and potential clients want to see that. If you do receive poor reviews, respond to them as professionally as possible. Start by acknowledging what you believe went wrong, and clarifying anything that may be incorrect. Thank your customers for their feedback and apologize if you believe it is appropriate. Your response to an unsatisfied client will show a prospective client that you are trustworthy. For more on this topic, take a look at our post on how negative reviews have an impact on your law firm.
Wrapping it up
Birdeye understands the difficulty of maintaining a stellar online reputation, especially in a competitive market. Get hands-on experience with Birdeye's demo version to see how you can manage your online listings, engage with your customers, and take control of your online reputation.
Originally published