Back in 2003 Apple launched iTunes, The Lord of the Rings: The Return of the King became the highest-grossing film of the year, and according to the National Center for Health Statistics 95% of households had a landline. How times have changed. Today, according to Statistica, only 37% of American households are still using landline phones. The mobile phone is the communication device of choice, and texting has become people's preferred mode of communication. Yet, many businesses still use landline phones as their main contact number, so how can you bridge the gap and meet your customers on their preferred channel? With texting from your landline. 
It is now possible to text from a landline number, even using your existing phone number. Instead of only using your landline for phone calls and voicemails, you can send and receive SMS and even MMS (text and picture messages). In this article, you'll learn how you can text from your landline to mobile phones and meet your customers on their preferred channel.
Why is it important to have a text-enabled landline?
‍Here are some compelling reasons to make your landline textable.
‍The case for using SMS in business communication is undeniable. Consumers text more than they call, respond faster to text messages, and prefer the medium to any other channel. There are additional benefits for you and your business.
1. You won't have to use your personal number to communicate with customers
You or your employees may not always feel comfortable giving out their personal cell number to customers. A benefit of landline text messaging is that sharing personal numbers isn't necessary. You can share the company's landline number and still deliver personalized, quality customer service over SMS.
2. Increased efficiency
One of the limitations of phone calls is that you can only take one phone call at a time. With texting from your landline enabled, It is much easier to have multiple conversations at once. This helps employees to multi-task and get more done. It also makes it easier to manage customer interactions. Your business can continue using your current landline number, with the benefits of both calls and text messaging. You'll be able to increase customer loyalty by providing them with personal and friendly service by text and phone from one number.
3. Provides consistency
Your business won't need to have separate numbers for "text us" and "call us". Instead, you can provide customers with one general "contact us" number that can be included on your website, business listings, business cards, and advertisements. Customers can use the same number for an initial text, and then follow up with a voice call later if they want to seek more details or resolve a customer service issue.
How to enable texting from your business landline
Enabling texting from your business landline actually isn't a complicated process. In fact, there's zero technical expertise needed. With business text messaging software like Birdeye, you can setup landline texting in just two steps.
All you have to do is enter your business's landline number on the Birdeye dashboard. Shortly thereafter, you'll get a call with a verification code, to make sure that you're actually the owner of the phone number. And just like that, within 24-48 hours, you'll be able to send texts through your landline.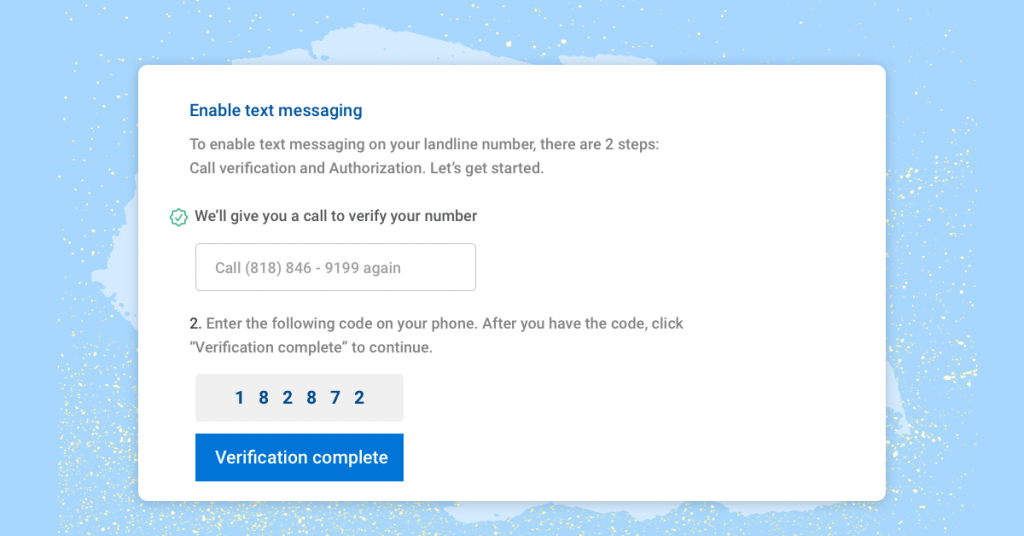 Once the texting functionality is added to your phone, you can start sending texts to your customers as well as receive texts within Birdeye Messaging.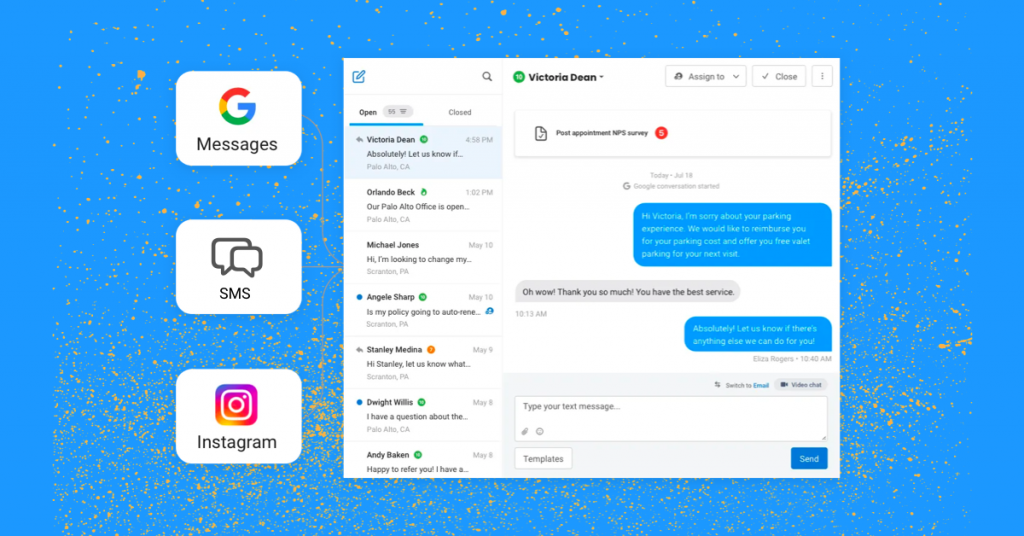 You can then monitor and manage your text messages, social media messages, emails, Google messages, and more, on your desktop or on your smartphone with the Birdeye mobile app.
A quick note here:  While landline phones can be enabled for text messaging, VoIP phones cannot. If you're not sure what that is, think of it this way: a VoIP phone is a phone that needs the Internet to work. If your phone doesn't need the Internet, then you should be able to connect your phone to Birdeye Messaging.
What to look for in a business text messaging platform
1. View all customer messages in one Inbox
Text messaging is just one channel among multiple that your business uses to engage with prospects and customers. When your employees are sorting through texts, emails, chat, etc — it can get overwhelming. Your software should include a centralized inbox, where you can bring all conversations together to manage and respond to all messages from multiple channels from one place.
2. Create templates
Using a customer messaging platform, you should be able to create message templates that reflect the tone and voice of your business. No matter who is communicating with the customer, the voice of the business will remain consistent.
3. Use attachments
When texting from your landline, you shouldn't need to struggle to describe something to your customer, or suffer because your customer can't describe an issue to you. Look for a business texting software that supports sending attachments.
4. Internal notes
Customers hate having to repeat themselves just because they're speaking to a different employee. Want to cut down on loss of information because a new employee is responding to the customer? Your business texting software should have one inbox where everyone can work together and add internal notes to conversations so they can collaborate, and be on the same page to ensure success.
5. Get notifications and take your landline on the go
Your landline may be limited to one location, but you're not. The right business texting software will send notifications by email, SMS text messaging, and also provide desktop notifications so you can stay on top of every incoming query. This way you'll never miss any of your landline text messages, or messages from any channel, whether you are at your desk, out to lunch, or taking a walk.
Frequently asked questions
What's the difference between landline and mobile phones?

The key difference is that landlines require physical cables to transmit a call, whereas mobile phones transmit calls wirelessly through radio waves. Due to this landlines are limited to a fixed space, commonly used as a centralized phone number for businesses. A mobile phone is for individual use and can be used on the go, anywhere there is a cellular signal.

How Birdeye can enable texting from your business landline
Ready to meet your customers on their preferred channel? Click the banner below to learn why over 90,000 businesses use Birdeye's business messaging software to centralize every customer interaction and deliver better business outcomes.

Originally published Dec 07, 2021 9:21 AM, updated Oct 24, 2022