These days, millions of shoppers make most of their purchasing decisions on Instagram. If your business isn't on the platform already, there's no better time than the present to create an account. Instagram marketing can help you reach your target audience, grow a following for your business, while also improving your lead generation rates.
Instagram is surely a strong marketing tool for businesses of all sizes.
That said, Instagram's algorithm is constantly changing and the app is always updating. Marketing on Instagram can be challenging, especially for those who aren't super tech-savvy. But the rewards are immense too.
This blog simplifies everything you need to know about Instagram marketing and how to leverage it to drive more revenue to your business
What is Instagram marketing?
Many remember Instagram as a photo-sharing app. After its founding in 2010, the app quickly became a place for people to promote their small business especially. Now, large brands like Nike, Ikea, Starbucks, Peloton, and Lululemon are immensely successful with Instagram marketing.
According to Instagram, 90% of users on the platform follow at least one business account.
Businesses can take advantage of both organic and paid marketing on Instagram. The platform can help businesses improve their engagement rates, increase their number of followers, and sell products. The possibilities are endless, and there are plenty of ways to get creative.
Why is Instagram effective for marketing?
Instagram is currently the third most popular social media channel, just after Facebook and Whatsapp. With an ad revenue estimated to hit $39.7 billion by 2023, the platform is hot with both businesses and customers.
To understand why Instagram has become a hub for businesses of every size,, let's try and see it from the platform's perspective. Social media channels are essentially advertising companies that make money when their users actively engage with content.
For Instagram to remain profitable, the platform needs to create a shopping-centric mindset among its user base. The platform offers many features that fill news feeds with business accounts, tempting them to make a purchase.
According to recent studies, a majority of Instagram users have taken action after coming across a company's post. Typical actions include following the business profile, visiting the website, and purchasing a product.
Instagram usage is increasingly becoming brand and product-centric. Recent reports tell us that 27% of Instagram users look for inspiration for things to buy, 26.2% use the platform to find products to purchase, and 22.6% like to use the platform to watch content from their favorite brands. The numbers don't lie: Instagram is one of the most effective marketing channels out there.
[Free Guide] The ultimate social media marketing guide for businesses
Download Now
Developing an Instagram marketing strategy
To effectively market your business on any platform, you need to create a plan and stick to it. . With a structured marketing strategy, you'll spend less time posting and more time on other aspects of running your business. A social media content calendar is a great place to start, and our free template can make things much easier for you and your team.
Here's what you need to do when creating your Instagram marketing strategy.
Define goals and objectives
First, your Instagram marketing strategy should outline the long-term and short-term goals of your campaigns. Your long-term goals should tackle questions like "What do you want your Instagram business account to achieve?" and "How will the Instagram account contribute to the overall business goals?"
For example, if you're a retail brand, long-term goals for your Instagram business account would be "X% of overall sales should come from Instagram " or "X follower count by the end of the year."
Meantime, your short-term goals should serve your long-term goal. You might need to redefine or modify these each month or quarter.
For the same retail brand, short-term goals could include "X% of leads/sales from the Instagram account for the month" or "X followers to increase month on month to hit the yearly goal."
Define your target audience
Before you decide what to post on your Instagram business account, you need to define who you are trying to reach with your posts. According to a recent survey, Instagram's audience is mostly millennials and Gen Z.
In fact, Instagram is currently Gen Z's favorite social media platform – but Gen Xers are the fastest-growing age group on Instagram.
You'll need to understand the target audience for your business before you can define your Instagram target audience. Ask yourself the following questions:
How old are they?
What do they do?
Why are they on Instagram?
What do they expect from brands on Instagram?
Once you know these answers, you can move on to the next step in your Instagram marketing strategy.
Competitor research
Every good strategy needs a benchmark to compare its successes and failures. Understand what your competitors are doing on Instagram to find out what works for your industry and target audience. A few things to watch out for are:
The most successful content piece on your competitors' business profile
The post with the lowest engagement rate
The posting time that brings them the most engagement
Instagram live posts with the most views
Their growth rate
The brand's Instagram aesthetic
Build your Instagram business account
If you have an existing Instagram business account or are setting one up, start optimizing it per your Instagram marketing strategy. Here's what you should do first:
Choose a professional display picture that reflects your brand identity and would appeal to your target audience
Optimize your profile description by adding target keywords, categories, and relevant information
Add your website, shop, and other relevant links on your profile bio
Choose an Instagram design style or aesthetic to appeal to your target audience.
If your business already has an Instagram account, we recommend conducting an audit that can help you edit unnecessary information and remove posts that no longer match your current Instagram marketing strategy.
Content publishing strategy
Once you've established your goals and target audience, it's time to get started on the most important part of your marketing strategy: content creation and publishing.
When creating your Instagram marketing strategy, you should consider:
What you want to achieve with your content
The type of content you want to post (educational, promotional, fun, etc.)
Your Instagram posting schedule.
Your approach to user-generated content.
Instagram's content brand guidelines
If this list is overwhelming, or you're working with a small team, use a content calendar and scheduling tool for the best results.
How to use Instagram for business
The content you post on Instagram will determine how successful your business is on the platform. Instagram offers many content options to creators and brands – but they're not equal. So, how can you use Instagram to achieve your business goals?
There are three major ways a business can make the most of Instagram:
Organic content marketing
Paid content marketing
Instagram shopping
Let's take a closer look at all three.
Organic Instagram content marketing
By definition, organic content marketing doesn't require the business to make any payment to the platform. Your content's reach and engagement rate depend on Instagram's algorithm and how the post appeals to the audience.
Static posts
Static posts or photos were Instagram's most shared content formats before Reels entered the picture. Photos especially helped many photographers grow their business. Instagram was primarily a photo-sharing app and still has many in-app editing features to support this type of content.
Even though video content currently dominates the platform, static posts still exist. Tastefully crafted, dynamic photos are still a hit, especially for retail brands posting photos of their products. You can also experiment with a carousel post for a more striking visual element.
Video posts
Instagram has become synonymous with video content, and the company is extremely optimistic about its growth. If you are a new business account and want to reach the Explore pages of your audience, video content is the way to go.
Create attractive, valuable, and engaging Instagram Reels to appeal to the platform's algorithm. Using trending sounds, in-app editing features, stickers, and Reels features can also improve your engagement rate. Instagram reels of less than 60 seconds work best, but you can also create longer videos for your audience.
Instagram stories
Engaging with your audience via Instagram stories is an easy way to stretch your content even further. As the newsfeed becomes cluttered, many users surf the stories section instead. Stories are located above Instagram's newsfeed, and they're quick to catch the eye of users.
If you have a piece of content that you don't think is worthy of your Instagram grid, share it on your Story instead. Fleeting information like limited-time offers, user-generated content, reviews, and fun content makes for compelling Instagram stories.
Guides
If there's one problem with Instagram, it's the platform's search navigation. It can be difficult for customers to find your content if they didn't save it when they first saw it. Also, new followers need a more straightforward way of seeing your old content.
To combat these discovery issues, businesses can create guides for their content so that they are categorized and easily accessible to the audience.
Paid Instagram content marketing
All social media platforms are advertising engines, which means investing in their ad spots can help you grow your account faster than ever. Instagram offers a couple of paid content marketing opportunities to business accounts.
Instagram advertising
The platform offers advertising options, called Instagram ads, similar to most traditional social media advertising options. Business accounts can run various advertisements based on content needs, target audience, and objectives. Instagram advertising options offered include:
Static image ads
Carousel ads
Collection ads
Reel/video ads
Story ads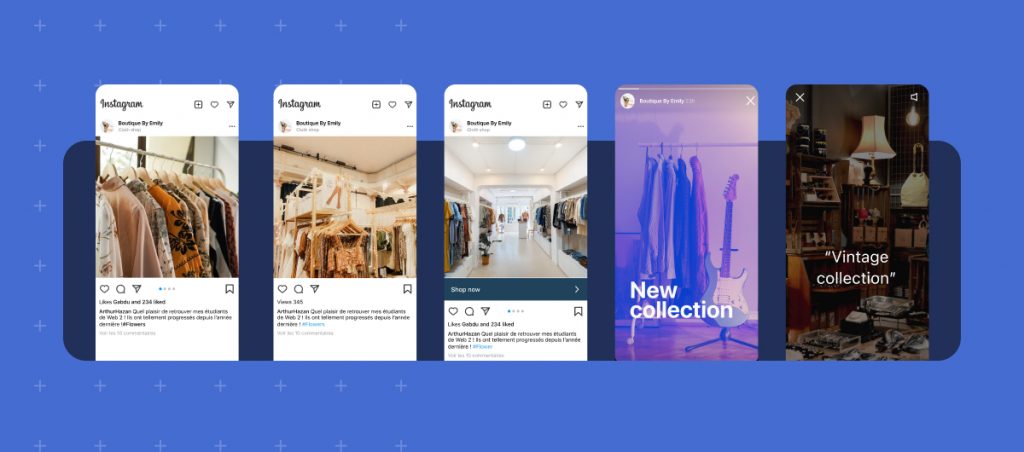 Source: Adage
With Instagram advertising, you can:
Grow your business account
Drive traffic to your store or eCommerce website
Increase signups for your newsletter
Showcase your content to a broader audience
Turn your best-performing content into an ad with a few clicks
Influencer marketing
According to Instagram's regulations, businesses can also work with celebrities, influencers, and content creators to promote their products, services, and campaigns. But it's essential to disclose that this is a paid association to ensure transparency. With the app's new collaboration feature, brands and influencers can share the same content on their feeds simultaneously.
Instagram Shopping
If you're an eCommerce brand, you can leverage Instagram's shop feature to list your products on the platform and complete the purchase directly. With Instagram Shopping, your customers won't even have to leave the app to make their purchases. It's best to do what you can to keep sales on the platform.
Instagram lets you build your shop on the platform and upload product details directly. You can customize the products into collections, tag products on posts, and run ads to promote your Instagram store.
Once you set up your shop, Instagram adds a shop tab to your profile, making it easy for your customers to access your products.
Source: Techcrunch
Instagram is a diverse platform that has a lot to offer businesses. The key to succeeding with Instagram marketing is to stay consistent, experiment with different content formats, and understand what the algorithm wants from you.
Frequently asked questions about Instagram marketing
Is marketing on Instagram free?
Organic marketing on Instagram is free, but if you use paid marketing and shopping features, then a fee is applicable on Instagram.
What are the three main factors of the Instagram algorithm?
Instagram checks if the content connects with your followers, interests them to spend time on the platform, and is relevant to the trends and what users typically watch. These three factors impact your engagement rates.
How to do affiliate marketing on Instagram?
You can create content on the products you wish to promote for affiliate marketing on Instagram. The platform lets you link products in stories (save them in story highlights), descriptions, and bios.
Do you need a license to sell on Instagram?
Instagram does not require a business to take a special license to sell on the platform. Anybody with an Instagram account can promote their products and sell them. However, your account must not violate any of their community and commerce guidelines. 

How to market a law firm on Instagram?
Start by identifying your audience and what your competitors are currently doing. Law firms can benefit by posting educational content, reviews, and the latest news on Instagram to educate and impress their followers. 

Conquer Instagram marketing with Birdeye
Social media can be challenging for many businesses, but Birdeye Social is here to make social media marketing a breeze. You can manage every account, every post, and every comment from a single, easy-to-use dashboard. Connect with the team for a free demo now. And click on the banner below to get your free social media toolkit – full of easy-to-use templates to get you started.

Originally published