We are excited to announce our new and improved campaigns within the Birdeye dashboard – Birdeye Campaigns 2.0. These changes will make it easier than ever to engage with your customers.
With this launch, we are taking a step forward in making our platform work great for each and every one of our customers. These campaigns give businesses the ability to send communications to customers such as surveys and review requests via text and email.
Let's dive into some of the highlights.
Three Highlights from Birdeye Campaigns 2.0
1. Learn How Well Your Campaigns Are Performing
With campaign management, you can see exactly how well your campaigns are performing. Businesses have the ability to view details about how many times the campaign has been sent to customers, how many customers are taking the required action, and what kind of customers are in the audience you're sending to.
2. Easy Campaign Creation
We've made creating new campaigns easier than ever. We've introduced instructions to clearly guide users through every step of the process. Different members of your organization can step in and easily create high-converting campaigns to send to customers.
3. Automated campaigns
With automated campaigns, businesses can automatically send certain Campaigns who have taken a specific action. For example, you can send a review request to a customer who's phone number has just been added to your database.
Better Campaigns for Multi-Location Businesses
But that's not all. Birdeye has built an enterprise-level reputation management company that can be used by businesses of any size. Birdeye serves thousands of small businesses, as well as large brands like BMW and Blaze Pizza. We make sure that our dashboard works great for everyone so we've worked to make sure our Campaigns tab works great for multi-location businesses as well.
Birdeye is continually adjusting and improving our dashboard so that it works great for all of our customers. Let's talk about a couple of other changes that we've made in recent months in order to better serve our multi-location customers.

View All Your Contacts In One Place
Multi-location businesses now have the ability to view all of their customers in a single place, rather than having customers sorted by location.
Businesses can take actions for single contacts, like deleting and restricting communication, while also doing the same for a bulk list of contacts. In addition, businesses can take specific actions like managing properties and downloading contacts for offline use.
Send a Campaign Across Locations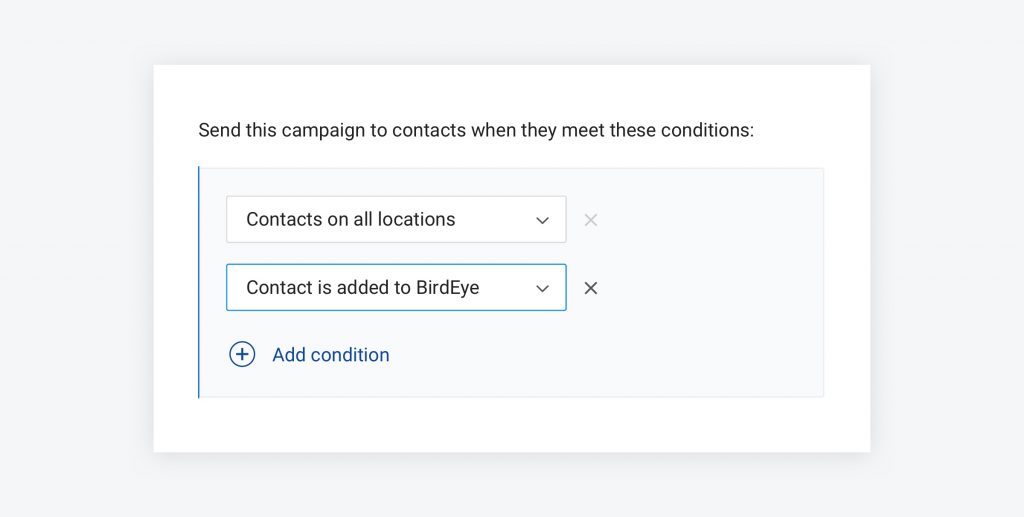 Previously, businesses could only run campaigns at the location level. We realized this was inconvenient if a business wanted to send review requests to all recent customers regardless of location.
Multi-location businesses now have the ability to send a single campaign to customers across locations. If you're in charge of a 100-location business and you want to send a Net Promoter Score survey to measure overall customer sentiment that you
Templates for All Locations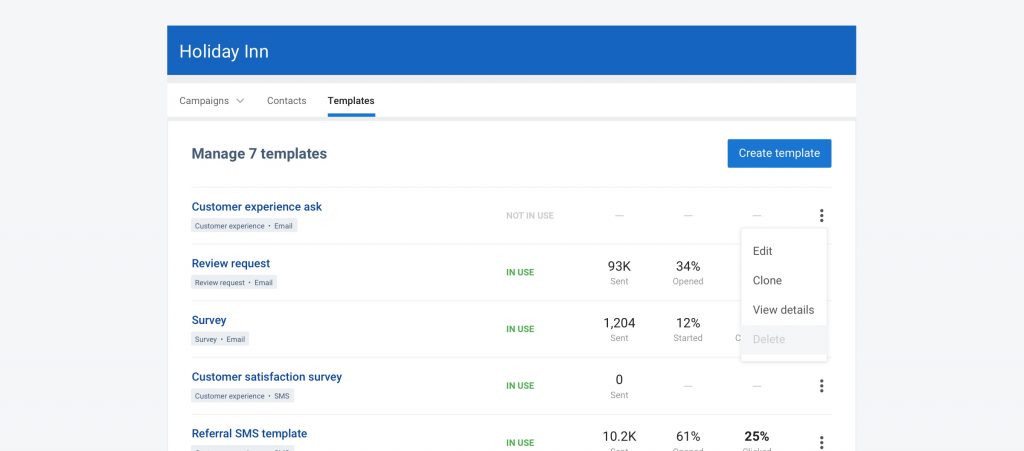 Before our recent changes, businesses had to create templates on the location level. Now, businesses can view all of their templates across all locations on a single page. These templates can now be edited or cloned, with the option to see details on when it was previously sent and how well it performed.
That's not all that's new about templates. We want to make sure that our businesses are able to communicate with their customers in a way that's both effective and on-brand.
Previously, we've given businesses the ability to brand their campaigns on a location level. We've expanded this feature to make it available on an enterprise level.
Businesses have the option to add logos and colors to their Campaigns. Imagine that a business wants to send review requests with both their logo and brand colors. The business can now do this easily within the dashboard. The business can now customize Campaign branding across all locations.
Click here to log in and start using Campaigns 2.0
How Birdeye Can Help Your Business Be the Best Business
Campaigns are just the beginning of the story. With Birdeye, businesses can get new reviews, manage and respond to reviews from over 150 sites in a single dashboard, automatically share posts on social media, and receive actionable insights through Natural Language Processing.
Watch a demo to see why more than 100,000 businesses use Birdeye to drive growth.
Originally published