A great response can be the difference between an angry customer who tells family and friends to steer clear of your business and a loyal customer. Let's share some tips and templates for responding to reviews so that you can minimize the damage to your brand's reputation and show that you're serious about delighting every customer.
Why Responding to Reviews is Important
Many business owners don't respond to reviews. After all, getting a review already feels like a win. This is a mistake. Responding to reviews is a great opportunity to engage with your customers and at times, even help you turn your unhappy customers into advocates.
Data shows that responding to reviews has a positive impact on your business. A study by Harvard Business School found that responding to reviews correlated with a higher overall star rating. After, all your customers appreciate engagement. A simple "thank you" can go a long way.
Responding to reviews also helps you rank higher on search engines. Google has confirmed that when you regularly respond to your customers' reviews, it also helps with SEO. After all, Google values many of the same factors that your customers do. The more reviews you respond to, the more it shows that you care about engaging with each and every one of your customers. 

Effortlessly Manage your Customer reviews from one inbox with Birdeye Review Management
Want to see the impact of Birdeye on your business? Watch the Free Demo Now.
How to Respond to Negative Reviews
No matter how great your services are, you're going to get some negative reviews. While it can feel disappointing, negative reviews are a great opportunity to show off your customer service. If you manage to resolve the problem that the customer experience, you might just improve your business while also turning around your customer's opinion. It's a win-win.
Here are a few ways that you can start responding to negative reviews today.
Take a Deep Breath
It's easy to be frustrated with a negative review, especially when you make an effort to create a fantastic experience for every single customer. But remember, a bad review isn't necessarily a bad thing for your business. What could be bad for your business is the negative perception that your business could get if you react to the review angrily.
Start with a 'Thank You'
The first thing that you should start your review with is with thanks. After all, every piece of customer feedback has the potential to help improve your business.
Get to the Bottom of the Problem
Chances are that the customer is frustrated with a specific issue. Find what the problem is that the customer has experienced so that you can fix this issue on your own.
Move the Discussion Offline
Don't let the discussion become a long, drawn-out war between you and the reviewer. It's much easier to resolve the discussion if you take it out of the public view. Leave a phone number or an email where the customer can reach you so that you can discuss the issue further.
Negative Review Response Templates
Not sure how to start responding to negative reviews? Here are some templates that can help you get started.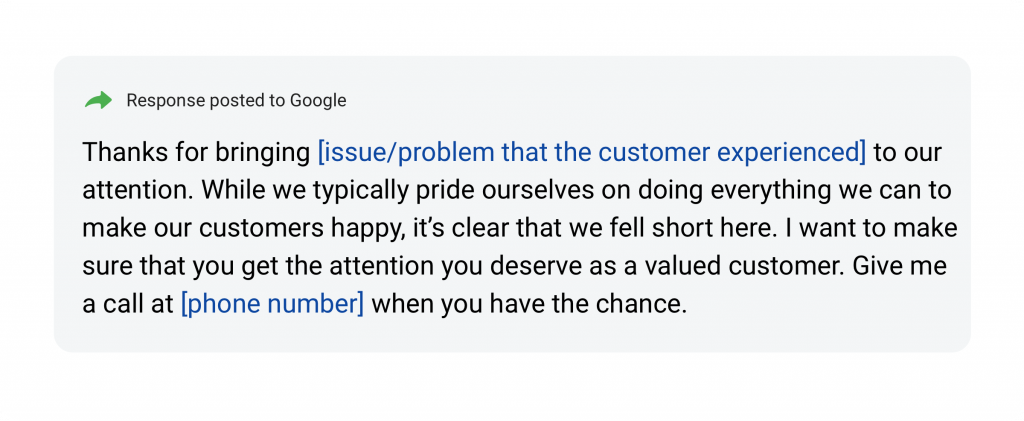 ---

---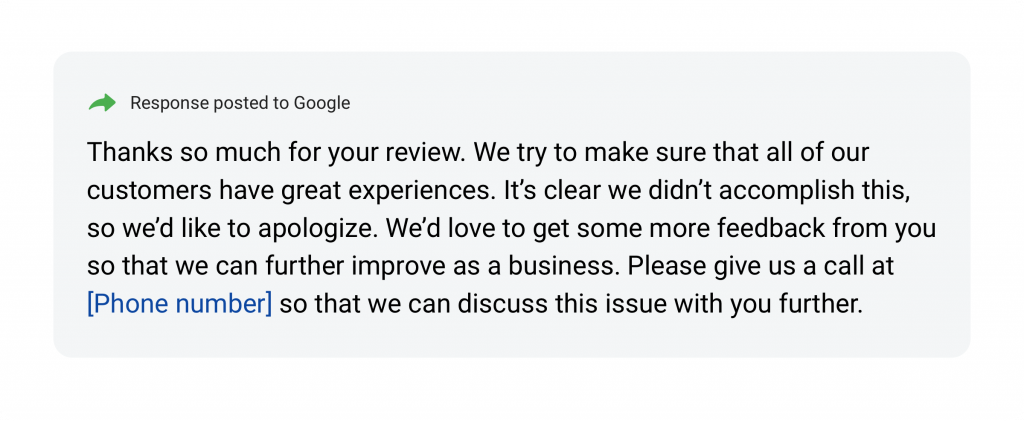 Asking a Customer to Delete a Review
If you respond to a negative review to a customers' satisfaction, you can go ahead and politely ask them to either delete or edit their original review. After all, their view of your business has most likely changed since their initial experience. Here's a template that you can use to ask your customer to delete a review.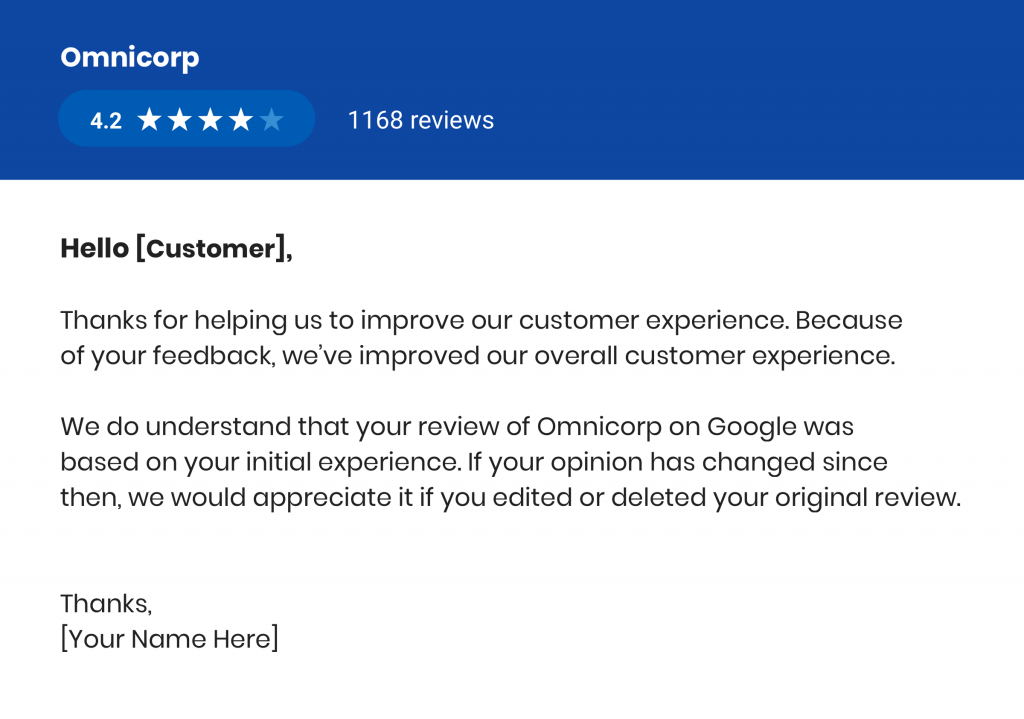 How to Respond to Positive Reviews
When you get a 5-star review, be sure to thank your happy customer. Here are a few ways you can leave a response to a positive review.
Say Thanks
First things first, thank the customer for taking the time to leave feedback for your business.
Encourage the Customer to Come Back
Tell the customer that they're always welcome to come back to your business. This is an easy way to help build customer loyalty and show potential customers that you're running a business that loves serving happy customers.
Keep it Short and Sweet
Remember, there's really no need to write a novel here. Keep your response short with no more than three sentences at the most.
Positive Review Response Template
Here are a couple of templates that you can use to start responding to positive reviews.

---
---

How to Respond to Reviews with No Text
Some websites allow customers to leave reviews with no text. You might get a 5-star review rating with no comment attached. While in these cases, it's harder to tell what was going through the customer's head, here are some templates that you can use to respond to no-text reviews. In these cases, it's best to keep your response short and sweet.

No Text Positive Review Templates
Here are a few templates that you can use to respond to positive reviews with no text.

---
---
No Text Negative Review Template
Here are some templates that you can use for negative reviews with no text.
---

---

How to Respond to Neutral Reviews
While responding to a positive or a negative review might be a little bit more clear-cut, responding to neutral reviews can be a little bit trickier. How should you respond to a 3-star review?

Since a customer who's leaving a neutral review had elements of both a positive and negative experience, your response should incorporate elements of a positive review response and a negative review response.

Start with a Thank You
You might be noticing a common theme here. Say "thank you" for all of the customer feedback that you get. After all, every piece of customer feedback gives your business an opportunity to improve.
Emphasize the Positive
If the customer is giving you a neutral review, chances are that there is something they did like in your service. In your response, be sure to reinforce the positive parts of their experience.

Address the Negative
Chances are that the customer did have some kind of a complaint. Just like in a negative review, make sure you understand the customer's complaint and assure the customer that such a service failure will not happen again.

Move the Discussion Offline
Again, you do want to make up for the customer's negative experience. Leave a phone number and/or email address so that the customer can reach out to you and you can make sure that their overall experience is a positive one.

Neutral Review Response Template
Here are some templates that you can use to respond to neutral reviews.

---

---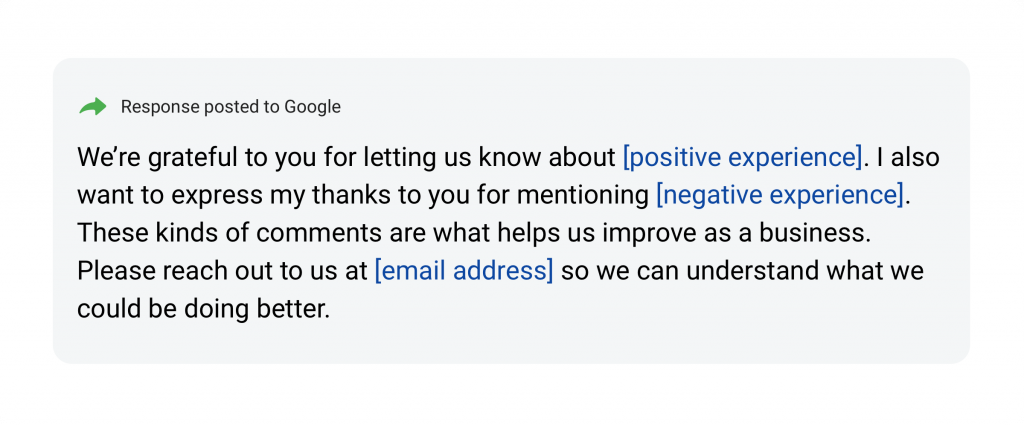 How to Respond to Google Reviews

Remember, Google is the biggest review site on the Internet. So here's how you can start responding to your Google reviews.
1. Sign in to your Google Business Profile account at business.google.com.
2. Click the three bars on the left-hand corner. If you're managing a multi-location account, select the relevant location.
3. Click "Manage reviews", then find the review you want to respond to.
4. Click "View and reply", then type out a response.

How to Respond to Facebook Reviews

While Google is the biggest player in the review ecosystem, Facebook comes in second place.

Facebook gives you the option to turn off your reviews. The first thing you want to do is to make sure that this is turned on. After all, reviews are a valuable way for your business to get more visibility on the social media giant.

Here's how you can turn on your Facebook reviews if they aren't on already.

Click on Settings at the top of your Facebook Business page.
Click "Edit Page" on the left-hand side.
Click on the section "Reviews"
You'll see a slider labeled "Show Reviews". Turn this from "Off" to "On"
Save your changes.
Once your reviews are turned on, simply leave a comment on the review in order to respond. It's just like commenting on one of your friend's Facebook pictures.
Responding to Reviews with Review Software
It's tough enough to keep track of reviews on Google and Facebook. But there are hundreds of review sites on the Internet. It's tough for a business to keep track of this customer feedback from all of these different sites. That's where Birdeye online review management can help you. 

Manage Reviews on 150+ Sites
In the Birdeye dashboard, you'll be able to see reviews on over 150+ sites in a single place. There's no need to switch between dozens of sites to see what your customers are saying about you. If you need to leave a response, just type out a message on the dashboard. It will show up on the site where the review originally appeared.
Respond to Reviews Automatically
You don't need to manually respond to every one of your customer reviews. Birdeye gives you automatic review response templates so that you can focus on the reviews that really need your attention. You can create your own templates. Birdeye gives you several templates so that you'll never have the same response twice in a row.
Assign Tickets to Your Employees
Maybe you see a review that needs a response, but you don't have the time to do it yourself. With Birdeye, you can assign a ticket to one of your employees so that they can take the time to leave a measured response. The Birdeye dashboard gives you the ability to track all of your tickets, so you can make sure that all your reviews are being responded to in a timely manner.
More templates and strategies
Want to see more tips and tricks on responding to reviews? Unfortunately, we couldn't fit everything into this article. But this free eBook compiles tips, strategies, and templates that we've discovered from years of serving businesses across the country.

FAQs about responding to reviews
How do you respond to a good review?
When responding to a good review, start off by thanking them for their comments. Also, let them know you appreciate the time they took to write a review and how much you value their feedback. Showing appreciation helps build customer loyalty and attract new customers.
How do you respond to positive feedback professionally?
When responding to positive feedback, it's important to do so professionally and in a timely manner. This will show that you are committed to meeting customer expectations. Be sure to use the reviewer's name when expressing gratitude. And personalize the response by including your contact information if they have any questions in the future.
Why is it important to respond to negative reviews?
It's important to respond to negative reviews because it demonstrates that customer feedback is taken seriously. It also allows businesses to show their commitment to customer service and take responsibility for any mistakes that may have been made.
How to respond to a bad review on Google?
When responding to a bad review on Google, it's important to stay professional and customer-focused. Thank the customer for their feedback and apologize for any issues they experienced. Explain how you are working hard to address the concern. Invite them to reach out directly with any further questions. Showing that you care can help turn a bad experience into a positive one.
How do you respond to reviews faster?
To respond to reviews faster, consider automation tools that can be found in online reputation software. This will speed up response times and show customers your sense of immediacy.
Collect and share your reviews with Birdeye
Birdeye doesn't just help you with responding to customer reviews. Whether it's collecting reviews, sharing your reviews on your business website and social media, or analyzing insights from your online reviews, Birdeye has got you covered. There's a reason why 100,000 businesses use Birdeye to get new customers and drive revenue.

Originally published