If you own a business with a physical location, you probably rely on the customers in your area to drive most of your revenue. That said, your potential customers aren't just finding your store in person. Most of them are searching online for the products or services you provide before they find your business.
To make sure those consumers find your business instead of your competitors, you'll need to prioritize your local search rankings. In this blog, we'll cover what you need to know about local search, from what it is to how it works and why you need to use it to reach more local customers.
What is local search marketing?
Local search marketing is a form of search engine optimization (SEO) that helps local businesses rank higher in relevant search results based on their location. The goal is to get your business in front of customers on search engines like Google, Bing, and Yahoo! when they search for a term related to your industry.
For example, when you search for "bike shops near me," you'll likely see a few nearby shops, in Google's "local 3-pack." The top three results will include images, store information, star ratings, and other information that can help you decide where you'd like to shop.
How does local search marketing work?
Businesses need to optimize their websites for local SEO if they'd like to get into the local 3-pack. To optimize your business, you'll need to provide Google with all of your necessary business information across all sources online. That means every local directory where your business is listed has to have accurate, consistent information, especially your name, address, and phone number (NAP). For more information on this topic, check our article called "Business listings management: The complete guide to local SEO."
When you consistently give correct information to Google, the search engine will know your business is reputable. Google will then be more likely to recommend your business to local customers by ranking it higher in relevant search results. However, inconsistent information can do the opposite. If your business data is inaccurate across the web, Google won't trust your business and will rank one of your competitors higher than you. Even if you're the best business in town, you'll get overlooked online just because you haven't optimized your website for local search.
Why is local search important?
When customers conduct a local search, 76% of them visit a business within 24 hours, and 28% of them will make a purchase based on that search. That means most of the potential customers in your area who search for a product or service related to your industry will visit a store that can fit their needs. So, you want to do everything you can to make sure they choose you.
Local search optimization can also help you compete with bigger name brands and websites that appear in local search results. For example, if you're a local hardware store and a customer searches for a cordless drill, the organic search results are likely to be full of bigger names in the industry, top 10 lists, and blogs that will bury your website – even if you're on the first page of search results.
But if you optimize your site for local SEO, you'll be more likely to appear in the local 3-pack. Customers will find your business first, and there's a better chance they'll visit your website and your store.
Understanding local search marketing
Before building a strong local search marketing strategy, there are some fundamentals of SEO you'll need to consider. Let's break them down:
Compliance with Google's guidelines
A strong, compliant Google Business Profile listing (formerly Google My Business) is the most valuable tool you have at your disposal to rank in Google's search results. If you're not compliant with Google's guidelines, it could mean the difference between being found by your customers online or being penalized. Violating Google's guidelines could negatively impact your search rankings or even cause the removal of your business listings.
Site quality
Google prioritizes sites that keep user experience in mind. Suppose your site takes a long time to load, is difficult to navigate, and has low-quality images or if your website isn't up to Google's standards, it's highly unlikely the search engine will rank your website as the most reputable in your industry, especially in your local area. With a flawless website, you'll have a better shot at appearing at the top of your local search results.
Domain authority
Domain authority determines the credibility of your website, and Google ranks credible sites higher than others. For example, a high domain authority website would be something like birdeye.com, while a low authority website could be a site created by a new business that still has to create and send trust signals to Google to help increase its domain authority score. The older and more well-optimized your website is for your target audience, the higher the domain authority. Apart from optimizing your site for local search, off-page optimization in the form of creating high-quality incoming backlinks to your website can help to actively build your domain authority.
There are a few ways you can build your backlinks and boost your domain authority. You can reach out to the websites of organizations in your area, like your local Chamber of Commerce, and ask them to link back to your website. You can also reach out to websites, offer content like blogs, and have them backlink to your site once published.
Review acquisition
Reviews don't just help you build credibility with Google – they also build trust with your customers. The more great reviews you get, the more likely it is Google will rank your business higher in search results. Once your business is in the local 3-pack, your reviews will be displayed for your local customers.
How Google determines local ranking
Now that we've covered the fundamentals of local search and SEO, let's take a look at how Google determines local ranking in its search results. Google takes three factors into consideration when determining local ranking: relevance, distance, and prominence.
Relevance
Google looks at what a customer is searching for and determines how relevant a Google Business Profile or website is to that search query. If you add a detailed description of your business in your Google Business Profile, Google can more easily determine if your business is relevant to search terms related to your industry. This can give you a good chance of ranking higher in Google's search results in a local search query.
Distance
When Google considers distance, it measures how close the top search results are to a location used in a search query or where the user is searching from. In other words, the closer you are to the user, or a specific location they're searching for, the more likely you are to show up higher in search results.
Prominence
Prominence is what Google considers when determining the most well-known business related to a search. A newer local business will have less prominence than a local business that has been in the area for years – but that doesn't mean you can't build prominence as a new business. Make a name for yourself in your community and build your website's domain authority.
Improving your local search presence
We've gone over the ins and outs of local search. Now, let's go over how you can improve your local search ranking.
1. Claim and optimize your Google Business Profile
This is the most critical part of ranking in local search results on Google. Without it, you can't give Google the necessary information to determine where your business falls in terms of a local search query. To start, you should claim your Google Business Profile if you haven't already. Once you do, you can optimize and manage your profile, and provide Google with all of your business information, including:
Your business name
Your address
Your business categories
Your phone number
Your website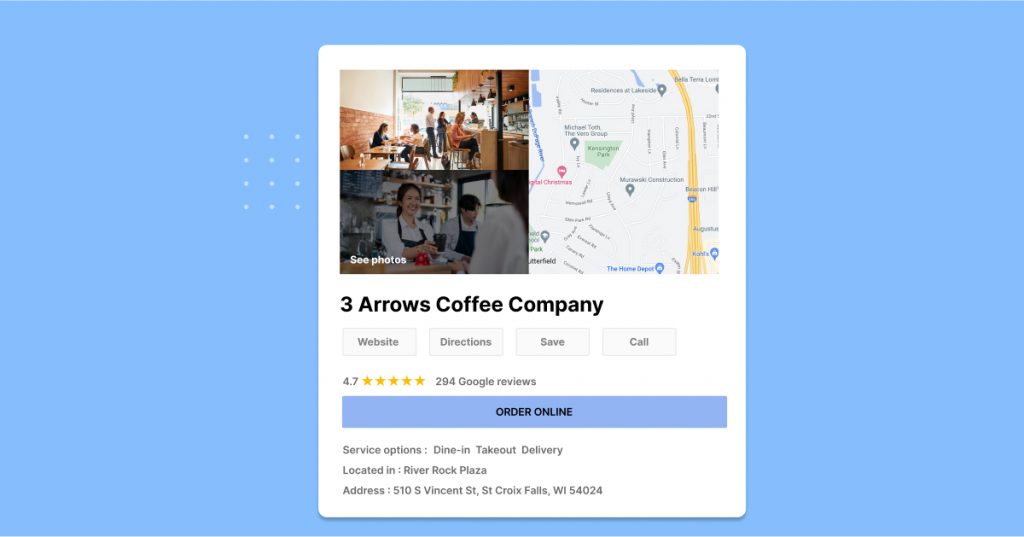 Next, you can provide even more information that can benefit your business's search ranking, like photos of your business and operating hours. From there, Google will display your business in their search results with everything customers need to know before visiting your location.
2. Keep mobile in mind
Most customers are conducting local searches on their mobile devices. That means your mobile SEO has to be on point for Google to consider your website worth ranking. To optimize for mobile, you need to make sure that your content is readable by Google bots and that your site is user-friendly. That means making sure your site is easily navigable, is easy to read, and loads quickly on mobile devices for the best possible experience.
3. Use online business directories
Listing your business on websites like Foursquare, MapQuest, and industry-specific business directories is a great way to spread awareness about your brand and build your local SEO presence. You can provide your NAP information along with a thorough description of your business and have a backlink from their site, which can help build your domain authority and your local SEO presence.
4. Create localized content
You'll want to create fresh, localized content to improve your SEO ranking and your local search relevance on Google. When creating that content, think about what's happening in your area. You can write blog posts about local events or make videos highlighting local businesses or areas. When you're done creating your content, you can add it to your website to promote your business, This will show Google and your customers that you're a prominent business that's connected with your community.
5. Get more and better reviews
Although we touched on this earlier, we can't stress enough how effective getting reviews can be for your business's reputation, both online and locally. If you're not actively asking satisfied customers for reviews, you're likely missing out on the majority of reviews you could be getting. After all, 72% of customers are willing to leave a review of a business when asked to do so. Getting more reviews is one of the best ways to boost your local search rankings.
Frequently asked questions about local search
What is meant by local search?
Local search uses specialized search engines that let users submit search queries specific to their geographic location and provides results most relevant to that search query.
What is an example of local search?
A local search is any search conducted to find a local product or service. An example of this could be "coffee shops in Minneapolis" or "coffee shops near me."
Get more and better reviews with Birdeye
Getting more reviews is one of the best ways to improve your business's online reputation both locally and across the internet. If you want to automate your review acquisitions and streamline your review management process, click the banner below to see how Birdeye can help.

Originally published