You might be wondering if Google reviews help your ranking and boost SEO. The answer is a resounding yes. A strong online presence is absolutely necessary for gaining new customers. If people can't find you online, they can't do business with you. Customer reviews are directly linked to how easily people can find your business online.
In this article, we'll explain exactly how Google reviews can help improve your search ranking and SEO efforts.
Important Note: Before we dive in, make sure you've claimed and verified your Google Business Profile. Reviews show up next to your Business Profile in Google Maps and Search. If you're just getting started, check out our article on how to create, optimize and manage your Google Business Profile.
Why Google reviews are so important
Google reviews are one of the most important tools for businesses today. Google is the world's largest search engine, meaning that most people turn to Google first when looking for a product or service. With consumer trust in online reviews on the rise in recent years, Google has become the leading business review site. Nearly all customers read Google reviews before they make their purchase decisions.
Businesses must pay attention to Google reviews. Negative reviews can make businesses look bad and turn potential customers away. On the other hand, positive Google reviews can boost a business's ranking on Google searches and help them stand out from competitors.
For a more in-depth look, check out our article on the importance of Google reviews for local businesses.
Google reviews and SEO: 5 main factors considered
Search engine optimization (SEO) is a process that helps businesses improve their search engine rankings and drive more organic traffic. Online reviews are a very important part of SEO because they can help improve a business's ranking and visibility in search results. Google is incredibly popular, and if you want your business to be found, you absolutely need reviews from your customers.
That said, Google doesn't only consider the overall star rating of your reviews when determining search rankings. They also look at the following criteria listed below.
1. Overall review rating
Your average review rating can determine whether your customers move forward with a purchase from your business or turn to your competitors instead. Your overall rating can also determine whether potential customers will look at your business at all.
According to recent data, 40% of customers trust a business with at least a four-star average rating, while 10.5% of customers won't visit a business under 4.5 stars.
Most people choose businesses with a high but realistic average score. With a low average star rating, your business won't appear credible. On the other hand, an extremely high rating might lead customers to believe your reviews are fabricated. Customers are most likely to trust businesses with at least a 4-star rating.
2. Volume of reviews
Businesses with a high volume of four or five-star ratings will rank higher in search results. The number of Google reviews a business has plays a significant role in its overall success and reputation. For example, it's not enough for a business to have a 4.5-star average rating but only five reviews. Customers also consider review volume when deciding which businesses to patronize.
If a business only has five positive reviews, most customers won't be convinced to visit and might assume the positive trend is just based on luck. On the other hand, if a business has hundreds of positive reviews, it's reasonable for a potential customer to assume previous customers are happy with the business. There is a solid dataset to support the average star rating.
3. Recency of reviews
Both potential customers and Google pay close attention to how recent your reviews are when determining the trustworthiness of your business. In fact, 80% of customers say the recency of reviews is an important part of their buying decisions. Most people only read reviews written in the last three months, which means consumers consider fresh reviews as important as the volume and ratings of reviews.
Plus, Google also considers current, active businesses more relevant. Stale reviews show Google that your business is inactive or not currently pulling in customers. Without a steady stream of fresh reviews, you're more likely to rank lower in search results related to your industry. On the other hand, a constant flow of current reviews will show Google that your business is thriving and rank you higher in search results.
4. Responding to reviews
Regularly responding to customer reviews on Google can help with SEO. After all, Google trusts and values many of the same things your customers do. Customers notice and appreciate businesses willing to spend time acknowledging their comments and concerns. By responding to reviews, you'll show Google you care about engaging with and impressing your customers.
This is especially important when it comes to negative reviews. These reviews can harm a business because people might read them before they decide if they want to buy something from the business. If they don't see a response from the business addressing the negative comments, they're likely to believe the same thing will happen to them.
If a company gets a negative review, it's important for the company to respond to that customer quickly. Responding to negative feedback shows the customer that the company cares about their experience and takes any issues seriously. Taking the time to provide an appropriate response doesn't just look professional. It might also help a business improve its services in the future.
For more information on review response, check out our ultimate guide to responding to reviews.
5. Keywords in reviews
Customer reviews are often filled with relevant keywords. Google loves keywords because they want to make sure people are getting the best information on the topics they are searching for. For example, Google reviews that include keywords related to your industry, like "best hair salon in Palo Alto," can help Google identify your business's products and services. As a result, Google then connects your business to related searches and ranks you higher.
Google reviews have an impact on local SEO ranking
Local SEO is a type of search engine optimization focused on attracting local customers. One thing that is always important in local SEO is customer reviews. A recent study found that reviews are the second highest ranking factor when trying to appear in Google's 3-Pack or Local Map Pack. This means that if your business has a lot of positive Google reviews, you are more likely to rank higher in local searches.
For more information, check out our local SEO guide. There is even a video guide included for listening on the go.
Reviews on Google improve click-through rates and organic traffic
Google reviews can make your business more visible and help you drive more organic traffic. Not only do Google reviews help to attract more visitors, but they also help improve click-through rates. Positive Google reviews provide customers with valuable information about products and services, as well as insight into customer experiences.
The higher your star ratings, the more likely potential customers are to take action and click through to your website. Google reviews are also indexed on search engine results pages (SERPs). This means that a lot of positive reviews can help you be found more easily online and get more people to visit your website. Thus, increasing organic traffic.
Pro Tip: You can also add Google reviews to your website. Check out our article on 3 ways to add Google reviews to your website.
Encourage all customers to leave reviews and make it easy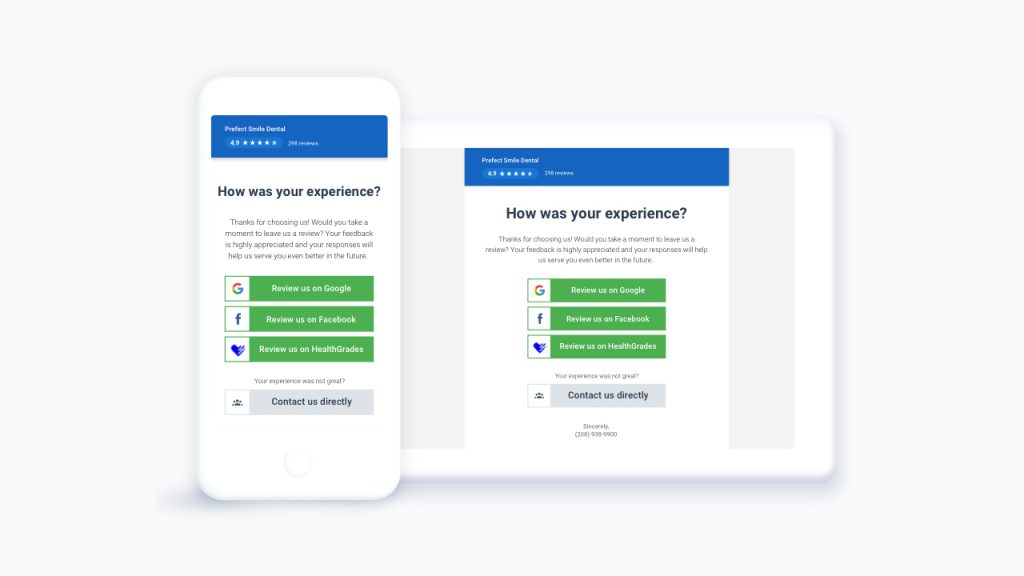 If you're not doing this already, you should actively encourage all your customers to leave reviews. Potential customers are always looking for feedback from previous customers before making a purchase decision, so it's important that businesses make the review process simple and straightforward.
Companies can provide links to Google reviews as well as include step-by-step instructions on how to leave a review. Fortunately, Google allows businesses to create their Google review request link right from their Google Business Profile. Having a custom, short URL makes it easier to share your review requests in person and in marketing materials.
Reviews can help businesses build credibility, gain customer trust, and drive more business in the long run. So start actively generating new reviews now.
While you are here, check out our complete guide on Google reviews.
How to manage Google reviews to rank higher
You can try to manage your Google reviews yourself, but this process requires a lot of time and effort. It's not always easy for one person (or even a small team) to send review requests, respond to reviews, and deal with negative feedback offline. These manual tasks can become overwhelming if you do not have a dedicated resource and your business is scaling.
Consider investing in a platform that can automate these tasks and free up more time to focus on growing your business. A tool like Birdeye can make managing your Google reviews significantly easier.
FAQs about how Google reviews help ranking and SEO
How many reviews increase your Google ranking?
This depends on your industry and your competitors. If you're eager to increase your ranking, you'll want to get more reviews with higher star ratings than your competitors.
Does responding to Google reviews help SEO?
Yes. Google sees review responses as a best practice for getting reviews. Reviews also show customers you value their input.
Are reviews a ranking factor? 
Yes. According to Moz, customer reviews are a key factor in local search ranking.
How do reviews help with SEO?
Customer reviews influence how Google evaluates your business's relevance in local search queries.
Do Google reviews help you rank higher? 
Yes. More reviews and positive star ratings improve your business's local ranking.
Do Google reviews help Google ranking?
Yes. Positive Google reviews help improve your search ranking and overall SEO.
Generate and manage Google reviews with Birdeye
Today's customer journey starts online, and Google reviews are a major factor in determining whether your business will be chosen over the competition. Birdeye helps over 100,000 businesses grow their Google reviews and get discovered in the search results. Speak with a Birdeye Reputation Expert today and find out how we can help your business be found and chosen. In the meantime, download our free guide by clicking on the banner below.

Originally published