Negative feedback can seriously damage your practice's online reputation. The repercussions of this can have a big impact on your bottom line. Patients who see negative reviews on sites like Google and Facebook are often motivated to look elsewhere for their healthcare needs. In this guide, we'll talk about why responding to bad reviews is important and share some negative feedback examples.
Why you should respond to negative feedback
Online reputation management can make or break your healthcare practice. According to a recent survey, 62.7% of patients consider online reviews as "critical" or "very critical" when selecting a healthcare provider. Today, we share 8 negative feedback examples and dig into how these healthcare providers responded, why it was effective, and how you can find the best tone for your business.
The most powerful Reviews & Reputation Management Platform with AI automations.
Want to see the impact of Birdeye on your business? Watch the Free Demo Now.
The number of people who find their healthcare providers from online reviews is continuing to grow, so it's essential that doctors focus on responding to negative feedback to maximize the advantages of good reviews and reduce the damage from negative ones. No matter how wonderful you and your staff try to create great patient experiences, no one is perfect. Your business will encounter good, bad, and unpleasant reviews, and if your practice has two or three recent bad reviews, you can lose 67% of potential patients who read that negative feedback.
Only 13% of consumers would consider using a business that has a 1 or 2-star rating. (SearchEngineLand)
Four out of every 5 customers changed their minds about a recommended purchase after reading negative online reviews. (Cone Communications)
86% of customers hesitate to choose a business with negative online reviews. (invesp)
While it's true that you can't control what reviewers write, you can control how you respond to negative reviews in a way that makes them feel heard and may even prompt them to change their sentiments.
For more tips on how to manage your online reputation, check out our audio guide. It covers everything you need to know about the subject in less than 15 minutes.
3 tips for responding to a negative review
Here are a few tips that you should keep in mind whenever you're responding to a negative review.
1. Apologize
Apologize to the patient for the negative experience. Even if these claims aren't true, show sympathy to show patients you care about everyone who walks through the doo
2. Highlight your commitment to great service
It's important to let potential patients know that this one-off experience is not a representation of the service you usually provide. Say something like, "We aim to provide the best service to all of our patients."
3. Take the conversation offline
Usually, dealing with an unhappy patient is taken care of out of public view. Leave a phone number or an email address where the patient can contact you.
How to identify a spam/fake review
Sometimes, you might get a review from someone who isn't actually a patient. Instead, it might be one of the following.
Someone who is confused and left a review for the wrong practice.
An angry former employee.
A competitor who is playing dirty.
Take a look at the reviewer's profile to see if you're dealing with a fake reviewer. Here are a few signs to look out for.
Repetitive language
A high number of reviews in a short period of time
Reviews posted in completely different areas
If you believe you are dealing with a fake review, be sure to report it. Most major review sites do give you this option.
It's important to remember that the moderation process might take some time. But there is a step you can take right away. Make sure that you leave a response that tells your side of the story so your patients aren't misled. No matter how unfair the review is, remember to stay polite, as you are still representing your business.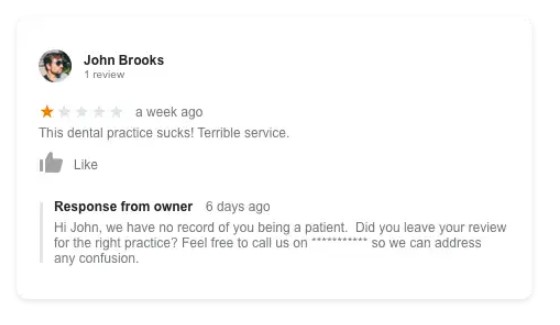 Negative feedback examples
Let's run through 8 different negative feedback examples.
Genuine Response
Candid Response
Humble Response
Professional Response
Subtle Response
Honest Response
Free-Spoken Response
Sincere Response
#1 Patient vs. Dr. David Kim (Plastic Surgeon)
The Genuine Response
In this example, the patient accuses Dr. Kim of gathering paid reviews and attempting multiple surgeries on patients to make extra money and even intentionally failing the first surgery. Dr. Kim takes a genuine response approach which could not have been easy! See below how Dr. Kim appeals to the humanity of the business, listens to the patient, and seems genuinely sorry that this patient feels this way. He approaches each topic that the review brought up and makes a genuine effort to try and clear up confusion where he can.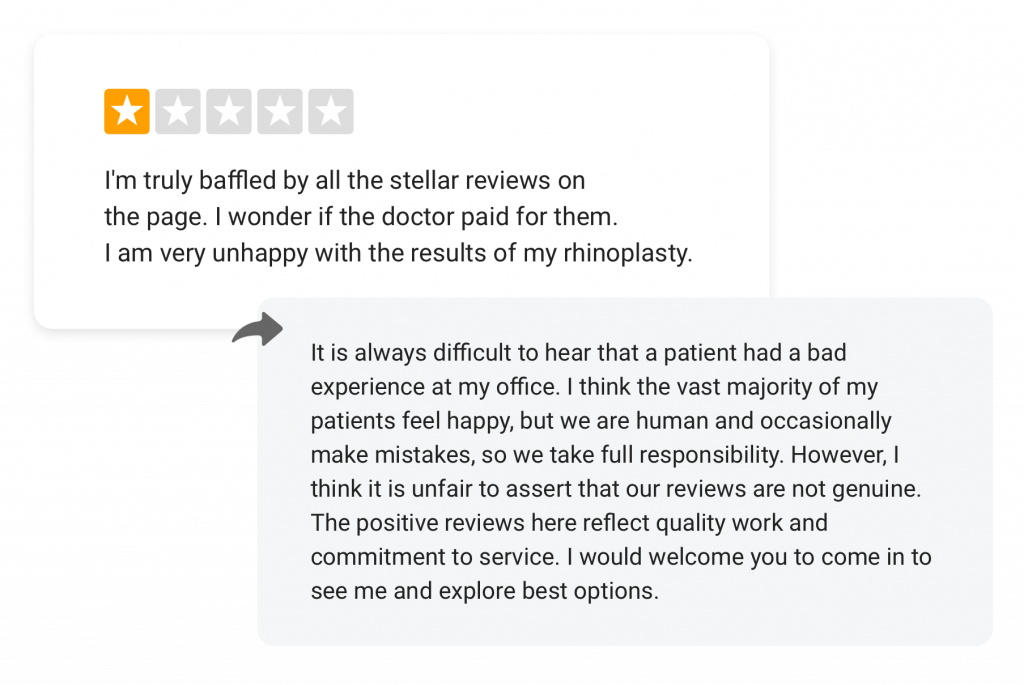 #2 Patient vs. Dr. William K. (Dermatologist)
A Candid Response
After a 2-star rating, the patient lashes out at Dr. Kwan for enticing his patients with his spaceship-like clinic, sporting a luxurious look, and delivering over-priced services. Take a look at the clinic office manager's response to see how calmly she handled the criticism, avoiding a direct rebuttal. This is the opposite approach of Dr. Kim's above. For this type of response tactic, you are responding but still keeping it professional and short. This is a great negative feedback example that is more opinion than fact.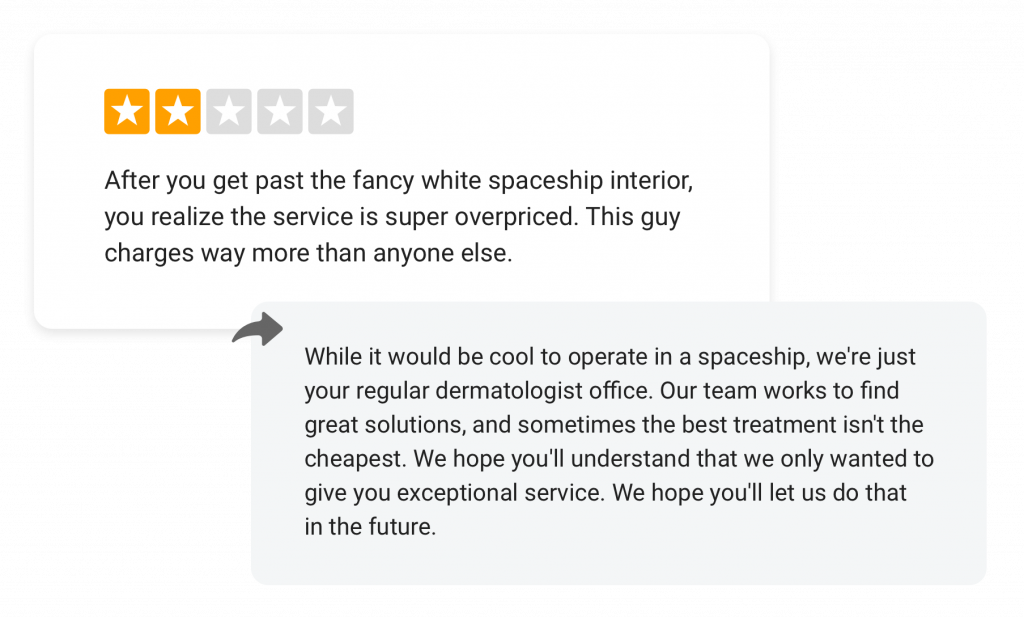 And guess what? This is how other patients are rating his response!
#3 Patient vs. Dr. Gray (Plastic Surgeon)
A Humble Response
The patient is infuriated with Dr. Gray for disrespecting her time and arriving late for every appointment. Read Dr. Gray's measured response with a short and sweet apology. Obviously, you need to be cautious about posting an apology, especially as it applies to patient care. But in this situation, it's perfect. While responding to negative reviews, address any situation that comes your way and learn from it. Keep asking for more positive reviews from your patients to keep a check on your online reputation.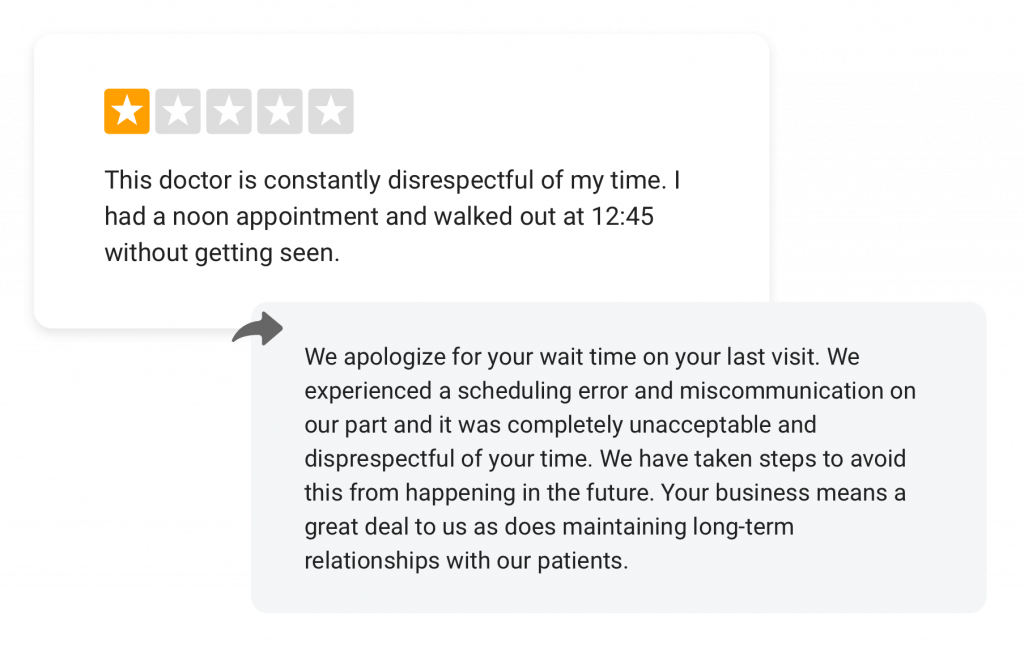 #4 Patient vs. Dr. Bigles (Ophthalmologist)
A Professional Response
A 1-Star rating is followed by a harshly negative review. Dr. Bigles' response is concise and professional, and while it expresses concern, it does not acknowledge any wrongdoing. This is a great starting place for anyone responding to negative reviews but still unsure how to approach them. For extra help, we have this guide for you: how to address negative customer feedback.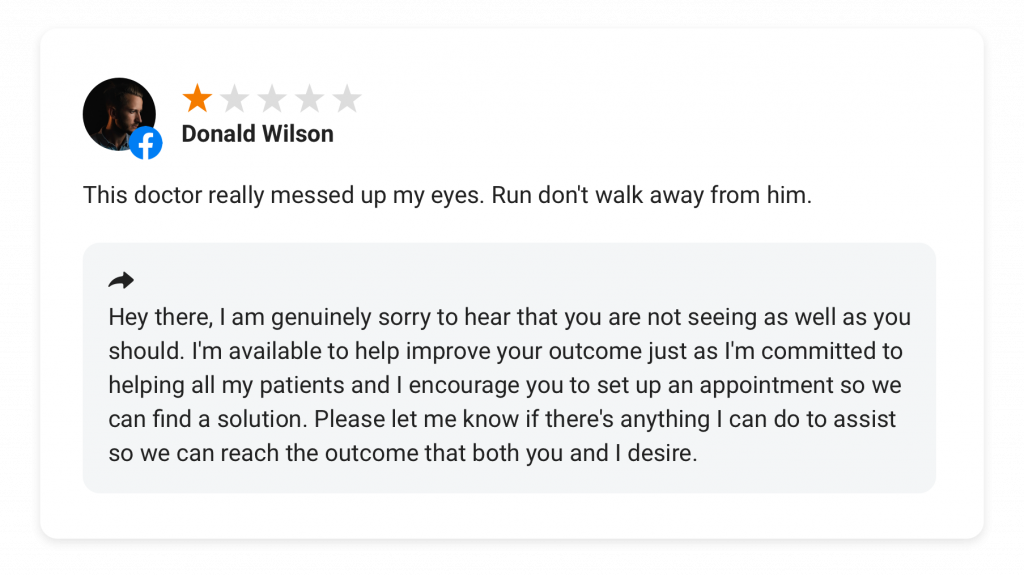 #5 Patient vs. Dr. Sherry S. (Dentist)
A Subtle Response
This review's not outright negative. However, it's a delight to see how Dr. Shieh responds in a concise manner, keeping her tone neutral and getting across her point to the patient. She's objectively looked at the criticism from the patient's point of view. Many patients prefer to see 3 or 4-star reviews because they seem more genuine. When you respond, it shows that you are an active practice that cares about their patients, even if it is short!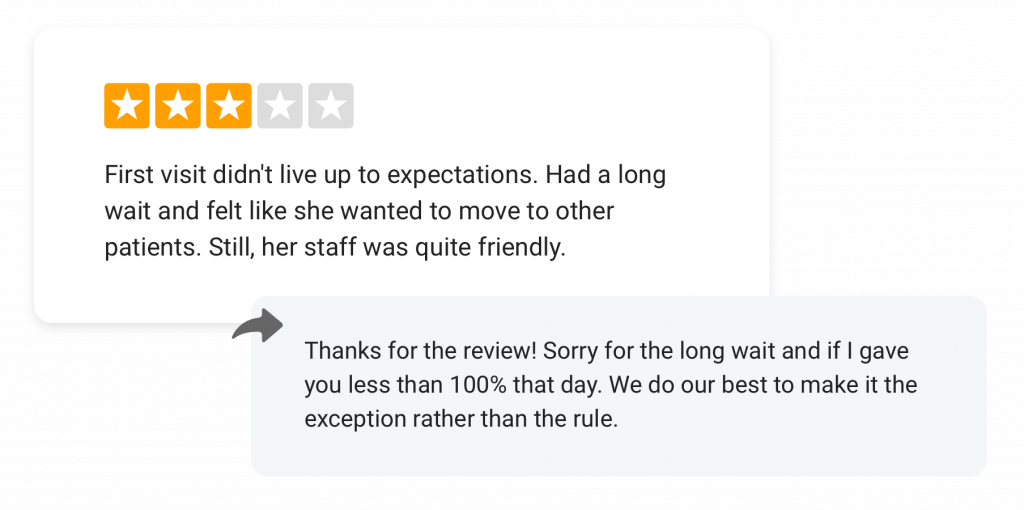 #6 Patient vs. Dr. Lloyd Becker (Dentist)
An Honest Response
The patient has gone all out and called Dr. Becker's treatment "a scam." She's condemning him for overcharging and calling him dishonest. Dr. Becker graciously thanks the patient for writing a review, acknowledges her frustration and at the same time tells his side of the story.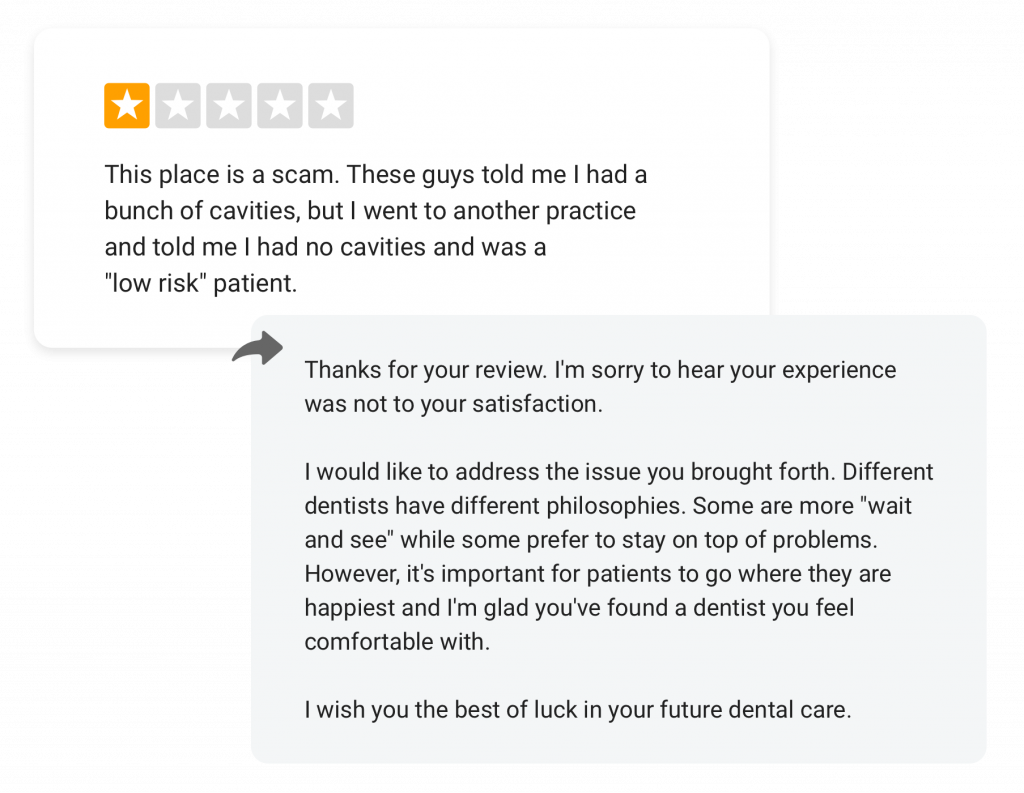 #7 Patient vs. Dr. Julie Tran (Dentist)
A Free-Spoken Response
This is a hurtful review for an accomplished doctor. In her response, Dr. Tran expresses her despair at the patient's harsh comments regarding their practices. Seeing the reviewer is extremely upset, she asks her to come to her office to address her concerns. This is an excellent negative feedback example of assuring the patient that you genuinely want to fix their concerns.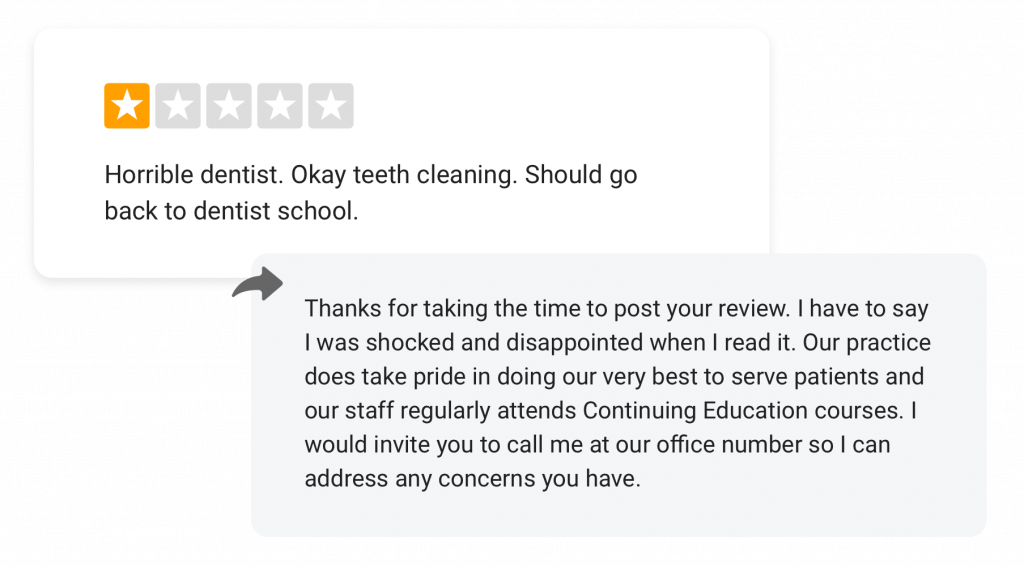 #8 Patient vs Dr. Shu Ping
A Sincere Response
This review is not about the doctor or the services provided by the clinic. The patient is unhappy with the front desk's behavior and inability to offer her a resolution for her queries. Dr. Ping takes the initiative to respond to the review and promises to fix the issue without defending her staff.
With doctors, a lot of bad reviews (and good feedback!) will be about your staff or members of your team. If you often hear that your staff is rude, inattentive, or dismissive, it's a good idea to take a hard look at your patient service and make some changes. While responding to negative feedback, use this opportunity to improve your patient experience.
Frequently asked questions about negative feedback examples
Should I respond to negative reviews? 
Yes, responding to negative reviews effectively can oftentimes turn angry patients into happy ones.
How do you not respond to a negative review?
Even if the review is unfair, remember to be polite to show potential patients you are dedicated to great service.
How do you get rid of bad online reviews?
While you can't get rid of bad online reviews, you can solicit reviews from all your patients to make sure that you're getting more balanced feedback. 
What to do about fake reviews?
Most review sites give you the option to report fake reviews. We recommend also leaving a strong but polite response.
Why are negative reviews good?
If a practice has all positive reviews, patients might suspect your practice is paying for reviews. Having a few negative reviews proves that your reviews are authentic. 
How Birdeye can help you stay on top of patient reviews
After taking a look at these negative feedback examples, you can see that most of it comes down to responding in a professional manner to reviews. With hundreds of review sites easily accessible to patients, your healthcare practice will get negative online reviews. The ultimate goal is to start a dialogue that will help you not only to respond to negative reviews but also improve patient relationships.
For more on how you can respond to negative feedback, check out this short guide we put together. It features a few bonus tips and strategies that aren't in the article.

Originally published