Online reputation management for dentists has never been more important. As patients spend more time online, monitoring the reviews clients leave is central to effectively managing your online reputation.
Patients don't base their decisions on advertisements and traditional marketing anymore. Instead, online reputation, which is the sum of all mentions of your business online, is the new deciding factor.
Reviews can make as much of an impact on your business as search engine ranking. Every time your existing patients share their experience of your dental practice online on public review platforms, they are adding to your online reputation. This can be good or bad, depending on the type of review that is left. As a business owner, you need to make sure that you're continuously monitoring all the feedback you receive. Once you receive feedback, you also need to take the necessary action to keep your brand engaged. This can include sharing positive mentions, and apologizing for and correct poor experiences.
Here are five reasons why you, as the owner of a dental practice, should make review monitoring regularly practice.
Take control of your online reputation.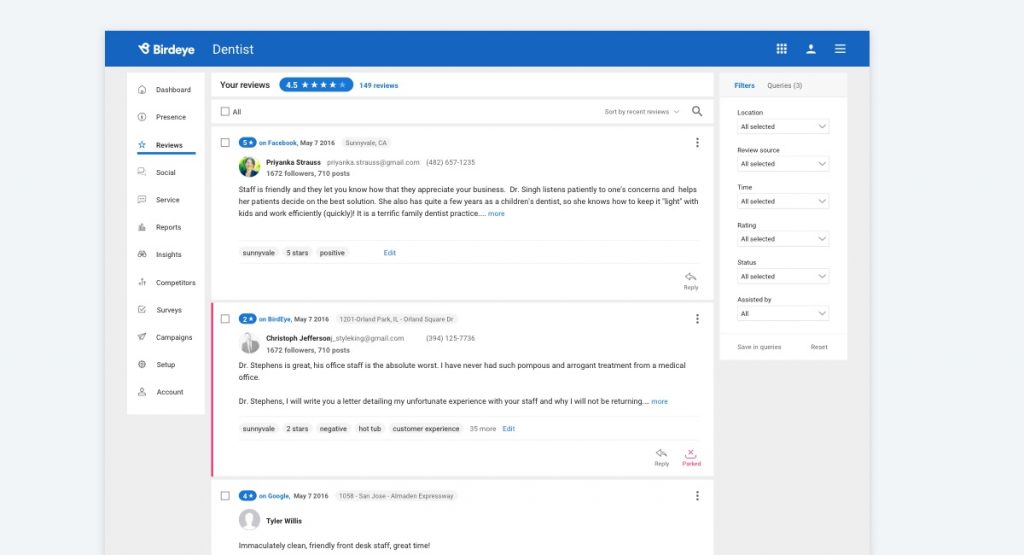 Keeping track of what your existing patients are saying about you is critical. Your practice's reputation depends on online reviews. A patient's feedback may affect future patients' decisions about which dental practice to use. This is why you have to be very careful about what you write in your responses to reviews. You don't want a poorly worded response to portray your brand in a bad light in search engine results and review listing websites.
Engage with patients.
When your patients review your dental practice, they're not just sharing their experience with potential patients. They also give you a valuable opportunity to connect with them. Engaging with your existing patients can be as simple as responding to the review with a thank you note. Doing this will encourage the patient to connect with you directly, and could mean more business in the future.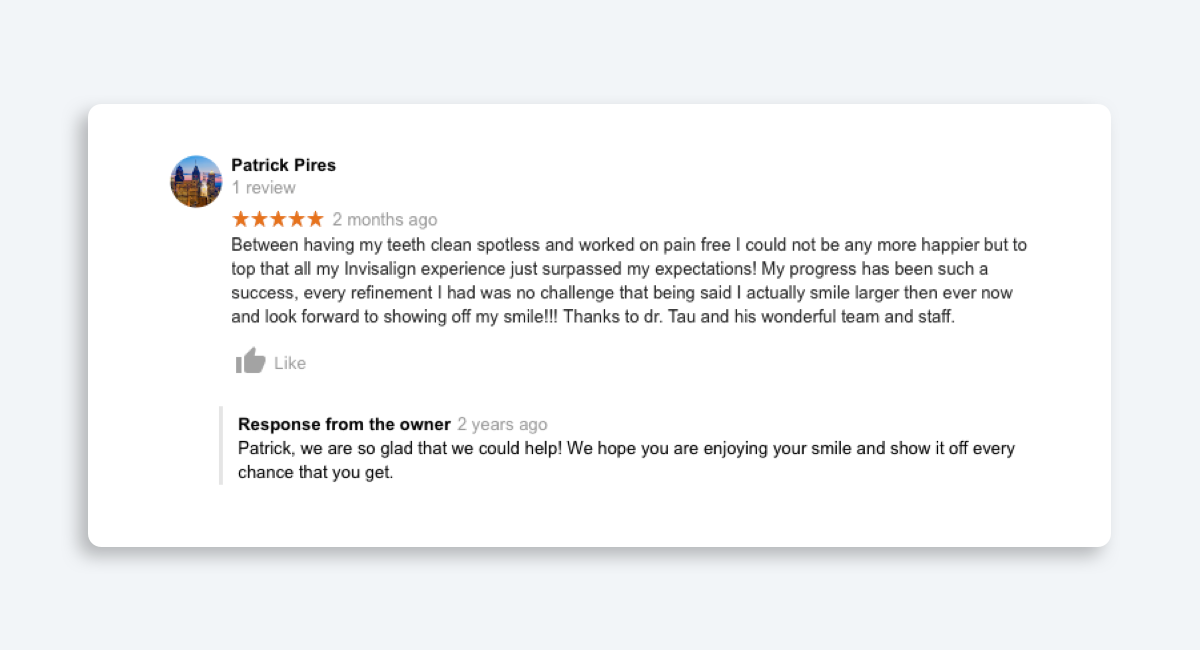 Review monitoring and responding puts you in the best position to be able to convert a first-time patient into a loyal one. To make this happen, ensure you monitor the key dentist review sites where your patients can leave their reviews. If you find it difficult or impossible to monitor them all manually, you should consider using an online reputation management solution, such as Birdeye, to ensure that you're always notified when a new review is posted anywhere on the internet.
Generate feedback.
Most of your satisfied patients will just highlight the pros of choosing your dental practice. However, there may be some who will be critical of your practice. By monitoring reviews, you'll be aware of the criticism, and able to use this feedback to improve your practice. First, take the necessary action to placate the unhappy patient by incorporating the suggested changes. Then, make sure you communicate your actions to the reviewer and encourage them to edit their review or write another one.
Share them on social media.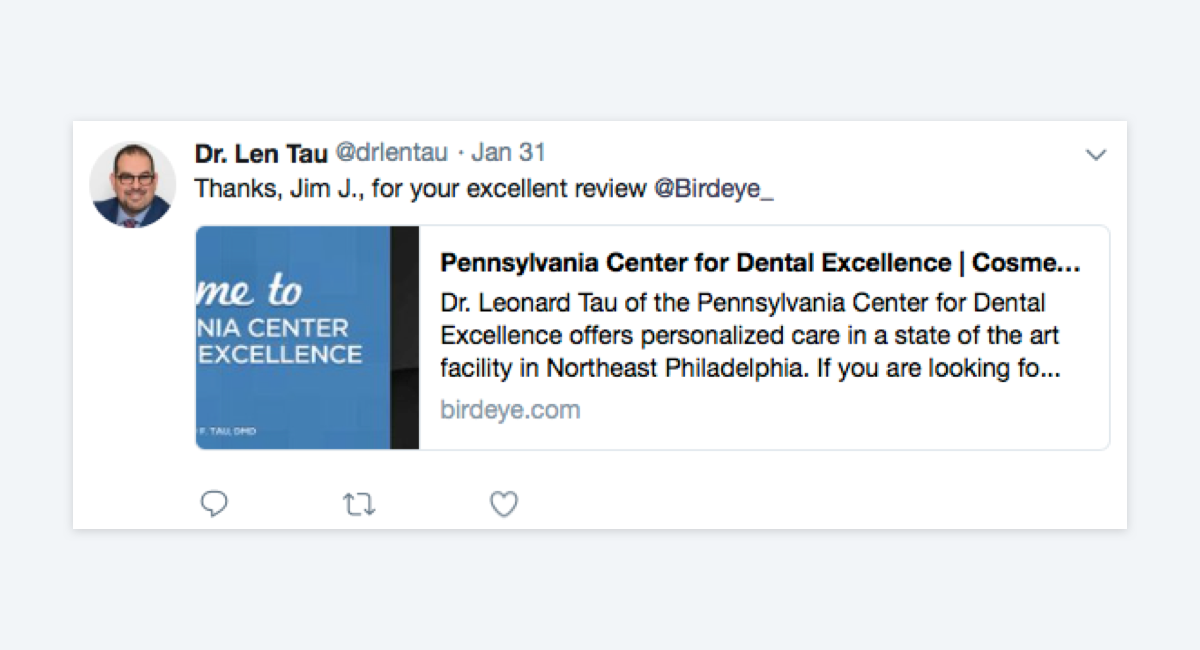 Online reviews are important SEO signals for search engine algorithms. More than 200 factors are considered by search engines when deciding the search engine rank of your practice's listing. Reviews account for approximately 13% of the ranking. You don't have complete control over the number of positive reviews you receive. But you can make the most of the existing positive mentions by sharing them on social media pages. Using online reputation management for review monitoring will mean that you are notified after every review is posted. Sharing these reviews on social media will not only boost your SEO ranking but also exposes your practice to more prospective patients.
Avoid negative publicity.
Most dentists dread negative reviews, as they tend to impact new patients. By review monitoring, you'll know when a negative review gets posted online, enabling you to respond promptly. You can then thank the reviewer for their feedback, take action to correct problem areas, and communicate the changes to them. By doing this, you are not just encouraging your unhappy patients to visit you again but are also making sure that negative reviews don't go viral.
Online reputation management for dentists – How can Birdeye help you
Birdeye is powerful online reputation management for dentists solution that comes with a host of features to help you with review monitoring. It also helps with the process of responding to reviewers. Birdeye enables you to share positive mentions on your website and social media channels automatically so that you can make the most of their positive impact. Additionally, Birdeye lets you analyze your competitors, which can be crucial in staying a step ahead of the game.
Originally published