For businesses, customer feedback is the anchor to growth, improving customer experience, and increasing revenue. Through the power of AI and automation, businesses can revolutionize the ways they gather, analyze, and capitalize on customer feedback.
AI and automated methodologies are adept at processing large volumes of customer feedback. This empowers businesses to take out actionable insights from what customers are telling them.
This blog post delves into the discussion between Zach Watson, VP of Enterprise Sales at Birdeye and Melissa Cameron, SVP of customer acquisitions at National Storage Affiliates.
Get ready to improve your customer experience and drive growth using AI for customer feedback management.
Key takeaways from the session
Customers find storage facilities through online search and they typically choose businesses by analyzing location and comparing reviews.
A typical customer journey starts with online search, reservation made via a website or call center, moving on to automated payment systems, followed by the guided move-in process.
Collecting customer feedback through reviews, surveys, and other similar channels is critical to understanding customer feedback, identify gaps in service, and leverage this knowledge to improve customer experience.
Businesses can trigger review and survey requests to customers to collect feedback at the point of sale.
The ideal feedback collection process has a digital and manual side that go hand in hand to improve the volume of review and survey responses.
Leveraging insights from feedback can help understand customer sentiment, performance of each location, and escalate issues as required.
To optimize use of human touch and AI, businesses must map the entire customer journey, identify gaps, determine where human touch or AI can add value and prioritize high-impact opportunities.
All businesses must focus on enhancing experience along each step of the customer journey to avoid turnover risks.
Watch the full session video here:
'Harnessing the power of AI & automation for customer feedback' session transcript:
Zach Watson: Hi everyone, my name is Zach Watson. I'm VP of Enterprise Sales at Birdeye. I'll be the host for today's session, we've got an exciting session for you.
I'd like to introduce Melissa Cameron, she's the SVP of customer acquisition at National Storage Affiliates. She's got an extensive background in digital marketing and has earned herself the Direct Marketing News 40 under 40 award.
With over 20 years of digital marketing experience, she's worked previously at Extra Space Storage and has seven years associated with Future Now Inc., which is a pioneer agency in the digital space focused on conversion rate optimization.
Thanks so much for spending time with us today Melissa.
Melissa: Thanks, I'm happy to be here Zach.
"Being more locally focused in our marketing efforts and our customer experience efforts helps us acquire and serve our customers in each individual market separately."

Melissa
Zach: So Melissa, I know National Storage Affiliates has multiple brands which I feel makes you guys very unique in the space, especially in such a complex industry like self-storage. Can you kick us off by sharing how you differentiate those brands supported by NSA?
Melissa: Sure, there are 12 storage brands that sit under NSA's umbrella and it really starts with analyzing who our customers are.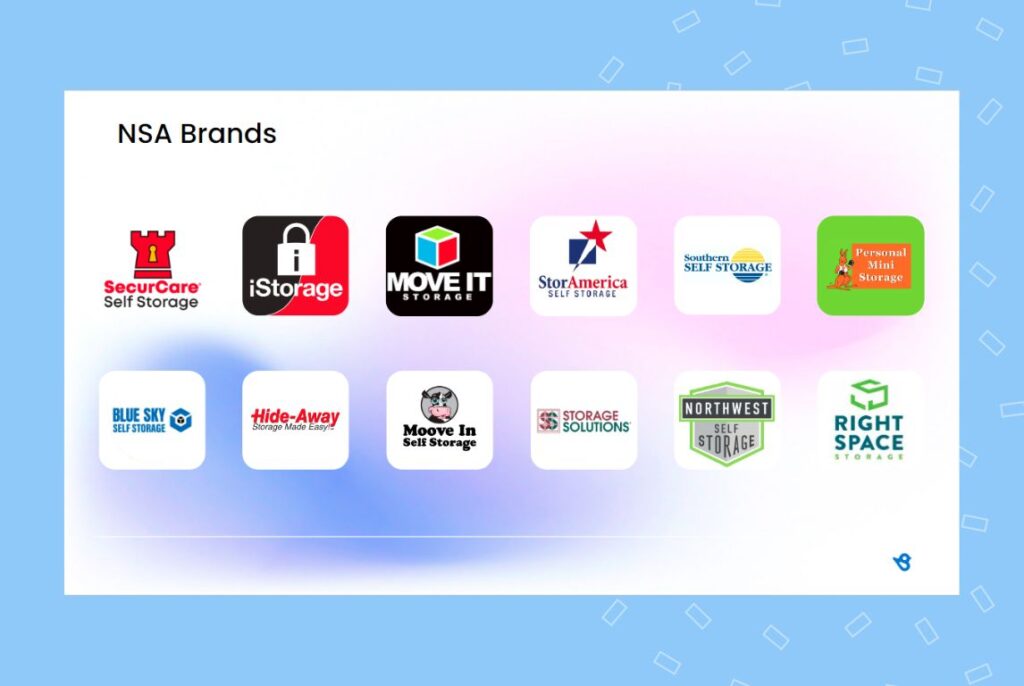 Are there different audiences for each brand? What are the demographics, reasons for needing storage, if they are renters or homeowners, and so on? We also look at their reviews, ratings, and the things that they're calling out in the reviews – there are some little nuances and differences by market.
So this information really helps us differentiate our brands.
Being more locally focused in our marketing efforts and our customer experience efforts helps us acquire and serve our customers in each individual market separately.
Zach: Great and how do customers discover NSA's facilities and what factors ultimately contribute to their decision to stay with NSA as a long-term customer?
Melissa: To begin with, storage is a need-based product. It's a need-based industry, so people generally are going through a life transition and it starts with them searching for storage in their city or where they're moving. They'll often compare options in search results and particularly within the map area of the search results.
Two common ways to compare would be:
the proximity or the location of the store – you know that they're looking at where they're actually moving or residing in
review scores and the volume of those reviews.
Those are deciding factors on even what to click in the first place. It's a big reason why managing citations effectively is so critical and having a strong review strategy is so important to performance. It helps gain authority with search engine algorithms as well as helps searchers to actually choose what to click.
As for what makes a customer stay, that's a little bit different.
Since storage is needs-based, we're not going to create a need if it's not there. What we can do is try and retain customers and ensure that we're not creating customer experience problems within their journeys, where they're looking for another place to store instead.
In general, people stay longer than they expected. Moving is not easy and I think all of us know that. Generally, If they're on something like auto pay they'll likely stay a little bit longer than if they weren't.
" Automation and intelligence are obviously at the core of developing simplified and enhanced self-serve digital experiences, helping with business efficiency too."

Melissa
Zach: Yeah, I can imagine that customer retention is a key benchmark for your industry specifically after the customer finds you online. Can you shed a little light on what the rest of the customer journey looks like within your space?
Melissa: Absolutely.
So, usually from the search, let's say for storage, somebody could click to call or they could click to go to the website, they could be on their mobile device, which is often the case.
Our goal is to create a simplified and enhanced customer journey no matter the channel they're using to compare and rent a unit.
No matter the device they're using, no matter the channel they've chosen, we really want to meet the customer where and how they want to be met. That's the key.
So they can either make a reservation directly on the website or the call center.
This could be them planning for their move further out, where they just want to make the reservation like you would with a rental car for instance or we encourage them to make the move-in day easy: Rent Now- fully pay and sign your lease – get it done and just remove one more task on your move-in day.
After somebody moves in or even after a reservation's taken place, we send a series of automated trigger emails and text messages throughout the journey to lead nurture wherever important.
Once they've actually rented, they get their gate code, their unit number, details around moving in to make their move-in day easier all through these easy communications that are triggered.
People generally stay longer than a year on average. I'm definitely giving you the average there.
This fluctuates based on the reason why they're using storage and multiple different variables that affect that we analyze on a regular basis.
Zach: Got it and it's really interesting to hear about how self-serve versus true human interaction has impacted your space specifically.
Having spent over two decades as a marketing leader in a truly digital world, can you share insight on how you've seen automation evolve throughout the course of your career?
Melissa: Yeah, it's an interesting thing. I feel lucky to have witnessed the evolution in digital marketing, digital platforms, automation, and AI.
I'd say the biggest growth in automation has likely happened, I think during COVID or due to COVID. People are looking for more self-serve digital experiences.
We were already pointed in that direction, but I think it sped up the development. Automation and intelligence are obviously at the core of developing simplified and enhanced self-serve digital experiences, helping with business efficiency too.
Some examples I've seen in automation, AI developments, and digital marketing were more in the paid marketing space and sophistication continues to grow with models and AI development for marketing and pricing.
"Simplifying and enhancing that journey is a big part of being able to increase revenue."

Melissa
A bigger focus these days and the difference or a change is really leveraging automation and AI for optimizing the critical points of the customer journey. I think we're seeing more and more automated triggered emails or text messages at certain points of that journey trigger points.
We're also seeing leveraging chatbots as part of sales or service experiences across devices, across-channels. There's just so much runway that still exists for continued development of AI and automation.
Especially now that we have access to ChatGPT and similar AIs. There's so much at our fingertips to continue to build and optimize and create business practices that improve customer experiences.
Zach: Yeah, thinking about customer journeys and the insights you guys are collecting, how important is customer feedback in shaping and ultimately improving customer journeys for NSA?
Melissa: It's critical, it is foundational and customers are at the core of everything that we do. That's who we're serving and we know that by:
creating a simplified and enhanced experience
leveraging of advanced sophistication in marketing and pricing practices
will result in the best performance right. That's ultimately what we're trying to go after.
In order to optimize the customer journey, we need to be analyzing who our customers are, what the good and bad are in the experiences we're giving them on an ongoing basis.
So, we actually collect feedback through various functions :
At the call center via text message after a call ends to get a sense of the customer satisfaction score
We conduct customer surveys to find out more about who they are, what their satisfaction level is, and how they feel about us.
We also actively ask for reviews.
We are analyzing this data right from all of these sources and it's really for the purpose of
Identifying areas of opportunity and escalating concerns through the right channels.
Defining and delivering the ideal solutions to ultimately improve the experiences where we're noticing those gaps. The customer is key.
Zach: Yeah, it's great to hear how you guys are not just collecting all this feedback but actually analyzing the feedback for areas of opportunity within the business. I'd love to learn more about this if you wouldn't mind sharing a little bit about how the various departments at the NSA are collaborating on these data points to shape the customer experience.
Melissa: There's so much cross-functional work between so many departments.
If I can just call out what's top of mind – marketing, pricing, and call center – all three of those departments are under the customer acquisition umbrella and we did that for a reason because of the critical nature of that cross-functional work.
Right from the work with data science and the operations team (the boots on the ground) are hand in hand. We work together to drive sophistication and all our strategies.
More importantly, we're working together on identifying the gaps and we're trying to close those gaps together where we're maybe not quite living up to what needs to be done for the customer to enhance their experience.
All of this is with the ultimate goal of driving revenue. We know that simplifying and enhancing that journey is a big part of being able to increase revenue.
Some examples that come to mind in terms of departments working together and some specific examples for you is in a reputation management strategy, where we're garnering reviews or analyzing reviews and the importance of practices in that.
Local search marketing is also critical in terms of reviews, so it's a big focus for our organic and our search engine optimization teams as well as our paid marketing teams. They are working closely on those strategies and they're hand in hand with operations where folks on the ground are asking for reviews at the point of sale which is really beneficial.
Another example of cross-functional coordination is customer service and the processes we build to solve customer problems like closing the loop with the customer. We've built particular processes and dashboards which essentially automatically escalate and alert issues to critical parties and then hold those team members accountable for solving or resolving issues within certain timeframes.
Another example is analyzing the changes in our customer survey responses. We look for indications to understand what behavior is changing over time, what people are saying in terms of when they need storage and their shopping habits. Learning the behavior changes and then even the changes in concerning areas within the journey is really helpful.
The analysts that we have on the team work with the marketing team to conduct the surveys, report on the findings, and build those dashboards.
We also have processes in place for the internal feedback loop so that we are continuously evolving our strategies cross-functionally with all the appropriate parties.
Zach: Got it. I think throughout Birdeye View, we're going to hear a lot about AI.
Birdeye is launching two new features alongside our conference here around review summaries and survey summaries.
So, basically, we're using AI-generated survey summaries to scan your reviews and surveys to create short bullet point summaries within the platform. This way, you can access those insights on the fly.
Speaking to AI specifically, I know NSA is already doing a great job of collecting and analyzing customer feedback both with reviews and surveys using AI and automation, but can you walk us through a little bit more detail of what your review and survey processes look like?
Melissa: Yeah sure. I'll get a little more detailed because I think I've alluded to some things, but so there's essentially a manual piece in the digital piece that works hand in hand.
Digital feedback collection automation
Digital automation is released by certain events that trigger the sends. So, the digital marketing team built these campaigns with our analysts within Birdeye that are automated once the move-in actually happens.
Move-in feedback collection process:
When somebody rents with us and moves in, we do two things:
One is to ask for a review.
The second is a move-in survey to find out their satisfaction level and to get more information about who our customers are and what's causing the need for storage.
We're aware of that overlap of triggering two pieces of communication after move-in.
So, we've strategically parsed those out a little bit within that first week, so they don't just land on top of each other as we don't want to frustrate the customer with over communication. We want high response rates.
Move out survey:
We also trigger a move-out survey when they move out to understand why they are leaving and is it because they no longer need storage anymore or did we actually do something to make them want to look for another storage solution. That's the whole digital process.
Manual feedback collection
The manual process is that partnership with the operations team and its in-person.
Not all rentals happen in person at the stores. For the ones that do, there are practices in place and even goals set with our operations team to get reviews at the point of sale, when they're signing a lease and paying for that.
Really the way in which it's even being talked about is:
"You're helping other customers find storage solutions, so if you wouldn't mind leaving a review to help others who are searching". 
That way, getting a review is less for business reasons, it's more to help other folks like yourself and the customers.
Also, folks are coming in the office to pay a bill or the store employee sees somebody they often see at their unit coming in and out, they might ask for a review at that point.
The boots on the ground have really helped.
So, the digital sends drive a lot of volume, but so do the boots on the ground.
Zach: Got it and how are you using the insights that you're collecting in these reviews and surveys to improve the customer journey?
Melissa: So, one of the big reasons why we came up to Birdeye is to leverage the AI insights.
A couple of examples :
We analyze performance by location and we leverage the dashboards within Insights directly. We pull some of those numbers in, and look at review count goals for each store because they do have set goals for every single store. We have management escalation processes around that for stores that are maybe not hitting their goals because it's such a critical part of what we're trying to do for our performance.
We also analyze the sentiment found throughout the content in reviews and surveys. We're really looking for opportunities to improve and to even challenge some of our processes, so we've got chosen topics to track and we analyze the trends around those topics.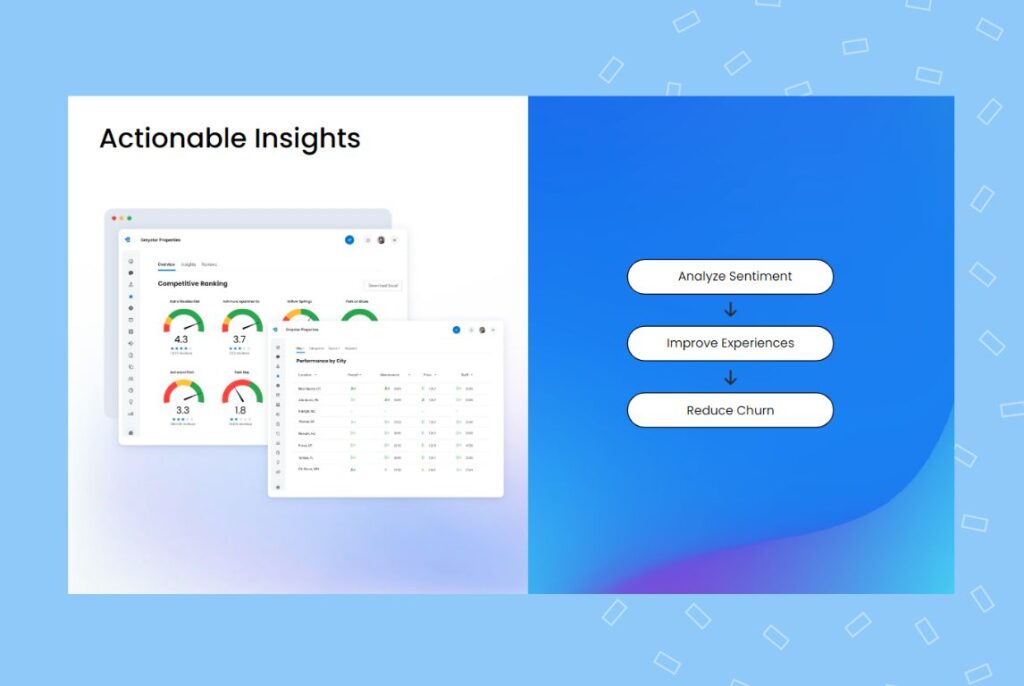 A good example is that for instance, there are pricing issues in our industry. So, particularly we track sentiment that might exist around getting rate increases which is a common practice in storage. You come in at a certain rate and it's a starting rate and your rate could be increased and it often does, at multiple times throughout your journey.
We have machine learning built in place for who, what, where, and when to give rate increases. But, we don't just let the machine run on its own.
We realize there's value in looking at the qualitative, which is through data still we might notice changes in negative sentiment around rate increases and perhaps where there's a struggle in the economy and people are tighter with cash, it might be a bigger problem.
So we have to watch these changes and this data may and has influenced, at times, adjustments in our rate increase strategy.
It really helps to shed some light on what maybe our machine learning might have missed in terms of the risk of churn or the risk of turnover. We want to reduce that risk.
Zach: Okay and once you identify these risks, how do you handle that negative feedback or complaints from customers and then take those steps to ultimately retain the customers?
Melissa: Yeah we're leveraging Birdeye's automation for the positive reviews, so if a review is four to five stars, those are automatically responded to using various responses we've fed it over time, built and optimized over time. We still want to close the loop even if it's a positive review.
I think communication is critical with customers when they're taking their time to do that. But, if you know a review comes in with a one to three-star rating, that's negative. And, we use more baseline templates and based on the issues being called out, we will personalize those responses. In some situations, we have to escalate the issues to be resolved.
We have a whole process and protocol in place there with service level agreement on response time expectations with various parties. With that, it has to continue to close the loop.
You escalate it, you resolve it and then you close the loop with communication effectively.
What you're really trying to do is turn a negative experience around and we've seen that happen. It's a beautiful thing, I think we should all have that goal to try and turn those experiences around.
Zach: Yeah, that speaks to the importance of responding to reviews, showing customers that you care about transforming those negative experiences into positives, but also the SEO benefits associated with it.
One of the things that we've also rolled out at Birdeye is an AI-assisted review response, I'm really excited about this. It generates personalized responses to reviews based on sentiment, but it can also auto-translate which is going to be huge for international clients.
For our last question, from your experience using a combination of technology and manual processes, can you discuss a little bit further on how businesses can implement those human touches and AI to coexist in their business operations?
Melissa: I think it's critical and I'd suggest a starting place which is mapping out your entire customer journey and thinking about it, trying to identify gaps within the actual customer journey itself.
Think where you could make the journey more simple and enhanced for the customer and also leveraging intelligence and sophistication so more for the back-end gaps, where your processes could benefit from some of these automation and AIs.
But, if you think about it this way, you've mapped out the entire customer journey; you have identified those gaps on the front and in the back end looking at the gaps.
Think about whether leveraging AI or automation or the human touch will help advance any aspect of the three P's - people, processes and platforms, because that's usually where the opportunity exists for the human touch, AI or automation.
Does it affect the people like a chatbot versus a person, processes, and platforms?
And once you have that list of gaps, prioritizing the list of opportunities by impact and effort to make sure that you're focused on things will really help you strategically drive performance.
I've mentioned some examples of AI and human touch coming together at NSA like the manual digital review request strategy.
I do not recommend implementing AI in automation simply because it's a shiny toy.
If you take this methodical approach to the customer journey and analyze where these opportunities exist, I believe it'll have a much bigger impact on your business.
Understand customer feedback management with Birdeye View
Collecting and leveraging customer feedback to understand customer pain points, needs, and potential gaps in service can be extremely beneficial to business growth.
Birdeye View is Birdeye's first-of-its-kind user conference aimed at helping businesses improve customer experience and scale faster.
Sign up for the webinar today!

Originally published