We've all heard it before: word-of-mouth can make or break a business. But what happens when those words travel at the speed of the internet?
Online reviews have the power to transform customer perceptions on a massive scale. When shoppers express their love for your brand online, they're not just speaking to friends; they're announcing to the world that you are the best in the business.
The challenge is that reviews don't just magically appear. To build a 5-star online presence, you must take a strategic approach to collecting and managing reviews.
And the first step is to decide which platforms you'll focus on.
In this blog, we've shared the ultimate list of retail review sites that will boost brand awareness and fuel business growth.
Let's dive in.
Why choosing the right retail review websites matters
Reviews influence perceptions and purchase decisions on a broad scale. By building a presence across popular retail review websites, you can:
Boost brand visibility and awareness
Build credibility and trust
Improve local SEO and overall online reputation
These efforts will help you attract new customers, retain existing ones, drive immediate sales, and foster long-term growth.
More reviews
More revenue
Learn how to get more reviews of your retail business with Birdeye. Watch the Free Demo Now.
12 retail review sites to prioritize
So, having a solid presence on key online retail review sites is crucial for building brand awareness, trust, and sales. But with countless retail review sites to choose from, where should you focus your efforts?
If you're not sure where to start, you're in luck — we did the research for you! Here are 12 top platforms every retail business should consider.
1. Google Business Profile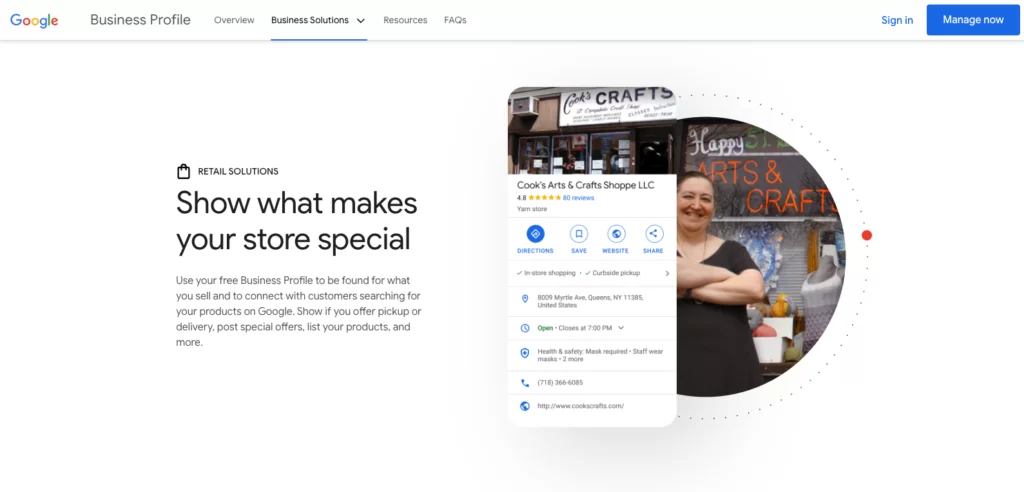 Google Business Profile (formerly Google My Business) allows businesses to manage their online presence on Google — both in their search engine results and on Maps. And since a staggering 93% of global online activity happens on Google, high visibility on this platform is invaluable.
Be sure to claim and optimize your free Google Business Profile with photos, contact details, and business information. The more robust your profile, the more it builds familiarity and trust for prospective customers finding you on Google. Once your profile is ready, encourage your customers to leave reviews there.
→ Jo Cool Whitegoods generated 373 new reviews and saw an 89% increase in Google Business Profile views in 12 months with Birdeye. Read the full case study here.
2. Facebook
Facebook has a user base of over 2.9 billion monthly active users, so maintaining an active presence on this popular social media platform is vital for any retail business looking to enhance visibility and build trust.
Retailers often use Facebook to share content such as promotional videos, product links, and eye-catching images to attract and retain customers. However, beyond content sharing, Facebook offers a valuable feature for businesses: the ability for customers to leave reviews.
These reviews are prominently displayed on your Facebook Page, and they provide valuable social proof that potential customers often seek before making purchasing decisions.
3. Trustpilot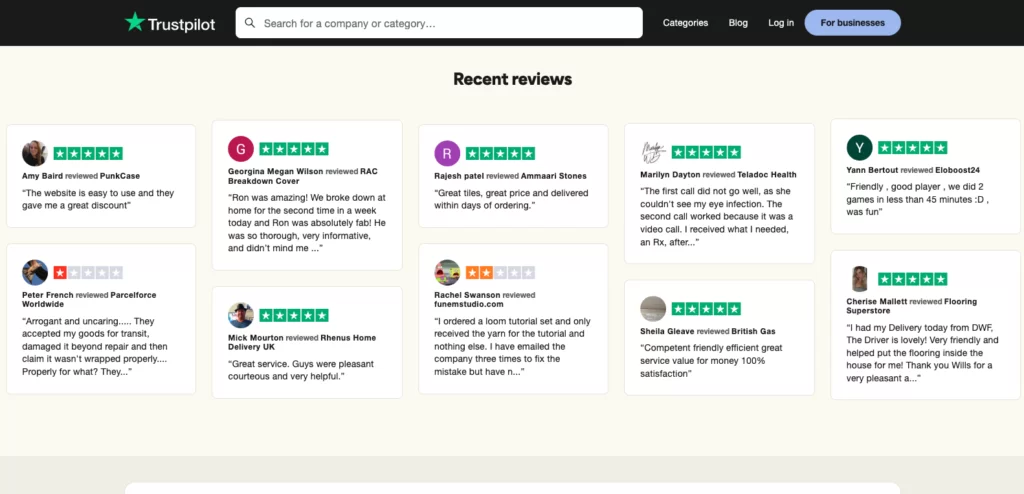 Trustpilot is an online review platform where consumers can post reviews about businesses and services — it's a great tool to build credibility and trust for your retail business.
The platform offers a free version which allows businesses to claim their profile, respond to reviews, and get a basic understanding of customer feedback. The platform also offers paid subscription plans that provide additional features. These paid plans include more advanced tools for analytics, review invitations, and marketing.
To get started on Trustpilot, simply set up your business profile and invite your customers to share their shopping experiences.
4. Consumer Reports
Consumer Reports publishes reviews and comparisons of products and services based on in-house research. Many consumers turn to Consumer Reports for unbiased information before making significant purchases.
While you can make your business more noticeable by prioritizing brand awareness and offering quality products, there is no guaranteed method for getting them tested and reviewed by Consumer Reports.
5. Yahoo Local Business Listings / Yellow Pages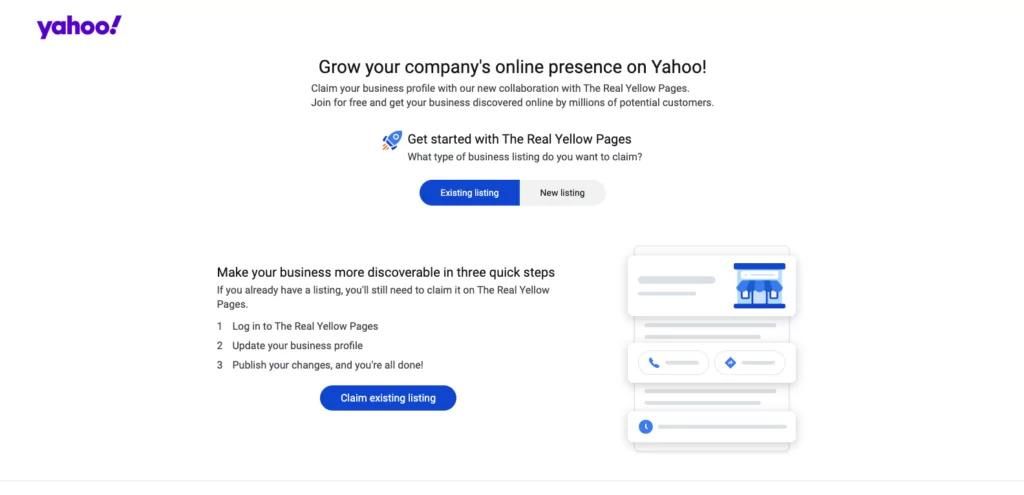 Yahoo Local Business Listings (formerly Yahoo Localworks) is Yahoo's official collaboration with Yellow Pages. By combining Yahoo's reach with The Real Yellow Pages' established directory services, your business can benefit from enhanced visibility in search results and gain access to a broad user base.
To get started, claim your free Yahoo Local Business Listings profile. Then, optimize it with descriptions, photos, and contact information.
6. Shopify Product Reviews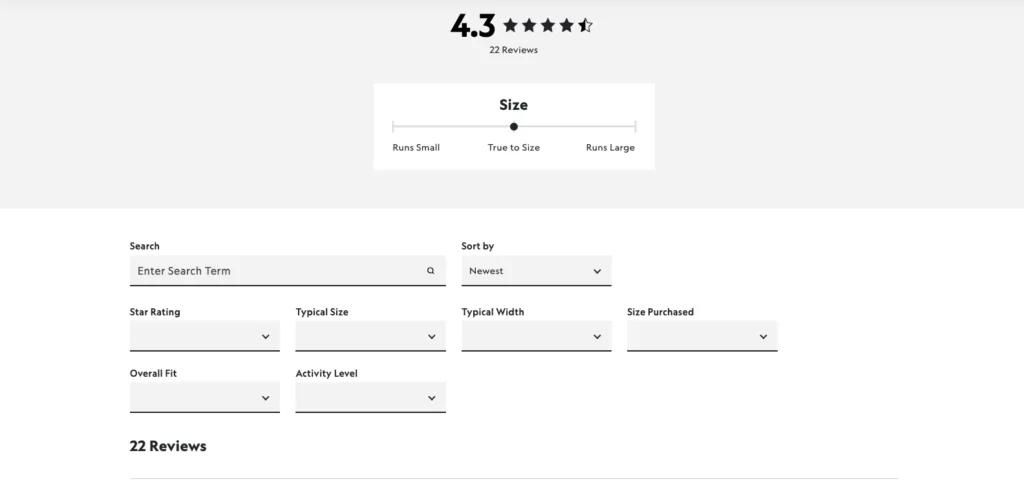 Shopify's built-in product review functionality allows customers to leave star ratings and comments up to 1,000 characters long. These ratings are then displayed directly on your product pages, which provides social proof and helps convince your site visitors to purchase from you.
If you run an e-commerce shop on Shopify, enable the review feature, then encourage shoppers to submit reviews for your products whenever they make a purchase.
7. Better Business Bureau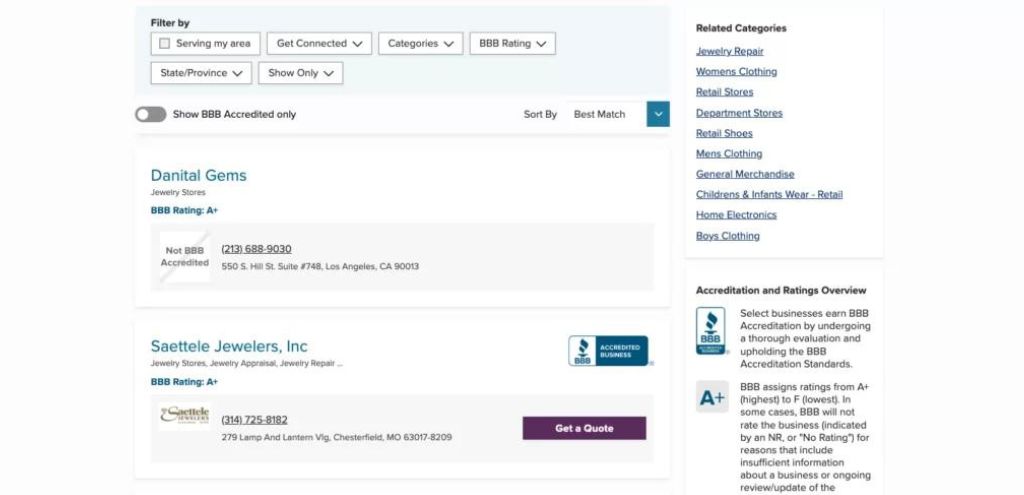 The Better Business Bureau (BBB) helps consumers find trustworthy businesses. On this platform, consumers can search for businesses, read reviews and complaints, and see a business's BBB rating, which ranges from A+ to F based on various factors.
Listing your business on the BBB is free; however, it is important to note that if you'd like to distinguish your business with an official BBB accreditation, there will be a fee.
8. Houzz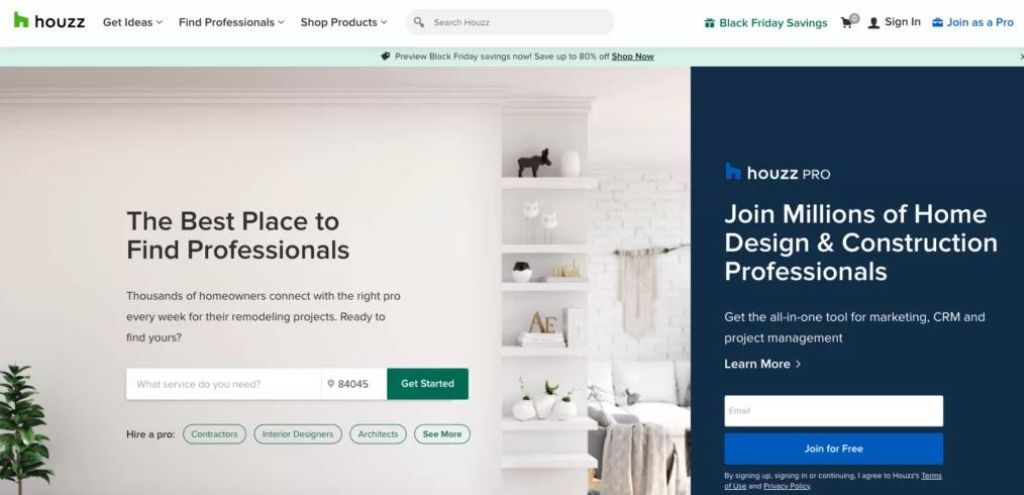 Houzz is an online marketplace focused on home renovation and design. This platform provides homeowners and home professionals a community to connect, find inspiration, and showcase their work.
To tap into this niche audience, retailers of home decor, furnishings, gardening supplies, and related categories should sign up for a Houzz Pro profile. While you can get started for free, after 30 days, you will be charged a recurring monthly fee to use Houzz Pro.
10. The Knot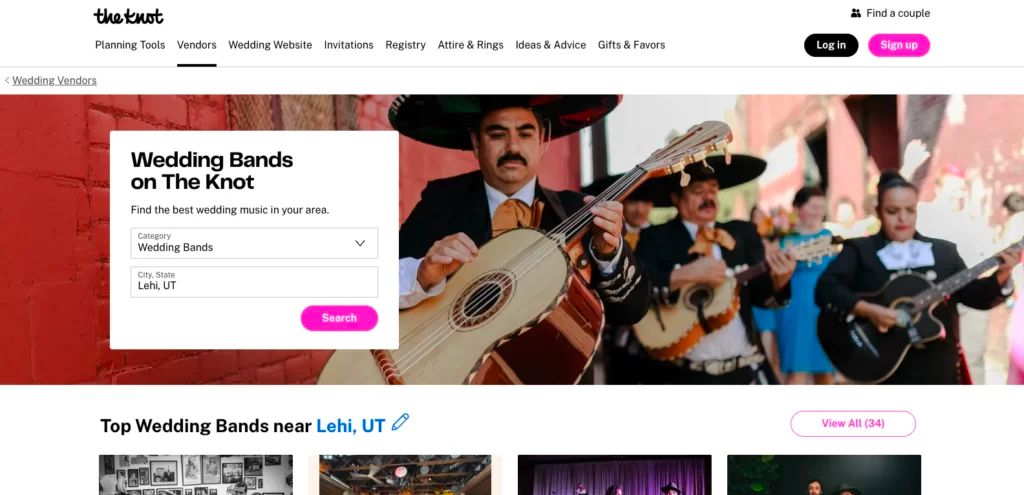 The Knot is a massively influential wedding planning and review site. This local vendor marketplace provides exceptional reach for wedding-related retail categories like dresses, tuxedos, rings, gifts, and more.
To advertise on The Knot, you must fill out their application form. Once you've been approved, you can set up your storefront and reach the largest online audience of engaged couples.
10. SiteJabber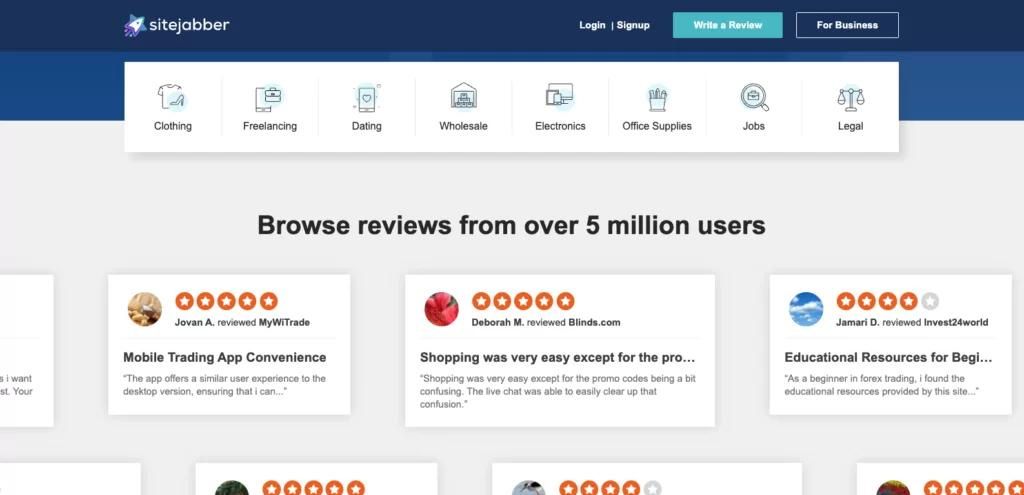 Sitejabber is a consumer review platform where customers can post reviews about businesses and services across various industries. The platform helps users discover trustworthy online businesses and avoid scams.
SiteJabber recently rebranded its business-facing side of the platform, which is now called Jabio. Consider signing up with Jabio to build trust with potential customers, showcase customer satisfaction, and improve your service through consumer insights.
11. TopConsumerReviews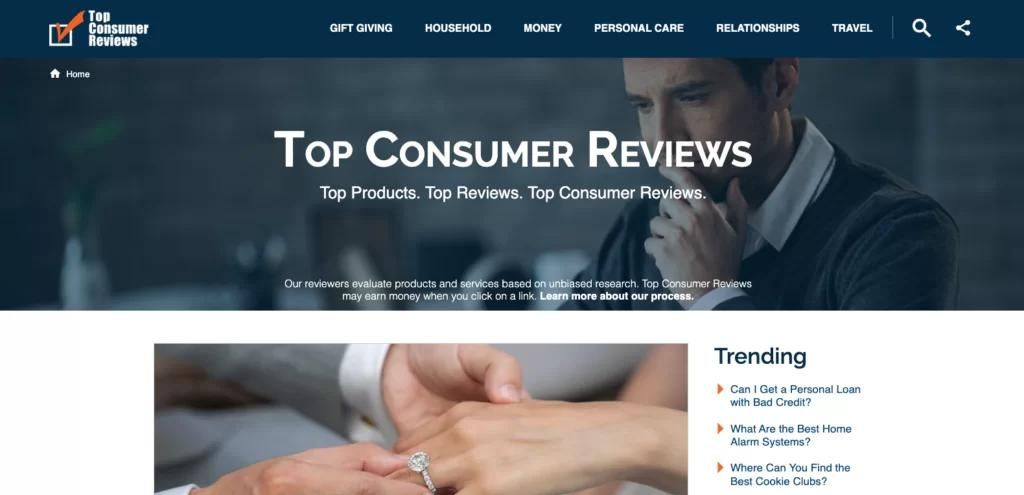 TopConsumerReviews offers extensively researched, unbiased, data-driven ratings and reviews across industries like household, money, personal care, and more. To have your business or products reviewed by TopConsumerReviews, you typically need to contact the site's editorial or customer service team.
12. Amazon Customer Reviews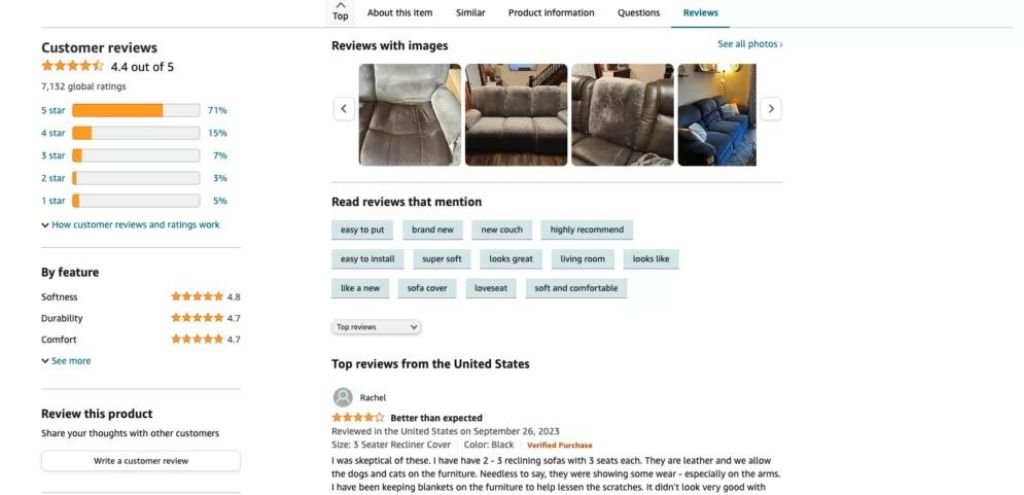 For retailers that sell products on Amazon, garnering customer ratings and reviews on this platform is critical. Neglecting to do so means missing out on a trust-building opportunity with a significant customer base.
If you do not sell products on Amazon, you might still consider monitoring your competitors' Amazon reviews. This will provide valuable insights into market trends and consumer expectations and help you gain a competitive edge.
Retail review site FAQs
Where can I leave reviews for a business?
You can leave reviews for a business on various platforms depending on the type of business and the services it provides. Common places include: 
1. Google My Business
2. Facebook
3. Amazon for product reviews
4. Better Business Bureau
5. Shopify Product Reviews for e-commerce sites
You should also prioritize a handful of industry-specific review websites. 
What is the best website for company reviews?
The best website for company reviews depends on the type of business and industry. Google My Business and Facebook are the most widely used and trusted platforms for general business reviews. Trustpilot and the Better Business Bureau are also reputable sources for company reviews. 
How do I get reviews for my small business?
To get reviews for your small business, first provide excellent customer service and create a positive experience worth sharing. Then, actively encourage customers to leave feedback by sending them review requests via text or email following a purchase. Any time you get a review, respond to it to show that you value customer input and are committed to improving.
Collect and manage reviews effortlessly with Birdeye
Choosing the right online retail review websites to prioritize is step one. To efficiently collect and manage reviews across locations, you need automated solutions.

Thanks to Birdeye, collecting, responding to, and analyzing reviews has never been easier. Ready to see what all the hype is about? Watch a demo today and see how retail brands like yours leverage Birdeye to build 5-star reputations and drive growth.

Originally published