The following article was written by a guest contributor.
In this day and age, all businesses should be using SEO to their advantage. SEO stands for Search Engine Optimization, and it's a strategic way of creating your website so it appeals to both humans and search engines. Basically, it helps the right users find your small business website.
Your users are already online. They're searching for businesses just like yours, and you need a digital strategy that's ready to meet these users. According to one of the leading digital strategy firms of today, IT strategy is based on being disruptive. You need to be different in how you try to reach users, and that's where these trends below come in.
While many small businesses overlook SEO in favor of other types of marketing, now is the time to leverage these new trends to your advantage. Read through these leading trends below to reach more users, find your audience, and convert more customers.
1. Leverage Your Google Reviews
First and foremost, Google reviews are more important than ever before. To start, you'll need to claim your Google business page through Google My Business. From there, you'll be able to accept and respond to online reviews. Today, users trust these reviews more than just about anything else. It's a form of digital referral that can either work for you or against you.
An unsurprising 6 out of 10 customers look to Google My Business for local business reviews. This is where you can really shine. Not only do people read online reviews, but they trust them. Who are you more likely to choose if you're searching for a business: the business with a few reviews that aren't very strong or a business with raving, excited reviews? The choice is obvious.
Just look at this example below for local coffee shops around Orlando. Notice how Google prioritizes places with over 4 stars, and this makes it easy for users to navigate to the best small businesses.
2. Utilize the Google Answer Box
Google search has come a long way in the past few years. It's now a complex place full of a lot of different elements, many of which you might not be familiar with. The more you understand Google search tips, the better you'll be at targeting these search results.
Let's take a look at the way search results look right now. Let's say I wanted to search for tips on brewing a cup of coffee. Notice the first thing that pops up is a box with a straightforward answer. This is known as the Google Answer box, and it's always displayed at the top of the results page.
Generally, to get in this answer box, you need to be careful with how you format your posts on your website. To appear in the answer snippet, follow these best practices:
Be specific with keywords

Search for answer boxes that don't have a good answer and are easy to compete with

Format your text to answer the question directly
The good news is you don't' need to be at the top of the search engine results to appear in the answer box. Take a look at some of the common answers for local businesses like yours and go from there with these tips above. Content is key to rankings. Here are 5 benefits of content localization for small businesses.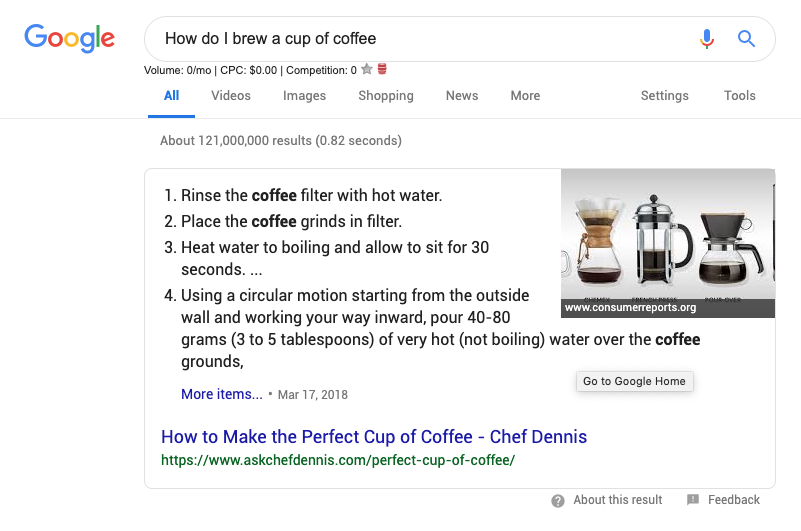 3. Optimize for Voice Search
Alexa, where can I find coffee nearby? Amazon's Alexa, Google Home, and other smart devices have taken us far. These are now smartphone and smart home staples you can find just about anywhere. Voice search is becoming more and more common, and this is something small businesses can use to their advantage.
Most people use voice search to find small businesses near them, so it's ideal for local places. It's also an underutilized form of SEO, making it an easy way for smaller businesses to stand out even without a local presence. In 2017, 35 million Americans used a voice-activated device at least once a month. This number is rising rapidly, and it's truly a search engine revolution.
How do you optimize for voice search? First, start with your Google My Business listing. This is how Google learns more about your business to help users find you. Next, focus on conversational keywords. This is the biggest takeaway from voice search. When people search with their voice, they're more likely to phrase their question as a full question.
For example, instead of typing "coffee shops" they'll ask something along the lines of "Hey Google, where can I get coffee on my way to work downtown?" This is conversational and phrased like a question, and that's what you want to optimize for.
You Heard It Here First
There you have it. These are the SEO trends you should be using for your small business if you want to get ahead of the competition. All of these are more relevant than ever as search engines continue to evolve and change our lifestyles.
SEO isn't just for big businesses. All businesses can benefit from taking these trends seriously and seeing how far they'll take them. From reviews to voice search, what will you take advantage of next? Your users are out there just waiting to stumble upon your website on the results page.


Originally published