We live in times that demand every business to have some presence on at least 2-3 social media platforms. You can no longer afford not to have a social media strategy for your business.
But for businesses new to this medium, knowing what works and what doesn't can be difficult. There is heavy competition among brands on social media. So, businesses must bring their A-game to see any return on their efforts at all.
This blog post details the top social media best practices a business needs to use social media to its full potential. 
Why is social media marketing important?
Social media marketing is important for businesses of all sizes as it helps you reach your target audience, build relationships, and foster a community that aids brand recall efforts.
Establishing a strong presence on social media can help businesses:
Influence consumer behaviors as social media channels have become one of the places where customers go to understand more about a business.
Build a strong online reputation by sharing customer reviews, testimonials, and product information that makes the brand seem approachable to the customers.
Become accessible to younger customers such as Millennials and Gen Z, who prefer social media messaging over other forms of communication.
Establish topical authority over a particular topic and positively impact local search results.
20 social media best practices to implement
Most businesses know that having a consistent and regular presence on social media is important. But just posting content is often not enough. If you don't follow social media best practices, you may have difficulty finding your stride on Facebook, Instagram, Twitter, and beyond.
This section covers a list of what businesses must follow to succeed in their social media marketing efforts.
1. Analyze what your competitors are doing
To know what to do, you must know what is working already. And that means knowing your direct competitors' actions on social media.
To do so,
Investigate the impact of their content to understand what works well for your competitors. Use tools to root out their top-performing posts and analyze them well. When you start out, you can adopt similar strategies and then build upon them.
Understand their content to identify gaps and determine how to differentiate yourself. Create content that addresses these gaps and offers a value proposition to your target audience and gain their loyalty.
Check your competitor's advertising strategies and how you can improve them within your budgets.


2. Determine your target audience
Social media strategy doesn't work when you don't know who you want to attract and engage with. Start with the following questions to uncover everything you can about your target audience.
Consider standard demographic factors like age, gender, location, and income. Then, dive deeper into psychographic factors like specific interests, challenges, and pains your audience may have.
What channel do they spend the most time online?
Very likely, it's some combination of Facebook, Instagram, TikTok, Twitter, LinkedIn, and YouTube. Determine your target audience's ideal social media marketing mix, so you can focus on just those to boost your visibility and help you gain traction with your social media content faster.
Your prospects and customers may care about veganism, inclusion, diversity, helping charitable causes, etc. Use social listening techniques to identify what your audience values. You can mirror these values in every post to resonate with your audience.
Do they already know your business?
Social media users who already know your business are likelier to like, comment, and share your posts. Invite existing customers to follow you on social media. Encourage them to interact with you.
Understand if your best customers are primarily local or located all over the country or the world. This way, you can understand if you should promote store purchases or the online store. You may also want to put different messages in front of followers from different locations.
Pro tip: When it comes to defining your target audience, it goes beyond just demographics. Create a buyer persona that digs deeper and understands their motivations, inspirations, and pain points.

3. Establish and maintain your brand's guidelines
Brand guidelines ensure that your social media content remains consistent and that your employees conduct themselves on social media in a manner that promotes and reflects your brand voice.
To build a social media brand guideline for your business, define the following:
Visual style, tone, and voice
Consider how you want to appear on social media platforms. Establish a specific tone of voice and communication style that resonates with your target audience, so there is no guesswork involved in posting to social media platforms. Document your visual style, tone, and voice so all employees can refer to it as needed.
Which hashtags will you use?
Branded hashtags uniquely identify your business and help you organize your social media content. Using the right hashtags can also help you be more discoverable and build recognition with your audience.
But currently, hashtag-heavy social media platforms like Instagram are going minimal, so don't overdo it.
Employee-generated content
Employee advocacy is important for the success of every brand on social media. It humanizes the business and displays authenticity that appeals to social media users.
However, it is important that employees know what to post so that it doesn't impact your brand adversely. Additionally, knowing which sources to mention regularly can help create a connection with prospective collaborators and partners.
4. Determine the best social media platforms
While there is always the pressure to "be everywhere", it's unlikely that every social network is a good fit for your business's marketing campaigns.
Many social media channels will either not produce the expected results or no results. Picking and choosing your battles makes sure that your content drives results while optimizing resources for social media marketing.
Optimize your social media strategy by
Identifying where your core target audience spends most of their time
Choosing the top performing platforms from Facebook, LinkedIn, YouTube, or otherwise.
Use tools to analyze competitor website data and check where most of their traffic comes from.
If you're wondering what social media platforms to use, a competitive analysis can guide you to the best social media marketing strategy faster.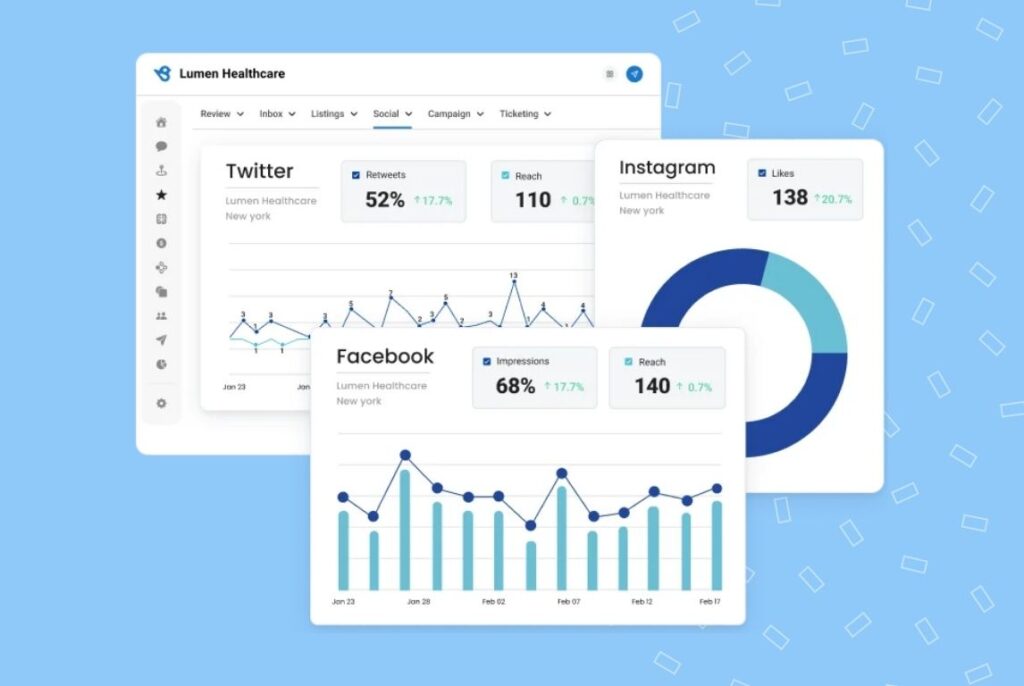 5. Post at the right time
Social media best practices include posting at the right time as it impacts your overall engagement. You can find what time works best for each platform and start scheduling content accordingly.
But the long-term trajectory of your social media marketing strategy will still depend on your audience. Test, monitor your social media analytics, and determine the best times to post. This is still the best way to carve out your unique pathway on social media.
6. Post regularly and schedule in advance
Consistency is an important pillar of social media. According to social media stats, 81% of marketers said regularly posting to social media helped them achieve their business goals.
You also don't want to overwhelm your audience, so one or two posts per day are ideal for most brands.
Use scheduling tools like Birdeye Social to make sure your audience sees your brand regularly and can build a closer connection with them. Scheduling tools can also help make sure consistency in planning out an entire week, month, or quarter in advance.
7. Use tools to plan and automate tasks
There are more social media tools at your disposal than there ever were before. From all-in-one dashboards that provide analytics and conversion metrics to more basic social listening and scheduling tools, tools like Birdeye Social can streamline your workflow and achieve more in less time.
You can use social media management tools to design posts for your social media.
Build up a post library and schedule your posts to go live at chosen times using a tool like Birdeye Social.
Research your options, and determine what planning, automation, and analytics tools are ideal for managing your social media accounts.
8. Respond to customers promptly
Social media customer service has only grown in importance in the last few years. Consumers don't have a shortage of competing alternatives. And if one brand responds faster than yours, there's the chance that you'll miss out on valuable business.
Make sure your team members can answer customer questions promptly, and if needed, streamline the process using social media customer service tools.
Businesses can use AI-driven messaging tools like Birdeye to make sure they can provide 24/7 availability and enable customers to get their answers quickly. This way, they get a significantly superior customer experience.
9. Find subject matter experts at your organization for thought leadership social media content
Companies with thought leadership content are 60% more credible and 47% more likely to be discovered, especially in the B2B segment.
Thought leadership content requires that you be original, authentic, bold, actionable, and on-brand. Balancing these criteria can be challenging, but it will be worth the invested effort if you can nail the formula.
Work with your executive and social media teams to generate content ideas that you have expertise in and can also pull in your audience.
10. Share positive customer feedback 
When you receive positive and rave feedback from a customer, ask for their permission to share it on your social media accounts. This can boost your reputation on social media with your followers and customers.
Social proof is extremely important to build authority and reputation on social media. It helps customers trust your business and also boosts employee morale.
11. Set goals and pursue them
To know if you are on the right track, it is important to know where you are going. And that is difficult to know that without goals for your social media marketing strategy.
For best results, define your SMART goals that help you define your social media plan, and social media content strategy, and measure the success of your efforts as well.
Determine what matters to you. It could be views, followers, email leads, visits to your website, engagement metrics, sales and conversion, or reviews. Set goals to measure and demand accountability from your social media marketing efforts.
12. Measure results with social media analytics to better optimize campaigns
To be able to course adjust or optimize your social media strategy, you must have concrete numbers to work with. While you can manually track engagement metrics, views, and the like, it can be time-consuming, and attributing a like to a sale, for example, can easily slip through the cracks.
Take advantage of social media analytics tools like Birdeye to measure performance and remain agile. With the results, adjust your strategy to remain relevant with your followers.
13. Experiment with video content
When it comes to engaging video content, there are a couple of key statistics to bear in mind. More than 54% of marketers say video content is the most crucial type for achieving social media marketing goals, and 93% of companies have acquired customers via social media video.
Video content may require a more significant investment on your part. Still, social media best practices dictate that video could be the most valuable content you can create to engage and drive sales.
14. Leverage your employees to share social media content
If you're looking for some of your best brand advocates, you need not look much further than your employees. As many as 87% of Millennials feel more connected to brands when employees share information about them online.
Additionally, 81% of marketers and 66% of consumers agree that brands posting about their employees positively impacts customers' views of their company.
15. Strive for authenticity
More than ever, customers seek authentic social media content rather than overly polished and contrived posts.
Spontaneous, filterless, lo-fi content is now the name of the game. Rather than constantly creating beautiful, aspirational content to evoke a sense of inadequacy or inferiority, post the good, bad, messy, and more. Show your humanness and win over your audience.
16. Use your follower's favorite networks
Once you know with certainty who your audience is as well as where they like to hang out online, target the specific social media strategy you're going to use to attract, engage, and interact with your audience.
For instance, if you've identified Facebook as one of your key platforms, study everything there is to know about marketing on Facebook today.
17. Exceed your customer care
Go above and beyond in an impactful way by supporting your customers on social media. Respond to comments and direct messages. Be prompt. Help your customers to find what they're looking for or commit to resolving their issues rapidly.
Social media customer care can genuinely shape how your social media audience feels about your brand. So award it the utmost importance.
18. Strive for engagement
Short videos, images, and live streams are among the most engaged content types online today. But be sure that you're building a strategy around trending content types to ensure you're taking full advantage of your social media accounts.
19. Highlight a product 
Audiences love to see your product in your feed. Instead of making your product the hero of your posts, demonstrate the benefits of your offers and the tangible, transformational difference they've made for your customers. Show what your product or service makes possible for buyers.
20. Partner with other businesses
Most, if not all businesses, have collaborators, vendors, and partners. Whether you're just now starting from scratch or looking to grow your social media presence, partnering with other businesses is the fast track to growing your following. Actively look for opportunities to cross-promote.
Measuring your success and creating a social media report
If you want to know how good your social media marketing efforts are, you must measure performance.
Social media best practices in business include accurate and timely reporting. The easiest way to achieve these criteria is to take advantage of available social media analytics tools, so you have numbers you can refer to when making critical decisions.
It's up to you to decide what numbers to focus on. What matters is that you gather the numbers, review them, and determine where a change might be in order. In the long run, social networks change frequently.
FAQs about social media best practices
What are the 5 best practices for a social media marketer?
Identify your audience, set measurable goals, focus on one or two critical networks, post at the right time, and actively engage with your audience. These five best practices form the foundation of a solid strategy.
What is the best practice for using social media?
When using various social media platforms to market your business, remember to adhere to the terms and conditions of the social network you're promoting your business. This ensures that you don't get banned.
What is the rule of thirds in social media?
One-third of your content should be focused on marketing your business. Another one-third should be focused on sharing other people's content. The final one-third should be focused on interacting with others.
Scale your social media across all locations with Birdeye
Building a robust social media following can take time, and so can generating business results from it. But if you stick with these social media best practices and the process, you will see results.
Tap into the power of modern social media scheduling, listening, analytics, and automation tools with Birdeye to get your posts seen, manage your interactions, and create your reports to know if you're on the right track.

Originally published