Generating more engagement, reaching new audiences, and strengthening the community are the top three marketing goals for businesses using social media to showcase their products or services.
While these sound daunting, a social media content creator can make these goals possible for your business. Plus, there's no need to stress over your designs' quality or messaging when hiring a social media content creator.
The only social media software for multi-location businesses
Want to see the impact of Birdeye on your business? Watch the Free Demo Now.
This blog post tells you all you need to know to up your social media marketing game by hiring a content creator.
What is a social media content creator?
Social media content creators create content designed to engage social media audiences. There are many digital content types and platforms to choose from, meaning there are near-limitless possibilities for social media content creators to attract and engage customers.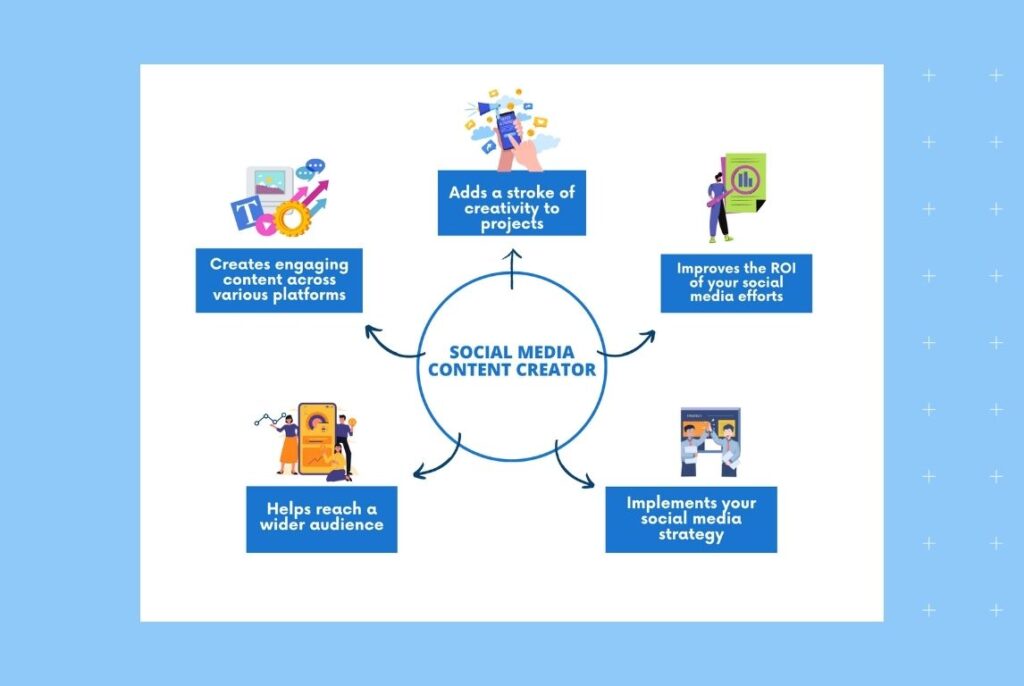 And because these creators are on the edge of the latest social media trends and developments, they have a distinct advantage in content creation that drives business results.
Social media content creator vs. social media manager: What's the difference?
Role and responsibilities: Content creators focus on producing engaging digital content. On the other hand, social media managers oversee the strategy, planning, and execution of a brand's social media presence. If you need someone to oversee your entire social media strategy, you need a manager. But if you need someone to create content that drives attention, a social media content creator is the solution you're looking for.
Content creation vs. strategy: Content creators throw themselves into creativity and engagement. Social media managers, on the other hand, plug away at achieving specific digital marketing goals through strategic planning.
Platform expertise: Content creators often specialize in specific social media platforms, while social media managers adapt strategies across multiple platforms.
Analytics and metrics: Social media managers dive deeper into data and metrics for decision-making, while content creators mainly use analytics to guide content creation.
Community management and collaboration: Social media managers handle community management and collaborate with various departments. Content creators focus more on audience engagement and work independently or in small teams.
How do brands collaborate with a social media content creator?
The most important thing to consider in choosing a social media content creator is that they share a like-minded vision for your brand. After all, they will create content reflecting your brand's message and values. Therefore, when researching potential content creators, look for someone who understands your business goals.
Learn more about choosing the right social media content creator here.
Once you've chosen a content creator:
Discuss content strategies to reach the necessary target audience. Talk about what content works best on each platform, such as videos or infographics on Facebook or short blog posts on LinkedIn.
Next, work together to create content that aligns with your brand and resonates with your followers. For example, if you're an outdoor apparel company, present the content creator with specific ideas for showcasing products that interest followers. This could be educational videos about best hiking practices or product reviews of various outdoor items.
Finally, establish a timeline for content creation and publishing. This may include posting at specific times of day or week to maximize engagement with followers. Setting up a content calendar with deadlines helps keep the content creator on track and ensures that all deliverables are on time.

What skills do a social media content creator need?
The skill set of a content creator is vast. While not every content creator has the same skillset, it is important to check if they have the ones you need to implement your strategy.
Here are the most important skills you should be looking for when selecting one for your business: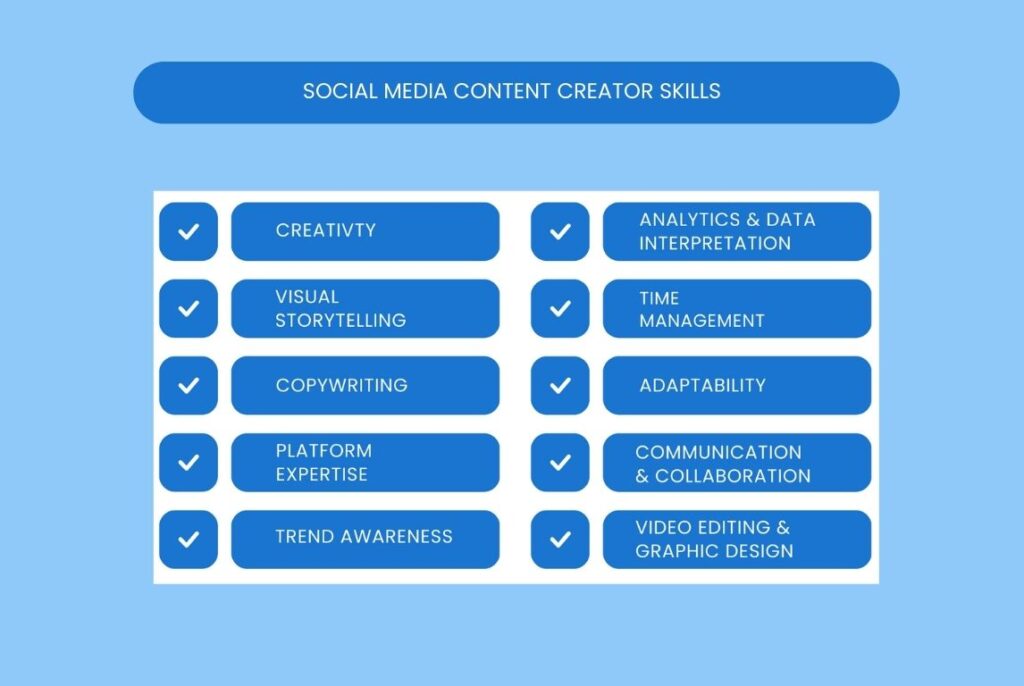 Creativity
Successful social media content creators must develop unique and engaging content ideas. Their ideas also must resonate with the target audience. Not only that, they have to tailor the content creation to the platform.
Visual storytelling
Proficiency in creating visually appealing images, videos, and graphics is a must-have skill. After all, it's tough to grab users' attention on social media platforms. Most creators are design wizards with an eye for storytelling, which has the most impact on social media.

Copywriting
Top-notch writing skills are crucial to crafting irresistible messaging, headlines, and descriptions that drive engagement and conversions. Social media content creators often study the copy of the most successful and popular content. They work on understanding their audience, finding the right tone of voice, and creating content that resonates best with their followers. This is definitely an essential skill for every content creator.
Platform expertise
Understanding the features, best practices, and algorithms of different social media platforms help social media content creators optimize content for each network. They may not be experts in every platform, but they should be well-versed in at least two or three. They will also demonstrate an understanding of social content that drives results according to their posting platform.
Trend awareness
Keeping up with the latest trends, memes, and viral content helps to create timely social content. Algorithms are constantly changing, and so are the social media platforms housing the content. Inexperienced creators don't know how to navigate these variables. A creator up to speed will know how to use trends to their advantage in creating social content that audiences flock to.
Analytics and data interpretation
Analyzing performance metrics and making data-driven decisions are essential for improving content creation strategies and growing engagement. That's why today's social media content creators should incorporate insights from social media data to inform content creation. They should also be able to adjust their strategies in real-time based on the data they see.
Time management
Juggling multiple projects, making deadlines, and maintaining a consistent posting schedule require first-rate time management skills. Social media content creators know that showing up at the expected time with the expected content keeps the audience coming back for more. Keeping your followers captivated does wonders for your brand awareness. Influential creators are masters of managing their time so projects stay on track and content keeps coming.
Adaptability
Social media platforms and trends change rapidly. Content creators worth their salt must adapt and evolve their content strategies accordingly. The good news is that creators tend not to waste time on social media content creation that doesn't work. They are quick to change course when needed.
Communication and collaboration
Working with team members, clients, or influencers requires top-level communication skills to align content with brand guidelines and objectives. Creators must understand a brand's goals and voice to collaborate effectively. Always look for creators that keep the lines of communication open and are open to suggestions.
Basic video editing and graphic design
Familiarity with video editing and graphic design tools allows creators to churn out polished and professional content without relying on external resources. Good content creators are usually very adept at creating and editing visual content, including video content.
How do you know when you need a social media content creator?
Having social media accounts for your business isn't enough for an effective social media presence. Maintaining these social channels takes time, expertise, creativity, and effort. Below are some key indicators for needing a content creator's help.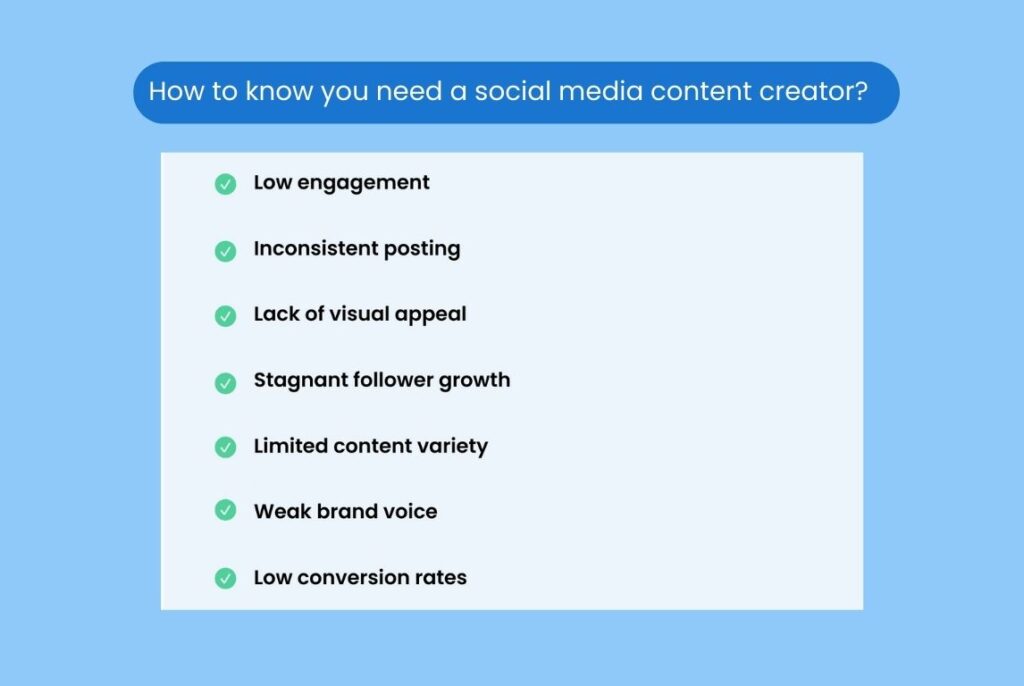 Low engagement
Maybe your current social media posts are lackluster and receive minimal likes, comments, or shares. If so, a content creator can help craft more engaging content to grab your audience's attention. As your engagement grows, your reach will also increase. A content creator on your team will enhance your content marketing efforts.
Inconsistent posting
Maybe your business struggles to maintain a regular posting schedule. If so, a content creator can see that content production is consistent. It can be challenging prioritizing posting to social media and developing other content for your other channels, especially if you're working with a small team.
After all, most of your time goes toward customer care and product development. Content creators can fill these gaps so your social media marketing stays on track.
Lack of visual appeal
Bland visuals or dull graphics can harm your brand image. A creator can elevate your visual content and make it more appealing and professional. More importantly, content creators can help humanize your brand. Because nowadays, it isn't necessarily about using the best-looking designs but being authentic and real.
Stagnant follower growth
Maybe your follower count has plateaued. If so, a social media content creator can develop content that attracts new followers to expand your customer base. They can tap into audiences you might not otherwise reach. These professionals are masters at finding and bringing new followers into the mix.
Limited content variety
If your social media channels lack diversity in content types and formats, a content creator can introduce fresh, dynamic ideas. Variety is the spice of life; this is especially true regarding social media. Additional content types and variety in your feeds will keep your followers coming back for more.
Weak brand voice
Your brand's messaging might be unclear or inconsistent. A content creator can develop and maintain a distinctive brand voice that resonates with your audience and strengthens your brand identity. You must show up for your audience consistently. Creators are savvy in building brand awareness that translates to actual business results.
Low conversion rates
Maybe your social media management efforts aren't translating into leads or sales. If so, a content creator can create engaging content encouraging followers to act and convert. Driving real business value from social media is the most challenging part of content creation. With the right help, you can grow your sales using your digital presence.
How do you find the right social media content creator for your business?
Hopefully, by this point, we've shown you the value of having a social media content creator on your team. But how do you actually go about finding one and making sure they align with your marketing goals?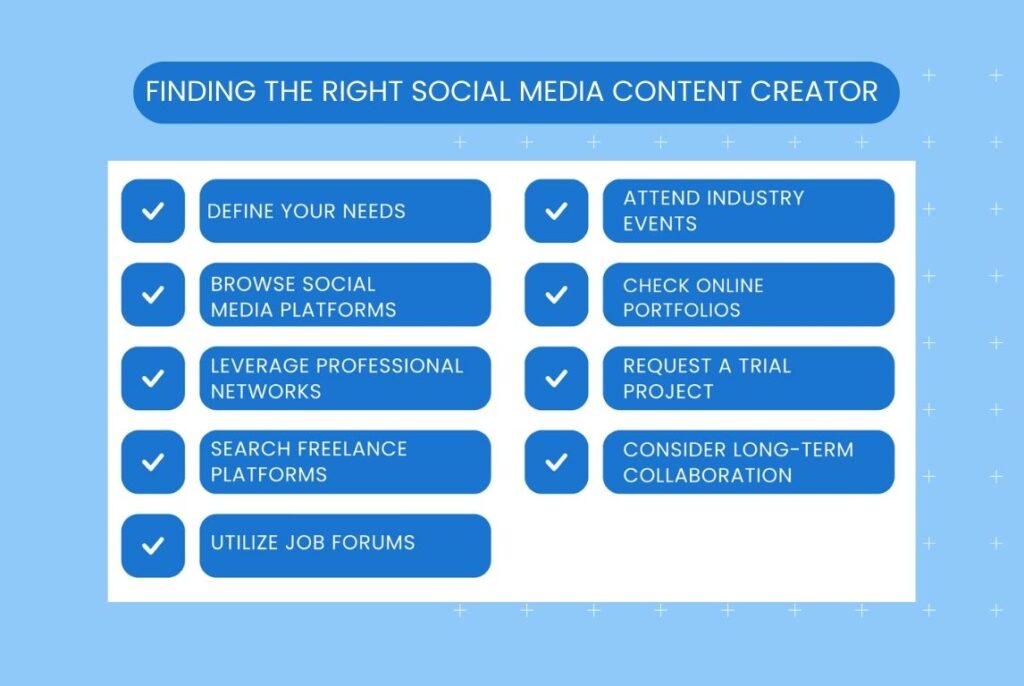 Define your needs
Identify the specific skills, platform expertise, and content types your business needs. Doing so will help you whittle down your search and find a content creator who aligns with your brand.
Browse social media platforms
Explore social media channels to identify content creators whose style and work resonate with your business. Take note of their engagement rates, creativity, and consistency. Top performers are generally easy to find because their content is highly engaging.
Leverage professional networks
Ask for recommendations from colleagues, industry peers, or friends with experience working with social media content creators. They can suggest creators who have a proven track record in your niche. This can shorten your search time significantly.
Search freelance platforms
Browse websites like Upwork, Fiverr, or Freelancer to find content creators with strong portfolios and relevant experience. These platforms make it easy to compare creators based on their ratings, reviews, and skill sets. You can also use these platforms to find budget-friendly creators, which is nice to know if you have limited resources.
Utilize job boards and forums
Post a detailed job listing on relevant job boards, social media groups, or industry-specific forums. Be sure to include your requirements, expectations, and information about your brand. Remember, content creators are quite in demand, so attracting the right talent using job boards and forums will mean getting creative with your postings. This will help you attract the cream of the crop and weed out those just in it for the money.
Attend industry events
Participate in conferences, workshops, or networking events related to your industry or social media marketing. These events are an excellent opportunity to meet content creators and build connections.
Check online portfolios
Review creators' online portfolios and websites to assess their previous work, creative style, and proficiency in various content formats.
Request a trial project
Ask shortlisted candidates to complete a small trial project or provide samples of their work relevant to your brand. This will help you evaluate their skills and determine whether they fit your business well.
Consider long-term collaboration
When selecting a social media content creator, consider the potential for a long-term partnership. A creator invested in your brand's success is more likely to produce consistently high-quality content and grow with your business. Long-term partnerships also save you from looking for another creator who must learn your brand voice and adapt their content style to reflect past efforts.
FAQs about a social media content creator
What does a social media content creator do?
Social media content creators craft and share content for social media audiences. They are experts at entertaining and educating social media users.
How do you become a social media content creator?
To become a social media content creator, you must first learn about the industry, understand your target audience, and develop your writing, copywriting, editing, graphic design, digital marketing, and more skills. 
You may also need basic web development and data analytics knowledge.

How much do you pay a social media content creator?
Creators with one to five years of experience earn about $25 to $50 per hour. Intermediate creators charge $50 to $100 per hour. Experienced and advanced creators charge up to $250 per hour.
Elevate your social network with Birdeye Social
With billions of active social media users worldwide, businesses must be on social networks. However, consistently creating high-quality content takes a lot of work. With Birdeye Social, you can access our simple-to-use, professional-grade templates that will surely attract your audience. Click on the banner below to access our free demo.

Originally published