Any respectable business has likely asked you to give them a like on Facebook. Facebook is still the most widely-used social media platform on earth, so any exposure your business can get there is ideal.
But having your business on Facebook is just one part of the equation – you also have to be popular. And popularity on Facebook comes in the form of likes.
If you're not getting enough likes on your business's Facebook Page, we're here to help. This blog will show you how to get more Facebook likes in 12 simple steps.
Why are Facebook likes important?
Facebook likes are the most valuable currency on the platform. Here are a few reasons why:
Provides social proof
In marketing, social proof is when people look for reviews, testimonials, and other peer evidence before making a purchase. The same applies to social media. Before liking your Page, your followers will likely check to see how many likes you already have. The more likes you have, the higher the chance they'll like your page, too.
When you have enough social proof, likes and followers tend to multiply quickly. It's not uncommon for people to see a Page with thousands of likes and decide to like it themselves simply based on its popularity. That's why Facebook likes are invaluable to growing your brand on the platform.
Benefits your business in Facebook's algorithm
Your audience will notice the number of likes your page has, and so will Facebook. More specifically, Facebook's algorithm will prioritize your business if you have more likes on your Page and posts than your competitors. If you have a lot of likes, you'll appear higher in feeds and be seen by more people.
Reaches more potential customers
When growing your brand on social media, your overall goal is likely to drive more revenue to your business. Having more likes on Facebook means more trust from your followers, and that trust can result in new customers. Your likes are a direct link to your revenue stream. When you have a higher number of likes, you'll see a higher number of new customers as a result.
[Free Guide] The ultimate social media marketing guide for businesses
Download Now
Facebook likes vs. Facebook followers
As you've grown your business's presence on Facebook, you've probably looked for ways to boost your brand even further. There are Facebook likes and there are Facebook followers. If you looked at the two, you'd probably think that Facebook followers are just as important as Facebook likes. However, that isn't the case.
Likes are actually much more impactful than follows. The reason is that when someone on Facebook likes your Page, they become a fan. They want to show support for your Page and see the content you create. It also means they automatically follow your Business Page, and it will show they like your Page in their own "About" section.
At any time, a fan of your Business Page can unfollow. If they do that, they won't get any future updates in their Feed about your Page. However, they might still appear in your "About" section, and their name or profile picture can also appear in ads about your Page.
On the other hand, you don't have to like a Page to be a follower. Followers will still get updates in their Feed about your Business Page, but it won't show that they support the page in their own "About" section.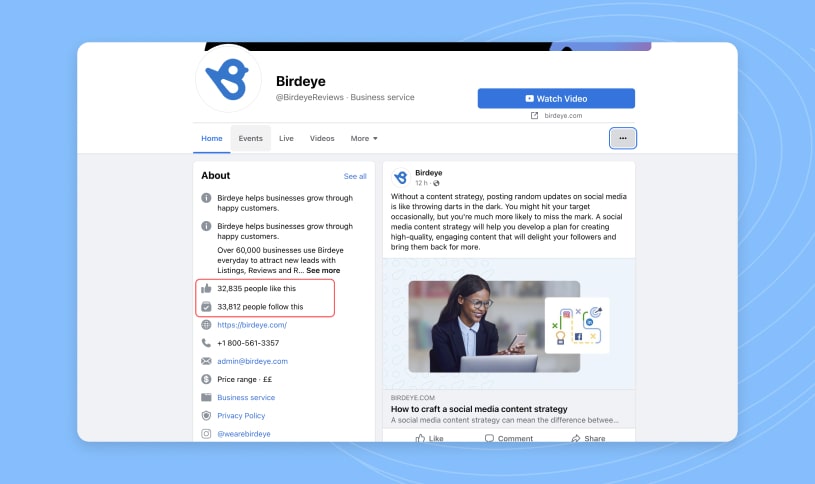 Can you buy Facebook likes?
If you search "where to buy Facebook likes," you'll find plenty of results pointing you to websites that claim to get you "100% real and cheap" likes that you can buy. But let's be clear, you should never buy Facebook likes. Here's why.
Facebook is very strict on fake likes. While many websites claiming to get you Facebook likes say they're absolutely real, that's often not the case. Facebook is on the lookout for Pages with inflated likes and takes them into consideration when promoting the Pages' ads and content. In other words, if Facebook thinks the amount of likes you have isn't genuine, your paid and organic reach will be negatively impacted.
Getting real likes is about showing your audience that Facebook users genuinely enjoy your Page. When you use purchased likes to bolster your Page, you risk ruining the trust you gain built with real likes. If your audience finds out that your likes aren't genuine, they might unfollow or unlike your Page and may even spread the word that you're faking your like count. That'll quickly ruin any credibility you had and damage your reputation severely.
Lastly, buying Facebook likes removes your ability to accurately gauge your progress on Facebook. When your likes on Facebook are purchased, you have no way of knowing if the content you're generating is actually working to grow your business. Stick to getting real likes from your audience, and you'll be able to improve your content to attract more followers.
How to get more likes on Facebook
Let's take a closer look at how you can get more likes on Facebook. There are two different likes you're looking to get: likes on your posts and likes on your Business Page. Both are connected and essential to success on Facebook. These 10 tips will help you get likes on your content and on your Page.
1. Build a social media content strategy
Before you try to drive as many likes to your Page as possible, you'll need to create a social media content strategy. Creating a social media content strategy for your business will help you to see how getting likes is aligned with your business goals.
To create your own plan, follow the steps we've laid out in our social media marketing strategy template. It will help you set attainable social media goals for your business, define your target audience, research your competitors, and more. When you have your strategy down, getting more Facebook likes will fit into the process seamlessly.
2. Optimize your "About" section
One of the simplest things you can do to get more likes on your Facebook Business Page is to fully optimize your "About" section and your URL. First, make sure you include as much relevant information in your "About" section as you can. You don't want to fill it with fluff, but the more context you can provide into who you are as a business, the more Facebook will prioritize your posts over businesses that don't have complete information.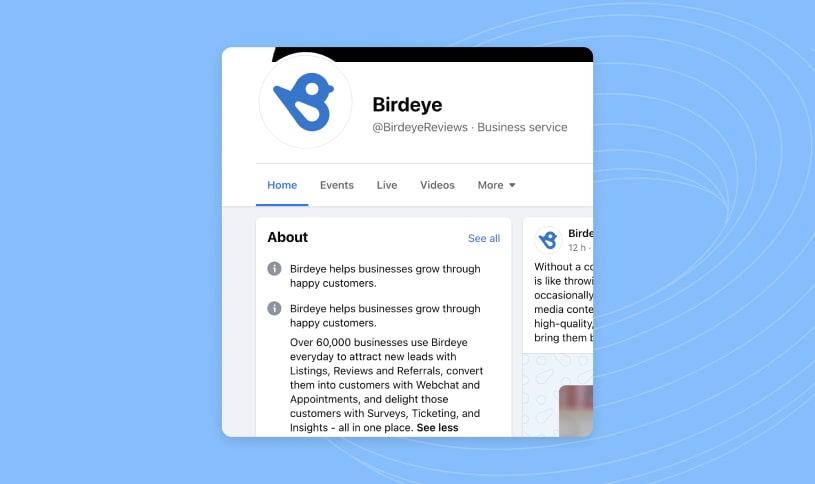 You should also optimize your "About" section with relevant keywords to boost your Page. Remember, Facebook is a social networking platform, but it's also a search engine. You want your Page to appear when followers search for particular queries related to your business.
For example, in the image above, you can see that Birdeye's "About" section has keywords like Listings, Reviews, and Referrals, and Surveys. By adding the right keywords for your business, you can meet your audience's search intent and appear higher up on Facebook's search results.
3. Know the latest Facebook trends
If you want to get more likes on Facebook, you have to be relevant. By keeping up with the latest trends, you can figure out what your audience is expecting to see on the platform and meet them where they're at.
For example, Facebook's parent company says Reels are the fastest-growing content format. So, if you're not focusing on this form of content, you need to be. You can bet your audience will think you're behind the curve if you're not creating the most popular form of content on the platform.
Recent research also shows that Albums have increasingly high engagement rates for businesses compared to other posts. Businesses frequently post Albums on Facebook after big events. Those who attended the event enjoy coming back to see pictures from the event and share their experience on their Facebook Page.
Keeping up with the latest Facebook trends can also show you what you need to avoid. For example, posts with a link included in the text can potentially cut engagement rates in half.
These are just a few examples of the latest Facebook trends, but there are always more just around the corner. By knowing what's trending on Facebook, you can take action and capitalize on it. Be as relevant as possible to your audience and you'll see your likes increase dramatically.
4. Use high-quality, engaging photos on your Facebook Business Page
When a new follower comes to your Facebook Business Page, the first thing to catch their attention will be your profile picture, cover photo, and any pictures included in your top posts. If they come to your Page and see blurry, outdated, unappealing, or irrelevant pictures, they're much more likely to leave as quickly as they came.
Your profile picture should be the logo of your business. Followers want to know they have the right Page when they come to visit. A high-resolution picture of your logo will let them know they're in the right place.
Your cover photo can be a number of things, but it should always be relevant and engaging. For example:
Include people
People tend to gravitate toward pictures with other people. An image of your staff or happy customers can make for a great cover photo
Show your products/services
If the products you sell are visually appealing, you can include them in your cover photo. For example, if you own a local flower shop, include your beautiful floral arrangements in your cover photo.
Bring in the professionals
If you have a graphic design team, use a high-quality design with some engaging text as your cover photo.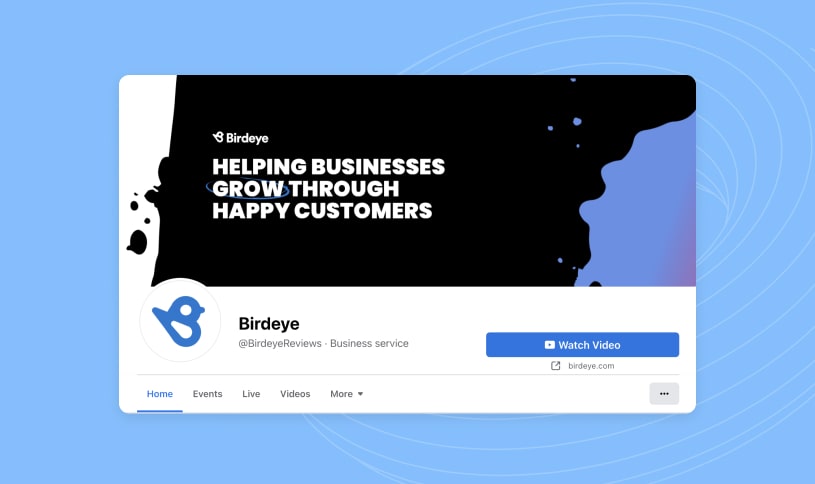 The idea is to add images that will catch the attention of your audience and make them feel a connection to your Business Page. Also, don't forget to check Facebook's profile picture and cover photo dimensions to make sure your images look as professional as possible.
5. Post content your audience wants to see
Without knowing what your audience wants to see, you could be wasting time and resources creating content they won't engage with. You need to research and know your target audience to find out what they like and what will be engaging before you go to the trouble to create and post your content.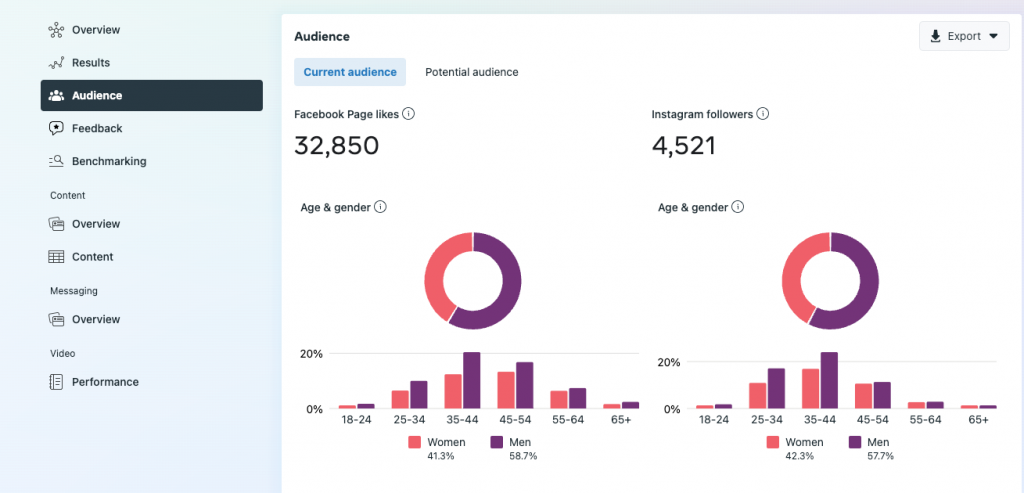 Start by using tools like Facebook Audience Insights to learn about your target demographics and what kind of content they're engaging with. Then, you can take a look at previous content you've posted to see what drove more likes to your Page and mirror what works in the new content you create. You can also use tools like Meta Business Suite (formerly known as Facebook Business Manager) to create tailored ad campaigns for your target audience once you've done the necessary research.
The more content you create aligned with your target audience's interests, the more inclined they'll be to like your content and your Page. Do the work now, and you'll be rewarded in the long run.
6. Post when your audience is active
You can create awesome content, but if you post when nobody is online, you're not going to see the results you want. The best thing you can do to increase your chances of reaching more of your audience and gaining likes is to post when traffic is the highest on the platform.
At the time that this article is posted, the best time to post on Facebook is weekdays from late morning to early afternoon as it tends to result in the most engagement. But keep in mind your industry, audience demographics, and other factors can all play a role in the best time to post for your business. As you do research into your target audience, you can find the best times to post content that will drive more likes to your Page.
7. Post on Facebook consistently
Regardless of when you post on Facebook, you need to be consistent. Interests will die off when there are gaps between your content. Keep your followers engaged by posting regularly.
You should consider posting at least once a day to keep engagement up on your Page. There are several benefits that come from a consistent posting schedule.
Shows your followers and Facebook that your Business Page is active. You'll be more relevant to your followers who know you'll be posting every day and show up higher in Facebook's search results because of it.
Your Page is here to stay. Doubts can form in the minds of your followers when your Page goes quiet. When you're posting consistently, your audience will know that you're around for the long haul.
You're actively building a community. When you're posting regularly and engaging with your audience, you're showing the desire to build a solid community around your Business Page. That relationship will be crucial to driving more likes to your Page as your audience feels a connection to your brand.
8. Use cross-promotion across multiple platforms
If you know how to create Facebook Business Page, you probably have other social pages for your business, too. With the average social media follower using nearly seven different various social media platforms, it should be no surprise that promoting your Facebook Page on other social media platforms can quickly and easily drive traffic and likes to your business.
For example, if you have a Facebook live event that you want to drive more traffic to, there's no reason not to promote that event on your Business's Instagram or LinkedIn account. You can create a quick post encouraging your followers to click a link that will direct them to your Facebook Post and ask them to give the thumbs up and like it.
Don't also forget to use your website as a means of cross-promotion. Include a link to your Facebook Business Page so that you can direct your website visitors and ask them to like and follow. A quick, polite request for a like is usually effective.
9. Pin your Facebook posts that are popular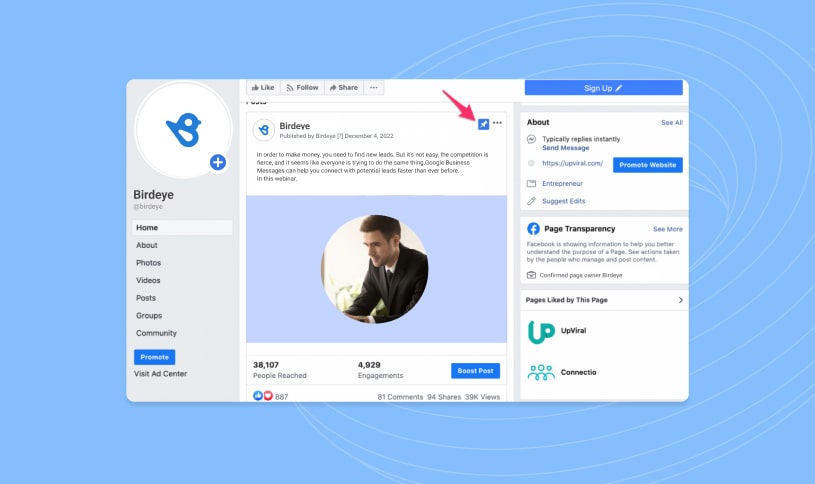 If one of your posts is getting more likes than others, there's no reason to let it fade away. You can pin a post to the top of your Business Page to give it higher visibility and some time to garner more likes. After all, there's a reason the original post got so many likes in the first place. So, give it time to get as many likes as possible.
To decide what post to pin to the top of your Business Page, take a look at the performance of your content using tools like Meta Business Suite and find the posts that got the most likes. Then, you can pin your post by following these steps:
Go to your Facebook Page
Find the post that you'd like to pin to the top of your feed
Click the three-dot menu at the top right of the post
Select "Pin to Top of Page"
Your Post will then be pinned to the top of your newsfeed
10. Use paid advertising to your advantage
While the majority of these tips can help with your organic reach, adding paid ads to your toolkit can be very beneficial to driving more likes. After all, organic social media reach is down. In fact, your organic content on Facebook only has a reach rate of about 8.6%. So, given the circumstances, paid ads can only help you get more likes.
You can use Facebook Ad Targeting to reach exactly who you need to reach based on location, interests, demographics, etc. Follow the same rules when you create your organic content, and you'll successfully reach more followers who will be willing to leave you a like.
11. Work with influencers on Facebook
Influencers have significantly changed the way followers engage with social media. This goes to show that working with influencers can have a major impact on the number of likes you can drive to your Facebook Page. In fact, 93% of marketers have decided to use influencer marketing in 2022.
Find influencers that are relevant to your industry and popular with your target audience and pitch a collaboration. If they're willing to take up the offer, you can create highly engaging content that will resonate with your followers. The influencer can ask their own followers to like your Page — resulting in an influx of likes that you didn't have before.
12. Create a Facebook group
We've already mentioned the importance of building a community around your business on Facebook. Creating a Facebook group just takes it one step further. When you create a Facebook group, you'll be interacting with more engaged members of your audience from the start. That means they'll be more likely to like your Page because they're already interested in your business.
But just having a Facebook group isn't going to cut it. Offer something of value to your group members like exclusive content (e.g., 1st party data, special offers), and relevant information, and get valuable feedback from your followers. Once you've built a strong Facebook group, word will spread, and more followers will want to join.
Frequently asked questions about Facebook likes
Is it legal to buy Facebook likes?
No, it is illegal to buy Facebook likes. Doing so can get you penalized by Facebook.
How can I boost my posts for likes?
Decide which post you want to boost and click the "Boost" option. Then, choose an account that Meta will charge for the boost. Then, enter the rest of your boost options, and save.
What type of Facebook posts get the most likes? 
Facebook posts that often get the most likes are pictures, videos, fill-in-the-blanks, questions, and contests.
Do you get more likes if you post more?
Posting consistently is one of the best ways to get more likes on Facebook. The more you post, the more opportunities your audience has to leave a like.
How do you get more likes on a Facebook photo?
Post high-quality photos relevant to your target audience and, at times, with the highest traffic to get more likes on your Facebook photos.
How do you get more likes on a Facebook Business Page?
1. Build a social media content strategy
2. Optimize your "About" section
3. Know the latest trends
4. Use high-quality photos
5. Post content your audience wants to see
6. Post when your audience is active
7. Post consistently
8. Utilize cross-promotion
9. Pin popular posts
10. Use paid ads to your advantage
11. Work with influencers
12. Create a Facebook Group
Boost your social reputation with Birdeye
Getting likes and growing your audience is crucial to building your brand on Facebook, but you need to focus on maintaining a spotless social reputation as well. With Birdeye Social's monitoring and engagement tools, you get real-time alerts across all your channels and a centralized inbox to quickly and conveniently solve problems and answer questions before issues arise. For more information, watch a free demo.
If you are just starting or need a fresher in social media marketing, click on the banner below to download our free social media toolkit. This free toolkit has easy-to-use templates to kick off your social media marketing strategy today.

Originally published