Like it or not, your customers hate clever ads and even subtle marketing. Think about it – would you rather trust a brand's commercial or a recommendation from your friends/family? Of course, the latter. People trust other people more than they ever could trust any brand. So any content posted by them is of great value – This is user-generated content.
Numbers corroborate this behavior – 70% of consumers place peer recommendations above professionally written copy. What's more, two-thirds of consumers say they trust the opinions of other customers posted online.
So, there's no doubt that the content posted by your audience about your brand holds far more value than any advertising or marketing material you produce. But before we dive in, let's look at the meaning of user-generated content in more detail.
What is user-generated content?
In essence, user-generated content (UGC) is any type of content – blog posts, images, videos, GIFs, and so on – created and posted online by users who aren't paid to voice their opinion. It could be an Instagram Story of someone using your product, a tweet mentioning your brand, or a product review on YouTube.
Ways user-generated content can boost your business
As you can guess, there are many benefits to earning positive online mentions from your customers. Apart from the fact that it is one of the best forms of free marketing, user-generated content is a big boon for your business as it:
1. Adds to your social proof
Social proof is something you can never get enough of. Having more and more social proof in the form of product reviews and social media shout-outs from happy customers is priceless to the growth of your business.

In fact, such user-generated content is even more powerful than influencer-created content. A survey by Stackla suggests that consumers find user-generated content 9.8 times more impactful than influencer content when making purchasing decisions.
2. Boosts brand engagement
User-generated content helps showcase the "human" side of your business. It is the most trusted variety of content that increases your brand's authenticity in the minds of customers.

Again, we have numbers to back this up – social media campaigns that involve UGC see a big lift in engagement. Particularly on Facebook, user-generated content featuring a brand drove 6.9x higher engagement than brand-generated content, according to a benchmark report by Mavrck.
3. Saves time on content creation
When your users' are promoting your brand for free, it saves you some time and effort which you can utilize elsewhere. All you have to do is repost and repurpose their content to make the most of it.

For example, check out Uber's Instagram post: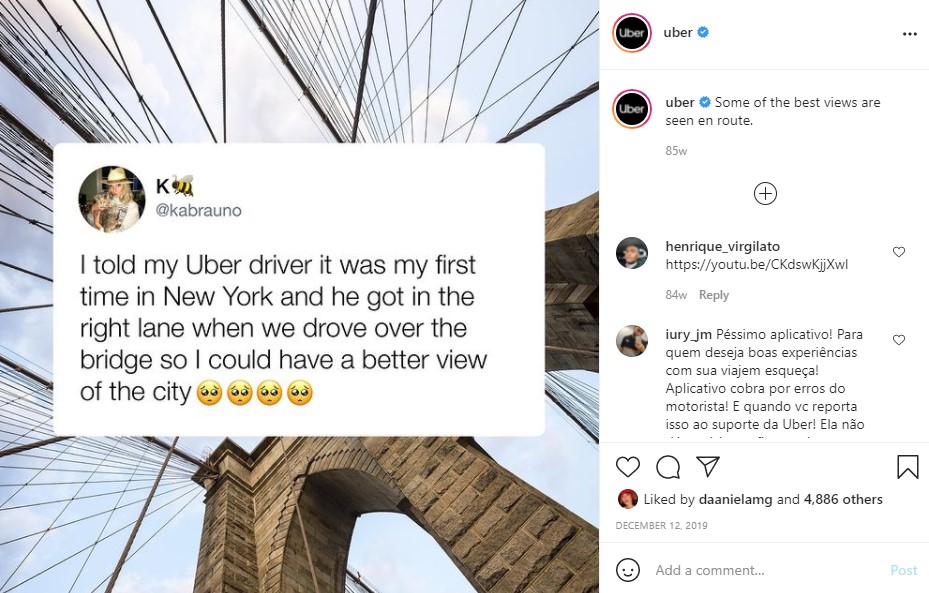 While getting users' consent first would be a sensible thing to do, most people would appreciate the attention given when brands highlight their content.
How to get more user-generated content for your business
In addition to the seven types of content that can help you get customers, user-generated content adds credibility to your business. Marketing tips for small businesses such as blogging or starting a customer referral program might be harder to practice. UGC can be acquired relatively easily and is held in high esteem by search engines. Now that you know just how important UGC is, it's time to learn some actionable tactics to get more UGC for your business.
Ask for reviews and testimonials
First and foremost, don't shy away from asking for a review from your existing customers. Encourage customers to drop a short and honest review after their purchase.

As most people are way too busy to take the time to write a couple of lines about your business, don't hesitate to send a follow-up request after a week or two. You can even incentivize reviews by offering discount codes in exchange for them. This will build that all-important customer retention and loyalty.

Reviews on sites like Trustpilot, and your Google Business Profile listing can go a long way in improving your brand's credibility and future sales. Showcase glowing reviews and testimonials on your website's home page and social channels.

Also, don't be discouraged by negative reviews – they make your brand more authentic. Use them as an opportunity to improve your offerings and show that you care about your customers' opinions.
Start a dialogue on social media
This is a simple yet highly effective way to get people talking. Post an open-ended question or a riddle on your Instagram or Twitter handle and let your followers comment their hearts out.

For instance, here's how Zomato pulls it off neatly: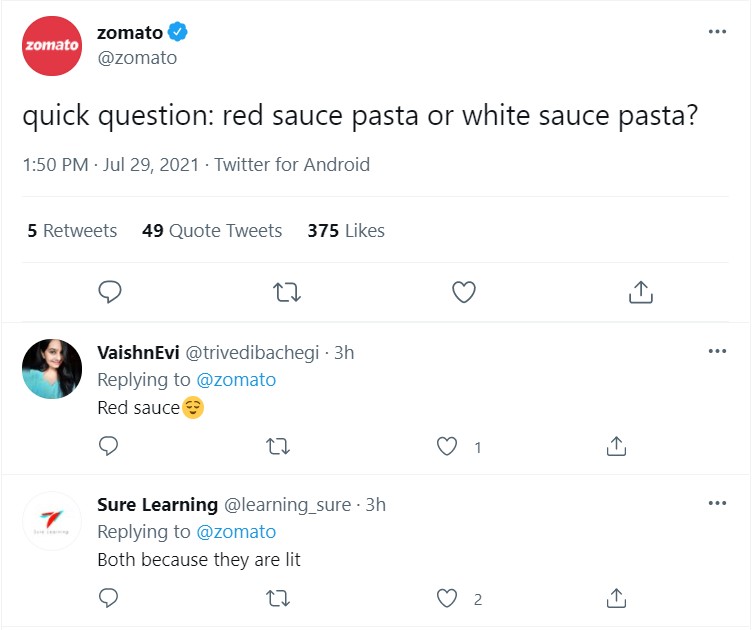 All it takes is a well-framed, highly relatable question. Just make sure not to post something that could be construed as offensive or too controversial in nature.

Create your own branded hashtag and use that in your posts to gain more traction on social media, especially Instagram. Talking about branded hashtags…
Run hashtag contests
By coupling hashtags with contests, you can inspire even more UGC. Contests provide an incentive for users to mention your brand (and thus, to some extent, endorse it) in their social channels. Hashtags can get your contest to trend (go viral), which will increase engagement, build brand awareness, and ultimately, boost sales.

Marc Jacobs, a case in point, announced that they would cast a model for their next campaign through user-generated content with the hashtag #CastMeMarc. In just 24 hours, the contest generated 15,000 hashtag entries. That's a lot of engagement in a short span of time.
Final thoughts
Get this – 85% of consumers find visual UGC more convincing than branded photos or videos. Rest assured, your customers/users wield more influence over your potential customers/users buying decisions than you could ever imagine.

In a world where audiences are increasingly dubious of traditional advertising, user-generated content is a tried-and-true way (which also doesn't require you to spend any extra cash) to establish and grow your brand's reputation online, which will consequently help boost your conversions.

Author Bio
Lucy Manole is a creative content writer and strategist at Right Mix Marketing, an SEO-focused link-building agency. She specializes in writing about digital marketing, technology, entrepreneurship, and education. When she is not writing or editing, she spends time reading books, cooking and traveling. You can connect with her on Twitter at @RightMixMktg

The above post is a guest post from Right Mix Marketing. Feature image created by rawpixel.com – www.freepik.com
Social Links: Facebook, LinkedIn
Originally published