As a business in the automotive industry, reviews are essential for your online reputation. While you may already be getting reviews on major sites like Google, you could severely lack reviews on industry-related sites like DealerRater. Our recent study of online reviews in 2021 found that DealerRater was the next most significant review site in the automotive industry, making up most of the reviews collected on niche sites in the industry.
This article will look directly at DealerRater as a primary review site that you absolutely must attempt to get more reviews on to stay ahead. We will examine the site's best features and how you can use them to your advantage in 2022.
What is DealerRater?
So, what is DealerRater, and what do you need to know before getting more reviews on their site? DealerRater is a review site that specializes in car dealerships. As one of the most popular review sites in the industry, they boast a 34 million-per-month consumer exposure with about 7 million consumer reviews from 2002 to 2022. Needless to say, the amount of exposure and reviews they get as a dealership rater makes them a valuable resource for your automotive business.
As we've mentioned before, Google tends to get the vast majority of reviews, but DealerRater still accounts for a significant portion of reviews in the automotive industry. In our 2022 state of online reviews, we found that DealerRater made up 3% of all online reviews in the automotive industry – this is not an insignificant number.
That makes up for roughly 10% of all online reviews in the automotive industry from niche sites like Carwise, Cars.com, Edmunds, etc. This is why reviews from DealerRater are incredibly important if you are a business in the automotive industry.
How does DealerRater work?
DealerRater is one of the most reputable review sites in the automotive industry because of the way it operates. All DealerRater reviews are checked twice for authenticity, once by their automated system, and then one more time by a real person.
To use DealerRater reviews you simply have to claim your dealership on their site and enter your information for approval. Once you've created a profile on DealerRater, you can choose a package to help you get more reviews and manage the reviews you get through a number of exclusive features.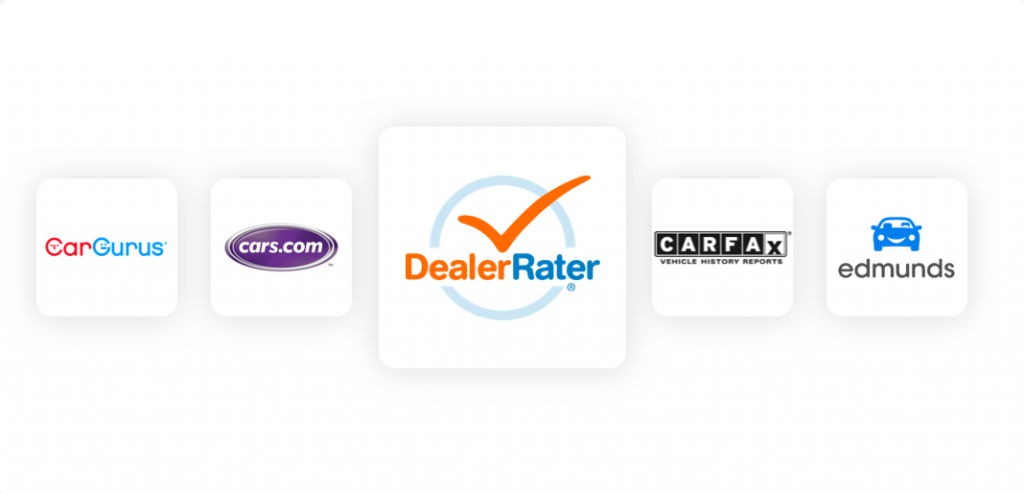 What sets DealerRater apart from other sites?
There are several car review sites where car buyers go when they are looking for reliable dealerships or specific make and model like CarGurus, Cars.com, and others. DealerRater clearly stands out as a site that really gives car buyers what they're looking for – authentic customer reviews that help them make an informed decision. Getting reviews on an authoritative car dealer rater site can help you even more than advertising on other websites.
A significant benefit of DealerRater is in their dealer-certified memberships. While you don't have to pay to get reviews on DealerRater, a certified dealership is a badge of honor for customer satisfaction that other dealerships may not have. It also provides more functionality in managing your online reputation with review requests, customer response capability, highlighting top employees, and more.
DealerRater membership also gives you an opportunity to win the 'Dealer of the year' award helping you stand out amongst the competition.
If you're interested in the consumer angle, check out our article on why car review sites matter for car buyers.
How to get started with DealerRater
To get started with DealerRater, you only have to follow a few easy steps:
On their homepage, click the link near the bottom of the page that says "Claim Your Dealership Now"
Enter the name of your dealership in the pop-up window and click the auto-fill option when you see your dealership displayed
Enter all of your most up-to-date contact information including your first and last name, job title, and email address.
Click "Claim This Dealership" to submit a request
Once sent, you should receive a notification that your request has been processed in about two business days and you will have claimed your dealership on DealerRater!
How to get more reviews on DealerRater
Depending on the package you choose, DealerRater has plenty of options to help you get more reviews. Here are some of the best ways to get more reviews through DealerRater:
Create a detailed profile
DealerRater offers opportunities for you to give details about your business that your customers won't get from Google. For example, you can give out information about your top employees, their dealership experience, specialties and training, what languages you offer, and more. So, the more detail you can include in your profile, the more likely you are to connect with your customers and get them to leave a great review.
Take advantage of DealerRater's paid features
Depending on the package you choose, you may be able to use a number of different features that DealerRater offers to help you get more reviews. For example, if you have a DealerRater connections account, you'll be able to request reviews using a feature called LotShot. If you have a Connections Plus account, you can automate those review requests to make review acquisition even easier.
Respond to the reviews you get
No matter where they leave their reviews, customers want to know that you care about them and their feedback. DealerRater allows you two weeks to respond to reviews using their Resolution Advantage feature. You can even choose a public or a private response. Responding to reviews signals to other customers that you care enough to reply and will encourage them to leave their own reviews.
Ask your current customers to leave reviews on DealerRater
Even though your customers might readily leave you a glowing review, they may just resort to the standby – Google. If you want to directly capitalize on the benefits of your DealerRater profile, it might be in your best interest to ask some of your customers to leave their reviews directly on DealerRater. You can make this even easier by dropping a link to your DealerRater profile on your site with a CTA to click and leave a review or ask customers directly through a review request email or SMS that points to your DealerRater profile.
Want more insight into the automotive industry? We've got you covered.
DealerRater is an incredibly valuable site for your business in the automotive industry, but there is a lot of other information that you need to know about the latest online review trends in your industry. Birdeye specializes in reviews helping businesses get, monitor, and manage customer reviews on DealerRater and 250+ other sites.
Our 2022 state of online reviews found that the automotive industry was one of the most review-impacted industries in 2021. If you want to see the full details of our deep dive into online reviews over the last year, click the banner below to download the comprehensive report for free.

Originally published