Beyond making the sale, car dealerships need to pay close attention to their reviews and ratings. When car shopping, potential customers are more likely to consult online reviews before making any purchasing decision. This is especially true when it comes to high-end car purchases. Car dealer reviews and ratings provide customers with important information about the buying experience before they even step foot on the lot. And if the dealership doesn't have good reviews, they're going to lose business.
In this article, we'll uncover why car dealership ratings and reviews are so important and tell you where people look for car dealers' reviews. Plus, we'll show you some review examples.
Why car dealer reviews are important
A study by Digital Air Strike found that nearly 70% of recent car buyers said review sites influenced where they shopped. Many buyers were also willing to drive long distances to purchase vehicles from dealers with positive reviews.
Where people look for car dealer ratings and reviews
When shopping for a new car, most people want to make sure they're getting a good deal from a dealership they can trust. There are a number of websites that aggregate car dealership ratings and reviews, making it easy for customers to compare. Most sites let users filter by location to narrow down their search to dealerships in their area.
Google reviews for car dealerships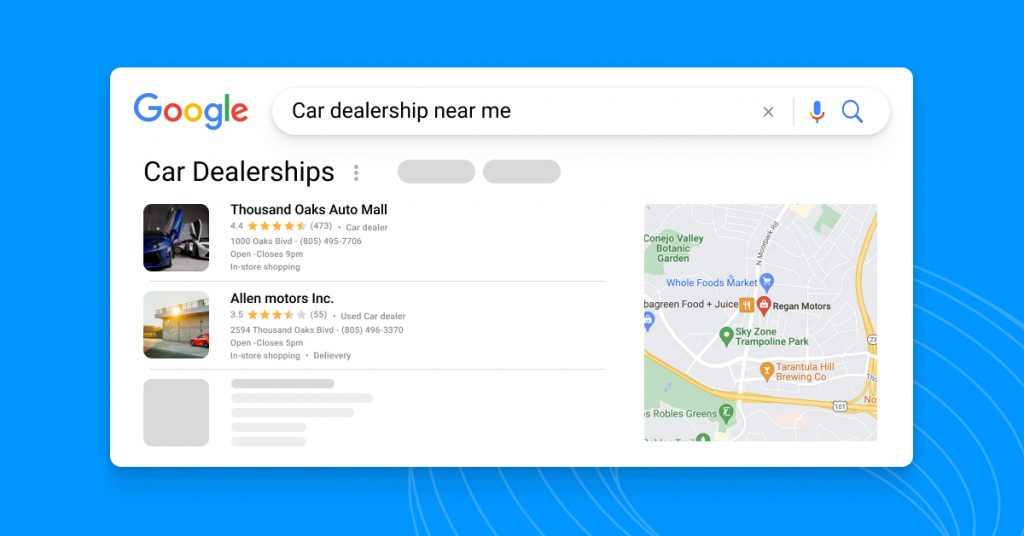 Google reviews are crucial for getting discovered in search results and building trust with potential customers. According to our 2022 State of Online Reviews Report, 71% of all online reviews were written on Google, making the search engine the most popular review site on the internet.
People interested in purchasing a new or used car can quickly do a Google search to find nearby car dealerships and read recent reviews.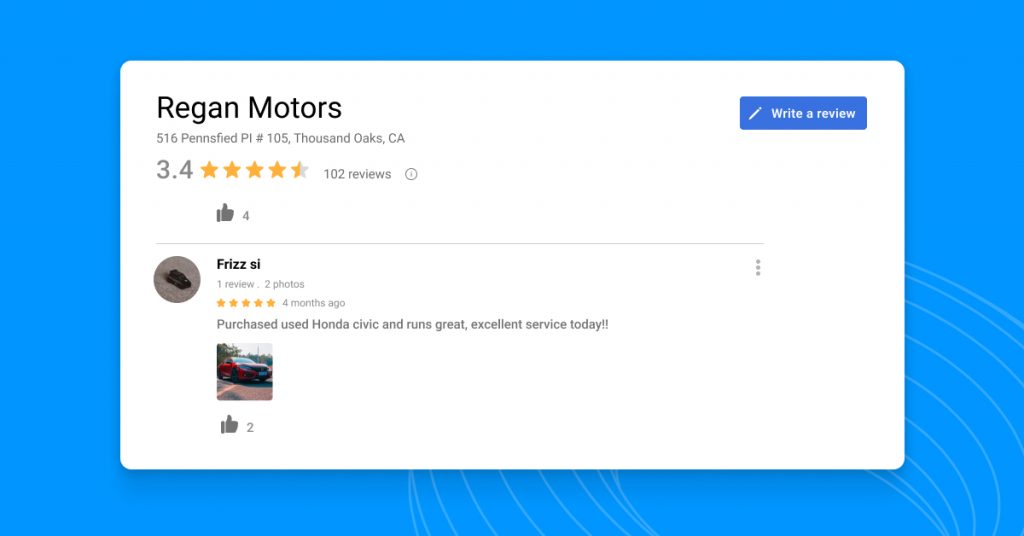 5 automotive sites for car dealer reviews
Google might be the internet's go-to review site, but there are still plenty of car-centric sites shoppers rely on when buying a car.
According to the Auto Shopping in America study, 86% of car shoppers do some online research before even visiting the dealership. That means these five industry-specific review sites have the power to influence where car buyers make their purchases. Let's take a closer look.
1. Edmunds
Edmunds.com Inc. is an online resource for information and advice on all aspects of car purchases and ownership. The website includes prices for new and used vehicles, dealer and inventory listings, a database of national and regional incentives, rebates, vehicle test drive reviews, and tips.

Edmunds also provides dealer reviews and ratings on new and used car dealerships. Visitors can share their car buying experience by writing a sales review. Car shoppers can find a dealership's contact information and check local inventory through Edmunds' car dealership directory.
2. Cars.com
Cars.com is a digital marketplace that connects car shoppers with sellers. The company provides shoppers with the data, resources, and digital tools they need to make informed buying decisions and get in touch with automotive retailers.
In 2011, Cars.com launched reviews to generate customer feedback and better serve car shoppers. On the site's "Find a Dealer" page, shoppers can sort by location and by highest reviews. They can also write their own reviews.
Through their acquisition of Dealer Inspire in 2018, Cars.com now has the technology to provide dealerships with a connected digital experience for a faster and easier car buying process. In 2016, Cars.com also acquired DealerRater and its review database.
3. DealerRater
DealerRater.com is a review site focused on car dealerships. It's one of the most popular car review sites in the industry. The site gets 34 million monthly visits and has racked up roughly 7 million consumer reviews in the past two decades. This amount of monthly visitors and reviews makes DealerRater.com a valuable resource for your dealership.
As we mentioned earlier, Google gets more reviews than any other site on the Internet – but DealerRater.com still accounts for a significant portion of reviews in the automotive industry. According to our 2022 State of Online Reviews Report, DealerRater was the top review site for the automotive industry. For more in-depth information about the DealerRater, check out our article about why DealerRater reviews are crucial to your automotive business.
4. CarGurus
Cargurus.com is an online automotive marketplace that connects buyers and sellers with new and used cars. The company uses its own search algorithms and analytics to help people find great deals from top-rated dealers. CarGurus also offers dealers a variety of premium listing and online advertising options.
5. CARFAX
CARFAX has the largest vehicle history database on record, with more than 28 billion vehicle history records from thousands of data sources. On average, CARFAX adds millions of records to its vehicle history database daily.
CARFAX partners with thousands of dealerships to help them buy and sell used cars. Car dealers can integrate CARFAX across their entire dealership: acquisition, advertising, retail, and service.
5 car dealer review examples
Once customers find a dealership with good ratings, they'll start reading reviews to find out what other customers have said about their experiences. Reading reviews can help set their expectations for pricing and customer service.
Let's dive a bit deeper into some examples of auto buying reviews.
1. Inventory
Having a particular make and model in stock and on-site can win you the sale. Some people travel from out of state for the right car.
2. Negotiations
How your dealership negotiates with car shoppers will also come through in your reviews. Was the process streamlined and easy, or did the customer feel pressured?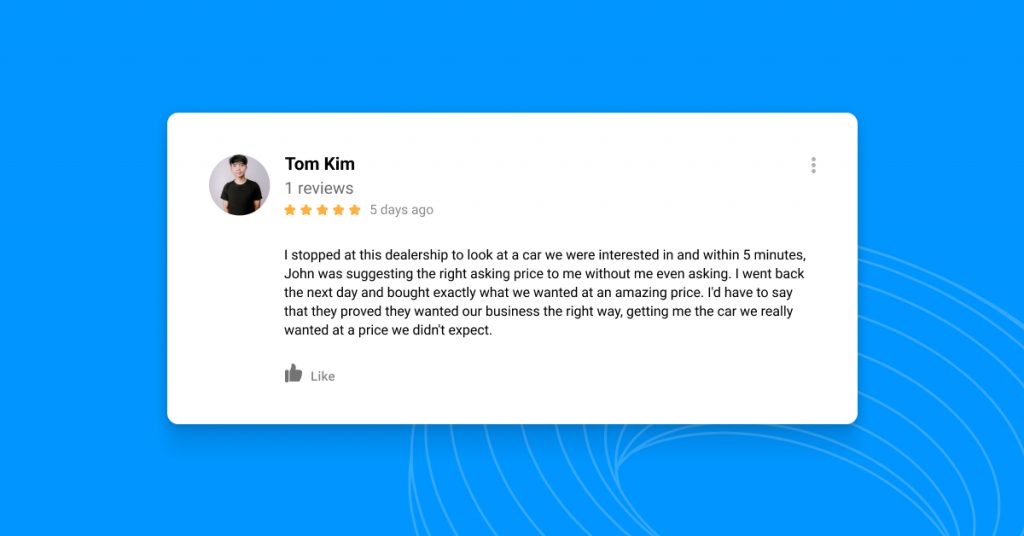 3. Time on site
Once people have done their research online and settled on a car, they don't want to spend hours at the dealership.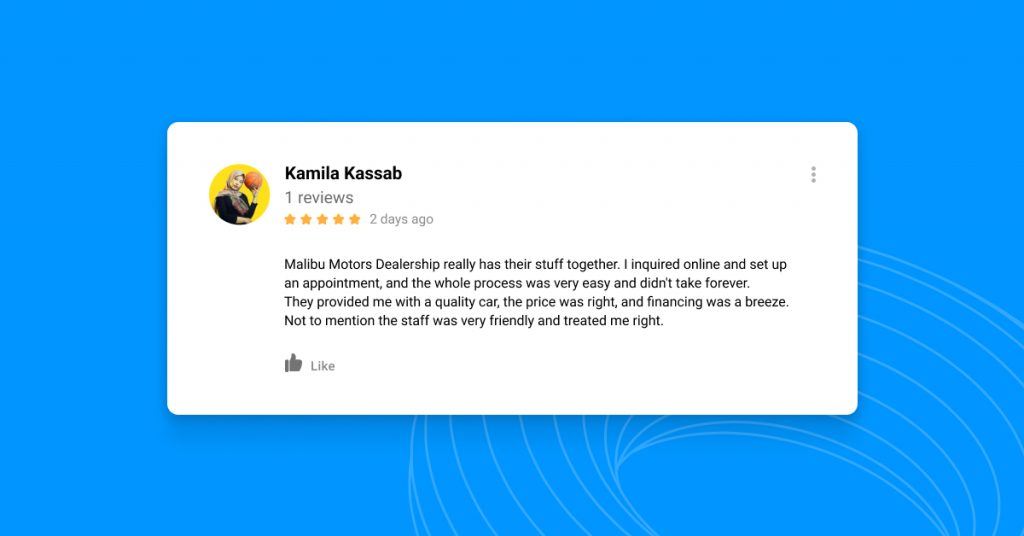 4. Customer service
If your dealership consistently exceeds customers' expectations, that will definitely shine through in your customer reviews.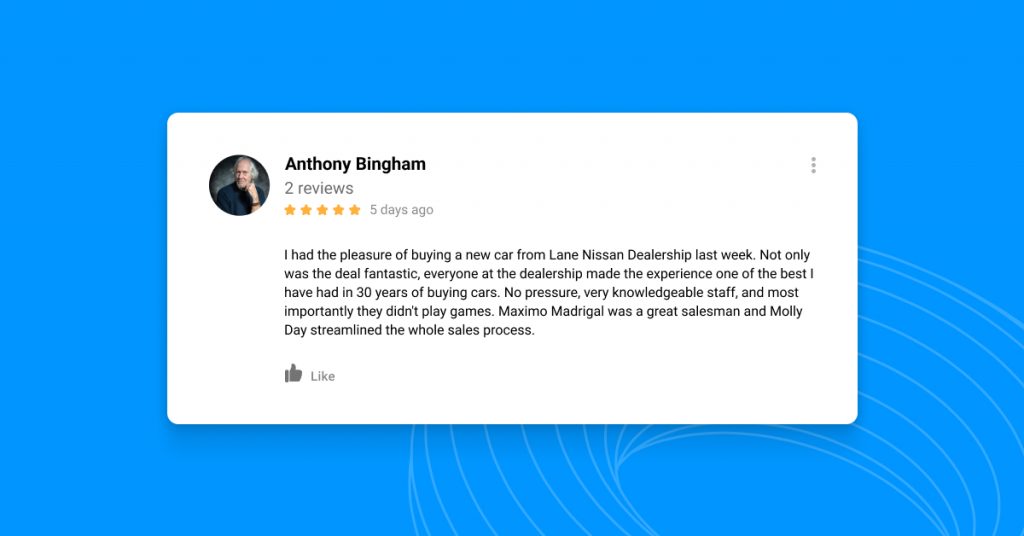 5. Recommendations
Reviews and recommendations help car shoppers make more informed purchase decisions before they agree to make the commitment.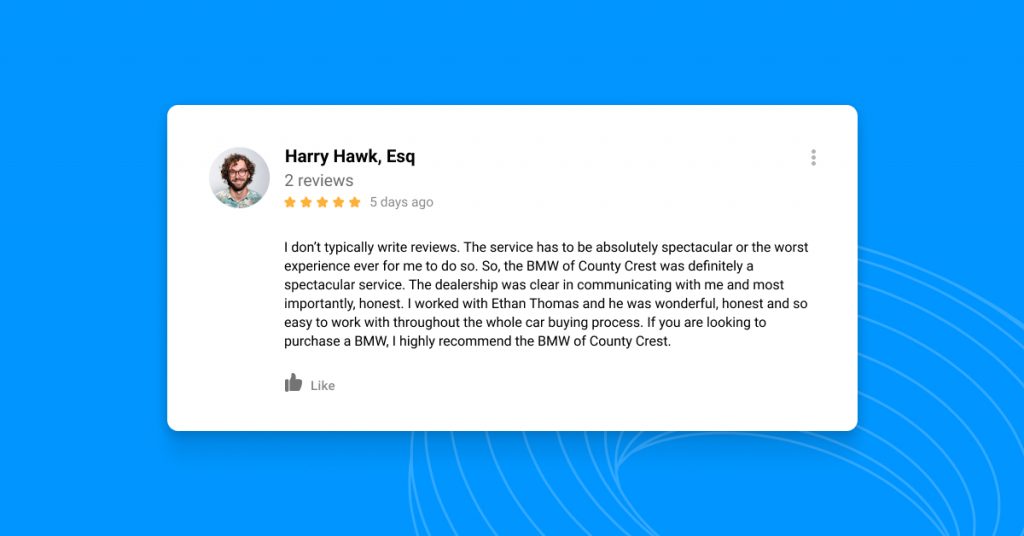 Why car dealerships should respond to reviews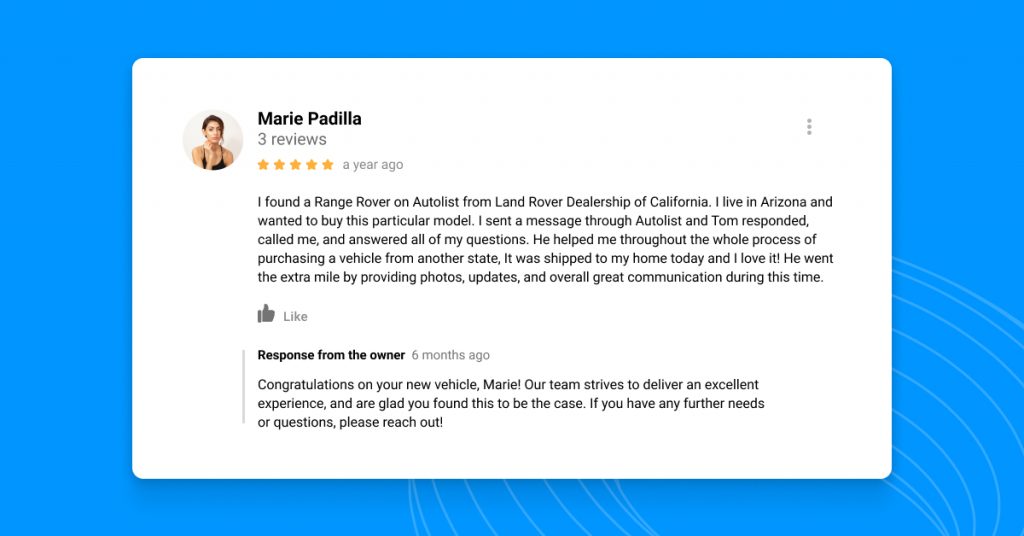 By now, you know reviews are extremely important to your car dealership–and responding to your customers' reviews is equally important. Responding to reviews is a great way to engage with your customers. Heartfelt replies can even help you turn your unhappy customers into advocates. It shows that your business is willing to listen to each individual customer.
A Harvard Business Review study found that when businesses respond to all their customer reviews, they typically see more reviews and a higher overall star rating. Plus, responding to reviews also helps you rank higher on search engines.
Google has confirmed that when you regularly respond to your reviews, it provides a Search Engine Optimization (SEO) lift. After all, Google values the same factors that your customers do. The more reviews you respond to, the more it shows that you care about engaging with each and every one of your customers. Therefor having an online review management strategy in place allows you to efficiently track and manage your reviews from various platforms and significantly enhance you visibility in Google search results.
Be the top dealership in your area
More reviews mean more cars sold. With Birdeye, your dealership can automatically send review requests via email and text the minute your customers drive off the lot. Using one singular dashboard, you can easily monitor and respond to reviews from 200+ review sites. Plus, Birdeye integrates with Reynolds & Reynolds, CDK, DealerSocket, and several other dealership management systems.

Originally published