If you're running a dealership or an auto body shop, keeping track of the car review sites customers are looking at is important.
Today, you can access many car review sites that provide valuable insights and opinions from experts and consumers.
We've put together this cheat sheet of review sites you need to pay attention to.
Reviews matter
Business is booming for dealerships all across the United States. In fact, sales hit just over 15 million vehicles in 2021, up 3.4% from 2020. That means there's a high demand for vehicles and many existing cars on the road. That means potential business for dealerships and repair shops.
So how can you get in front of customers?
It's simple: Take care of your automotive business's online reputation management. 92% of customers consult online reviews before making a purchase decision. More customers are using online reviews to decide what dealerships and repair shops to visit. With online review management you can take care of your automotive business's online reputation to get in front of customers effectively.
Reviews also help you rank higher than your competitors. Google trusts reviews as an accurate gauge of the quality of your services. The better your reviews, the higher you'll rank on search.
Of course, there are hundreds of review sites on the Internet. It can be difficult to know which sites to focus on. So let's talk about the 10 sites your automotive business should consider being on.
General review sites
Here are some review sites that contain profiles from businesses across all industries.
1. Google
It's the review site that customers care about the most. It's the most visible and the most reviewed: Google. The easiest thing you can do to start getting more Google reviews is to claim your Google Business Profile page. This will help your business be more visible to potential customers.
2. Facebook
As of 2023, there are 3.5 billion active Facebook users. That's about one-third of the world's population. Create a Facebook business page to create custom posts for your followers.
3. Birdeye
We know it's not considered polite to brag about yourself, but Birdeye's custom profiles can help your business get discovered by more customers. These profiles aggregate reviews from all over the Internet and often rank high on Google searches.
Here's a link to find and claim your free Birdeye profile.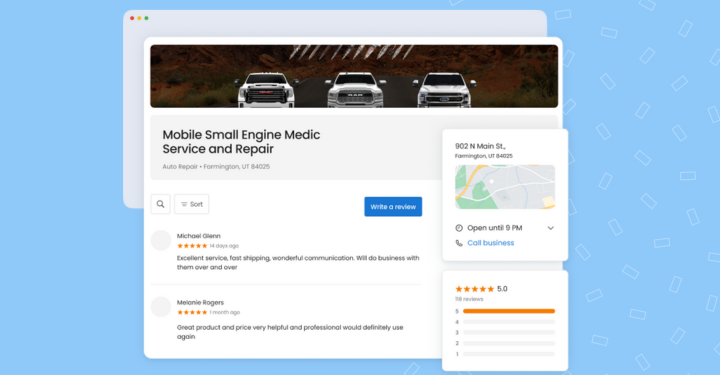 Automotive-specific review sites
Here are some review sites that only have reviews for automotive businesses. While these sites might not have as many users as Google or Facebook, these car review sites often have customers who are further along the buyer's journey. Somebody on a car review site is probably choosing between a few different options.
4. Edmunds
Edmunds contains vehicle listings all over the United States. The site helps customers buy cars, sell cars, read tips for purchase, and appraise their own vehicles.
5. Cars.com
Cars.com is one of the biggest automotive listing sites on the Internet. The site helps customers buy cars, sell cars, and find auto body shops.
6. DealerRater
DealerRater is another industry-specific site that was created specifically for dealerships (as you could probably guess). 12 million people use the site to find the right dealership for them. Make sure that you're there to convert.

7. CarGurus
CarGurus helps car buyers to find better deals through data analytics. The site tells customers when they're getting a fair price or paying too much. One of the factors that the site takes into account is Dealer's Reputation, making it important for you to collect more customer reviews.
8. Carwise
Carwise helps customers get car repair estimates, find auto repair shops and schedule appointments.
9. RepairPal
RepairPal helps connect customers with trusted auto repair shops that give customers fair prices. The site also contains a Fair Price estimator to help ensure that customers don't overpay for repairs.
10. SureCritic
SureCritic is a site that promises to represent real customer experiences. While the site hosts reviews for all types of businesses, users mainly use it to review auto repair shops.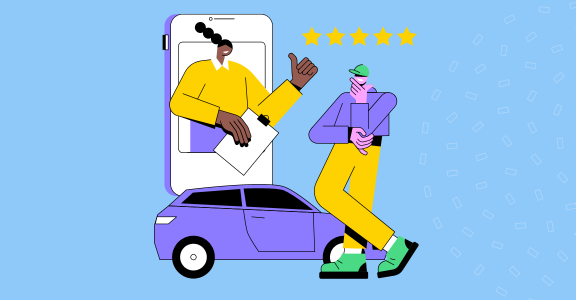 Frequently asked questions about car review sites
Which website is best for car reviews?
Many people consider Consumer Reports to be the best website for car reviews. Their unbiased ratings and research provide detailed information about different car models, features, safety ratings, and more.
Where can I find reliable car reviews?
You can find reliable car reviews from a variety of sources. Edmunds and KBB are both highly rated for accuracy. Other sources, such as Consumer Reports, Cars.com, DealerRater, CarGurus, and Carwise, also offer reliable car reviews that you can use when shopping for a new or used vehicle.
Is Edmunds reliable for car reviews?
Yes, Edmunds is a reliable source for car reviews. With over 50 years of experience in the automotive industry, Edmunds has become an authority on unbiased, authentic advice and reviews for cars.
Which is more accurate, Edmunds or KBB?
When it comes to accuracy, both Edmunds and Kelley Blue Book (KBB) are highly rated. Edmunds is known for its comprehensive reviews and detailed information about vehicle types and models, while KBB focuses more on market pricing data. Ultimately, both are reliable sources for car reviews.
What is the NADA website?
NADA.org is the official website of the National Automobile Dealers Association. The association represents over 16,000 new-car dealers and advocates on their behalf.
Are car review sites reliable?
Car review sites can be reliable sources of information if you choose reputable platforms that prioritize transparency and provide unbiased content. Consider multiple perspectives and assess the credibility of the site before making decisions. 
Are car review sites only for buyers?
Car review sites cater to both buyers and car enthusiasts. Even if you're not actively looking to buy a car, these sites can provide engaging content, car news, and informative articles that keep you updated on the latest trends and developments in the automotive industry.
Collect and leverage reviews with Birdeye
If you're looking for more authentic reviews on sites like these, look no further. Birdeye sends automatic review requests to customers on the same day the transaction takes place. Birdeye empowers customers to monitor and respond to reviews on over 250+ sites.
Also Explore these similar topics to boost your business's reviews.
Top 10 Car Review Sites
Top 6 Dentist Review Sites
Top 15 Contractor Review Sites
Top 10 Business Review Sites
Car Dealer Review Ratings

Originally published