As a local business looking to improve sales, your marketing strategy has to include a refer-a-friend program. It's a valuable and cost-effective method for attracting new customers by leveraging existing client relationships.
In this blog, we'll define why refer-a-friend programs are essential, what to consider before starting your referral program, and the best refer-a-friend promotion ideas.
How do you start a refer-a-friend program?
Many leading brands like Tesla, Dropbox, and Airbnb successfully use refer-a-friend programs to grow revenue. And it works because refer-a-friend marketing campaigns rely on word of mouth to spread awareness about products or services. A refer-a-friend program encourages your customers to refer their friends or family. It means proactively asking clients to refer their acquaintances to generate new business.
People trust their friends. In fact, 88% of consumers trust suggestions from friends and family. So implementing a refer-a-friend program may make it easier to spread the word and attract new business.
Unfortunately, not all refer-a-friend ideas are going to be super-successful. To get more referrals, it's mission-critical to learn how to ask for them correctly. On top of that, you'll need to attract and keep a solid base of loyal customers for your refer-a-friend campaign to work.
Here are the best practices and tips to help you create and execute a successful refer-a-friend program.
Set clear objectives
Like every other marketing or sales initiative, start by defining the goals of the refer-a-friend campaign. You might initially want to increase sales, boost website traffic, or generate leads. Whatever your goal, be deliberate about what you aim to achieve. And clearly define your metrics for success.
Define incentives
Even if loyal customers are delighted and willing to refer their friends, they may still need an extra push to make that referral. So, it's helpful to share with them what referral rewards they can expect to gain by bringing in new referrals. Decide on the incentives you want to offer both the referrer and referred customer. Incentives can be discounts, cashback, free products/services, or loyalty points.
Choose a referral program software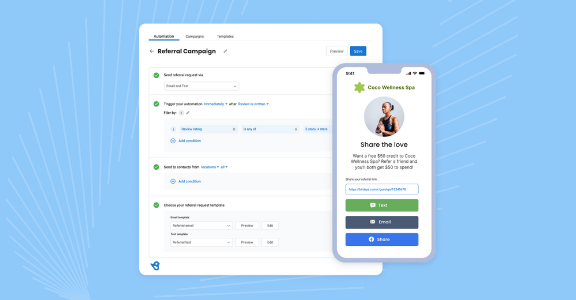 Businesses can either create their own refer-a-friend program or use referral software to manage their campaigns. With the right software solution in your corner, you can automate and track your progress and tweak and optimize your referral marketing campaigns. Automation guarantees that your referral program gets in front of customers who will most likely share your brand. Also, be sure to use intuitive software. A clunky platform can discourage customer participation right from the outset.
Customize your program
Choose the way you want customers to make referrals and how you want to reward them. The best refer-a-friend campaigns are simple to join. Give customers links they can easily share across social media or email, along with clear instructions on how to refer their friends. Each link should contain a unique referral code to streamline tracking and automatically credit the referrer with a reward.
Create marketing materials
One of the essential elements of a refer-a-friend program is to create a strategy that inspires customers to join. Therefore, promoting and marketing your referral campaigns can encourage more referrals and viral sharing. Develop marketing materials, including great email templates, social media posts, and landing pages to effectively promote the program.
Send out an email to your customers specifically asking them to join the refer-a-friend program. Be sure to personalize the emails so the request feels like a personal invite rather than a cold marketing email. Social media is another viable channel for sharing and promoting your referral program, so post often and with enthusiasm. And dedicated landing pages, in tandem with your website, can provide more in-depth information about opting in, signing up, and leveraging referral incentives.
Another important refer-a-friend idea is to use a catchy call-to-action (CTA) to attract customers' attention and prompt them to participate. Usually, the best time to invite customers to your referral program is when they are happiest. This could be after a purchase or after a customer has had their issue solved by customer support.
Track performance
Refinement is essential to verify that all aspects of your refer-a-friend program are working as intended. With analytics and tracking capabilities, you can monitor and analyze the program's performance, measuring click rates and opt-ins from your efforts. The key metrics to track and measure include the number of referrals, conversion rates, referral page traffic, email open rates, and the number of active customers sharing invites.
7 top refer-a-friend program ideas
The three core and most important aspects of an effective referral program are typically a valuable product or service, incentives, and personalized messaging. Discover some of the best refer-a-friend ideas by brainstorming with your teams. And take inspiration from these proven refer-a-friend promotion ideas to launch your own campaigns.
Discounts for both parties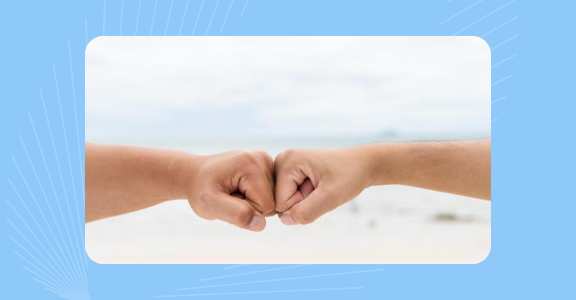 Discounts are proven ways to entice customers. They attract those who want more of your product and save money. And they additionally encourage consumers to continue sharing the deal with and among their friends. Consider offering a discount to both the referrer and the referred customer to encourage that first purchase.
The dual-focused incentive can be tailored based on your target audiences. For example, a fashion brand might offer a 15% discount to the referrer and 25% off for the referred customer's first purchase. Alternatively, you could offer each customer an equal percentage of savings on their next purchase.
Tiered rewards
Another idea involves creating a tiered referral reward system where the rewards increase with the number of successful referrals. So, customers who bring in the most referrals reap the greatest rewards. For example, the first successfully tracked referral could earn the referrer a small discount, while the fifth referral could net a larger discount or a free product/service. Tiered rewards motivate customers ongoing, inspiring them to move up the ladder and earning an even greater refer-a-friend bonus by sharing the offerings.
Points-based system
Create a points-based system where loyal participants can earn points for their referrals. However, make the points truly valuable. For example, points can be redeemed for discounts, freebies, or other rewards. This will help boost engagement with your campaigns.
Exclusive access
Offer an exclusive incentive like early access to new offerings or a VIP event. An exclusive refer-a-friend bonus can push customers to make more referrals to gain access to insider benefits. Plus, it helps you create stronger customer loyalty since clients are likely to stick around to continue enjoying the perks.
Charitable donations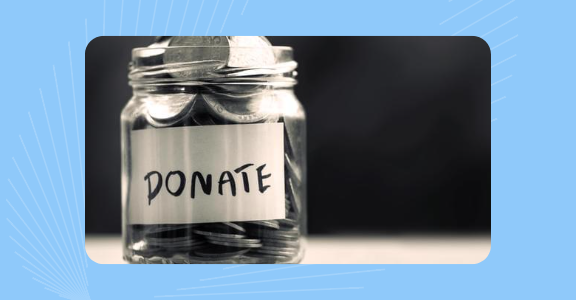 Charitable donations are among the best refer-a-friend promotion ideas. Donate a percentage (or all) of the referral rewards to a charitable organization. Offering customers the opportunity to turn their referral rewards into a donation can greatly motivate them to participate in the program. Besides, it makes customers feel good knowing they are also giving back to their causes and communities by sending referrals to your business. In return, your company generates new business while helping drive positive change.
Gamification
Use gamification elements, like a leaderboard or badges, to encourage customers to refer more friends. Encourage customers to move up the levels by bringing in more referrals to unlock more rewards and achievements. This approach can create friendly competition and motivate customers to participate in your program.
Quarterly or annual contests
Host referral contests with grand prizes or giveaways for the customers who refer the most within a specific time frame. Make sure the prize is a high-value or sought-after product or service. It's also a good idea to offer secondary or consolation prizes for customers who might not get the grand prize.
Benefits of a refer-a-friend campaign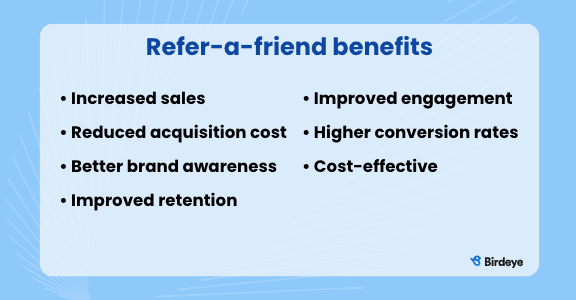 Increased customer acquisition and sales
Referral programs can dramatically increase customer acquisition and boost sales. The main reason? Trust. Personal recommendations are trusted, and customers who come through a referral may be more likely to become loyal customers. In fact, referred clients usually have 16% higher lifetime value than their counterparts.
"In our business, self-storage, referrals are really important. So when someone is looking for a facility to store their belongings, it can be really helpful to the customer if someone they know had a good experience with us."

Brandon Wipperfurth
Director of Marketing at Superior Storage
Reduced customer acquisition cost
Refer-a-friend programs can significantly reduce customer acquisition costs, especially when compared to traditional advertising or marketing campaigns. You won't only reach more people in your audience but also generate direct leads who are going to be far more apt to buy your products or services. Research shows that acquiring new customers is going to be five times more expensive than retaining existing and loyal ones. So investing in a refer-a-friend program is a game-changing strategy for driving sales while keeping costs down.
Increased brand awareness
Refer-a-friend campaigns boost brand awareness because, in their very nature, customers are sharing your product or service with their friends and others via social media and other popular channels. More people talking about your company and sharing their experiences means higher exposure and a stronger foothold in the market. In a way, you're deputizing your loyal customers to help spread the exciting word about your brand and offerings.
Improved customer retention
Letting customers earn rewards in exchange for advocating for your business is a great way to keep them around. The more time they get to spend sharing and interacting with your brand, the more their loyalty grows. Furthermore, the people they refer tend to perceive your brand positively, too.
Improved customer engagement
Refer-a-friend programs are an excellent way to improve customer engagement because it encourages participation from both the referrer and referral through the promise of incentives. In addition, the trust and credibility you've built up with such a program offer a great opportunity to strengthen relationships with your customers.
Higher conversion rates
Perhaps more than anything else, leads acquired through a refer-a-friend campaign have a higher conversion rate as they are pre-sold by word-of-mouth recommendations. Indeed, referral leads convert 30% higher than average. Therefore, referral programs can help businesses generate more business and increase revenue.
Cost-effective marketing
Many marketing campaigns are expensive to run and manage. However, refer-a-friend programs are very cost-effective. The program itself makes it easier for customers to sign up, share the campaign and claim rewards, freeing up time to focus on other growth strategies. Also, the initial costs are minimal. All you need to offer are discounts and incentives to your brand advocates. And the best part is the benefits often outweigh the initial costs by far.
How do you effectively promote a refer-a-friend program?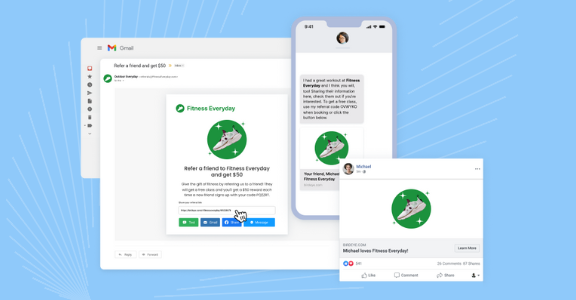 Creating a referral campaign is the initial step. Now you have to promote it across your various channels so referrals can start rolling in. Consider these refer-a-friend promotion ideas for marketing your program.
Email marketing
Send a compelling email to your existing customers introducing your referral program. Target those who've actually bought your products or services instead of newsletter subscribers. Consider sending out these emails shortly after a customer makes a purchase. These clients are most likely to advocate for and support your brand. Make sure you explain the deal, available rewards, and how they can start referring their network. The email should be personable and include a compelling CTA.
Social media
Ideally, you want to create a refer-a-friend program that encourages customers to promote the program for you. So leverage your social media channels to promote the program. Share images, videos, and posts explaining the referral program and why customers should participate. Also, encourage customers to share their referral links on social media. Social sharing helps establish social proof, thus drawing more customers to your referral campaigns.

Pop-ups and banners
Use pop-ups and banner displays on your website along with other digital channels to promote your referral program for boosted results. This can effectively catch visitors' attention, prompting them to check out the offer. You can also create a unique refer-a-friend landing page with banners and high-energy pop-up messages to promote your campaign. Use these opportunities to explain the benefits of joining the program and encourage customers to share their happiness with their networks.
Promote it offline
Your refer-a-friend program can extend beyond just an online presence. If you truly want your referral program to be successful, you can also take steps to promote it offline. Consider placing flyers, brilliantly-designed brochures, and posters in your store or locations where your customers frequently visit.
Some companies even use a refer-a-friend card to promote their programs, tracking with points or punch holes for successful referrals. Physical cards, similar to business cards, put a physical reminder of your referral program into the hands of your customers to share with their friends.
Partner with influencers
Influencers can be, you guessed it, influential to your customers. Collaborate with influencers who are already connected to your ideal audience and provide them with exclusive deals for securing referrals. This is a great way to reach customers that may be interested in your product without having to budget for expensive ads or promotions. Plus, when influencers promote your referral program directly, their followers will trust the recommendation from them more than an ad.
FAQs about a refer-a-friend program
What does it mean to refer-a-friend?
To refer-a-friend means recommending a product, service, or company to someone you know. It often involves sharing a referral link or code, and may come with incentives like discounts or rewards for both parties.
How do you get someone to refer a friend?
To get someone to refer a friend, create a campaign that incentivizes people to promote your brand to their friends or family. The best refer-a-friend bonus ideas are those that are both attractive and valuable to your customers.
How do you make money by referring friends?
You can make money by referring friends using a referral link provided by a business. When customers send their friends to a business, and those friends make a purchase, the referring customer can earn cash rewards, discounts, or credits.
Refer-a-friend: Cost-effective way to grow your business
Refer-a-friend programs can bring huge wins to your business thanks to the power of word of mouth. It's also a proven way to create a win-win situation for you and your customers. With Birdeye Referrals, you can create and automate your referral content with just a few clicks. Watch our free demo and start growing your business in no time.
Originally published