PALO ALTO, CALIF (PRWEB) MARCH 28, 2018
Birdeye Enhances Business Profiles by Integrating Google Reviews
With Google Places API, Birdeye combines accurate business information, authentic reviews, and maps so businesses can be discovered in local search.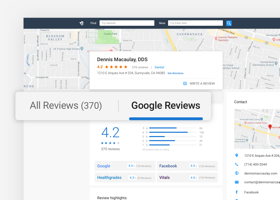 Birdeye enhances business profiles with authentic Google reviews
Customer experience leader Birdeye today announced it has enhanced its business profiles via Google Places API integration.
Birdeye helps more than 25,000 businesses acquire new customers by managing their online presence, reputation, and customer experience. As part of this service, each business is provided a custom profile designed to connect them with prospective customers through local search. Each profile displays the business' verified reviews, up-to-date contact information, directions, and photos, and allows customers to make appointments and write reviews.
Birdeye has been a trailblazer in promoting review authenticity. Ever since founding the company in 2012, CEO Naveen Gupta has emphasized his commitment to validating the legitimacy of reviews – the new Google integration, along with tighter controls on review solicitation, further Birdeye's mission.
"As a leader in customer experience, businesses now expect Birdeye to integrate seamlessly with all prominent platforms," said Naveen Gupta, CEO at Birdeye. "Today, Birdeye integrates with 300+ sites, and we're thrilled to deepen our collaboration with the Google team to help businesses reach more customers."
As the vast majority of customers use reviews to make purchase decisions, Birdeye's integrated profiles will be valuable resources for customers and businesses alike. To improve customer experience, these profiles are and will remain forever free, with no advertisements displayed.
"Our goal is to make it easier for businesses to attract and engage customers," said Gupta. "Birdeye gets real-time feedback from verified customers via SMS and email workflows, and displays it on business profiles alongside authentic Google reviews. We're giving customers the opportunity to read what other customers just experienced. It doesn't get any more relevant than that."
Birdeye plans to make these profiles even more comprehensive and interactive. The next phase of enhanced profiles will allow businesses to integrate social data from sites like Facebook and Twitter, share promotions using the Google Posts via GMB integration and directly message their customers.
We're giving customers the opportunity to read what other customers just experienced. It doesn't get any more relevant than that.
About Birdeye
Birdeye is a SaaS platform that reimagines the way customer feedback is used to acquire and retain connected customers by closing the loop between reputation marketing and customer experience. Birdeye enables businesses to get new reviews and captures existing customer sentiment from review sites, social media, Net Promoter Scores, and support cases in real-time. Birdeye converts all feedback into actionable insights so businesses can engage in every step of the customer journey, establish a positive online presence, and benchmark performance across locations and against competitors. The Birdeye platform is trusted by 25,000+ businesses and prominent F1000 enterprises. Birdeye was founded in 2012 by Google, Yahoo, Amazon alumni and backed by Silicon Valley who's who including Trinity Ventures, Salesforce founder Marc Benioff and Yahoo co-founder Jerry Yang. Learn more at Birdeye.com.