PALO ALTO, CALIF. (PRWEB) JANUARY 09, 2018
Birdeye Launches Goals for Small Businesses to boost Customer Happiness in the New Year
Businesses can now set and track goals for reviews and ratings on third-party sites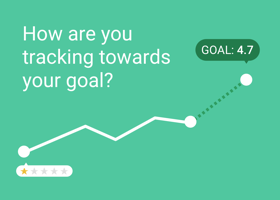 Customer experience and business reputation leader Birdeye today announced the release of its new Goals tool, designed for small businesses to set and track goals for their reviews and ratings on third party sites. The Goals feature takes review marketing to the next level, allowing businesses to understand exactly how many authentic customer reviews they need to reach their desired rating.
"Ratings are a direct reflection of customer happiness and one of the best ways to measure customer satisfaction," said Sumit Jain, CTO (India) at Birdeye. "Our new Goals feature shows small businesses exactly how close they are to making the majority of their customers happy."
With Birdeye, small businesses can pick the rating they consider representative of optimal customer happiness, then use the Goals feature to drive a focused customer feedback strategy. For example, a business with a 3.5 rating can set a target rating of 4.5. Birdeye's Goals Calculator then tells the business how many reviews it needs in order to reach its rating goal. Businesses can even add in the average number of customers they see each month and the Goals Calculator will estimate how long it will take them to reach their goal.
Since different businesses value different sites, Birdeye lets businesses set goals for overall ratings across all sites or just for ratings on a specific review site. Businesses can track the progress of their review generation campaigns over time with a goal tracking chart that shows them an updated count of how many reviews are still needed and how long it will take to collect those reviews.
"The Goals feature motivates businesses to consistently collect more feedback, and with more feedback comes a deeper understanding of what drives customer happiness," said Jain.
The Birdeye platform offers several tools help small businesses reach their goals, including:
Review Generation: automatically ask every customer for a review via SMS or email
Review Management: respond directly to customer reviews on 200+ sites from one place
Review Marketing: Automatically share reviews to social channels, search engines, and website
Reporting: track reviews and ratings over time and by source, track conversion rates of email and SMS campaigns
Once a goal is reached, a new one can be set, allowing businesses to improve constantly and continue raising the bar for customer happiness.
Our new Goals feature shows small businesses exactly how close they are to making the majority of their customers happy.
About Birdeye
Birdeye is a SaaS platform that reimagines the way customer feedback is used to acquire and retain connected customers by closing the loop between reputation marketing and customer experience. Birdeye enables businesses to get new reviews and captures existing customer sentiment from review sites, social media, Net Promoter Scores, and support cases in real-time. Birdeye converts all feedback into actionable insights so businesses can engage in every step of the customer journey, establish a positive online presence, and benchmark performance across locations and against competitors. The Birdeye platform is trusted by 25,000+ businesses and prominent F1000 enterprises. Birdeye was founded in 2012 by Google, Yahoo, Amazon alumni and backed by Silicon Valley who's who including Trinity Ventures, Salesforce founder Marc Benioff and Yahoo co-founder Jerry Yang. Learn more at Birdeye.com.