Starting September 1, mobile carriers will block business texts from unregistered numbers. As per new regulations, businesses must be 10DLC registered to send text messages. 

Picture this: You plan to send your customers a new product announcement text. You hit "send," but suddenly, you find yourself stuck in a whirlwind of deliverability issues, delays, and frustrating blocks.
In a world where instant connections matter more than ever, 10DLC is emerging as the savior, ensuring your SMS campaigns go through to your customers without a hitch.
So what is this 10DLC exactly?
In this blog, we will help you understand more about 10DLC and the registration process.
But before we begin, let's understand a little bit about why business texting is one of the most effective customer communication and engagement channels today.
Manage Conversations from a Single Inbox
Want to see the impact of Birdeye on your business? Watch the Free Demo Now.
Unlocking the power of business texting
Unlike emails, which get lost in crowded inboxes, text messages grab immediate attention as they are easily accessible via one tap on the phone. Texting as a channel has significantly higher open rates and gives your business easy access to customers 24/7, as they always have their phones with them.
Texting is weaved around every Birdeye product to help you make the most out of the platform by getting better conversion:
Use one-to-one texting via the Birdeye Inbox to address inquiries, provide tailored assistance, and build a deeper connection with customers.
Birdeye Webchat captures all your website visitors' contact information, allowing you to text them even after they leave so you never lose them. 
Increase the likelihood of getting reviews and referrals by sending requests via text SMS.
Instantly share secure payment links via text to simplify the payment collection process, reduce friction, and improve cash flow.
Send appointment confirmations and reminders to reduce no-shows and enhance operational efficiency and customer satisfaction.
Send custom mass texts for offers, event invites, launch announcements, important updates, and more.
As business texting revolutionizes communication strategies, 10 DLC is a significant development that further enhances customer engagement and messaging efficiency.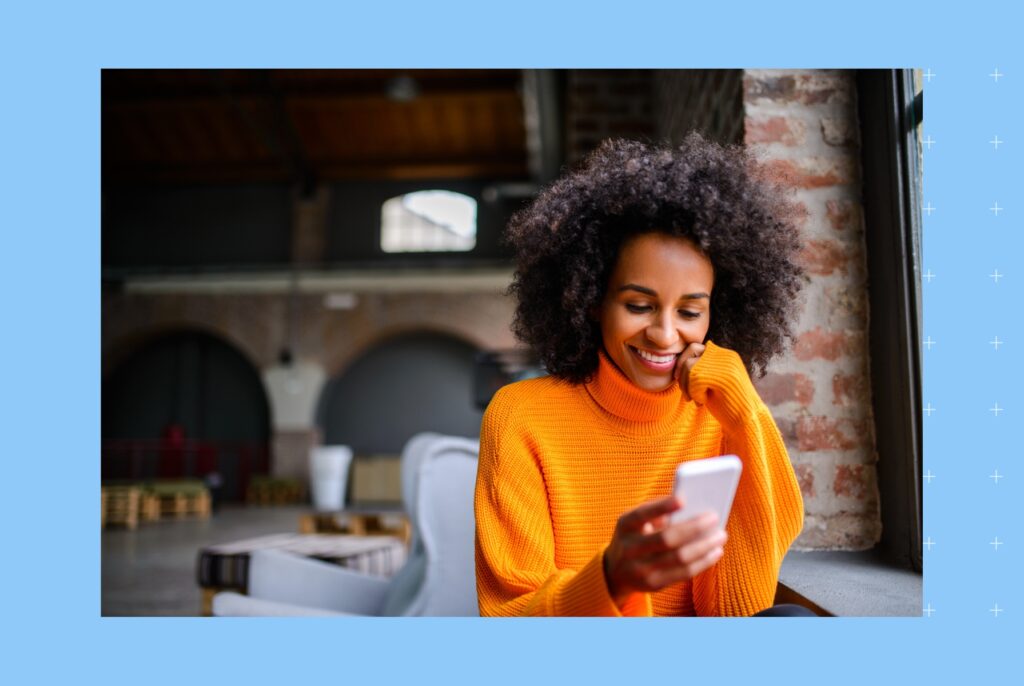 So what is A2P 10DLC?
In the rapidly evolving landscape of mobile communication, wireless phone carriers are working hard to combat spam for businesses and consumers alike.
A major change in this effort is a new A2P 10DLC regulation that requires businesses to have an A2P 10DLC or an Application-to-Person 10-Digit Long Code to continue sending text messages to customers.    
Historically, shared short codes have been susceptible to increased spam and diminished recipient trust. As a result, businesses started to face blockages in their texting campaigns and other issues related to deliverability. With the A2P 10DLC regulation, wireless carriers aim to rectify this. 
10DLC acts as a preventive measure against malicious activities, ensuring the integrity of the SMS channel for authentic businesses. With this new system, carriers can monitor and regulate spam, allowing them to offer improved deliverability and reduced filtering risk for business messages.
Why is 10DLC registration a must?
Businesses that don't register under 10DLC will be blocked by carriers unless they have an alternate high-volume texting number, such as a toll-free verified number or a dedicated short code.
So if you are a business that uses text for anything from 1:1 communication and promotions, to review requests and transactional updates, registering for 10DLC is the only way to maintain uninterrupted delivery and achieve higher throughput. 
10DLC Registration types and what applies for your business
There are three registration types, Low Volume, Sole Proprietor, and Standard Volume.
1 – The Low Volume plan is suitable for small-scale businesses with limited locations and an EIN. It is a cost-effective option if your business is just starting or has a small footprint.
2 – The Sole Proprietership plan benefits sole proprietors and businesses without an EIN. It provides essential services without the added requirement of an EIN.
3 – The Standard Plan suits growing businesses or large enterprises with numerous locations, advanced features like Mass Texting, and an EIN. It offers a comprehensive solution to meet your expanding needs.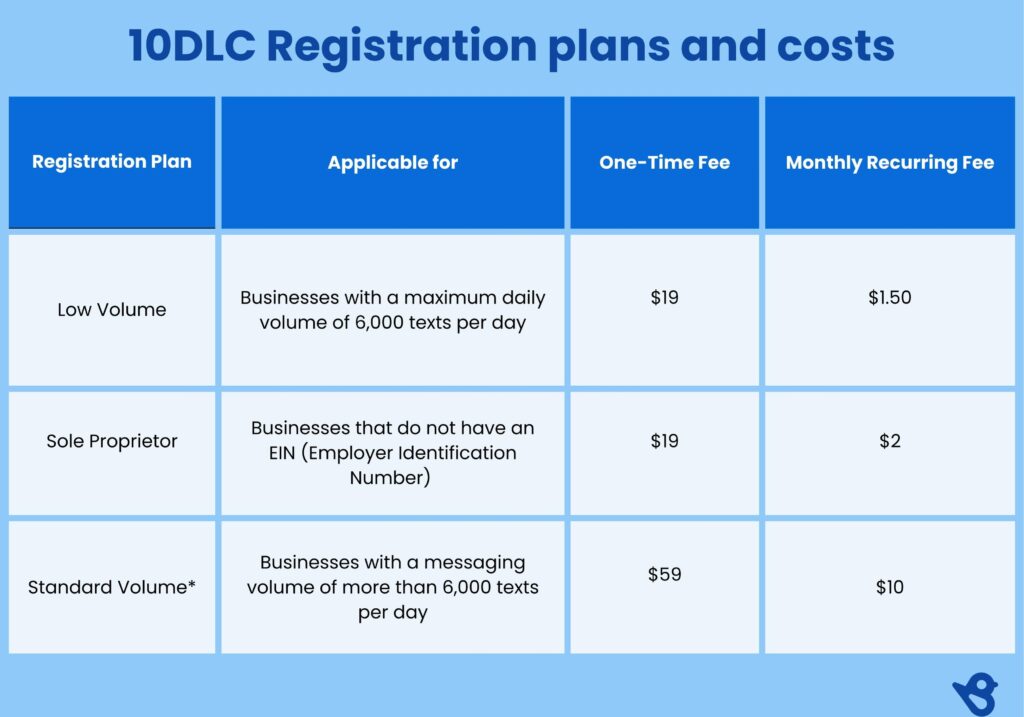 *The amount of messages your business sends is determined by Trust Scores. And the Trust Score assigned to a business determines its daily texting limit. 
Trust Scores and how they determine your daily texting limit
A Trust Score is a reputation grade given during the 10DLC registration process by The Campaign Registry (TCR), a third party that manages the US wireless carriers' new registration system. 
Each business is given a score from 0 to 100, which influences daily text message limits and throughput towards US mobile carriers for that business. Trust Scores stay constant and don't change over time.
The higher your Trust Score, the higher your messaging throughput. Smaller organizations and those with less business presence will receive lower scores.
Note: Sole Proprietor and Low Volume Brands do not go through "secondary vetting" and are not assigned a Trust Score. 

How can you register for 10DLC?
To register for 10DLC, you must provide some general details about your business as per the below, via a registration form:
Business name, address
Industry, business type
URL, registration type
EIN, text opt-in process
Two business contacts
This form is easily available to fill out from your Birdeye Dashboard. You will see a notification banner at the top when you log on. Click on 'Register your business', and you will be redirected to the registration form.
The flow is as in the GIF below: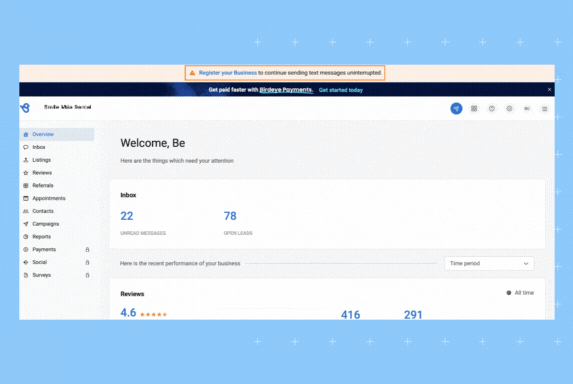 IMPORTANT: While filling out the form, please ensure all the information you enter is accurate and matches your EIN information exactly. 
Once you have filled in the registration form, click 'Submit.'
FYI: During and post your 10DLC registration, your existing textable business number will remain the same, and there will be no service interruption after confirming your new registration.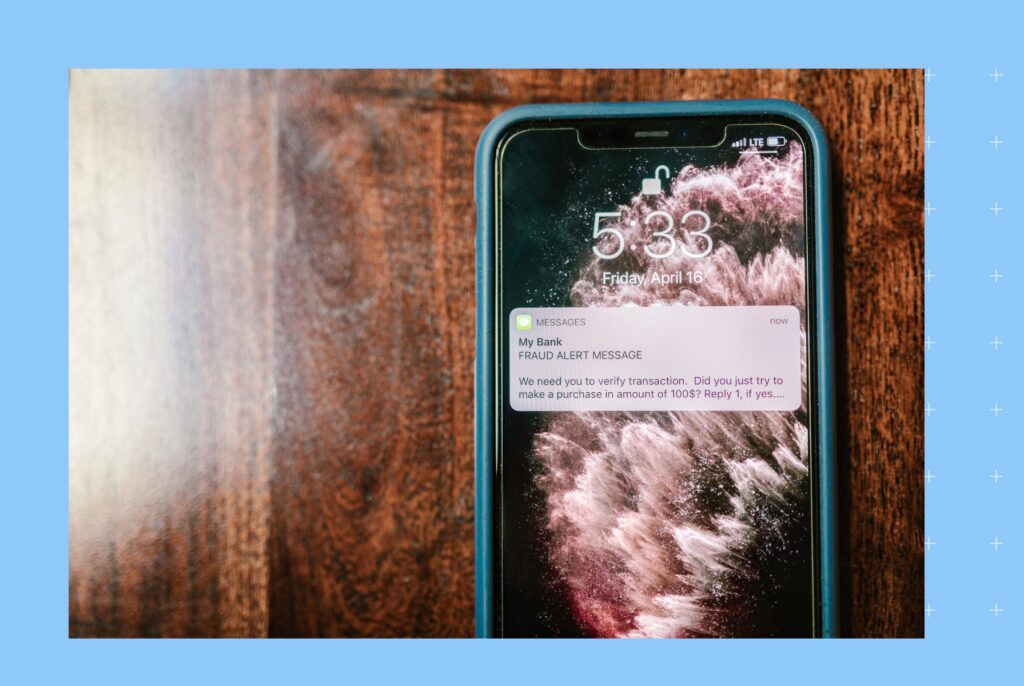 Penalties for not registering your 10DLC number
Effective August 31, 2023, wireless carriers will block all messages from numbers not registered under 10DLC. This means none of your text messages will be delivered after that date.
Did you know: Text messages have an exceptionally high open rate of 98%, outperforming traditional communication channels like emails?

Benefits of registering your 10DLC number
The threat of your business text messages being blocked is real, and registering your 10DLC number comes with many benefits. 
1 – Save money
The cost of a 10DLC phone number is significantly lower than a dedicated short code or toll-free number, ensuring you can connect with your customers in a cost effective way. 
2 – Higher throughput
Registering your business and SMS marketing campaigns makes your 10DLC phone number trustworthy. That means mobile carriers will allow you to send more messages through their system.
3 – Improved deliverability
Your message delivery is more likely to reach their recipients when they come from a registered 10DLC phone number. You still have to pay for non-registered SMS messages, even if mobile carriers block them.
The recent 10DLC update further substantiates why businesses must utilize mass texting as their go-to business communications.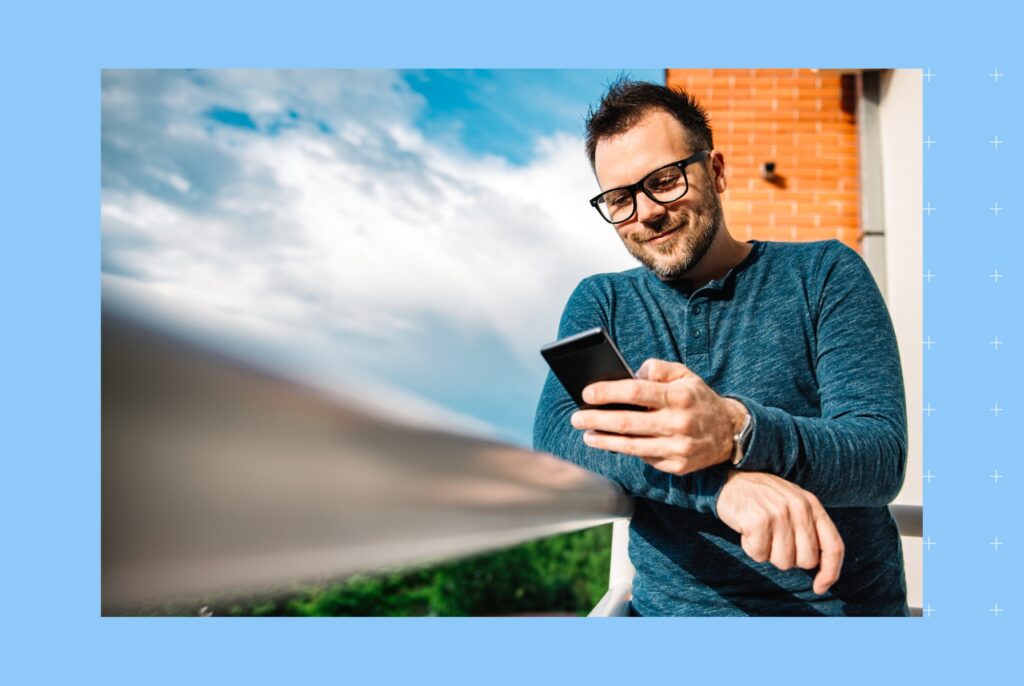 Business texting best practices
Business texting offers a direct line of communication with customers, but ensuring compliance with regulations and guidelines is essential to maintain a positive reputation and reach your audience effectively.
Avoiding prohibited content
Avoiding prohibited content is the first step toward compliance and successful message delivery. Prohibited content categories include the following:
S.H.A.F.T. content: Avoid content about Sex, Hate, Alcohol, Firearms, and Tobacco that are explicit language or hate speech.
Cannabis/Marijuana/Hemp/CBD/Kratom: Content promoting or selling these substances.
Gambling: Messages promoting gambling activities or lottery services.
Cryptocurrency: Advertising them or investment opportunities.
Financial offers: Messages about payday, auto and student loans, debt consolidation, and investment schemes that target people's vulnerabilities.
Stock tips: Unsolicited tips and market predictions. 
Compliance rules and regulations
Ensure recipients have explicitly opted to receive your text messages. Maintain a record of consent.
Provide clear opt-in and opt-out Instructions.

Make opt-in easy for users. Provide clear opt-in keywords and messages to streamline the process.
Honor opt-out requests promptly to stop message delivery.
Identify your business or brand as the message's sender.
Avoid excessive messages to prevent annoyance and maintain engagement.
Safeguard customer data and ensure compliance with data protection regulations.
By incorporating these best practices, businesses can establish effective communication, maintain compliance with texting laws, and build strong relationships with their audience.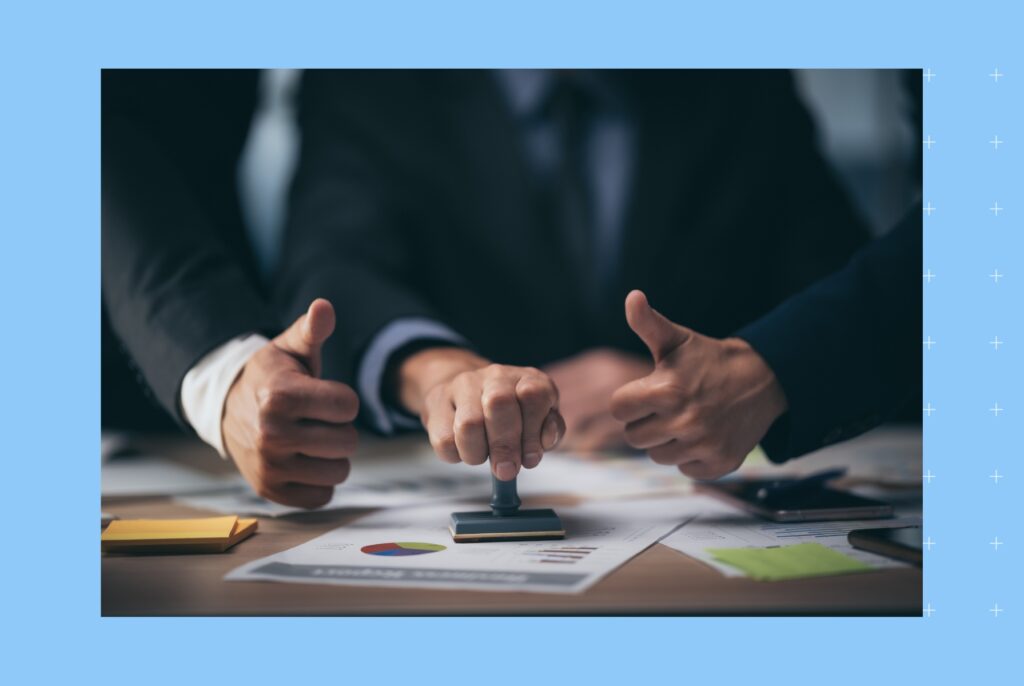 10DLC FAQs
1 – Why do customers need to register for 10DLC number?
This industry-wide change aims to improve transparency, trust, and message quality. Wireless carriers, including T-Mobile, AT&T, and Verizon, have implemented new regulations to combat spam and register their textable number under the 10DLC system.
Businesses that want to send text messages MUST register their number with carriers through the 10DLC application process.
2 – What happens if a business does not register for 10DLC?
Effective August 31, 2023, wireless carriers will block all messages sent from unregistered numbers. This means that text messages will not be delivered after that date.
3 – How to register a number under the 10DLC plan?
Birdeye has created a registration process within the application to streamline the registration process for customers. To access the registration form, visit the dashboard and click the registration link in the banner.
4 – What information is required to register under the 10DLC system?
To register, you will need to provide general business details (business name, address, etc.), industry, business type, URL, registration type, EIN, text opt-in process, and two business contacts.
5 – Do businesses that have already registered for 10DLC need to re-register?
Yes. Wireless carriers have changed the 10DLC registration process and require additional information. So, customers need to re-register under the new requirements.
6 – Who is requiring a 10DLC registration?
This requirement is by wireless carriers like AT&T, Verizon, and T-Mobile. Failure to comply with these guidelines will lead to restricted messages.
7 – What are the advantages of a 10DLC registration?
By registering your business under the 10DLC system you:
– Enhance trust by providing transparency regarding content and the sender's details
– Faster message delivery
– Preventative measures against spam and abusive texts.
Register your 10DLC today
Visit your BIrdeye dashboard today and complete the 10DLC campaign registration form to ensure that your SMS campaigns are deliverable and effective. If you have any questions or need help registering your 10DLC number.
Contact us at:
Toll-free: 1-800-561-3357 Ext. 3
Email: support@birdeye.com

Originally published