The mortgage industry is seeing an unprecedented boom. Across the country, existing homeowners are looking to take full advantage of record-low interest rates and refinance their mortgages. At the same time, the largest generational cohort in American history – Millennials – is preparing to buy their first homes.
It's an incredible opportunity for loan officers. Unfortunately, many of them don't have the tools to take full advantage of the spike in demand because they haven't adjusted to how borrowers are now discovering lenders.
We're living in the age of the Experience Economy. Borrowers aren't just looking for loan officers who can provide the best price — they're looking for loan officers who can also provide a great experience and make a complicated process feel stress free. According to McKinsey, exceptional experiences are the primary reason why first-time homebuyers choose a lender.
These days, finding a loan officer who can provide best-in-class experience is easier than ever. All a borrower has to do is pull out their smartphone and look at reviews on sites like Google and Zillow.
This shift in how borrowers are looking for mortgage providers presents a great opportunity to mortgage companies (and their loan officers). By taking the right steps to provide great experiences and enabling borrowers to rave about you, your team can take full advantage of the current landscape. We call this process Experience Marketing.
Let's break 5 Experience Marketing tactics that can help your loan officers and your overall brand attract more borrowers.
Tactic #1: Meet your borrowers where they are
The first step to offering a fantastic experience is building a presence on sites that your borrowers frequently visit. Not only does this make it easy for potential borrowers to get in contact with you, there's a real SEO benefit. According to Moz, these "citation factors" are the fifth-most important factor determining your local search ranking. Here are six listing sites where every lender should claim their business listings.
Google My Business
Remember, Google is king. Google My Business is the first thing that will show up on a borrower's screen when they Google one of your loan officers, so be sure to optimize your profile.
Facebook
Facebook isn't just a social media site – it's also the second most popular review site on the Internet. Make sure to create a Facebook Business page and offer the option to start a chat via Messenger to make it easy for borrowers to get in contact with you.
Zillow
Zillow is one of the most popular sites for people searching for a new home. It can also be a valuable tool for your loan officers to attract more borrowers. 
Better Business Bureau
Better Business Bureau (BBB) is a nonprofit organization that's been active since 1912. The organization is dedicated to protecting consumers from false advertising and fraud. Putting your listing on BBB can help ensure borrowers that your loan officers are trusted.
LendingTree
LendingTree allows borrowers to find the best loan in any circumstance, whether it be personal loans, auto loans, business loans, or home loans. The site also offers loan officers the ability to connect with interested local borrowers.
Nerdwallet
Nerdwallet is a site that consumers turn to for financial advice. Since your loan officers are qualified to help borrowers save money on their mortgage, they should make sure to claim their listings.
Remember, you should claim profiles for each one of your locations and for each one of your individual loan officers. The benefits to doing this are twofold. Not only will this give your business more reach in search results, it will also help to crowd out competitors in search rankings.
Tactic #2: Collect reviews
Reviews are essential for attracting new borrowers. 92% of borrowers consult reviews before making any purchase decision. For a big decision like getting a mortgage, reading reviews becomes even more crucial. Plus, there's an SEO impact as well — reviews are the third-largest ranking factor determining your search ranking. Here are a few tips for collecting reviews from your borrowers.
Send texts and emails that link directly to review sites
Training your loan officers to ask for reviews in-person just isn't enough. Your borrowers are busy people and will often forget about the request as soon as they walk out the door (or end that Zoom call). To make the process easy, send a review request via text or email that links directly to sites like Google and Zillow. It's less likely that borrowers will forget about the request — all they will have to do is click the link and leave a review.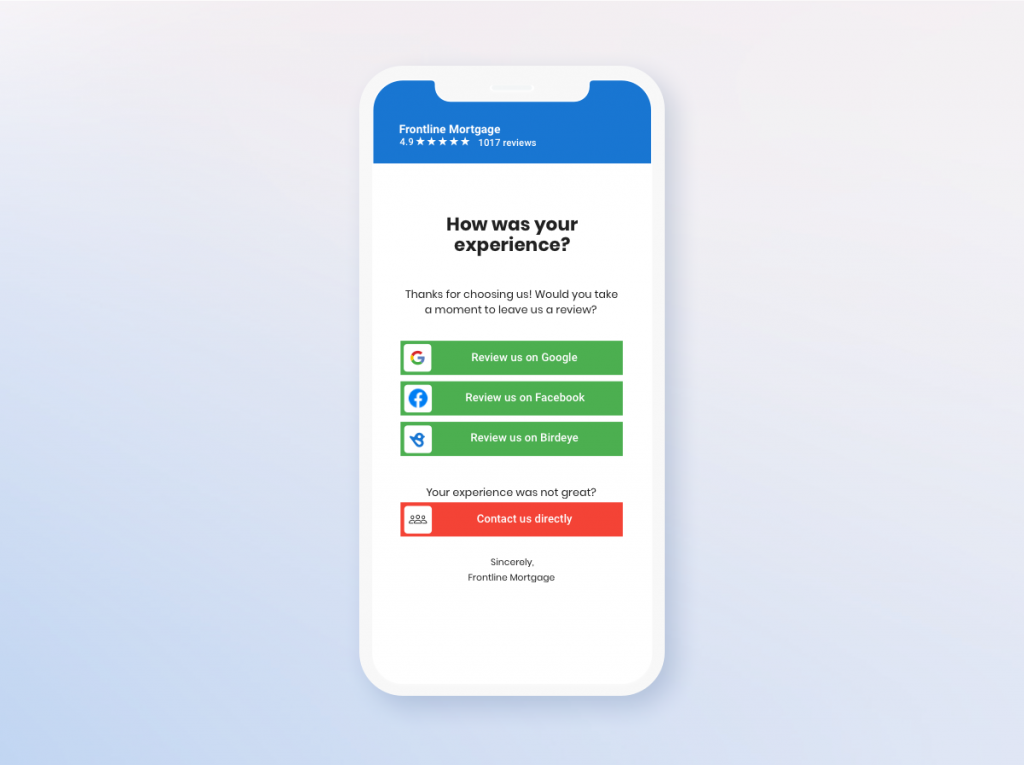 Send review requests after a loan is finalized
To get the best results, it's important to reach borrowers when the experience is still fresh in their minds. We recommend sending the review request the day a loan is finalized. Waiting too long can mean that borrowers will forget the details of their experience and may not be motivated enough to leave a review.
Find a platform that sends review requests automatically
As you very well know, there's a lot of work involved in finalizing a loan. Mortgage companies shouldn't add on even more work by requiring loan officers to manually send review requests. Instead, they can find software that allows them to automate the process. With an integration with your software system, review requests can go out automatically on the same day the loan is finalized.
Tactic #3: Build a successful partnership program
Referrals are a vital source of new business for any mortgage lender. Partners can provide access to new homeowners in need of a loan. In addition, leads from referrals are often higher-quality than leads acquired from other channels.
It's important to remember that RESPA does prohibit mortgage lenders from giving incentives in exchange for referrals. That's okay — a successful referral program should not require incentives. Here are a few tips for building a successful partnership program.
Find mutual connections
Potential partners like real estate agents and financial planners field many pitches from mortgage lenders, so it's important to find a way to stand out. Instead of making cold pitches to potential referral partners, use platforms like LinkedIn to find mutual connections. Then, ask these connections if they'd be willing to give an introduction.
Provide value
Providing value doesn't just help to build a strong relationship with borrowers, it can help LOs build a stronger relationship with referral partners as well. Loan officers should communicate regularly with partners to inform them of valuable industry trends they can then share with their clients.
Send referral requests digitally
Don't rely on your partners telling their clients about your services in person. To make your referral program work more efficiently, send digital referral requests to your partners via email and text. With the right platform, this will help streamline the process for partners — they will be able to forward referrals to their clients with just a few clicks.
Tactic #4: Over-communicate
Borrowers may not understand complex mortgage disclosures, but they still want to know that they're making the best decision for their family's future. That's why loan officers need to be proactive in keeping borrowers informed. Let's break down how you can make sure that your team is actively communicating with borrowers from the moment they discover your brand.
Offer a website widget
When a potential borrower visits your website for the first time, make it easy for them to reach out to your team. That way, they don't need to call the office and potentially wait on hold or have to leave a voicemail. It's been estimated that 85% of the borrowers who don't get a response never call back. Offer a website chat widget so they can get in contact with your team in an instant and get the process started off on the right foot.
Don't skip out on the details
Throughout the process, make sure that loan officers are trained to go above and beyond on clearing up any and all confusion. Studies show that more communication leads to higher satisfaction.
Provide updates through email and text
When borrowers are kept in the loop about the status of their loan, the process will feel less stressful. Make sure that loan officers are regularly reaching out to their borrowers through their preferred method of communication, whether that be email or (more likely) text messaging.
Respond to every message in a timely manner
It's the loan officer's duty to make sure that every message from a borrower is responded to in a timely manner. Of course, it's hard to keep track of all the different mediums that a borrower might use to ask a question – there's email, text, phone calls, Facebook Messenger, and more. Find a platform that allows you to centralize all of these interactions in one place so you can stay on top of every borrower message.
Tactic #5: Collect survey feedback
Delivering fantastic experiences is easier said than done. Nowadays, borrower expectations are constantly changing, which is why it's important to regularly collect survey feedback and find out how you can improve your operations. Here are a few tips for collecting surveys from borrowers.
Keep your surveys short and sweet
The longer your surveys, the less likely borrowers are to complete them. We've found that the "sweet spot" for surveys is around 7-10 questions.
Send surveys digitally
To get the best feedback, we recommend sending surveys via email and text. One of our partners, Waterstone Mortgage, previously asked borrowers to fill out paper surveys once a deal was closed. However, they found that borrowers were often so excited to get to their new homes that they did not leave useful feedback. On the other hand, digital surveys gave them the opportunity to submit responses when they were settled in and comfortable.
Respond to negative feedback immediately
On the rare occasion that you do receive negative feedback from your borrowers, aim to respond within 24-48 hours. Most borrowers can have their minds changed if you're able to get to the bottom of the problem they experienced. On the other hand, waiting too long usually means the borrower's opinion is solidified.
Find a platform that supports reviews and surveys:
Managing reviews and surveys on separate platforms creates unnecessary work for your team. You can save time for them by finding a platform that supports both products. As an additional benefit, you'll see a comprehensive view of borrower feedback across both channels.
Experience Marketing in action: Waterstone Mortgage
Waterstone Mortgage is a 56-location mortgage lending company that serves borrowers all across the United States. The team was looking for a way to build a personal brand for each one of the hundreds of loan officers who work for the company. That naturally led them to Birdeye.
It would have been a lot of work for Waterstone Mortgage's team to manually send review requests for each loan officer. Luckily, Birdeye allowed them to automate the process. Birdeye integrates with the software system that the company uses, Encompass. After closing, a review request automatically goes out that links to sites like Google, Facebook, and Zillow.
Waterstone Mortgage also sends surveys out to borrowers 24 hours after a loan is funded. So far, they've seen a 39% response rate. The team has received in-depth feedback that has helped to improve overall operations across the board.
Birdeye also gives Waterstone Mortgage a complete view of the borrower's journey across locations. With Birdeye Reporting, Waterstone Mortgage can easily track overall star rating and NPS for each loan officer. If one of them sees a dip in either metric, the team gets in contact right away and makes sure they have the resources they need to succeed.

Get started with the #1 Experience Marketing platform
Unfortunately, we couldn't fit all of our Experience Marketing tips in this article. That's why we wrote a comprehensive guide for mortgage businesses that breaks down how businesses like Waterstone Mortgage consistently attract new borrowers. It contains tips and strategies you can't find anywhere else.

Originally published