With nearly three billion monthly users worldwide, you can't ignore the many opportunities Facebook can bring a business. However, if you believe in the old adage, 'don't mix business with friendships,' then you likely also wonder how to create a Facebook Business Page without a personal account. In this article, we'll walk you through the precise steps of how to create an account and page without your personal info, examine Business Page features, and what you should consider when creating your page.
Importance of social media for businesses
There's no doubt that social media is growing and becoming one of the most popular online activities. Statista estimates that 4.26 billion people used social media in 2021, and it's projected to reach 6 billion by 2027. This means developing a social presence is absolutely essential for businesses. Not only can these platforms help you connect with more customers, they can also increase your brand awareness, build credibility, and increase organic traffic to your website. Some other benefits of using social media for your business include:
Quickly reaching a larger audience
Personalized communication
Improved customer service
Targeted campaigns
Lead generation tool

Top business features on Facebook
Social media as a whole is definitely rising in popularity, but different channels enjoy different numbers of users. For instance, Facebook has an average user base of 2.96 billion. Instagram reached 2.1 billion users in the first quarter of 2021, and Twitter has 450 million active monthly users.
Based on these numbers, Facebook is the most popular platform making it a big target for brands looking to increase visibility and promote their products and services. To help with that, Facebook Business Pages offer a handful of helpful features, such as:
Easy-to-use communication tools to help highlight your product and service offerings.
Targeting features let you effectively reach specific demographics based on age, gender, and interests.
Videos connect you with customers in real-time to build relationships and promote your brand.
Data analysis tools help you collect meaningful insight and feedback about your campaigns.
Facebook advertising further reinforces your brand, letting you attract and retain new customers.
In addition, having a Facebook Business Page can help you save marketing resources by automating certain tasks and letting you set budgets for your ads.
Why you need a Facebook Business Page
Whether you're a small or large organization, marketing your company on Facebook will help you grow beyond traditional marketing strategies. Here's why you need a Facebook Business Page.
1. Brand exposure
Regardless of your company size, Facebook can assist in expanding and increasing the online presence of your brand. For smaller businesses, Facebook is the ideal platform to grow your viewership and increase your followers. For bigger companies, the platform helps maintain and reinforce already established brand performance.
For example, the nonprofit organization charity: water understands very well the power of Facebook marketing. They use their Facebook Business Page for storytelling because they understand that everyone loves a great story.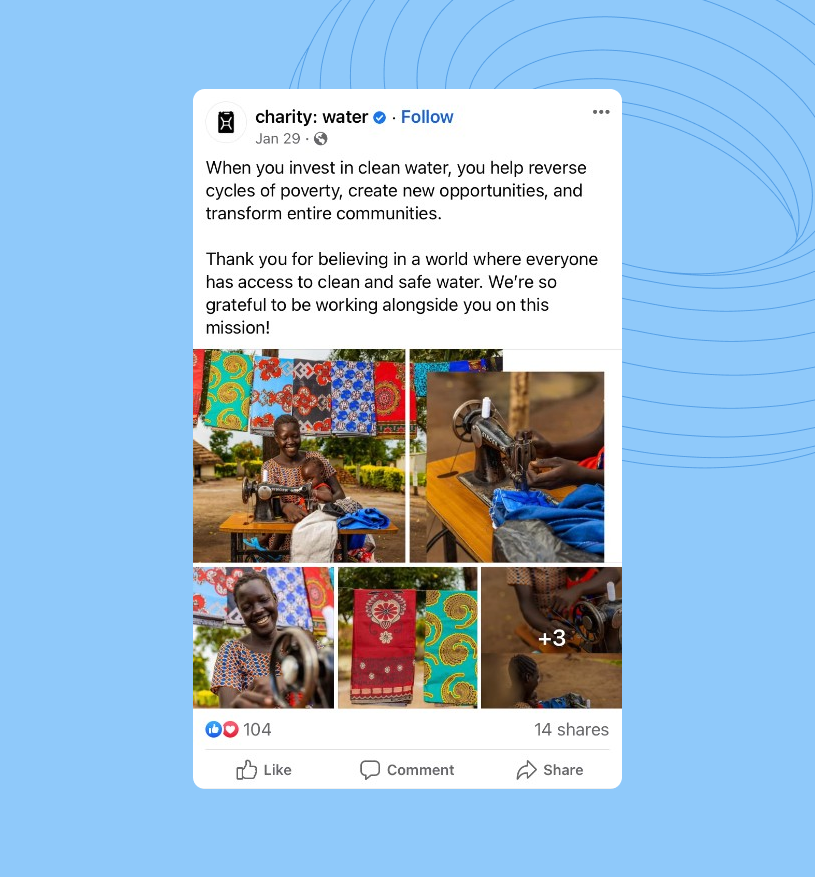 2. Cost-effectiveness
It's cost-effective to market on Facebook because it's free to create and manage a Facebook account. However, as you grow, you'll want to invest in Facebook advertising to continue to increase your brand awareness. Facebook is relatively more cost-effective when compared to other forms of digital marketing, such as pay-per-click, affiliate marketing, search engine optimization, direct mail, and TV and radio commercials.
3. Connecting with customers
With constant upgrades to the algorithm and helpful features, it has become increasingly simple to connect with customers on Facebook. For example, taking advantage of features like comments, notifications, likes, and posting make it easy for followers to engage with your content and join the conversation.
4. Mobile optimization
Optimizing your content for mobile devices is something that most brands seek to do but struggle to attain. After all, most people rely on their smartphones and tablets to connect with the world. Creating a Facebook Business Page instantly makes your brand accessible on the go. This is important because 98.3% of Facebook users access the platform using a mobile device. So now, when your followers are traveling or sitting on the couch, they can still connect with your business.
5. Brand personification
Did you know that brand personification is a technique used in marketing to get individuals to think of brands as if they were people? Facebook makes this easy to accomplish by letting brands share stories, images, videos, and updates. Followers can then interact and communicate with one another, creating visibility and conversations around different topics about your brand. Facebook offers personification features such as snippets, profiles, and cover photos where customers can get to know your brand better.
Now that you understand why having a Business Page is important, I'm sure you are wondering how to create a Facebook Business Page without a personal account.

Is a personal Facebook account required to create a Business Page?
Most people wonder whether they can tap into Facebook marketing without compromising their personal Facebook information. The answer is yes. Anyone can create a Facebook Page without the need for a personal account as long as you are a verified representative of the business. In the next few sections, we'll explain how to accomplish that.
Review Facebook's user policy
Before we jump into how to create a business account and Page, it's important to make sure that your new account complies with Facebook's guidelines and user policy. This will help you avoid any mishaps or even a suspension of your Business Page. To make sure of this, avoid the following:
Mishandling user data – In order to protect user data, Facebook requires that all businesses take measures to ensure user information is secure. This means not sharing or selling user information without prior consent.
Engaging in spammy behavior – Spammy behavior refers to any low-quality or deceptive content that is posted with the intent to drive engagement.
Duplicate accounts – If you have a Facebook personal profile, you're not allowed to create a second profile. Creating Facebook Pages with two different accounts can put your Business Page at risk of suspension.
Don't mix business with personal – Using your business name for your personal account's name is not allowed. Facebook prohibits you from using your business name instead of your first or last name on a personal profile.
Securing your personal information
Remember that some of your personal details can organically be discovered if you comment on a friend's post or someone searches your name on Facebook. To make sure this information remains anonymous from your business account, do the following steps:
Log into your personal Facebook account.
Tap the 'Menu' button.
Choose the 'Settings' option under 'Settings & privacy.'
Tap 'Personal and account information.'
Select 'Contact info.'
Tap your listed email address.
Under the 'Who can see this email address?' drop-down menu, select 'Only me.'
Repeat these steps if you want to secure your phone number or other listed email addresses on your personal account.
Now that we are up-to-date with user policies and know how to keep our personal information private, let's learn how to create a business account and Page.
Create a Facebook business account and Page without a personal account
Creating a Facebook business account
A Facebook business account is required to create a Facebook Business Page. However, you don't need to create a personal account in order to do this. In other words, you have the option to create a Facebook business account without being discoverable by friends, family, or other followers. This preserves and safeguards your personal privacy.

To create a Facebook business account without a personal account, head over to the Facebook business homepage. After clicking the 'Log In' button, select 'Create new account.' Then enter the following information and click 'Sign Up':
First name
Last name
Email or mobile number
Date of birth
Gender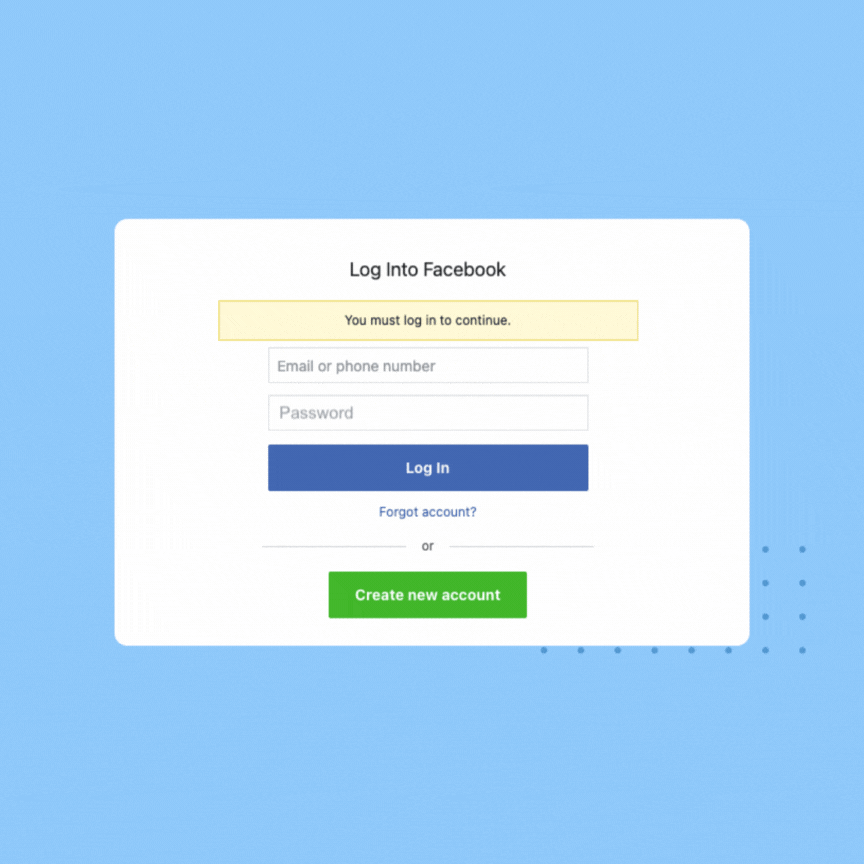 Next, you'll receive a code via email or text, depending on which you entered, to confirm your account. Once confirmed, your account is active, and you can start creating your Business Page.
Creating a Facebook Business Page
There are two ways to create your Business Page. The first way is to do it right after you create your account. Follow these steps while still logged into your business account:
Go to the 'Menu' drop-down and select 'Page.'
Add your business name, category, and a description.
Next, click the 'Create Page' button.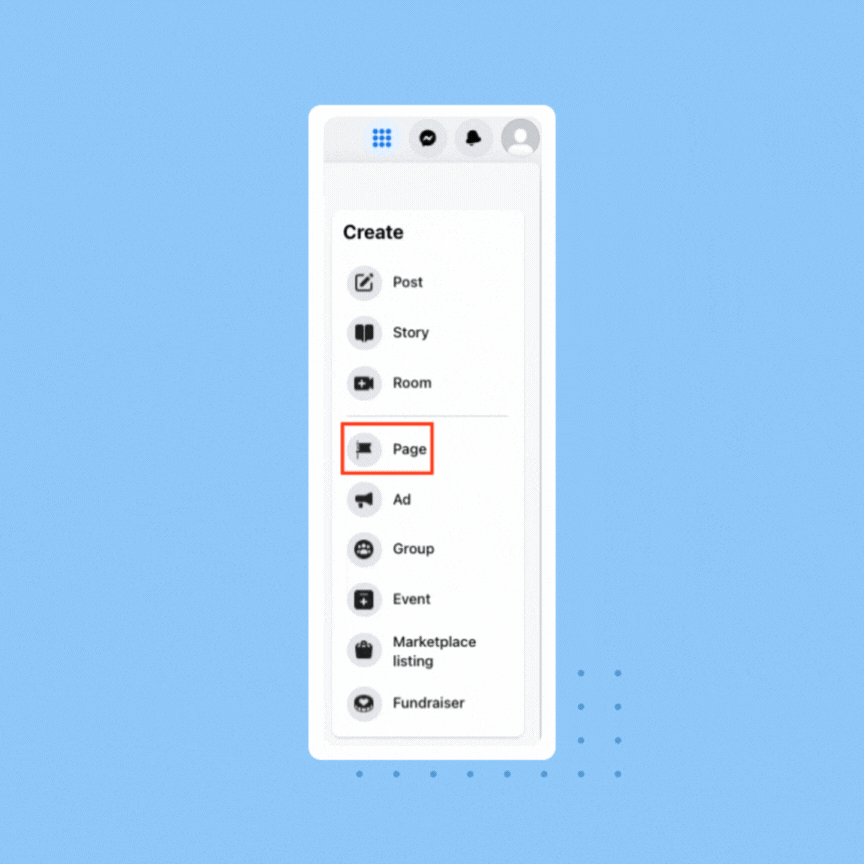 If you need to create your page at a later time, not a problem. Just follow these steps:
Head to facebook.com/pages/create.
Enter a 'Page name' and 'Category.' You'll also be able to add a 'Page bio.'
Next, click 'Create Page.'
After your page is live, make sure to add a profile and cover image as well as other important business details like your phone number, business address, and hours of operation. This will make your Business Page more complete. And that's it. You've just created a Facebook business account and Page without using a personal account.
FAQs about how to create a Facebook Business Page without a personal account
Can I create a Facebook account just for my business?
Yes, you can create a Facebook account just for your business as long as you are an official representative for the business and follow Facebook's guidelines.
How do I create a Business Page without a personal account?
First, create a new business account. This requires your name, which can be protected. Once your account is confirmed, you can create a Business Page entering all the appropriate business information.
Why is Facebook not letting me create a Business Page?
There could be a handful of reasons. Most often, a business runs into issues because they aren't following Facebook's business guidelines.
Building your company's online presence with Birdeye Social
Creating a Facebook Business Page without a personal account is a good way to keep your brand at the center of attention. But let's face it, most companies use multiple social media platforms to market their business. With Birdeye Social, you can filter all your social networks, such as LinkedIn, Twitter, YouTube, Instagram, and more, into a single, easy-to-use platform. To learn more, watch our free demo today.

Originally published Mar 03, 2023, updated