Scheduling appointments can be tedious and time-consuming if you do it manually. Moreover, if you forget your scheduled meetings, you could lose clients or miss out on a great opportunity to generate new business. That's why you need an easy-to-use scheduling app to stay on top of your schedules.
While there are many appointment schedulers in the market, most might not suit your business needs. In this blog post, we highlight the best scheduling apps that are perfect for appointment setting, are user-friendly, and offer multiple software integrations.
What is a scheduling app?
A scheduling app lets clients check your business's availability and independently book appointments. It's a self-service online booking system that clients can use to book, cancel, or reschedule appointments without contacting the business directly.
Providing clients with a self-scheduling option enhances customer experience since clients can book appointments at their most convenient time and schedule. And it frees up your valuable time, letting you focus on other operational priorities, like growing your business.
An appointment scheduler also automates the entire appointment-setting process, including tracking availability, appointment booking, sending notifications and reminders, and syncing schedules. All you have left to do is show up and perform your job.
What makes a great appointment or booking app?
A good appointment scheduler should be easy to use for you and your clients. It should also offer booking availability, instant booking, calendar syncing, and email or text notifications.
The best apps should additionally be able to integrate with your other operational workflows. This makes for easier customer follow-up, messaging, and payments. A great appointment scheduling software will also streamline your schedule so you can focus on the core aspects of your business.
Who uses scheduling apps?
Many business models and professionals who manage a schedule can benefit from a scheduling app. An online booking system can help schedule all types of appointments, including product demos, oil changes, free quotes, and teeth cleaning just to name a few. These apps are most valuable in the following sectors:
Fitness professionals: Gyms, yoga studios, and personal trainers
Financial services: Tax consultants, loan officers, insurance agents, and accountants
Education: Online tutors, professors, and counselors
Legal services: Lawyers, estate planners, general counsels, and arbitrators
Home services: House cleaners, landscapers, and dogwalkers
Retailers: Grocery deliveries, personal shoppers, and appliance repairs
Real estate professionals: Real estate agents, interior designers, and contractors
Food services: Restaurants, food delivery, and caterers
Features to look for in a scheduling app
A good appointment scheduling app will come with a core group of convenient and innovative features. When you consider your options, look for an app that has most if not all of these capabilities.
Ease of use
Not every scheduler tool is intuitive. However, the best appointment scheduling apps will make scheduling easier for customers to use. This typically takes the shape of a simple booking form that makes scheduling a breeze. This saves customers the frustration of having to call an office and wait on hold.
Moreover, the app should provide a good user experience for employees as well. Scheduling shouldn't be a complex process, so the app should provide an easy interface to create, assign, and reschedule appointments.
Integration with calendar tools
It's crucial that the appointment scheduling software sync with popular calendar tools like Google Calendar. By integrating you can see all your appointments in one place to avoid double-booking or scheduling conflicts.
Appointment booking also means reaching out to potential customers where they hang out. So you want an appointment scheduler that can also sync with social networks like Google and Facebook as well as your website by incorporating 'Book Now' buttons. This makes the online appointment scheduling process easy and hassle-free for customers.
Customized scheduling
In addition to optimizing your appointments, the scheduling app should allow you to set custom working hours or availability windows. As a result, customers can only schedule appointments when you are available to address their needs. You can also set up buffer times between appointments, allowing for a smoother and more efficient scheduling experience.
Automatic scheduling
A good appointment scheduler should be able to book a meeting instantly without you having to do any extra work. In addition, it should also manage and track your appointments and automatically reschedule meetings based on availability. The app also auto-sends reminders and notifications to customers about upcoming appointments via email or text.
Online payment processing
Some appointment booking software comes equipped with online payment solutions to enable you to collect payments upfront whenever an appointment is booked. This is especially helpful for collecting no-show penalties and optimizing the checkout process. Knowing they've committed actual money can motivate customers to honor their appointments.
Custom branding options
To enhance your brand identity and ensure a seamless customer experience, your appointment scheduler should allow customization with your brand. This means adding your business logo and brand colors and fonts to the booking platform. Doing this will help you to stand out from competitors and create an inviting environment for customers.
Reporting and analytics
Some appointment scheduling apps offer built-in reporting and analytics features to help you gather insights about your appointment data. They offer a dashboard to track your appointments, cancellations, no-shows, and revenue.
Customer management
A great scheduling app also integrates seamlessly with your email platform so you can elevate the communication between your business and customers. This improves the efficiency of handling appointments with auto-reminders and follow-ups.
Best scheduling app for local business
Some scheduling apps are made for small to medium-sized businesses, while others serve enterprises better. Still, a few apps are well-suited for local businesses because of their extra features.
Birdeye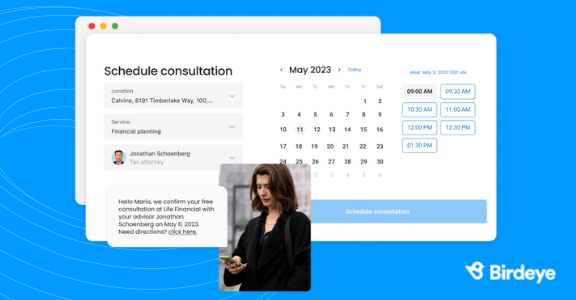 Setting up your scheduling system for local clients is easy with Birdeye Appointments. Birdeye's easy-to-use interface and all-in-one capabilities make for a straightforward appointment scheduling system.
With Birdeye Appointments, you can leverage instant booking on your website, Google My Business profile, or social media channels to attract new clients. The app also allows you to save customer profiles and information for easier rebooking. Birdeye Appointments offer a seamless syncing feature with your calendar, Customer Relationship Management (CRM), and Practice Management System (PMS), allowing you to streamline your schedule and avoid any errors or double bookings. This helps you focus on what truly matters – your clients.
The Birdeye scheduler can also automate reminders to help ensure customers don't forget their appointments and set up advance payments to help you increase customer satisfaction and reduce no-shows.
Best free appointment scheduling app
Free appointment scheduling apps help you schedule your appointments. However, you get limited functionalities. You may miss out on features like email and text notifications, customer data capture, customer feedback surveys, and more.
Picktime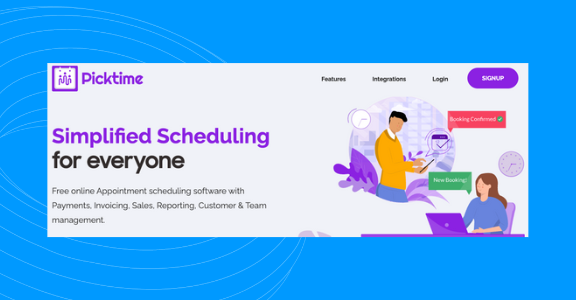 Picktime is one of the best and free appointment scheduling apps for today's businesses. It allows you to create a unique booking page that clients can visit to schedule appointments. Customize your booking page, too, with your domain name, logo, banner image, and appointment types. It's also possible to embed the Picktime widget on your website so clients can book directly from there.
It's also great because it enables automated reminders and notifications to avoid missed appointments. It integrates with popular payment platforms like PayPal and Stripe, so you can receive payments with each booking. Also, Picktime has a web-based interface and a mobile app (iOS or Android,) making tracking and managing your schedule across different devices super-easy.
Best mobile booking app with built-in POS
Point-of-sale (POS) refers to the hardware and software used to complete sales transactions. If you need a scheduling app with a POS solution, Square could be your answer.
Square Appointments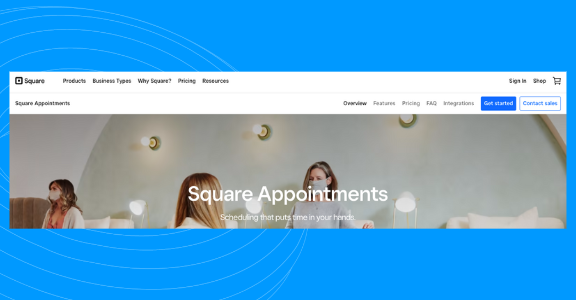 Square Appointments is an easy-to-use appointment scheduling system with integrations and a payment gateway. You can also set up discounts and late cancelation policies to ensure customers show up for their appointments.
Square Appointments syncs seamlessly with Google Calendar and you can manage your schedules from the mobile app (Android and iOS) and the web. Customers can schedule appointments directly on your calendar, including recurring appointments. It also has a Square Assistant feature for automated reminders and real-time scheduling management. Square Appointments also makes nurturing relationships easier by enabling you to save customer information and history.
FAQS about scheduling app
What is the best app to make a schedule?
There are many apps to make schedules depending on your needs and preferences. Some popular options include Google Calendar, Microsoft Outlook, and apps specifically designed for scheduling such as Birdeye or Square. It ultimately comes down to which features align best with the business.
Does Google have a free scheduling app?
Yes, Google Calendar lets you stay on top of your calendars. Use this free tool for appointment booking, lead generation, team meetings, and conference calls.
Does Apple have a free scheduling app?
Yes, Apple has a free scheduling app called Apple Calendar (formerly known as iCal) that is pre-installed on every Mac and iOS device. Apple Calendar allows users to create, edit, and organize events and appointments, set reminders, and sync their schedules across all of their Apple devices.
Streamline your schedule with an appointment scheduling app
Appointment schedulers take the pain out of online appointment scheduling so you can stay focused on your core business activities, such as selling and improving your products. With a great scheduling app, you can keep track of and manage your appointments better, mitigate no-shows, and ultimately grow your business.

Originally published