Your customer's online shopping experience matters now more than ever. After all, more than 70% of shoppers say their purchase decisions come down to how well they interact with a retailer's website.
That's why today's thriving local businesses are making use of a website payment gateway — providing customers with a quick, simple, and secure way to pay for a positive shopping experience from beginning to end.
What is a website payment gateway?
A website payment gateway is a third-party application that businesses use to receive online payments from customers. This software is typically used by eCommerce and online retail businesses. It's the equivalent of a physical point of sale (POS) system or card reader used at brick-and-mortar stores.
Website payment gateways encrypt sensitive information, like credit card numbers, to ensure that information passes securely between the customer and merchant. Some of the more popular website payment gateway solutions can be integrated with your shopping cart systems.
How a website payment gateway works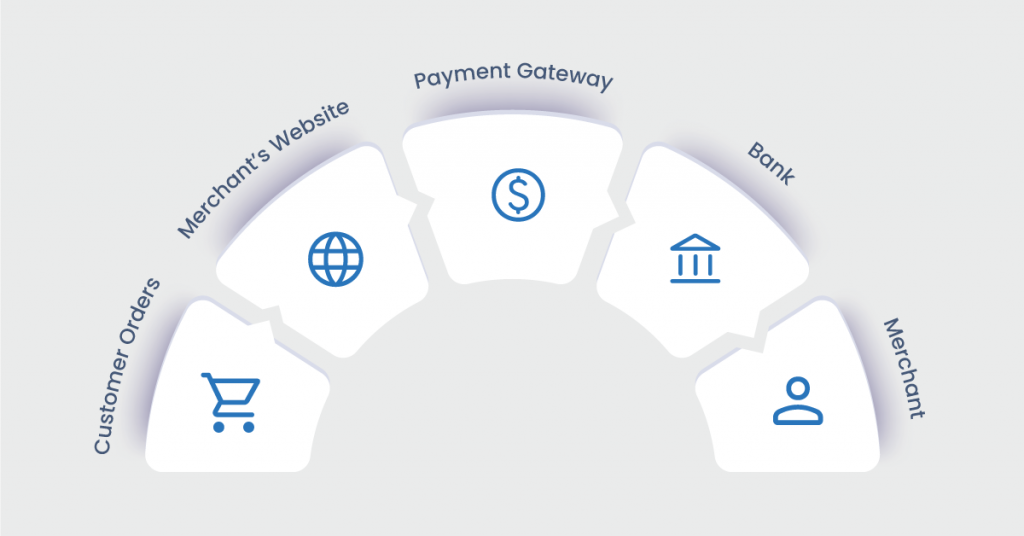 When a customer is ready to make a purchase, they'll enter their credit card information on a merchant's website. The website payment gateway will then process the customer's credit card information and send it to the payment processor, which in turn sends a request to the customer's bank for authorization. Once the bank approves the transaction, the funds are securely transferred to the merchant's account.
What to look for in a website payment gateway solution
There are a few things you'll want to keep in mind when setting up a payment gateway for your business's website. It's important to compare features and pricing from different providers. You should also consider the payment methods your customers are most likely to use.
First, you'll want to make sure the payment gateway you choose is compatible with your existing shopping cart system. You'll also want to make sure your payment gateway has strong security features like data encryption and fraud protection. According to a recent report, 55% of consumers say security is what matters most when they're shopping online.
Finally, you'll want to look for a website payment gateway with excellent customer support in case any problems arise. By taking all of these factors into account, you can find the payment gateway that best meets the needs of your business.
Getting started with a payment gateway for your website
Whether you're a small eCommerce shop or a large online retailer, you'll need a quick and safe way to secure payments from your customers. To get started with a website payment gateway, you'll first need to create an account with a provider. Next, you'll have to connect the provider's gateway software with your website. This requires some technical knowledge, but most providers can help guide you through the process if you're having trouble. Once you've successfully connected, you'll be able to start accepting online payments from customers.
Types of website payment gateways
You'll want to choose a website payment gateway that supports your business's goals. There are several types of payment gateways on the market, each with its own advantages and disadvantages.
Hosted payment gateway
With a hosted payment gateway, payments are processed by a provider like PayPal or Stripe. Hosted payment gateways are easy to set up, but your business will completely rely on the payment gateway provider. If there are any issues with the service, your online payments might be impacted.
Integrated payment gateway
An integrated payment gateway is linked to your business's website, which means the payment processing takes place on your own servers. The advantage is that you'll have more control over the payment process. The disadvantage is that an integrated payment gateway can sometimes be more challenging to set up and manage.
Mobile-specific gateways
There are even payment gateways designed specifically for mobile devices. Mobile-specific gateways let customers make quick, on-the-go payments using their mobile phones. However, not all payment gateway providers offer mobile-specific gateways. If you'd like to learn more about the advantages of mobile payments, check out our previous article.
Benefits of payment gateways for a website
Website payment gateways make it easy for customers to complete their online purchases. Unlike physical POS systems, there's no need for customers to carry around cash or credit cards. Plus, website payment gateways are typically cheaper than traditional POS systems because there are no additional hardware costs. There are several other benefits, including:
Convenience: Customers can make purchases from the comfort of their own homes, or on the go, without having to visit the actual store.
Speed: Transactions can be processed quickly, which is especially beneficial for businesses with higher sales volumes.
Insights: Having the ability to track sales allow businesses to make informed decisions about revenue streams and inventory.
Security: Payment gateway providers use the latest security technologies to protect customers' information and prevent fraud.
Scalability: Gateway providers can scale their services to meet the needs of businesses of all sizes.
Drawbacks of website payment gateways
While payment gateways are convenient and secure, they also come with a few drawbacks.
Fees
Payment gateway providers typically charge transaction and processing fees, which can add up over time. Depending on the size of your business, you might want to work with a website payment gateway application that offers a monthly fee option.
Complexity
Payment gateways can be challenging to set up and manage, especially for businesses that are not tech-savvy. Depending on your computer skills, this might require hiring a web developer to at least get you started.
Reliability
Payment gateways can be subject to outages and other technical problems. If the service goes down, your business won't be able to process any payments. This can disrupt your business operations as well as frustrate customers.

Despite the drawbacks, payment gateways are still the most effective way for your business to accept and process online payments. To learn more about the best ways to collect customer payments, check out our previous blog post.
Top website payment gateway providers
When it comes to website payment processing, there are a few popular providers that come to mind.
Stripe is a major player in the website payment processing space, helping businesses accept credit and debit card payments online.
PayPal is one of the most popular payment gateway companies, and for good reason. They handle billions of dollars in transactions every year. Paypal also offers a secure, easy-to-use platform that makes it easy to receive payments.
Amazon Pay has become increasingly popular. Their payment gateway is simple to use and integrates seamlessly with Amazon's eCommerce platform.
There are also a handful of smaller payment gateway providers that are worth considering, like Braintree and Authorize.net.
Frequently asked questions about website payment gateways
Are website payment gateways the same as merchant accounts?
No. A payment gateway facilitates online payments, while a merchant account is a holding account where payments from those transactions land after it has been authorized by the bank.
What is the difference between transaction fees and processing fees?
Transaction fees are charged for each individual purchase that is made using a credit card. Processing fees are monthly charges assessed by the payment processor. These fees cover
the cost of maintaining the credit card processing infrastructure, as well as any risk associated with accepting credit card payments.
Is a payment gateway the same thing as a payment processor?
No, they are two separate parts of the payment transaction process. A payment gateway
gives merchants the option to accept credit cards and other forms of online payment. A payment processor handles the actual transfer of funds between the shopper and the merchant.
Get paid faster with Birdeye Payments
These days, customers are always looking for more convenient ways to pay. With Birdeye Payments, you can streamline your payment process by offering payment options through text, social media, Webchat, and email. Watch our free Birdeye Payments demo to learn how your business can get paid faster than ever.
Also, be sure to download our free digital payments guide to learn more about the different types of digital payment options and how to make them work for your business.

Originally published