When you're actively marketing your business online, social media platforms like Facebook can't be ignored. Millions of people use Facebook daily, which makes it an ideal place to raise awareness about your business and turn your audience into customers.
In this blog, we'll cover how to effectively market your business on Facebook. We'll tell you about the tools you can use to reach more users, increase engagement, and grow your audience on this massive social media platform.
What is Facebook marketing?
Facebook marketing is a broad term that covers all forms of marketing a business on Facebook's social media platform. This can include paid ads, building and optimizing your Business Page, creating engaging posts, and more. That's why, no matter your business's size or marketing budget, Facebook marketing can be useful in one form or another.
How does Facebook marketing work?
As mentioned above, Facebook marketing is not just one method or outlet to market your business. It's an all-encompassing way to use the social media platform to grow your audience and show them what your business is all about. Some Facebook marketing strategies include:
Paid Ads: Perhaps the most obvious and effective form of Facebook marketing, paid ads let you reach your target audience quickly and efficiently. You can manually set up Facebook paid ads or use automated ads featuring photos, videos, and even Instant Experiences that fully engage your audience.
Facebook Marketplace: Facebook Marketplace is one of the most effective ways to target members of your audience already searching for your products. You can list your products directly on Marketplace using display ads to communicate directly with your audience.
Business Pages: Having a Business Page on Facebook is a critical part of marketing on the platform you need a Facebook Business Page to run ads and use Marketplace, but your Business Page is also a great way to interact and engage with your audience, build their trust, and showcase your business on the platform.
Facebook posts: Interacting with your audience is an important part of building your following. Creating engaging posts on Facebook can improve your brand recognition and drive more traffic to your Business Page. You can post pictures, videos, and links and even go live in your Facebook posts.
These are just a few effective marketing methods you can use to boost your business on Facebook. No matter the industry you operate in, the size of your business, or your familiarity with the platform, you will always have a way to promote and market your business on Facebook.
Why you need to use Facebook marketing
Facebook still reigns as one of the world's most prominent social media platforms, with just under 3 billion active monthly users. Meantime, more than 200 million businesses use Facebook to reach their audience. If you want to keep up with your competitors and reach countless potential customers, you must build a Facebook Marketing strategy.
[Free Guide] The ultimate social media marketing guide for businesses
Download Now
How to create a Facebook marketing Strategy
Know your target audience
Before you set up your marketing strategy, you need to establish who you're trying to reach. To start, ask yourself a few questions to come up with a buyer persona:
What demographic (e.g., age, gender, income, education) are you trying to reach?
In what part of the world is your audience?
What language do they speak?
What common problem are we trying to solve with your product?
Why should they buy your product?
Questions like these can help you refine your marketing strategy and tailor it to an audience with the highest potential for conversions. Without a target customer in mind, you might spend time and resources marketing your products to a demographic with no real interest in your business.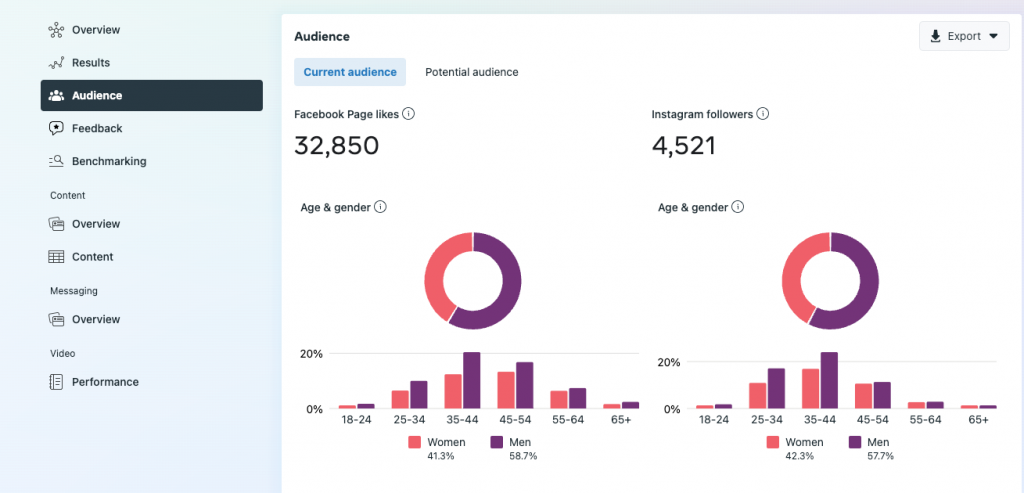 If you want a more comprehensive understanding of your target demographic, Facebook offers a free analytics tool called Audience Insights within the Creator Studio. This tool lets you collect data from both your audience and your competitors' audience. This valuable information can help you pinpoint the right content that will be more relevant to your customer base on Facebook.
Set your goals for Facebook
After choosing your target audience, you'll need to decide what you want your marketing plan to accomplish. Of course, the purpose of any marketing campaign is always to drive more revenue, but getting specific can help you create targeted Facebook marketing strategies designed to reach particular goals. Maybe you want to:
Increase brand awareness: Let's say you run a local business and want to reach even more people in your area. Facebook marketing is a great way to get your business's name out to more people who don't hear about your business through word of mouth or local advertising.
Be more engaged with your audience: Social media users today are very interested in what their favorite businesses are doing on their favorite platforms. You can use Facebook to stay in touch with your audience and keep them engaged with your business's latest news, sales, and events.
Increase your web traffic: An online presence isn't just an afterthought – it's an essential part of any thriving business. You may have plenty of foot traffic but not enough web traffic to grow your business. Facebook marketing can help you spread the word about your business to many potential online customers looking for your products.
Use Facebook marketing tools
Managing a Facebook Business Page and publishing Facebook Ads are two great ways to grow your audience, but Facebook has even more tools you can use to take your marketing strategy even further.
Facebook Ads
Facebook Ads are the primary marketing tool at your disposal on the Facebook platform. There are five primary Facebook ads you can use:
Image ads
Image ads allow you to add static images in the form of a JPG or PNG that link directly to your website. These are great for displaying products that drive traffic to your landing pages. These are best for short copy and high-quality images, as you only have 125 characters to work with.
Video ads
As the name suggests, video ads let you upload short videos to draw your audience's attention. Use videos that are high-quality, 15 seconds or less, and convey a clear message to grab attention quickly and encourage your audience to take action.
Carousel ads
Carousel ads display up to 10 images or videos in a single ad. Each picture or video has its own link giving you the option to link multiple product pages to a single ad.
Instant experience
Instant experience ads create an immersive, fullscreen experience when your audience clicks on your ad. Instant experience ads load instantly and can use images, videos, or carousel formats.
Collection ads
Collection ads let you feature multiple products at once and open the Instant Experience format when your audience interacts with the ad. This gives your audience the capability to shop for multiple products at once in a single ad on the Facebook platform.
Boosted posts
Organic reach is great, but it's often limited to users who already like your Page. Facebook's Boost Post button lets you take any organic post and expand its reach to more Facebook users on the platform.
Facebook's Boost feature also gives you built-in audience targeting features to pinpoint exactly who you're trying to reach with your posts. There are fees associated with boosting posts, but they are as low as $ 1 USD per day, and you boost the post for as long as you'd like. Facebook will even estimate your projected results from your boosted post, like who your post reached and how many people clicked the link attached to the post.
To boost a post, all you have to do is:
Go to your Facebook Business Page
Find the post you want to boost
Click the blue Boost Post button at the bottom of the post
Select the goal you want to see (you can pick from options like Get more messages, Get more website visitors, Get more leads, or set to Automatic)
Choose what your CTA button will say (Sign up, Call now, Book now, etc.)
Select the audience you want to reach
Decide how long to boost the post
Decide your budget ad payment method
Choose where to display your post (Facebook, Instagram, or both)
Review your post and click Boost Post Now
From there, everything you set in place will be applied to your boosted post. All you have to do is track your results and see how your boosted posts perform.
Facebook Messenger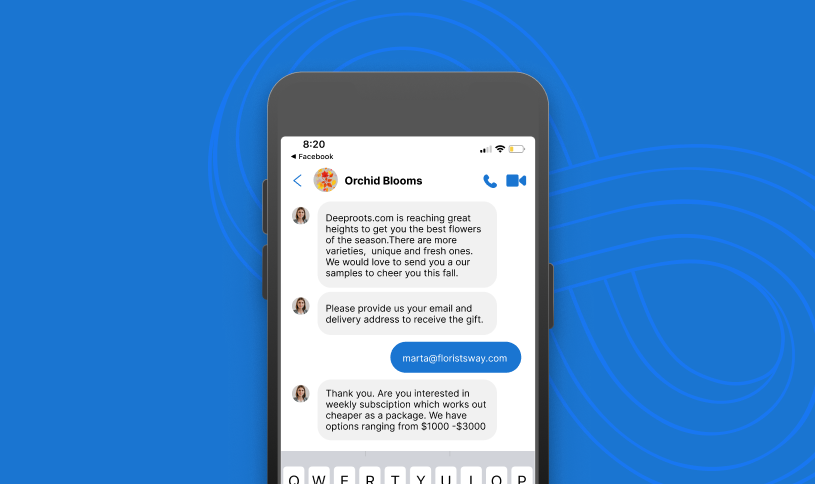 Facebook Messenger is a free tool that can help you connect with your audience on a personal level and offer them exclusive opportunities, content, and support. You can easily send texts, videos, pictures, links to your product pages, sale announcements, and more directly to your audience to keep them engaged with your business.

To make things even easier, Birdeye Messaging lets you centralize all of your messages – including Facebook Messages – into a single inbox. You can even automate responses and schedule messages to your audience that will go directly to their inbox on Facebook Messenger.
Benchmarking
Competitor analysis is a great way to get a leg up on the competition. Benchmarking is a free tool you can use to analyze your competitors' performance metrics and compare them to yours on Facebook. You'll be able to compare your comments, shares, reactions, and video views to see how you measure up against other Pages. This information can help you gauge where your competitors are and where they're heading in your industry so you can make informed decisions to improve your presence on Facebook.
Here's how to get started with Pages to Watch:
Open Creator Studio
Click "Insights" in the left-hand navigation menu
Click "Benchmarking"
Once you do that, you'll see a dashboard like the one above that will show you the information you need to compare your Facebook Page to your competitors.
Invites to follow your Facebook Page
You might notice users who like or share your posts, interact with you, or otherwise engage with your business but don't actually like or follow your business page. Most of the time, they just haven't taken the time to visit your page and follow your business.
You can manually invite them to follow your page and build your follower base with people who are most likely to like your page when asked. This is a great way to find and build relationships with potential customers and increase conversions.
Facebook Groups
Facebook Groups are a great way to build a stronger relationship with your audience. You can create public or private groups that let you interact with your audience on a more personal level, but it's always best to create a private group to avoid spammers and any other unwanted guests joining the group.
Although Facebook Groups require some time and attention, they can help you expand your organic reach as Facebook prioritizes group posts above others in a Facebook user's newsfeed. This means you can reach loyal followers with new offers, information about your business, and the latest products they can purchase and drive more revenue to your business.
Click-to-messenger ads
Click-to-messenger Facebook ads drive members of your audience to your Messenger inbox rather than a landing page on your website. These ads make it easy to direct potential customers toward sales funnels and nurture campaigns with a chatbot or someone on your team.
You can set up click-to-messenger ads the same way you set up any Facebook ad. The only difference is you need to choose "Get more messages" when selecting an ad goal. Once you do that, your audience will be directed to your Messenger inbox any time they click the link to your ad.
Optimize your Facebook Page
Making sure your Page is fully optimized not only helps you connect with your audience, but it also gives Facebook a reason to incentivize your account in its search results. Here are a few things you can do to optimize your Facebook Business Page.
Have a high-quality profile photo and a cover photo on your Page.
Up-to-date contact information like your business name, website URL, phone number, email address, and business location
A very detailed about section for your audience and Facebook to get information about your business
A business category that's accurate to your business
A call to action button that brings Facebook users to your product pages
A custom URL for your Page (like www.facebook.com/BirdeyeReviews)
Track your performance
Facebook Insights
You can turn to Facebook Insights when you're ready to take a deep dive into your ad performance. You'll have the option to access detailed analytics from your posts, audience engagement, page views, organic and paid traffic, and more. Insights also create a downloadable report that you can export to get an overview of your analytics over time.
Ads Manager
Ads Manager is a free tool that can help you track the performance of your ads on Facebook. You can track your ad views, click-through rates, conversions, and more. You can even create a report on Ads Manager by opening the app and clicking "Analyze and report." Then, click "ads reporting" and decide which data you want to track on your Facebook ads.
Facebook business suite
The Facebook business suite is another tool that makes it easy to track your account at a glance. You can see how your paid ads are performing, check your engagement, see how your audience has grown, and learn more about your customer demographics. It's a useful way to get a full view of what's happening on your Facebook profile and provides valuable insights about your marketing strategies.
Know when to post and schedule content
Like any social media platform, Facebook sees an ebb and flow of users at different times and days. Several companies have comprehensive reports on the best days and times to post on social media to see the highest engagement on your posts, ads, and business page. If you do your research and find the best times to post, you'll be in a better position than your competitors, who post there whenever they feel like it.
Once you find the best time to post, you'll need to schedule your content to publish. This is easy, and it will help you stay organized and reach your audience at the best possible time. When creating a post on Facebook, you'll see the option to "Share now." There you can click the drop-down menu and click "Schedule." When you do, you'll have the option to schedule the post for a specific day and time.
To manage your scheduled posts, go to your Facebook Page and check the left-hand menu for "Publishing Tools." You'll see the option for "Scheduled Posts." Click on that option, and you can see all your posts scheduled to publish later. You can preview them for mobile and desktop, change their publish date, or delete posts you no longer want.
Frequently asked questions about Facebook marketing
How is Facebook used in marketing?
Facebook helps businesses create awareness through marketing,  build relationships with their audience and convert them into customers. Businesses can post content, engage with their audience, and message customers directly. 
What type of content is best for Facebook?
While any content can be used to engage with an audience, giveaways, humorous content, inspirational content, videos, and user-generated content perform best on Facebook.

What happens when you post too much on Facebook?
Although Facebook itself won't take any action against you for posting too much content, you risk making your audience tired of seeing your posts and either ignoring or blocking them from their timeline.
Build and maintain a stellar social media presence
Birdeye Social helps multi-location businesses build and maintain a stellar social media presence — improving reputation and growing sales in the process – all from a single platform. Schedule a time to speak with a Birdeye Expert. In the meantime, click the banner below to get your free social media toolkit full of easy-to-use templates.

Originally published