When it comes to choosing a place to eat, many people rely on Google restaurant reviews to help make their decision. It's a powerful tool that can help guests narrow down their choices by providing neutral information about a restaurant's food and service. Because of this, it's important that your restaurant begin to collect and generate more Google reviews to help get discovered.
Why restaurant owners should focus on Google reviews
Google is the most recognized search engine in the world. When potential guests search Google for restaurants in their area, reviews are most likely the first thing they'll see – making Google's first page a valuable piece of real estate. Here are some more reasons why restaurants should focus their attention on Google reviews.
Reviews equal revenue – If you have a lot of positive reviews and a good star rating, guests will be confident they'll have a good experience at your restaurant. This, in turn, will motivate them to visit your eatery.
Improving business operations – Google reviews can help you identify areas where your restaurant could improve. Maybe guests are commenting about long wait times or receiving cold food. Whatever the case may be, Google reviews are a good resource to help you get to the bottom of otherwise unknown issues.
Building trust – Google reviews play a significant role in building trust with guests. Potential guests are more likely to trust the opinions of other guests about your restaurant than your own marketing claims. The more transparent you are with guests, the more trustworthy your business is.
A picture is worth 1,000 words – Google allows guests to add photos along with their reviews. These photos help paint a more complete picture of what your restaurant has to offer and can make or break a potential guest's decision to visit.
Completely free – Collecting, posting, and responding to reviews are free services that Google provides. There's no need to sign up for a subscription or pay for access. Anyone can write a review about their dining experience, and Google will display it on its search results pages. This is a win-win for both you and your guests.
How to start collecting reviews on Google
Getting started with Google reviews for restaurants isn't as difficult as you might think. All it takes is a few minutes of your time and a little bit of effort to get the ball rolling.
Create your Google business listing – First, you'll need to create or claim your Google Business Profile (formerly Google My Business). If you're a multi-location business, you'll need to create a Google Business Profile for each location. After that, you can start building your business listing by adding your restaurant's name, address, phone number, and website. Once you've published your listing, you can start collecting and responding to reviews. This will also automatically list your restaurant(s) on Google Maps.
Get guest reviews – Have your wait staff encourage guests to leave reviews after their dining experience. You can also post QR codes at the host station that link to your Google Business Profile. Another tip is to include a link on your restaurant's website and in any promotional emails you send out.
Respond to reviews – Getting guest reviews is only half the battle. When guests leave reviews, take the time to respond. Thank guests for positive feedback and address any concerns raised in negative reviews as soon as possible.
Manage your profile – You can actively manage your Google Business Profile and connect with guests by sharing information about updates and promotions. Also, make sure you keep your business details current. For example, if your hours of operation change or you no longer offer delivery, make sure this is reflected on your business listing. Inaccurate information can hurt your Google search ranking.
Three ways to get more Google reviews for your restaurant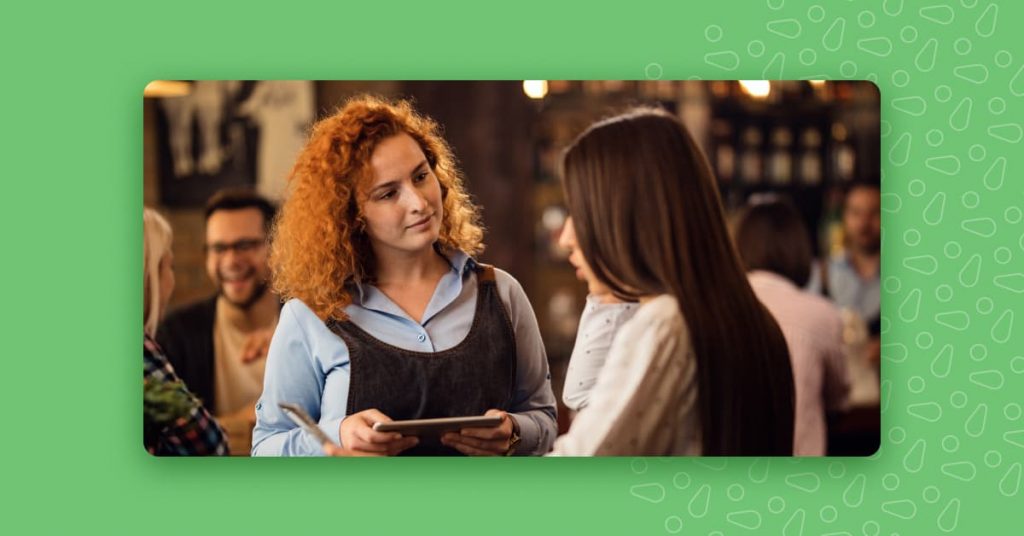 Sharing links to your Google reviews page is a good start but, frankly, it's not enough. This is especially true if you own and operate multiple locations. Here are a few ideas to increase the number of Google reviews for your restaurant.
1. Add attributes to your Google Business Profile
Your restaurant's Google experience has the opportunity to go beyond just displaying your business name, address, and phone number. There are a few restaurant-specific attributes you can apply to your Google Business Profile that'll make your listing more attractive and help generate more reviews.
Type of cuisine – Do you specialize in northern Italian food? Maybe you're an Argentinian steakhouse. Whatever the case, make sure you include the type of cuisine you serve on your Google Business Profile. Now, when guests are searching for a specific type of food, your restaurant is more likely to show up in the results.
Services offered – Make it clear to guests how they can experience your restaurant by selecting if you offer dine-in, take-out, delivery, or some combination of these. Google will then display a corresponding icon on your profile to let guests know which services are available.
Specialized links – You can add links to your Google Business Profile that let guests order pick up, delivery, or make a reservation. The added convenience is appreciated by guests and could be a determining factor between your restaurant and another.
Add your menu – You can either build this directly on Google using their menu editor or you can provide a link to the menu page of your website. Be sure to include photos, and most importantly, keep your menu items and prices up-to-date.
2. Generate more reviews with review management software
Generating and managing reviews can be a full-time job – and it can be even more difficult if you're managing a chain restaurant. That's where review management software can help. With review management software, it's easy to track all your reviews in one place so opportunities aren't missed.
Most review management software will have pre-built templates to help you respond to guests quickly. They can also send automated messages to guests reminding them to write a review after their visit. And finally, this software can help you identify negative feedback, which will keep your positive online reputation intact.
As a result, review management software can be a valuable tool for any restaurant owner looking to increase their review volume and attract more guests.
3. Use social media
Another way to encourage more reviews is to use social media. By posting about your restaurants on popular platforms and adding a link back to your Google reviews in your bio, you can reach a wider audience and encourage people to leave reviews.
Asking guests to tag you in their posts or use a specific hashtag can be a great way to get more people to write about your restaurant.
How to handle bad reviews
If you're a restaurant owner, chances are you've gotten a bad review at some point. Whether it's an unfair criticism or a legitimate grievance, it can be tough to see your business getting negative feedback. But don't panic. There are a few things you can do to turn a negative review into a positive opportunity.
Guest's point of view – First, take a deep breath and try to see the situation from the guest's perspective. What could have gone wrong? Is there anything you can do to fix the issue? If so, reply to the guest and offer to make things right. This shows that you're interested in providing a good experience for all of your guests, not just those who give positive reviews.
Be transparent – You should respond publicly to the review. Thank the guest for their feedback and let them know that you're working to improve your restaurant. This shows that you're willing to listen to criticism and make changes, which will encourage other guests to give you another chance.
Be respectful – Always reply to negative reviews in a professional manner. You can't please everybody, but you can control what you say. If you respond to a bad review with anger or hostility, it will only make the situation worse.
Know when to take it offline – If you are dealing with a very angry guest, ask them to contact you directly. Provide a phone number or an email so the guest can contact you. That way, any potential back and forth won't be public. Plus, if you're able to resolve the problem privately, there's a good chance the guest might edit or even delete their original review.
FAQs about Google restaurant reviews
Is it a good idea to buy Google reviews?
No. Google has strict guidelines in place that prohibit businesses from paying for or offering incentives in exchange for reviews. If caught, your Google Business Profile could be suspended or removed permanently.
Can I remove fake Google reviews manually?
No, but you can report fake reviews to Google. To do this, click on the three dots at the right of the review and then select 'Report Fake Review.' This will prompt Google to investigate the review and take appropriate action.
How do you reply to Google My Business reviews for a restaurant?
You can reply to Google My Business reviews for a restaurant by clicking on the three dots at the right of the review and selecting 'Reply.' Type your response in the box provided. Be sure to thank customers for their feedback or let them know that you're working to improve your restaurant. You should always respond to negative reviews in a professional manner.
Build your online presence with Birdeye Reviews
Most restaurants rely on multiple review sites to build a positive online reputation – but as we mentioned earlier, managing several different sites can be tedious and time-consuming. Birdeye Reviews has integrations with over 200 review sites. The best part, you can manage all of these from a single inbox. Watch our demo to learn more and start cooking up a winning reputation with Birdeye today.

Originally published