In our increasingly digital world, online reviews have become the backbone of digital marketing campaigns. The way a business approaches customer review management can directly impact and improve its reputation and branding. Reviews initially started as a way for customers to share their experiences, but they're now a full-fledged marketing channel.
According to recent research, most people read reviews when looking for local businesses. Research also shows that if a business responds to all its online reviews, it's more likely customers will engage with that business.
This data reinforces the idea we've held for a long time: reviews and review management are an important part of a buyer's journey. Improving your review management strategy can help your business generate more leads and drive more revenue.
In this blog post, we'll explore online review and reputation management and explain how Birdeye can help local businesses do it well.
Review management and reputation management
Most people assume review management only involves getting and responding to reviews – but nothing could be further from the truth. In reality, review generation and response are only two important parts of review management.
Review management, by definition, means monitoring a business' online reviews across various channels. Reputation management is the practice of building and maintaining a positive reputation for your business and monitoring reviews gets you there faster. Review management and reputation management are inherently connected – which means the more review sites your business is on, the easier it is to build an online reputation.
For successful reputation management, you'll also have to incorporate a comprehensive review management system. Businesses need a review management system that can:
Actively generate more reviews for their business
Notify them when a new review comes
Highlight potential issues to resolve
Provide a bigger picture for business growth and development
These four things can be hard to achieve manually, especially if you're a growing business with reviews on hundreds of sites.
Customer review management software
Traditionally, customer review management software makes it easier for businesses to manage their online reviews and streamline their reputation management efforts. An impactful software should help businesses generate new reviews, respond to reviews, and maintain a consistent brand image across all channels.
Why businesses need customer review management software
According to Birdeye's research on the impact of reviews on business revenue, marketers say online search and reviews are their top source for attracting new customers. Our research also found that 34% of marketers believe most customers find businesses via online reviews. Studies also show that 57% of customers only consider a business with four or more star ratings.
Reviews are great to have, and they deserve as much attention as any other marketing channel. Customer review management software streamlines the review management process and reduces the opportunity for human error. That's why choosing the right customer review management software is key to a successful review and reputation management strategy.
Birdeye: the leading customer review management software
Businesses can achieve a stellar online reputation by listening to their customers and giving them an opportunity to leave feedback. With Birdeye, review generation and monitoring is easier than ever. We're the leading customer review management software on the market, and we've helped more than 100,000 local brands and businesses manage their customer reviews.
Our product is designed to keep your business one step ahead across the entire marketing flywheel – and our customer review management system is at the core of it.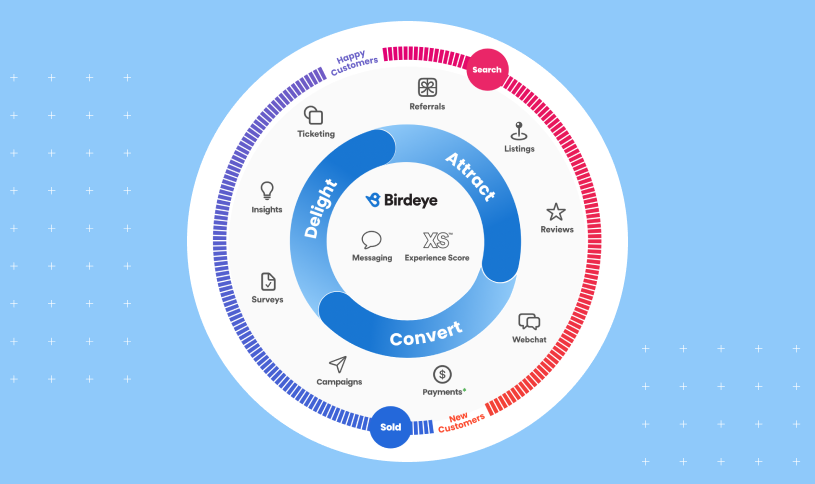 Our solutions can help you outshine your competitors during the discovery phase, perform better during the conversion phase, and delight customers at every stage of the buying journey.
Let's take a closer look at Birdeye's customer review and reputation management services.
Review generation
Let's say you're a local business looking to improve your online reputation. You know you need to increase your visibility, so your first focus is on local listing websites and your Google Business Profile. But you quickly realize that just creating a profile won't cut it. You need reviews to boost your presence on these websites.
When it comes to local SEO, over 30% of customers in a recent Birdeye poll say that generating customer reviews is their biggest challenge. Another study found that 74% of consumers write reviews for local businesses.
So, why is there such a big gap?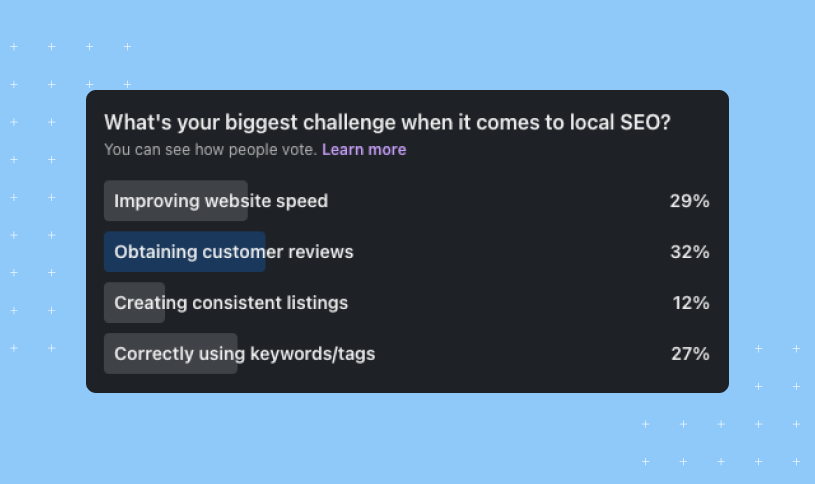 Businesses without a review generation strategy might struggle to get the number of reviews they're looking for. That's where Birdeye can help. With our all-in-one platform, you can: 
Integrate your existing CRM software and send review requests without lifting a finger
Ask customers to leave reviews at their happiest moments to ensure a prompt response
Request reviews from new and existing customers to boost your review count and improve your online reputation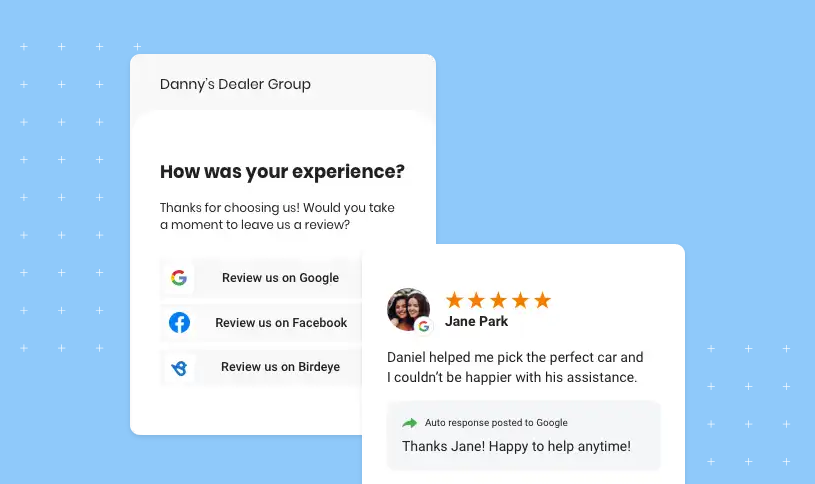 Here's what a typical review request from Birdeye looks like. You can rest easy knowing reviews will come in on autopilot while you're managing other aspects of your business.
Review monitoring
You can also monitor and respond to every customer review from your Birdeye dashboard. By responding to reviews as soon as they're posted, you can boost your SEO ranking and improve your Google Business Profile. 
It can be tough for some businesses to monitor every review site and reply to reviews manually. The Birdeye dashboard populates your latest reviews from all linked review sites in a single place. Your dashboard refreshes every 24 hours, but you can also do a manual refresh if you know a customer has just left a review.
You can also use your Birdeye dashboard to:
Monitor what your customers are saying about your business across more than 200 review sites
View, respond, and manage your reviews on all integrated review sites
Get reports on your most active review profiles, latest reviews, and reviews for each business location
Track which employee generates the most reviews
Improve customer experience by understanding customer feedback
Find revenue opportunities for referrals, upsells, and loyalty programs
Send referral emails to customers who have written positive reviews about your business
See recent review activity across every channel
Review monitoring is especially important for multi-location businesses. One location may outperform other locations, and those star ratings could skew your national average. Birdeye can help you identify your top locations and your locations that need a bit more attention.
Review response
Responding to customer reviews can improve your Google Business Profile, local SEO efforts, and your online reputation management. However, responding to each and every review can be challenging for some local businesses.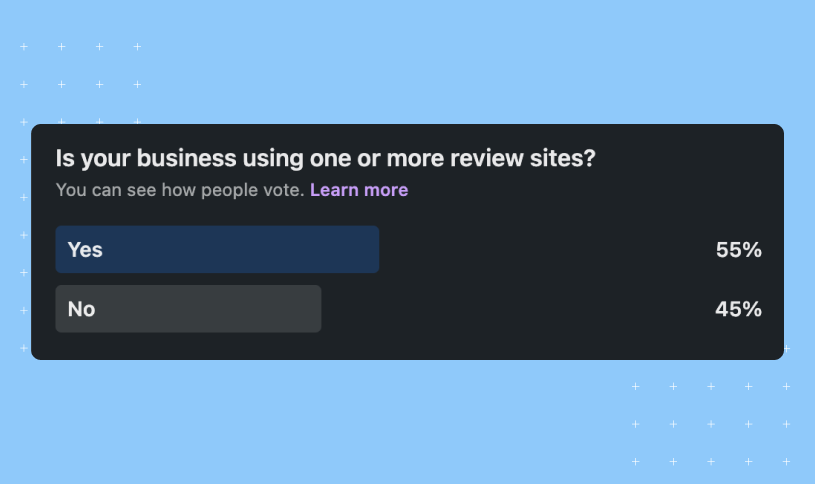 Birdeye's all-in-one dashboard makes responding to reviews easier than ever. With our platform, you can:
Respond to online reviews across more than 200 reviews sites
Use custom templates to respond to positive and negative online reviews quickly.
Set up automation to respond to reviews at scale.
Go live on all linked review sites on day one. Birdeye offers an easy-to-use UI, integration with over 3,000 systems, and a world-class onboarding experience.
Receive instant alerts whenever a new review goes live so your team can get on it immediately.
Assign negative reviews to the appropriate team members via our ticketing system.
Watch this video to learn more about Birdeye's review automation feature.
Review marketing
Online reviews can help create social proof, improve customer sentiments, and build trust in your business. With Birdeye's review marketing feature, you can improve your reputation across every active marketing channel and share your best reviews across the internet. You can also automatically share your reviews on your social media channels.
Check out our webinar on review marketing and its role in reputation management for more details :
Customer feedback management tool
Reviews are a great way to understand your customers' feelings about your business. They give you helpful insights on what you're doing right and want can be improved upon.. But sometimes, you have to dig a little deeper. And that's where surveys come in.
Traditionally businesses have had to use standalone customer feedback software systems to manage feedback. But that's not the case with Birdeye.
Birdeye brings you surveys, insights, and review management all built into the same system to make customer feedback management a breeze for businesses.
Our solutions help you generate, manage, and analyze the feedback your business receives via surveys to make informed business decisions.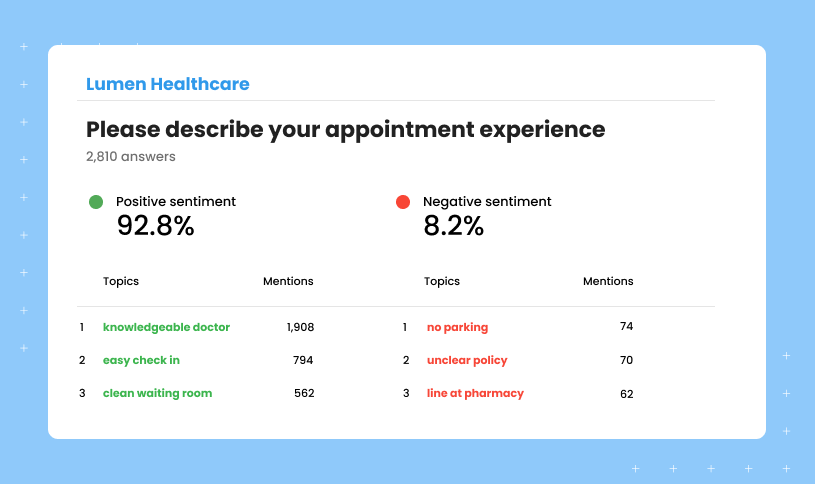 With Birdeye's customer feedback management tool, businesses can:
Automate surveys to customers with negative reviews to know their experiences in detail.
Create in-house customer support tickets to handle issues raised in negative responses.
Encourage customers with positive survey responses to leave a review online or refer a friend.
Analyze business performance and make changes for the better.
FAQs about customer review management software
How do I manage my Google reviews?
Once you have your Google Business Profile up and running, you can access your reviews from your Google dashboard. You can also request and respond to reviews. You can also use customer review management software like Birdeye to generate, track, and respond to your Google reviews.
What is reputation and customer review management software? 
Reputation and customer review management software can help businesses manage their online reviews and maintain a positive reputation. Some features include review generation, review monitoring, and review management, along with analytics and customizable dashboards.
Improve customer experience with the Birdeye perspective
Birdeye's review management software makes it easy for businesses to generate, manage, and amplify online reviews all from a single dashboard. If you're ready to streamline your customer review management process, sign up for a free demo today.
Originally published