Customers tell businesses exactly what they want and how they want the business to make them feel when they interact with them in their feedback. It's almost like the blueprint to fantastic customer experience is handed out. It may be buried under a mountain of data and may need to be decoded – but the information is there. Why then do so many businesses struggle to provide that perfect experience that their customers expect?
There may be logistical issues in rolling out a great CX strategy across channels, locations and geographies. But the problem often lies in the inability of the businesses to actively listen to the feedback to create that perfect CX strategy in the first place. More often than not, businesses make decisions based on partial data and as a result, the gap between what the customer wants and gets keeps increasing – The gap between Voice of Customer (VoC) and customer experience (CX).
In this article, we'll break down some common challenges in turning Voice of the Customer into customer experience improvements. We'll also outline some potential solutions that can help your business wow customers across different touchpoints.
Why does the gap exist?
There's a reason why the gap between voice of customer and customer experience just keeps getting wider and wider: The number of channels where customers provide feedback today has exploded. Feedback comes in via in-person interactions, reviews, chat, text messages, email, surveys, phone calls etc. Now add to this the complexity of the multiple locations that business may have. The sheer volume of data is simply overwhelming. This is where having a comprehensive VoC program that can fuel your CX strategy can help.
Most businesses that wish to implement a Voice of the Customer program face one or more of the following challenges.
Limited view of the customer journey
Between surveys, social listening, reviews, email, chat and so on – many businesses simply don't have the resources in place to truly understand the customer. Team members may listen to one or two channels. But this doesn't give them a comprehensive view of the customer journey.
Metrics that are commonly-used to measure customer satisfaction like NPS can only tell a business so much. The customer who rated you a 10 yesterday may now have a pressing complaint just lodged over chat. Unfortunately, many businesses are unable to identify these issues until it's too late.

Data is lost in different silos
Sifting through mountains of data to pull out valuable nuggets of insights can be daunting. What makes it even more difficult is when this data resides in silos and is not available to decision-makers.
Data silos are one of the biggest problems that organizations face. 47% of marketers say their data is 'Siloed and difficult to access' . This makes it challenging to get an accurate and integrated view of the customer journey.
Check out this guide on how you can overcome data silos and deliver value throughout the customer lifecycle.
Lack of focus
Many teams simply don't have the time to focus on Voice of the Customer long-term. Employees may have other priorities that require more pressing attention and simply cannot focus on monitoring customer sentiment. 
However, we must remember that the needs of customers evolve constantly and require constant attention. Ultimately, a successful VoC program kicks off a continuous cycle of listening, tracking, and improving.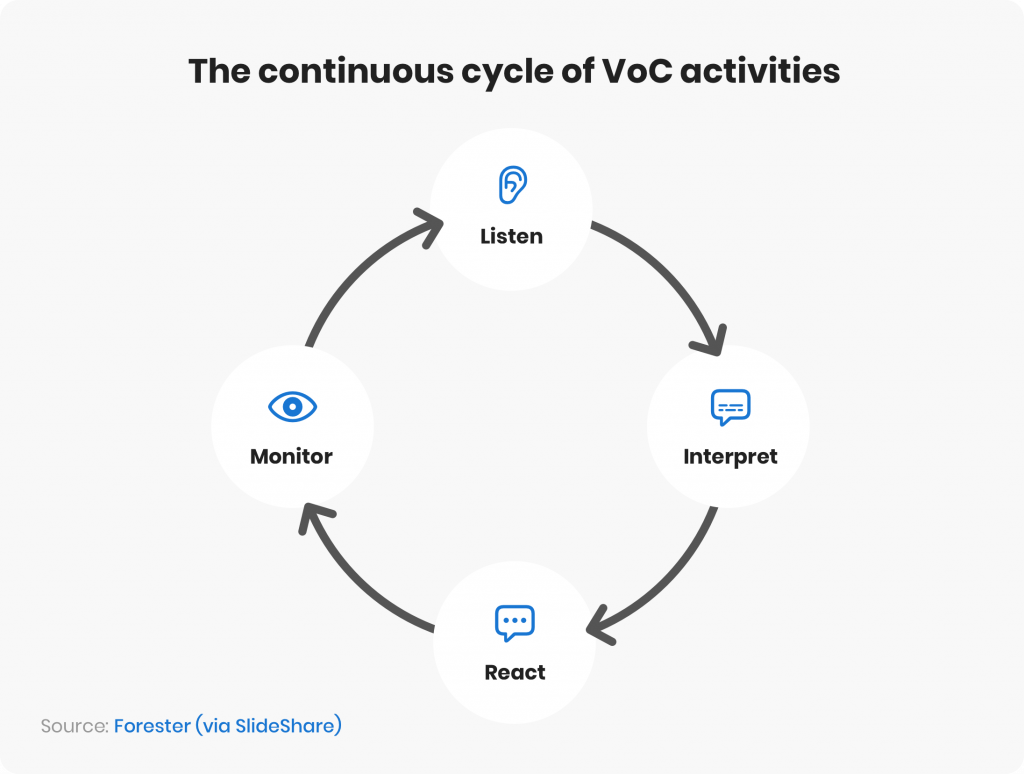 How to bridge the gap and improve customer experience
To get the most out of their VoC program and overcome the common obstacles we have outlined, managers need to ensure their team has the structure in place to understand and take action on customer feedback.
Enable internal advocates
To overcome institutional barriers, many businesses build teams dedicated to evangelizing the Voice of the Customer across the organization. These teams can help employees from the top-down reorient their actions around what's best for the customer.
Ashley Cash, Senior Customer Experience Manager at Globe Life, recommends finding a strong internal candidate to lead the team. Ideally, the employee should have a deep level of familiarity with the business. However, implementing a VoC program cannot simply be an added responsibility to a current job title. To truly make an impact, the employee must transition to a role that's dedicated to improving customer experience.
Check out the complete webinar to know more Ashley Cash's insights on finding internal advocates.
Centralize customer feedback
It's difficult for any team to keep track of any one customer across a variety of different touchpoints and channels. Ultimately, the best solution is to centralize customer feedback.
THRIVE Affordable Vet Care was having trouble getting insights from their reviews and surveys, which the company collected on two different platforms. Benjamin Trotter, THRIVE's VP of Marketing, realized that the best way to help his team understand patient sentiment was to centralize patient feedback. Employees were then able to monitor issues across THRIVE's 100+ locations in one place and hone in on specific locations that were underperforming. After making the change, THRIVE saw improvements in overall star rating and NPS across locations. 
Catch the complete interview with Benjamin Trotter, VP of Marketing at THRIVE Affordable Vet Care in our on-demand webinar.
Keep an eye on sentiment across the customer journey
As we discussed earlier, NPS is a limited metric. But businesses can look elsewhere to get a holistic view of the customer journey.
To truly get a comprehensive view of customer experience, businesses need to have the tools to track customers across different channels. If a previously happy customer has one negative interaction over chat, employees should know about this immediately. This gives businesses the opportunity to reach out right away and make sure the issue is resolved.
How David's Bridal uses VoC to improve customer experience
David's Bridal, as you may know, is a 300+ wedding dress destination with locations in the U.S., Canada, Mexico, and the U.K. What you may not know is that the company has managed to build a successful VoC program that turns feedback into magical experiences.
Morgan Nemath, the company's Customer Service Operations Manager, keeps a close eye on customer reviews across 300+ locations using the Birdeye platform. If Morgan finds specific locations that are receiving negative reviews, she'll get in contact with a location manager immediately to resolve the issue. Often, she'll connect poorly-performing location managers with high-performing peers who can help them better understand the problems at hand.
During the onset of the COVID-19 pandemic, customer feedback was crucial for David's Bridal. The company used it to ensure that the shutdown of physical locations and massive disruption in the everyday life of customers would not lead to a drop in customer happiness. VoC helped David's Bridal quickly transition to curbside pickup and virtual appointments, and solve any CX issues that came up in a timely manner.
With the help of internal advocates like Morgan, David's Bridal is able to take quick action on customer experience issues and ensure that feedback turns into real improvements in customer happiness.
In conclusion
The gap between VoC and CX can be difficult to bridge. But with organizational buy-in, the right culture, and the right platform to monitor and track customer data, managers can turn customer feedback into fantastic experiences.
For more tips and tricks on how to use data to improve CX, check out our comprehensive guide.

Originally published