Social media is essential for businesses to reach a wider audience and build their brand in today's digital age. However, without a solid social media marketing plan, businesses can miss out on the full potential of social media marketing.
A solid social media plan helps you break down the bigger picture and focus on the smaller steps that can aid in reaching your goals.
This article will help you create a successful social media marketing plan to grow your brand's presence.
What is a social media marketing plan?
Do you want to streamline your social media marketing? In order to do that, you need a social media marketing plan.
A social media plan is a strategic document outlining how to use social media platforms to achieve your marketing goals. It's a roadmap that outlines your goals, target audience, which social media platforms to use, what kind of social content to create, and how to measure success.
You can also include specific tactics and activities the team must follow to achieve the goals.

How to build a social media marketing plan?
The first step in building a robust social media presence begins is to have a solid social media plan. This way, you know where you're going and can track your progress consistently.
Some critical components of a social media marketing plan are :
Goals and objectives
Target audience analysis
Social media channel selection
Content strategy
Posting schedule and frequency
Metrics and measurement
Here's your step-by-step guide to creating a social media marketing plan. We also have a social media plan template for you to download and put into action.
Define your social media goals
Your overall marketing strategy will have a few predefined goals for social media. These goals can be to increase brand awareness, generate more leads, boost customer engagement and loyalty, improve customer service, monitor brand reputation, and establish thought leadership, to name a few. Your social media strategy and plan must be in line to achieve these goals.
Having clearly defined goals and objectives is essential to align your efforts to the results the business expects from social media. Let your marketing goals define subsequent social media goals and then form a plan to achieve them.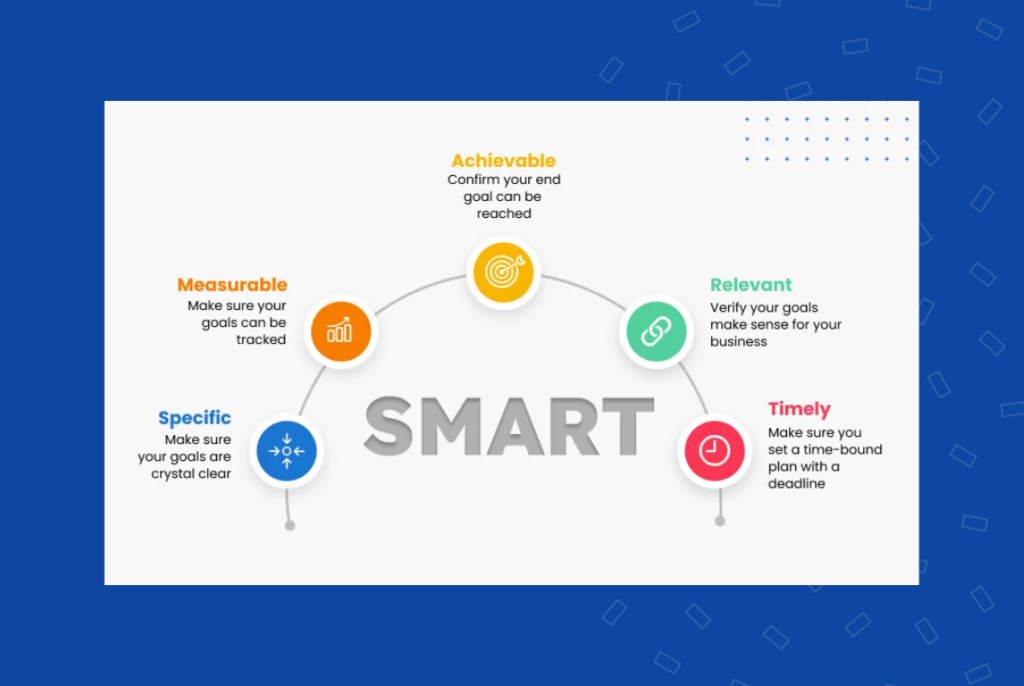 Apply the method of SMART(specific, measurable, achievable, relevant, and time-bound) goals. SMART goals help a business set specific targets that are realistic and achievable within a specific timeframe.
For example, a SMART goal for your social media content could be to increase website traffic by 20% in the next three months by posting daily on social media.
Identify your target audience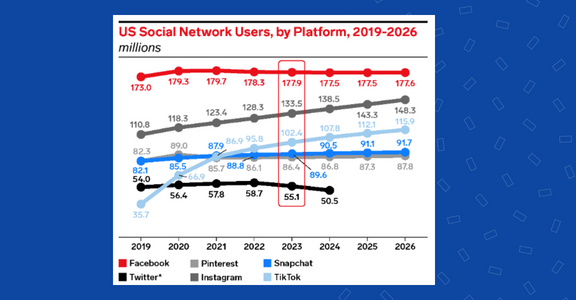 Identifying the ideal target audience for your social media strategy is crucial to ensure your efforts are practical and efficient. You can do so by conducting market research, creating buyer personas, and analyzing your social content's performance across each social network. It is an important component in social media management.
Once you know who you are creating the messaging for, you can learn more about them by:
Analyzing social media metrics: Use social media insights to understand your audience's behavior on social media. Analyze your posts' engagement rates, click-through rates, and reach to identify the content that resonates with your audience.
Monitoring social media conversations: Monitor conversations using social listening tools related to your industry, brand, and competitors to understand what your audience is talking about and their pain points.
Using audience segmentation: Segment your audience based on their demographics, interests, and behavior on social media. It helps you create targeted content and campaigns that resonate with each segment.
Choose the right social media platforms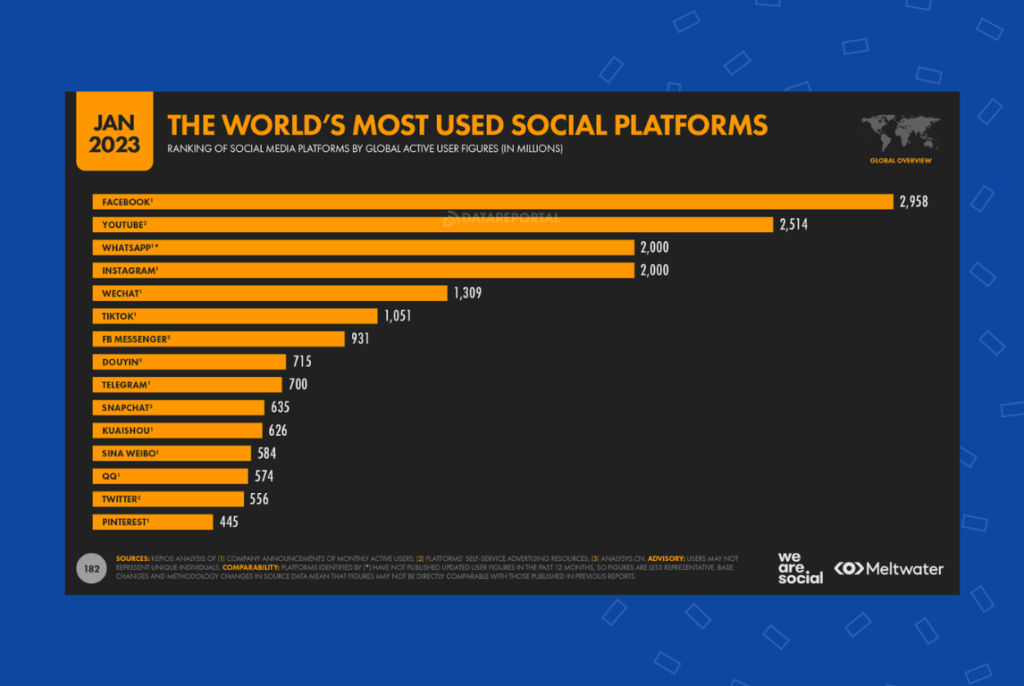 Choosing the right social media platform is a crucial step in a business's social media marketing efforts. Each platform has unique features, user demographics, and content formats that can impact how a business's content is received and engaged with by its target audience.
Selecting the right social media platform enables businesses to reach their target audience more effectively, increase engagement and conversions, and achieve their marketing objectives.
Here's a quick summary of what to expect from the top social media networks:
Facebook: Typical audience age here is 25-49, and the audience has almost equal male and female users. Videos, images, links, and live streams work the best here.
Instagram: Average age of users on Instagram is 18-34, with more female users than male and a strong presence in urban areas. Images, videos, stories, reels, and IGTV are some content formats you can explore here.
LinkedIn: Average age of the audience here is 25-54. The platform has more male users than female users, with a strong presence among professionals. Brands can leverage professional content, industry news, job postings, thought leadership articles, videos, and infographics on LinkedIn for the best results.
TikTok: The audience has an average age of 16-24 here. The platform has an equal presence from male and female users, with a solid presence in urban areas. Short-form videos, user-generated content, challenges, duets, and lip-sync videos have the most impact here.
Remember that these general demographic guidelines may vary depending on your target audience or industry. Researching and analyzing your target audience is vital to narrow down the right social media platforms for your business.
Develop a content strategy
A content strategy helps you create and share high-quality content with your audience. A well-planned content strategy ensures that you produce consistent, relevant, and engaging content that aligns with the brand's message and values.
Without a content strategy, a business may waste resources on content that isn't bringing them results.
An efficient content strategy helps businesses plan their content creation, distribution, and promotion. You can develop a content strategy for your social media networks with these steps:
Conduct a content audit: Analyze the existing content to identify what has worked and what hasn't. You should also check how well the content is aligned with the goals and audience defined in the previous steps. This way, you develop a plan that builds on what has worked in the past and avoids mistakes.
Brainstorm content ideas: Create content ideas that align with the goals and target audience. Use research and analytics to identify topics that interest the target audience.
Choose content types and formats: Decide on the types of content to create (such as blog posts, videos, or infographics) and the formats that will work best on each social media platform.
Develop a content calendar: Create a schedule for posting content, taking into account the frequency of posts and the optimal times to post on each platform.
Your social media content strategy is the key to achieving your goals across all platforms. Your ideals and objectives should translate into the content you publish online, so a well-crafted content strategy is crucial.
Create and publish content
With all the planning done, it's time to implement your marketing plan for social media. Based on your content strategy, start creating content that aligns with your brand goals, audience preferences, and the requirements of the social media networks you chose.
To find success in social media content marketing:
Keep your content visually appealing: Use high-quality images and videos to attract the attention of social media users.
Keep it short: Social media users have short attention spans, so you can see better results if you keep your content short and to the point.
Be consistent: Develop a regular posting schedule and stick to it to keep your audience engaged and build brand recognition. Use scheduling tools or a social media post planner to stay on track if necessary.
Use hashtags: Hashtags on platforms like Instagram, Twitter, or TikTok can help you reach more users.
Use a variety of content formats: Mix up your content formats, including images, videos, GIFs, and infographics, to improve engagement on your content.
Respond to comments and messages: Respond to comments and messages promptly to show that you are interested in conversing with your audience. The more you engage, the more feeds your content reaches.
Free social media calendar template
Make a copy for your use
Measure success
Track social media marketing metrics such as engagement, click-through, and conversions. Use this data to optimize your strategy and improve your results over time.
To measure the success of your plan, start by defining specific metrics and key performance indicators (KPIs) that align with their overall business objectives. Here are some common KPIs that businesses may use to measure social media success:
Engagement: This includes likes, comments, shares, and other forms of interaction with a business's social media content. High engagement rates indicate that a business's content resonates with its audience.
Follower growth: This evaluates the number of new followers a business gains on social media over a given period. Consistent follower growth can indicate that a business's social media presence increases visibility and attracts a larger audience.
Website traffic: This tracks the number of website visitors from social media channels. Businesses can use tools like Google Analytics to measure this metric.
Conversions: This measures the number of social media followers who take a desired action, such as purchasing or filling out a form. Conversions are a direct indication of a business's social media ROI.
Brand sentiment: This measures the overall sentiment of social media conversations around a brand. Positive sentiment can indicate that a business is effectively building a positive brand image.
By regularly tracking these KPIs, businesses can make data-driven decisions to optimize their social media strategy.
[Free Template] Social media reporting template
Make a copy for your own use
Content evaluation and adjustments
Social media is constantly evolving, so it's important to conduct a social media audit periodically to adjust plans based on changing trends and results.
Based on what you discover, here are some ways to adjust social media efforts:
Identify top-performing content: Look at the content that's receiving the most engagement and adjust your strategy to create more of that type of content.
Identify low-performing content: If certain types of content aren't performing well, consider tweaking or eliminating them from your content strategy.
Optimize posting times: Analyze when your audience is most active on social media and adjust your posting schedule to match those times.
Adjust targeting: Review your audience demographics and adjust your targeting to reach a more relevant audience.
Monitor competition: Use analytics to track your competitors' social media efforts and adjust your strategy accordingly.
Experiment with new formats: Based on the analytics, try experimenting with new formats and content types to see what resonates with your audience.
Continuously measure and analyze: Regularly review and analyze your social media analytics to identify areas for improvement and make necessary adjustments to your strategy.
Sample social media marketing plan
To make the process of planning your social media efforts simpler, here's a sample 30-day social media plan for your reference. This plan works for a small business with a presence on Instagram, Facebook, Twitter, and TikTok:
Week 1:
Day 1: Create and publish an Instagram post highlighting a product or service with a compelling image and engaging caption.
Day 2: Share a behind-the-scenes look at the business on Facebook through a video or photo post.
Day 3: Share an industry-related article or blog post on Twitter and provide commentary on how it relates to the business.
Day 4: Create a TikTok video showcasing the business's fun and creative side.
Day 5: Share a customer testimonial or review on Instagram and thank the customer for their support.
Day 6: Share a blog post or company update on Facebook and ask followers to share their thoughts in the comments.
Day 7: Host a Twitter chat with followers on a relevant topic or industry trend.
Week 2:
Day 8: Post a product demonstration or how-to video on TikTok to showcase the business's expertise.
Day 9: Create an Instagram Reel featuring a product or service with a fun and engaging twist.
Day 10: Share a Facebook Live video of a Q&A session with the business owner or team members.
Day 11: Share an industry-related infographic on Twitter with tips or insights for followers.
Day 12: Post a TikTok video featuring a customer or employee testimonial to build trust and credibility.
Day 13: Share a motivational quote or inspirational message on Instagram to engage followers.
Day 14: Host a Facebook contest or giveaway to increase engagement and reward followers.
Week 3:
Day 15: Tweet about the business's products or services and include a link to the website.
Day 16: Post a photo or video of the business's product or service in use on Instagram with a brief description and any relevant hashtags.
Day 17: Share a customer testimonial or review on Facebook.
Day 18: Create a short video featuring the business's team or employees on Tiktok. Add fun filters or effects and use popular hashtags.
Day 19: Post a before-and-after photo or video of a project or service the business offers on Instagram.
Day 20: Share a customer success story or case study on Twitter.
Week 4:
Day 21: Create a short video featuring the business's product or service in use by a happy customer on TikTok.
Day 22: Share a promotional offer or discount for the business's products or services on Twitter.
Day 23: Post a photo or video of the business's product or service in use in a beautiful or picturesque setting on Instagram. Encourage followers to share their own photos or videos in beautiful or picturesque settings.
Day 24: Share a post about the business's upcoming events or webinars on Facebook with a link or registration information for people to sign up.
Day 25: Share a relevant TED talk or video related to the business's industry or niche on Twitter with a brief commentary on the key takeaways or insights.
Day 26: Create a short video on TikTok featuring the business's team or employees showcasing their skills or talents.
Day 27: Post a photo or video of the business's product or service on Instagram in use by a person with a unique or unusual hobby or interest.
Day 28: Post a photo or video on Facebook showing the business's team celebrating a holiday or special occasion.
Week 5:
Day 29: Share a relevant podcast or audio clip related to the business's industry or niche on Twitter.
Day 30: Post a photo or video of the business's team participating in a fun or unique team-building activity on Facebook.
Remember to analyze and adjust the plan based on the results to make the most of the social media marketing efforts.
Frequently asked questions about social media plan
What are the six steps to a social media plan?
The 6 steps to a social media plan are:
-Identify your goals
-Define your target audience 
-Choose the right social media platform
-Design a content strategy
-Draft a content publishing calendar 
-Analyze and adapt to what works best. 
How do I create a 3-month social media plan? 
To create a 3-month social media plan, establish SMART goals, and build steps to achieve that within this timeframe. Work with your team to brainstorm content ideas, design strategies for each platform, and set up tracking processes to tweak as you go. 
What should a social media plan include?
A social media plan should include:
1. Goals and objectives
2. Content strategy
3. The chosen social media platforms
4. Brand voice and tone 
5. Branding guidelines
6. Customer service guidelines 
7. Metrics to be tracked
What is a common issue with social media marketing plans?
One common issue with social media marketing plans is that they don't have a process in place to engage with social media followers. Incorporating that is important for successful social media marketing efforts.
What 5 things should be considered while planning a social media campaign?
The 5 things to be considered while planning a social media campaign are:
– Who the campaign aims to reach? 
– What social media platforms are ideal for content distribution?
– Is the campaign going to incorporate social media ads? 
– What are the short-term and long-term goals of the campaign? 
– What is the competition doing that you can/can't do? 
Streamline your social media with Birdeye
A well-crafted social media marketing plan can help businesses effectively harness the power of social media to achieve their marketing goals. However, creating a successful social media marketing plan requires ongoing attention and adaptation.
With Birdeye Social, you can manage your social media profiles across channels from a single easy-to-use dashboard. You can create, schedule, and manage content and monitor your social media reputation without ever leaving our platform.
Watch our demo to know more on how Birdeye can help you streamline your social media planning.


        

This blog post is part of our Social Media Management Guide 


      

            



Originally published