Inevitably, your business is going to have a few unsatisfied customers. There's no way to avoid this. What separates successful businesses from unsuccessful ones is how they deal with these service failures. 
Luckily, there is a trick to turning angry customers into loyal advocates. It all has to do with how effectively your business is able to respond and react to customer complaints and thus building an online reputation. 
The Secret: Service Recovery Paradox
The term service recovery paradox was coined in 1992 by Professors Sundar Bharadwaj and Michael McCullough. "Service recovery paradox" describes a phenomenon where a customer who has a bad experience at a business later becomes a dedicated, loyal customer. All it takes to change the customer's opinion is a little effort on the part of the business.
Usually, customers are upset because of service failures- incidents where the delivery of services fails to meet customer expectations. This might be something like a long wait time or rude behavior from employees. Experiences like these can turn a customer off to your business and can lead to them spreading negative word of mouth, telling friends and family to avoid using your services.
Every business has service failures. What sets the best businesses apart is how they treat customers who've experienced these failures. Good service recovery can help a business turn customer perception around. For example, a customer who had a bad experience can receive a free item. This recovery shows the customer that the business sincerely cares about the experience of every person who walks through the door and wants to fix the original problem.
In other words, a customer who had a negative experience at a business followed by a service recovery can end up a loyal customer. In fact, they often end up a more loyal customer than a customer who experienced no service failure at all.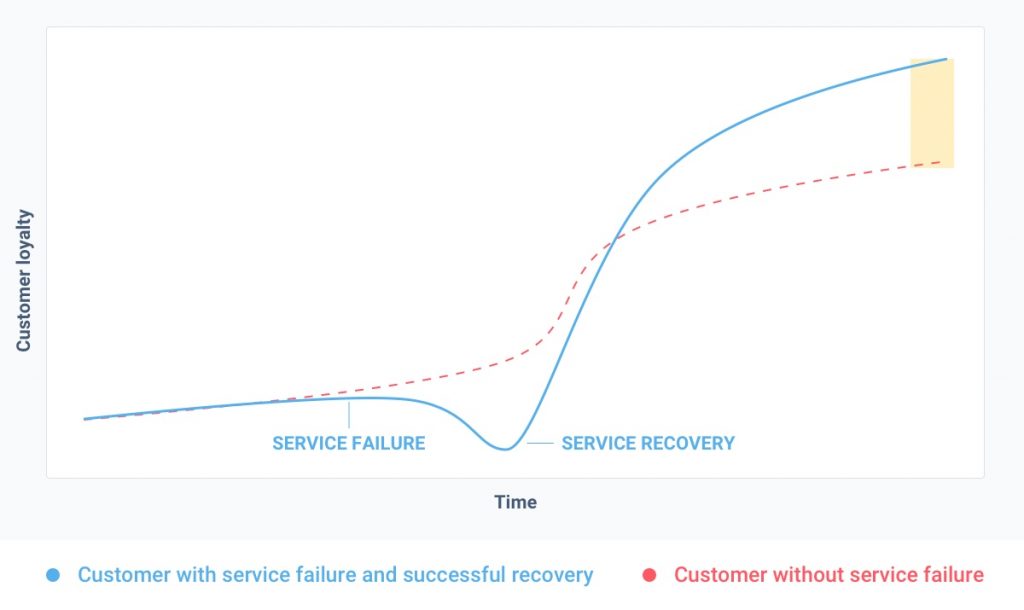 A good recovery turns an angry customer into a loyal customer. Though it seems simple, it comes with a big caveat: This only works if you're able to react to customer feedback quickly and decisively.
For businesses to create loyal customers, they need to have an effective recovery process. Let's take a look at a real-life example to see how a business turned a frustrated customer into a happy one.
A Real-Life Example
One of our Birdeye employees, Andi, was a regular at a Mexican restaurant in Dallas. She regularly recommended the restaurant to friends and family. One day, she decided to bring some friends in. They were seated immediately and brought chips, but hadn't been brought any water.
After meeting eyes with a waiter, Andi told a waiter that the table needed water. He told Andi that it would be coming shortly. He checked on the table several times, but for some reason neglected to bring the water himself.
Fifteen minutes later, Andi's table had finally been brought the water they were waiting for. When they asked for straws, the waiter said "Just one moment."
Sensing they were going to have to wait for more than one moment, the table decided to instead go to the Mexican restaurant across the street. They were served water in around thirty seconds.
Andi was upset about the restaurant's service. She sent an email to the General Manager and received this response.

Andi went back to the restaurant and was treated like royalty. After the service recovery, she continues to recommend the restaurant to friends and family. Still, the business only narrowly avoided disaster. If Andi hadn't gotten a quick response from the General Manager, chances are that she, and her friends, would've never come back.
Three Steps to Recovering Perception
This story helps us understand how any business can turn angry customers into brand advocates. We can break the process into three parts.
Service Failure

Service Recovery

Recovery Perception
Let's talk about each step in detail.
Step One: Service Failure
In order to know when there's been a service failure, you need to listen to your customers. Most of the time, angry customers aren't going to send you a detailed email where you have the chance to respond. It's more likely they'll just leave your business and go to your competitor.
Of course, that doesn't mean there's no way that you can know how your customers feel about you. After all, there are plenty of places where customers are speaking online. A frustrated customer can leave a bad review or post a negative tweet about you. That makes it important to pay close attention to review sites across the Internet and social media platforms.
When you do get negative customer complaints, be sure to respond fast. The longer you wait, the harder it becomes to change the customer's opinion.
Step Two: Service Recovery
In order to nail the service recovery phase, keep the following three tips in mind.
Define Clear Cut Procedures
Lay out some guidelines so employees know what to do when a customer complains. If you want employees to offer some sort of free service to angry customers, let them know.
Empower Staff to Take Initiative
Though defining procedures is great, it's impossible to plan for every possible situation. At certain times, employees might need to be proactive and deal with customer complaints themselves. Make sure that all of your staff is aware that they know the best way to deal with customer complaints and are encouraged to be proactive in order to aid the recovery process.
Aim for Quick and Decisive Action
A speedy response makes all the difference. When a complaint is resolved in a timely fashion, you have the chance for service recovery and the opportunity to completely change the perception of the customer. The more time passes, the harder it will be to change the customer's opinion.
Step Three: Recovery Perception
Now your problem is all taken care of. Still, there are steps you can take in order to make sure your business is dealing with customer complaints quickly and efficiently.
The trick is to measure how well your recovery process worked. If you are not performing well as you like, you can take extra steps to either change your procedures or retrain your employees.
Measuring Your Recovery Process
To do this, send customers a Net Promoter Score (NPS) survey. This is a survey that ranks how customers feel about your business on a 1-10 scale.
Usually, customers who score a 9-10 are considered "promoters", which means that they are likely to recommend your business to friends and family. If your customers answer this survey with a "9" or a "10", you will know that your process is working great.
Tools to Recover From Service Failures
Building a great service recovery process is hard. It might take some trial and error. Still, there are tools that you can use to make sure that the process works great for your business.
Of course, that doesn't mean you should just give up. There is something you can do to make this process quicker and easier. Here are four ways the Birdeye platform can help you with the service recovery process.
Get Automatic Review Notifications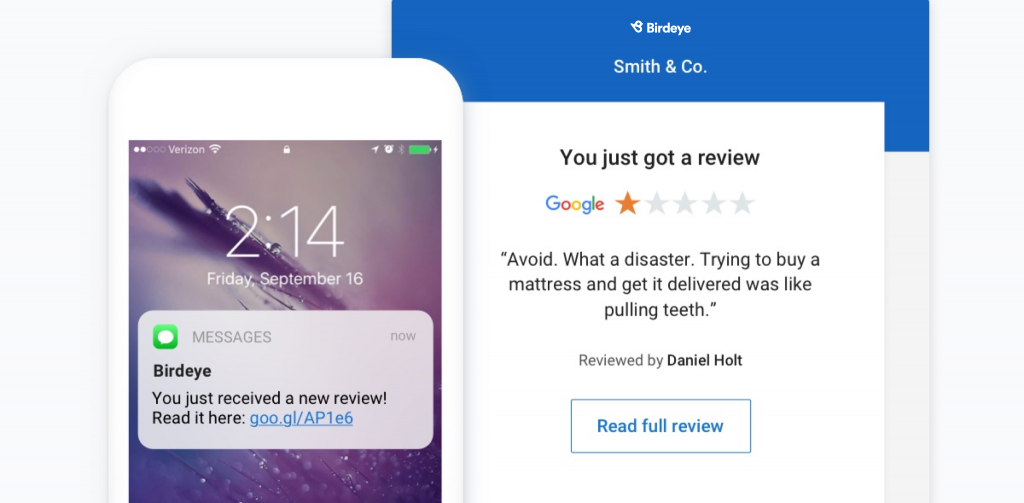 Remember, the quicker the response to a negative review, the more likely it is that you can change the customer's opinion. That makes it important to use tools to monitor your reviews. Remember, a late response often means lost customers.
With Birdeye, you can set automatic alerts for negative reviews on more than 150+ sites. When you get a negative review, you'll be able to know the moment it happens and have the opportunity to respond right away.
     2. Track Customer Feedback
It's tough to stay on top of customer reviews across the hundreds of review sites on the Internet. With all the work that goes into running a business, it's easy to let this task fall through the cracks. After all, it's difficult and time-consuming to see how many customer reviews actually got responded to, and measure the impact of those responses.
Birdeye allows you to track review responses easily with ticketing. The job of responding to a negative review can be assigned to an employee with a ticket. You can then track that ticket's progress and see at exactly which point in the service recovery process the ticket is in.  When you open up our dashboard, you'll be able to see how effective your business's recovery efforts have been. Our dashboard allows you to track all of your negative customer feedback as tickets. You can view all tickets and see how long every ticket has been open to ensure quick issue resolution.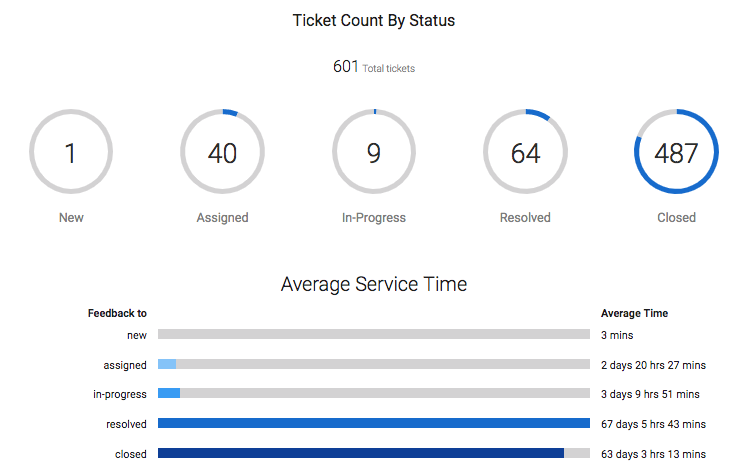 Use Social Listening
Often, angry customers will complain about service failures on social media. Left alone, these complaints could tarnish public perception of your brand. However, a quick response can help turn customer perception around.
Manually sorting through social media posts isn't easy. Finding mentions of your business through an endless sea of noise is tough. According to Internet Live Stats, there are approximately 6000 tweets a second.
You can get notified when your business is mentioned on social media with Birdeye's social listening tool. With social listening, you will be able to track customer conversations, allowing you to respond quickly and decisively.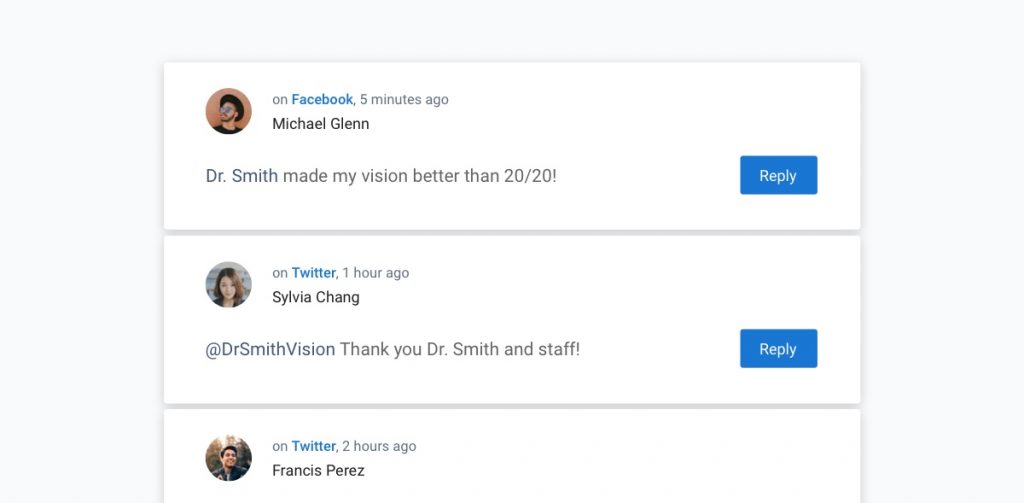 Use Natural Language Processing for Online Reviews
Reviews can help to paint a picture of how well your business is performing. After all, customer reviews represent the authentic experiences of customers. By paying close attention to reviews, you can see what customers like and dislike about your business.
Doing this manually isn't easy. It can be hard to get insights from the unstructured data of review text. After all, different customers are going to have different opinions. It's tough to manually sort through all these reviews and try to get a coherent idea of how well your business is doing.
Birdeye's Natural Language Processing engine can take of this process for you. The engine scans your customer reviews and pulls out phrases that customers are using. The Birdeye dashboard shows which phrases are being used most often and gives you grades on categories such as "customer service" and "wait time". These insights can help you see areas where your business can improve.
  

Use NPS surveys
Customer reviews aren't the only form of feedback that can help you improve your operations. With surveys, you can get an in-depth understanding of how customers feel about your business.
Birdeye allows you to send NPS surveys so you can see how well your service recovery is performing. The NPS survey allows you to track customer sentiment and solicit feedback to improve the customer experience.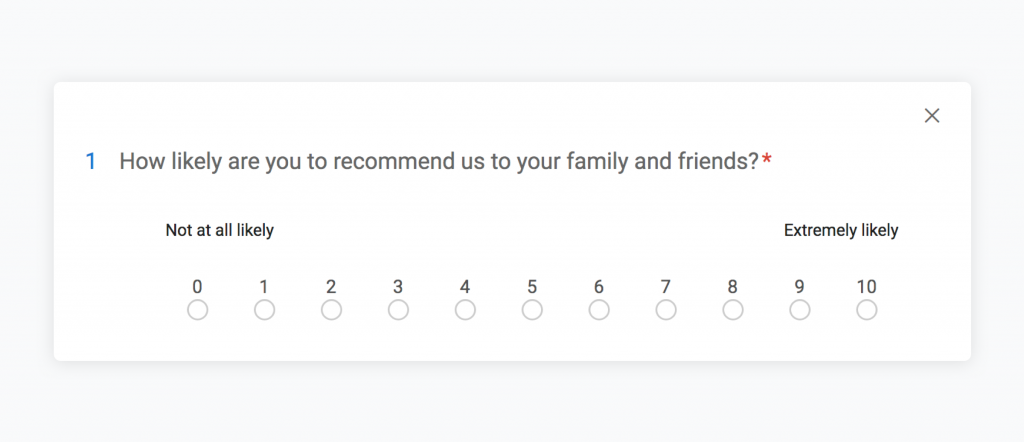 Stay on Top of Reviews with Birdeye
Birdeye helps businesses grow revenue authentically. The Birdeye dashboard helps businesses stay on top of every aspect of customer feedback. With Birdeye, businesses can get new reviews, monitor and respond to reviews on over 150 sites, share reviews on social media, and receive actionable insights.
Watch a demo to see why more than 100,000 businesses use Birdeye to drive growth.
Originally published