According to the National Retail Federation, 83% of consumers say convenience is an important part of the shopping experience. A big part of that convenience has to do with easy payment options. This is why credit card processing for small businesses is so important. However, choosing a provider that best fits your business needs can be challenging.
In this article, we'll talk about what credit card processing is, how it can benefit small businesses, and what to look for in a credit card processing provider.
What is credit card processing?
Credit card processing is technology and systems that let businesses accept credit and debit card payments from their customers. Typically, there are two parts involved in this process.

First, you'll need the hardware to swipe the cards, like a credit card terminal or a point-of-sale (POS) card reader. If you're an online business, customers will add their own credit card information directly on your website. Next, you'll need software to process the transaction, which typically includes a payment gateway and a payment processor.
Why is credit card processing important for small businesses?
People will spend 80% more on their purchases when credit or debit cards are a payment option. In fact, about 60% of consumers prefer using their credit cards over cash because paying with cards is more convenient. This added convenience improves the overall customer experience and makes credit card processing a vital tool for small businesses.
Credit card processing also provides a safe and quick way for your business to get paid. A cash-only business requires multiple trips to the bank for depositing, and carrying large amounts of cash can be risky. By making this process digital, your business can avoid delays with payment.
How does credit card processing work?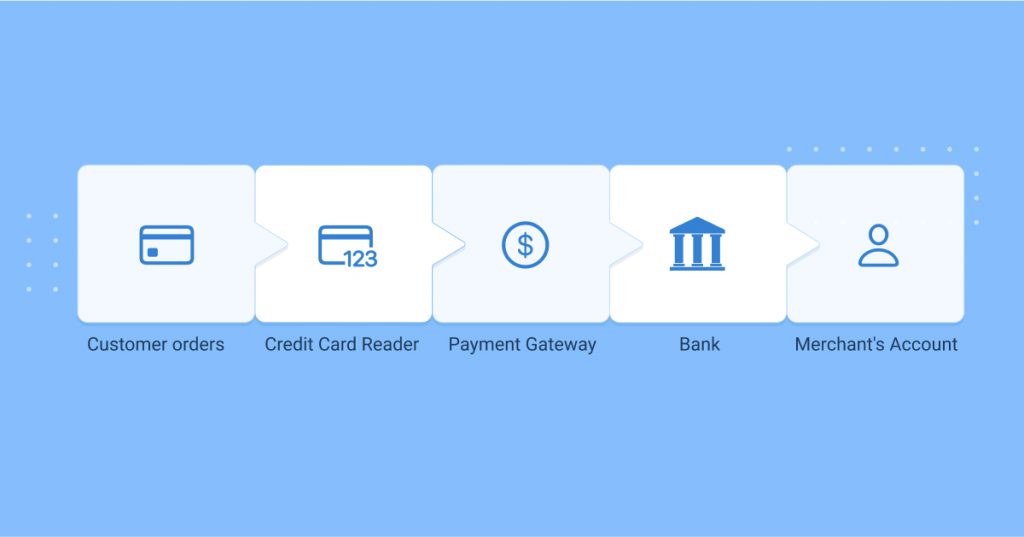 For those unfamiliar, this is a multi-step process. It starts by swiping the customer's credit card through a credit card machine or adding credit card information to a website for online purchases. The credit card machine (or website) reads the customer's credit card information and sends it to the payment gateway. The payment gateway processes the payment and sends it to the merchant account, which is where the funds from the sale are deposited.
Types of credit card processing fees
As a business owner, you know accepting credit cards is the standard these days. What you might not know is how businesses are charged for credit card processing. There are four main types of credit card processing fees: Interchange fees, Assessment fees, Processor markup fees, and Gateway fees.
Interchange fees are set by the credit card companies and cover the cost of processing the transaction.
Assessment fees are also determined by the credit card companies and go towards things like fraud protection and customer support.
Processor markup fees are set by the credit card processor and cover equipment and software costs.
Gateway fees are set by the gateway provider and cover transaction costs.
These fees can certainly add up, so businesses need to keep them in mind when pricing their products or services.
Benefits of credit card processing for a small business
We know credit card processing for small businesses can make shopping easier because the transactions are quick and easy. However, the benefits don't stop there.
Customer insights
Credit card processing makes it easy for businesses to track their sales. In our data-driven world, having insights into customer spending habits is an important part of business growth. Credit card processing provides this information in real-time, which means businesses can make necessary changes to improve their bottom line.
Security
There are several security measures in place to protect your business and customers from fraud. For example, businesses that use a payment gateway as part of their payment process know that credit card data is safe because of mandatory regulations. Plus, most credit cards now have chip technology, making it more difficult for criminals to intercept and steal sensitive information sent over networks.
Customer loyalty
Businesses now have the option to issue rewards credit cards and build customer loyalty. When customers use their rewards credit cards, they can start racking up points or cash back rewards to use toward future purchases.
Choosing the best credit card processing provider
To maximize resources, every decision you make for your business must be strategic. Generally, budgets, labor, and time are limited.
Choosing a credit card processing provider is a big part of the payment process. It's in your business's best interest to vet each available option and make a decision that will work best for your goals. Here are some things to keep in mind when deciding on a provider.
Fees: Make sure you understand all the fees associated with credit card processing and compare that to your average sales volume. This will help you to perform a thorough cost analysis to help you decide what you're able to spend.
Features: Take a closer look at the features the credit card processing provider offers. For example, if you're an eCommerce business, mobile payments are a must-have – so a card reader might not be necessary.
Technology: Make sure that any technology needed is user-friendly and works well with the system you already have in place. If you aren't tech-savvy, see if the provider can help with setup.
Customer service: Speaking of help, understand how the provider can assist you if you have questions or problems. Do they offer onboarding sessions to get you started? Do they have 24/7 customer support?
Reviews: We know reviews can help customers, but they're also helpful for businesses. Make sure you read online reviews of the credit card processing provider before making your decision. You want to make sure you're choosing a reputable company with happy customers.
Taking the time to choose the right credit card processing provider will pay off in the long run. Your customers will appreciate the ease and convenience of your payment process, and you'll save money on fees and other costs.
Best credit card processing companies
There are several credit card processing companies out there, and the best one for your business will depend on what you need. Some of the most widely-used credit card processing companies include:
Stripe
Stripe offers a wide range of features and payment options. Their end-to-end data encryption keeps your business and customer data safe and secure. Plus, setup is quick and easy – which is a big plus if tech isn't your thing.
Square
Square offers easy-to-use software and quick transaction speed. They also have a wide range of pricing options. With around-the-clock customer support, your questions get answers when you need them.
PayPal
PayPal is a popular credit card processing service with low fees and secure transactions. In addition, they have relationships with all major credit card companies which gives your customers more options.
Frequently asked questions about Credit card processing
What is a payment gateway?
It's the technology used to read the customer's credit or debit card information during the payment process. It validates that there are enough funds to pay the merchant and then shifts the process to the credit card processor.
What is a credit card processor?
Also known as a payment processor, this system connects the merchant's account, cardholder's bank, and the credit card network to each other. The Payment Card Industry Data Security Standard (PCI DSS) requires credit card processors and merchants to follow strict security standards.
Make shopping easier with Birdeye Payments
Besides pricing and customer service, payment options are another important part of the consumer journey. With Birdeye Payments, you can provide your customers with a simple and safe way to make their purchases. Plus, Birdeye Payments connects with most accounting software making it a seamless payment tool for your business. Be sure to download our free digital payments guide to learn more. Just click the banner below.

Originally published