For years, most businesses have been limited to being fixed in place. In-store customers paid at counters with cash, credit, and debit cards. Even though the technology slightly changed over time, the "where" remained the same. Some businesses operated on the go, but accepting payments electronically wasn't practical.
The pandemic caused that to change, fast. Now, we live in a mobile society where commerce takes place everywhere. Businesses regularly operate outside their own stores. Furthermore, customer expectations for quality experiences have risen to new heights when it comes to how they want to pay. Visa's Back to Business Study found that nearly 50% of consumers will not shop at a store that doesn't offer a contactless way to pay.
Shoppers now expect to be able to use tap to pay credit cards, debit cards, and mobile wallets, no matter where they shop. Businesses capable of accepting mobile payments are in a prime position to satisfy a new generation of customers with easy, seamless payment experiences. In this article, you'll learn everything you need to know about mobile payments, payment trends you need to know in a post-pandemic world, and how your business can accept mobile payments without breaking the bank. First, let's address some frequently asked questions about mobile payments.
How to accept mobile payments?
There are a number of ways to accept digital payments. You'll need to figure out which methods are right for your business. Here are the options you'll want to consider.
In-store credit card machine
If your business has a brick-and-mortar store or workplace (such as a medical practice, auto repair shop, etc.), you'll need a countertop credit card machine for your business. In order to keep up with the incredibly high demand for contactless payment options, you'll want a machine that can accept traditional cards, EMV/chip cards, tap-to-pay credit cards, and mobile wallet payments.
Wireless card reader
If your business is constantly on the go (such as a contractor, home services, etc.), then you'll want to look into accepting credit cards using a wireless credit card machine. This enables you to accept payments anywhere using a wifi connection. It has all of the functionality of a traditional in-store countertop credit card machine without being limited to sitting on a countertop. Your business won't be restricted to a single location anymore.
Text to pay
This is a great option for a service-based business. If you already send out customer invoices, why not send them by text instead of snail mail or email that gets lost in spam?
With text-to-pay, you can significantly increase the speed and ease with which your customers pay for services. Instead of having customers call in to share their credit card information over the phone, which isn't secure, the customer can simply pay by text message. The open rate of text messages is 90% vs. 20% with email. What does this mean? Text to pay is a faster, more direct way to reach your customers and get paid faster!
What are the benefits of processing mobile payments?
1. Customer convenience
The biggest benefit of accepting mobile payments is that it makes it much easier for customers to pay you and simplifies the payment experience. Customers expect convenience in every interaction with your business. Whether they try connecting with customer support over Webchat, access information on your website, or make a payment online or in-store, they want convenience. Instead of having customers swipe their credit cards, pull out cash, or write out a check, mobile payments support contactless payments via their smartphones. A study on contactless payments found that 47% of consumers cited convenience as their primary reason for using contactless payments.
2. Improves cash flow
Accepting mobile payments increases your cash flow as the payment will go directly into the bank account you've linked to it. Most mobile payments are instant as they are made from credit cards digitally stored on a user's mobile phone, so the money should be in your account within a few hours or less.
3. Makes your business more efficient
Accepting mobile payments helps you operate your business more efficiently. You'll be able to provide consistent seamless experiences across channels and touchpoints. Whether your customers shop in-store or online.
4. Collect payments online
We've outlined the numerous ways to accept mobile payments. Text to pay helps to ease the process of collecting payments. Instead of having to collect payments in person, playing phone tag, or making your staff initiate awkward financial conversations with customers, your correspondence and collection can all be done via texting.
What are the risks of accepting mobile payments?
1. Security can be a concern
We've seen in recent years that even the biggest and most high-profile companies fall victim to data breaches. It's reasonable to have concerns about security. The best way to leverage this technology while minimizing risk is to adopt mobile payment systems that take security seriously and are PCI compliant and follow Payment Card Industry Data Security Standards (PCI-DSS).
2. Outdated technology and infrastructure
While mobile payments are less expensive than traditional POS systems, it still requires new hardware. This includes purchasing terminals that can support Near Field Communication (NFC). Additionally, mobile payment software systems can help you get valuable data when accepting mobile payments, however, that would require using another platform for just one interaction in the complete customer experience.
Mobile payments trends to look out for in 2022
1. Increased consumer demand for mobile payments
The pandemic rapidly increased the demand for mobile payment methods. According to a recent report by analyst firm eMarketer, in-store mobile payments usage grew 29% last year in the U.S. Furthermore, a study on the mobile wallet market found that the U.S. has grown to become the second-largest market with $465.1 billion worth of mobile payment transactions, which will grow to $698 billion by 2023.
Apple was the first company to introduce this new form of payment technology in 2014. Since then other companies have acknowledged the high consumer demand for it. Samsung, Google, MasterCard, Amazon, and PayPal, among others, have developed new mobile payment options. The demand for mobile payments will continue to increase as consumers have come to prefer the convenience and safety it provides.
2. Tap to pay credit cards to become the norm
The increased demand for mobile payments in the last year is part of a larger increased demand for contactless payments. As the usage of contactless payment methods becomes the norm, so will the use of tap to pay credit cards. Many new cards include technology that lets shoppers pay for items simply by tapping or waving a card right above the card reader.
Contactless credit cards have quickly become standard in the U.S. According to research by Visa, there are currently over 190 million contactless Visa credit cards in circulation, and Visa expects that number to hit 300 million going into 2022. Currently, most major American credit card issuers are sending out contactless cards by default. The majority of consumers will have tap-to-pay cards and will expect businesses to be capable of accepting contactless payment methods.
3. More businesses will use text to pay
Text to pay allows businesses to provide contactless payment options to customers without spending a fortune on POS equipment. This convenient solution allows businesses to accept payments via text and social media messaging (you can even accept payments through Instagram messaging). Customers can use their mobile wallet, enter their card information, and similar methods, to make payments. With the demand for contactless payment methods to increase in the next year, text payments provide businesses with an additional way to accept digital payments on the go.
4. More businesses will use wireless credit card terminals
As more consumers use contactless payment methods, businesses will align their shopping experience with wireless POS technology. Wireless credit card terminals allow businesses to accept payments anywhere and are not limited to specific checkout locations. This gives even the smallest businesses the flexibility to offer customers multiple checkout locations. With various payment solutions, customers can safely pay in line with social distancing norms. According to IBM's U.S Retail Index study, more than 73% of customers want more checkout options with advanced technology. Due to this heightened demand from consumers, mobile point-of-sale devices are quickly becoming a necessity for businesses large and small.
5. A greater focus on security
One of the common roadblocks that prevented consumers from using mobile payments prior to the pandemic was security. A 2019 study from Pew Research found that 30% of consumers avoided mobile payments because of concerns about loss of funds and security. People prefer to use a payment option that is highly secure. That is why security will be of significant importance for contactless payments going forward.
Fortunately, more and more consumers have come to trust contactless payments as they were forced to pay this way during the pandemic. Contactless payment methods use encryption to keep the transaction secure and prevent fraud. For example, text to pay uses SMS encryption that is PCI compliant to ensure that customer payment information is processed securely. Business providers who offer pay by text are required to be PCI compliant and follow Payment Card Industry Data Security Standards (PCI-DSS) when handling any credit card or bank account information, giving both you and your customers peace of mind that this sensitive data is secure and protected.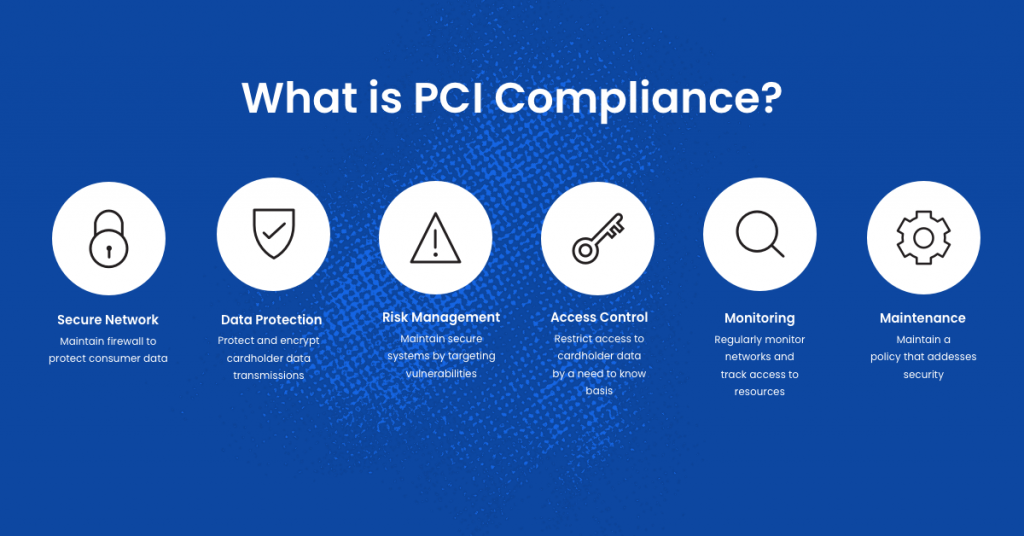 The best way to accept mobile payments
Leveraging an all-in-one platform that provides your business with a central hub for digital customer experiences will enable you to seamlessly make mobile and digital payments part of the complete customer experience.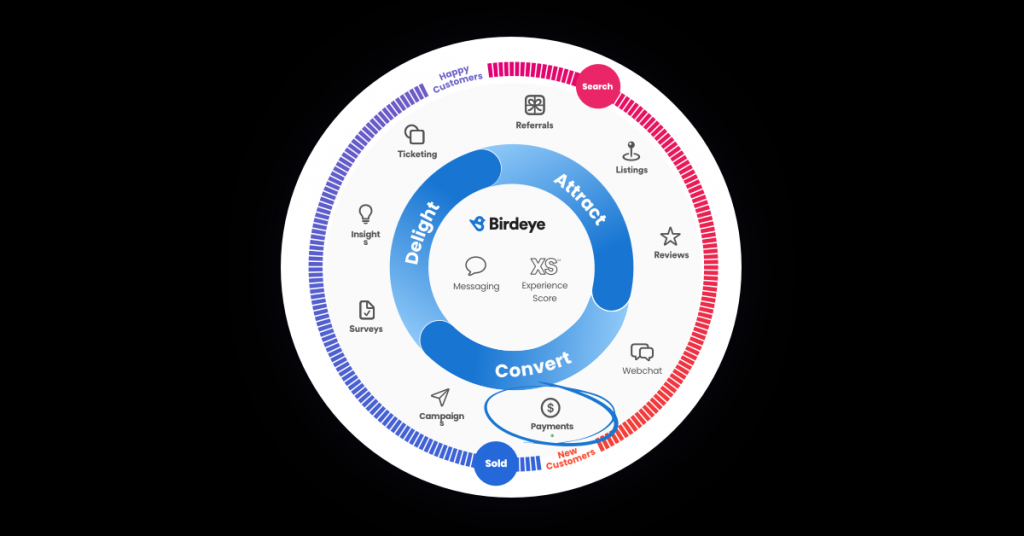 Accept mobile payments through text
Credit, debit, ACH, Apple, Amazon, and Google pay. No matter how they pay, pay by text allows your business to accept digital payments.
Accept mobile payments on any messaging channel
Accept payments on the channels customers already use to engage with your business. Whether it's an ongoing conversation on webchat, SMS, Instagram, Facebook, and more, you'll be able to seamlessly request payment.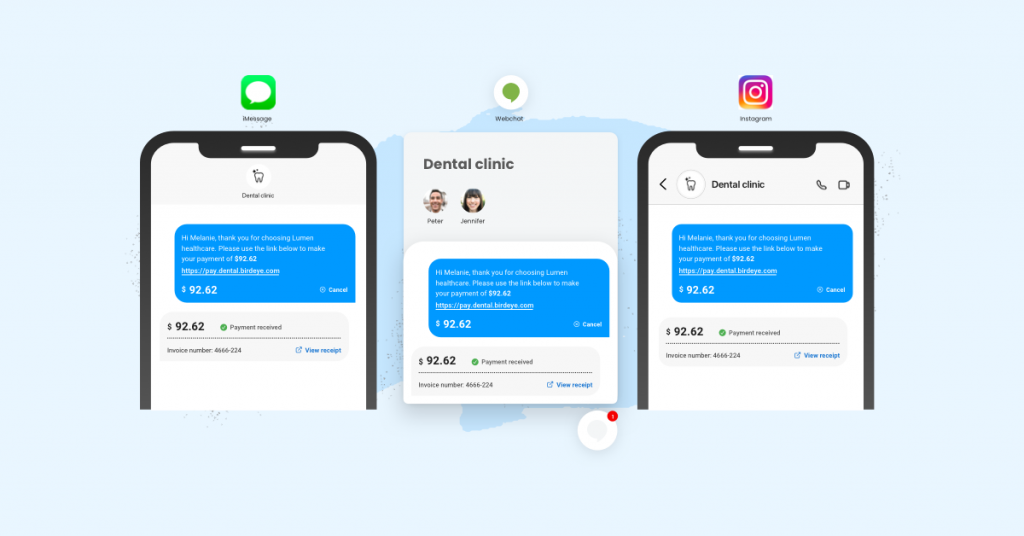 One platform to manage the entire customer experience
Send payment links inside an ongoing text or messaging conversation to make it easy for your customers to pay right away. With an all-in-one platform like Birdeye, you can seamlessly manage all of your messages, payments, reviews, referrals, and much more in one place.
Card readers built for point of sale
Use one platform to request payments and accept all forms of contactless, chip, and swiped card payments — in-store or on the go.
Track your transactions
With the Payment Dashboard, you get a detailed view of your transaction history and payments — all from a single location.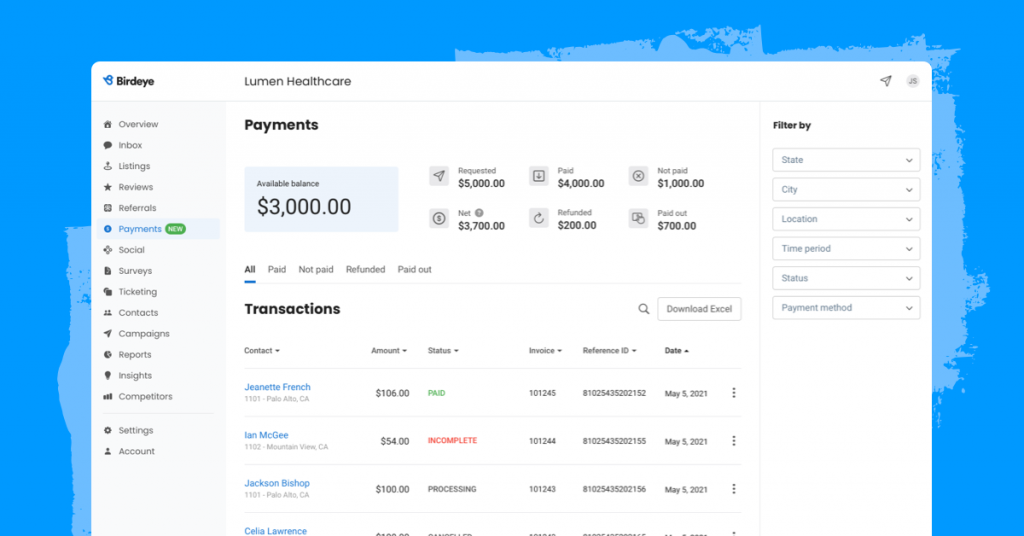 Simple business payments option
As a business, quickly collecting payment from your customers means less disruption to your operation. With Birdeye Payments, you can easily send payment requests via text, email, social, or webchat – giving you another way to delight customers.
Frequently asked questions about mobile payments
What is mobile payment?
Mobile payment generally refers to regulated transactions performed through a mobile device. Instead of paying with cash, cheque, or credit cards, a consumer can use their mobile device to pay for goods and services.
What is a mobile wallet?
A mobile wallet is a digital way to store credit card, debit card, coupons, or reward cards information. The user inputs payment information and the wallet stores this information by linking a personal identification format such as a number or key.
How do mobile payments work?
In-store mobile payments use near-field communication (NFC) technology to securely communicate between devices within inches of each other. This technology allows shoppers to simply hold their mobile device or tap to pay credit cards up to a contactless payment terminal, allowing the two devices to communicate with each other over a specific radio frequency. They pass encrypted payment information to complete the transaction.

Make everyday payday with Birdeye
Send payment links inside an ongoing Birdeye text or messaging conversation to make it easy for your customers to pay right away. Credit, debit, Apple, Amazon, and Google pay. No matter how they pay, we'll make sure the transaction is convenient for both you and your customer.
For a more comprehensive look at digital payments, check out our free guide to learn more. Just click the banner below.

Originally published